Are you optimising affiliate tracking for your mobile apps? Here are five reasons why app tracking can boost your affiliate marketing performance.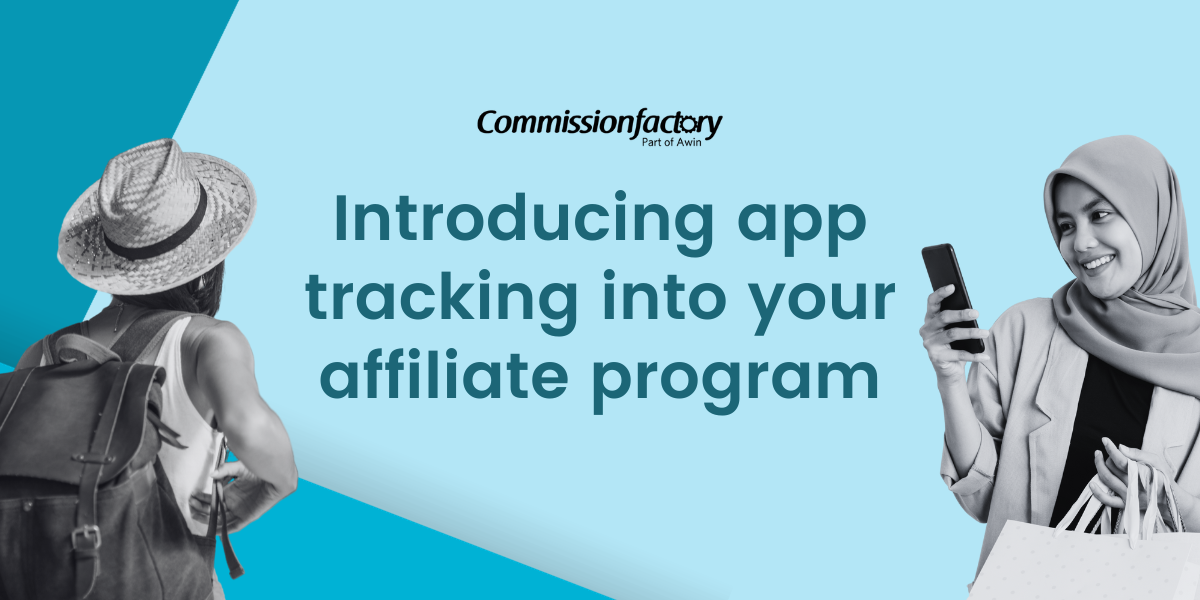 In the affiliate environment, accurately tracking your sales is a crucial task that delivers value-driven data and promotes transparency among affiliates and brands. While many of us are familiar with website and social tracking, little consideration is given to mobile apps.
For brands who have invested in a shopping app, optimised app tracking is essential. It's forecasted that the APAC region will be home to 1.8 billion mobile users in 2025, which accounts for 62% of the population.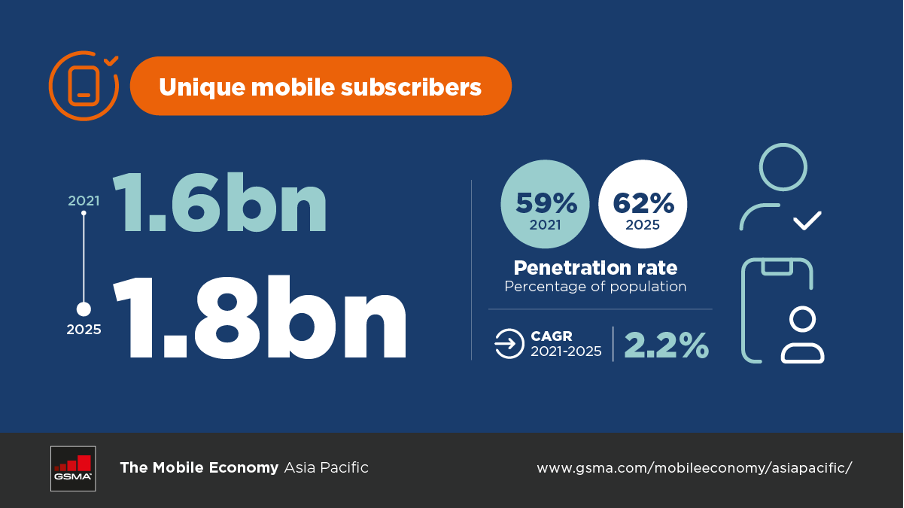 Setting up tracking in your eCommerce app is a powerful tool that can help advertisers measure, report and expand their affiliate activity across all touchpoints. Not only is app-tracking beneficial for the advertiser, but it also ensures affiliates are being rewarded for sales that may have converted in-app.
What is app tracking?
Commission Factory's platform can track, attribute and deduplicate all conversions that occur on an iOS or Android app. When a consumer clicks on an affiliate link that drives them to the app, you will have a better understanding of how affiliates are driving sales across all touchpoints (app, website, marketplaces, etc.). Commission Factory's app tracking can successfully attribute the following customer journeys, (provided the integration is implemented correctly).
Website to App: When a customer browses and clicks an affiliate link on the web (e.g. a blog article) and is redirected to the brand's eCommerce app to complete their purchase.
App to App: When a customer uses an app to find a product (e.g., a social media platform) and clicks a link within the app, redirecting them to the brand's eCommerce app to complete the purchase.
If we look closely at the data, it's undeniable that app tracking in the affiliate channel produces immense results. So here are five reasons why you should implement Commission Factory's app tracking technology for your brand.
Reason 1: App tracking undoubtedly adds value
Many marketers are under constant pressure to perform, and with companies tightening their budgets, marketers must demonstrate value in all marketing activities. App tracking provides not only value from insights but also demonstrates significant abilities to improve their bottom line.
For example, APAC consumers who want to travel are more likely to engage using apps than websites. So a travel brand that has these numbers tracked is privy to an invaluable metric that shows them the journey of the majority of its consumers – allowing them to pivot their marketing efforts. This data is even more significant when we consider travel trends like 50% of APAC consumers are eager to travel.
One advertiser who implemented app tracking in early 2021 saw a considerable increase across all their KPIs only two months after their app launch - with sales and revenue exceeding a 70% uplift. Non-app performances grew with the addition of tracked app events without any performance dip.
App tracking can have a significant impact on the success of an affiliate program. One advertiser saw their sales increase by over 150% the following month after launching app tracking, with almost 50% coming from app sales alone. These are just a few examples of how app tracking can help businesses boost their sales and digital marketing activity.
Reason 2: App tracking sales can be forecasted
App tracking sales generally mirror sales recorded offline and on the web. A study by Awin shows how tracked in-app events mirrored the entire platform's sales performance. This makes it significantly easier for advertisers to plan, integrate, and forecast the impact of affiliate app tracking in their marketing plan.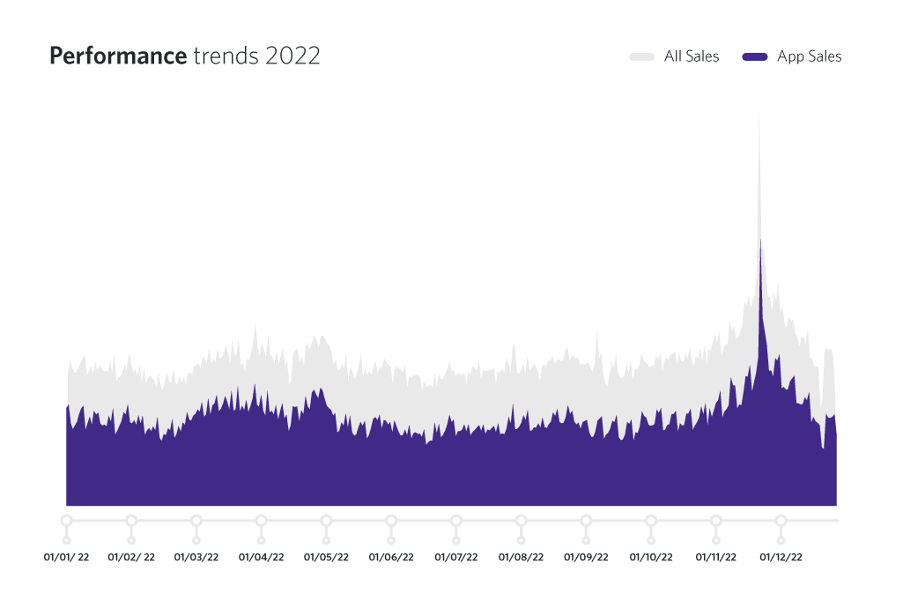 Advertisers can also easily plan and forecast in-app trends even before they happen, especially throughout crucial periods like Cyber Weekend. This is because APAC consumer trends show that in-app events generally surged over key sales dates.
For example, in a study reporting the devices used to complete Singles' Day (11.11) transactions in Southeast Asia, apps are the leading purchase method compared to desktops. In November, app sales also recorded a +234% increase compared to October.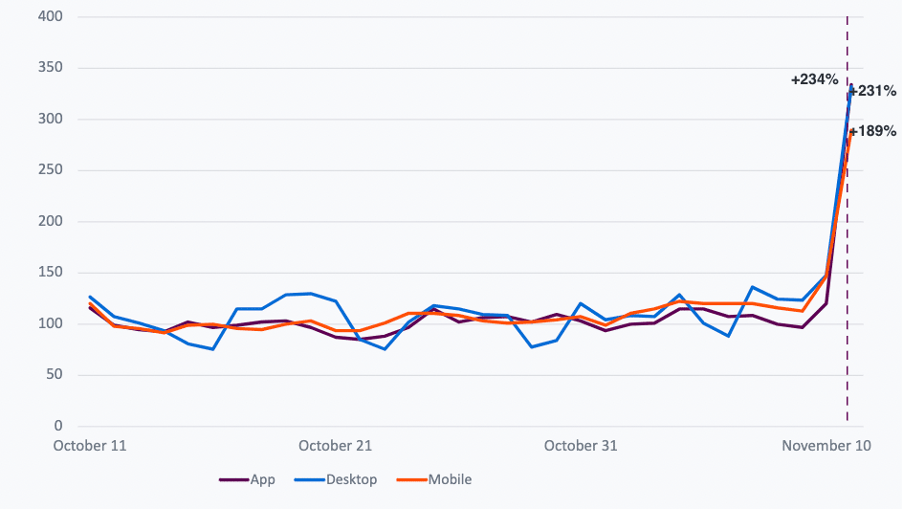 A study by Awin also reflects this. App tracked events saw a huge surge for Black Friday and Cyber Monday. Advertisers in the Health & Beauty, Department Stores, and Clothing categories saw great success with apps.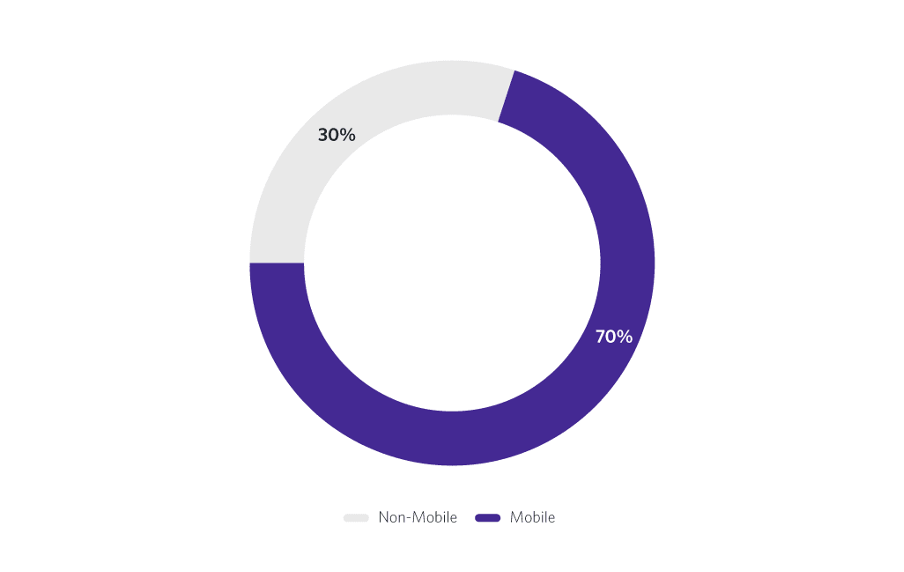 As tracking becomes essential and mobile use increases, app tracking will become a significant part of successful affiliate programs. Commission Factory currently has unique tracking integrations with two of the largest MMPs in the market to integrate your affiliate program and app seamlessly, and it only takes 5 minutes to set up and track all in-app customer behaviour - so you can focus on providing an amazing brand experience for your users and partners.
Reason 3: Changing tech and privacy pushes for app tracking
User privacy has moved to the forefront of digital apps. With Apple's recent App Tracking Transparency (ATT) introduction (where users must choose to OPT IN instead of OPT OUT of data collection), app tracking remains a vital component when measuring how users interact with your brand across multiple platforms.
The results of the recent privacy shifts have been better than expected, especially when looking at overall app tracking performance. A study by Opera shows that Android is the leading OS among smartphone users in APAC, leaving most users unaffected by the change.
A couple of variables come into play when discussing the impact of ATT and the tightening of app privacy laws. For example, advertisers must account for the split of:
Android vs. iOS devices in a region
The iOS update and adoption
The OPT IN rate of the users in iOS14.5+, and
Whether the advertiser is fully ATT compliant
Hence, while some advertisers may be more heavily impacted than others, many have seen no significant impact. So how do Commission Factory advertisers continue to grow in this space?
Our data-light affiliate solution provides APAC advertisers with a less intrusive app tracking mechanism. Furthermore, our robust tracking suite, clickless tracking, attribution technology, and custom commission rules solutions give advertisers and affiliates a more effective way to attribute publishers to their sales.
Reason 4: It integrates seamlessly with social
Research shows that an increasing amount of APAC consumers use social media to discover (85%), research (83%), and buy (76%) products. Fortunately for marketers, social media sites are highly encouraging for affiliate marketing activities, accelerating seamless app tracking.
Content affiliates, of which 'Social Platforms' are a sub-vertical, are the second largest publisher vertical for app-based transactions. Compared to a few years ago, micro-influencers and content creators can easily share links on their stories to an advertiser's app on Instagram. This feature is no longer restricted to verified accounts or those with over 10,000 followers.
As for TikTok, it's much more efficient to use influencers to entice app purchases to a user demographic that's more likely to use smartphones than any other generation. Commission Factory publishers can now add their TikTok account as its own traffic source, giving both the affiliate partners and advertiser extra visibility when it comes to reporting on behaviours influenced by TikTok trends. With social media taking up an enormous proportion of peoples' time on mobile, pushing users to complete their buying journey in-app makes sense.
However, this also means that advertisers not using app tracking may miss out on capturing social media conversions. For example, a customer who clicks on an affiliate link on social media will most likely be directed to the advertiser's app (if downloaded) to make the purchase.. If the advertiser enables app tracking on their affiliate programme, all in-app conversions will be tracked as normal and be reported in Commission Factory. Without app tracking, these affiliates may not be fairly compensated for their role in the purchase decision.
Reason 5: There's no better time than now
To say that the APAC market is recording significant eCommerce growth is an understatement. With 402 million digital consumers forecasted in 2027, it presents a significant opportunity for brands to track consumers on every digital channel.
In 2021, sales from mobile commerce accounted for more than 50% of total eCommerce sales in APAC. With skyrocketing mobile adoption rates, the region is a huge market for m-commerce, as many consumers use their phones in their buying journey.
According to Google, many APAC users turn to their mobiles to make informed purchase decisions. So tracking what they see and how they see it is more important than ever.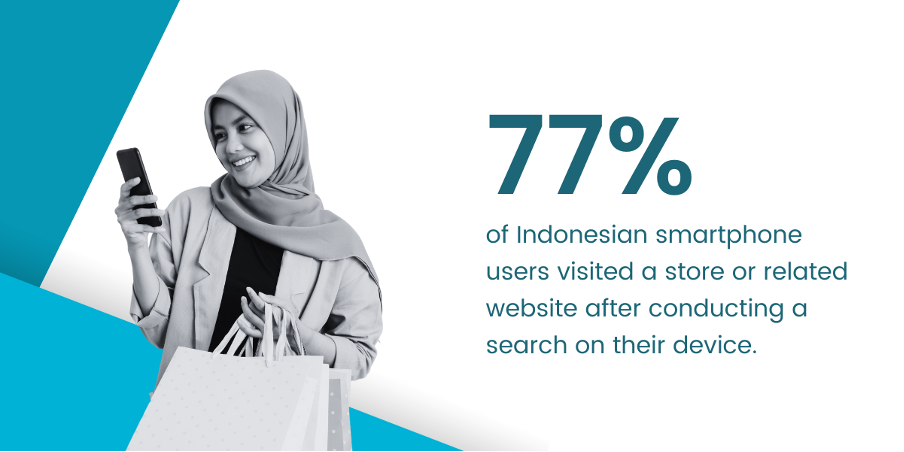 Although there is an ever-present threat to tracking due to privacy laws, app tracking shows no sign of slowing down. In fact, many advertisers no longer consider it an optional add-on but a fundamental part of their successful affiliate programmes.
App tracking allows advertisers to accurately identify what converts, making it easier than ever for brands to allocate resources, update their custom commission rates, and promote publisher fairness and long-term relationships. At the end of 2023, our parent company Awin recorded over 14,000,000 (+19% YoY) in-app sales for clients and over $50 million (+55% YoY) in publisher commission. Data like these prove that there's no better time for in-app tracking.
Key Takeaways
For advertisers that are unsure if app tracking is suitable for their business, consider these APAC-specific statistics:
Advertisers should leverage this growing trend with apps showing superior conversion metrics than desktops and even mobile-optimised sites in APAC. To get started with app tracking, speak to your Commission Factory contact or contact us today.
---
Commission Factory is not only the Asia-Pacific region's largest affiliate platform, working with more than 800 of the world's biggest brands, but it is also a performance marketing platform that allows content creators and influencers to earn money and online businesses to increase sales.
Connect with the Commission Factory team to learn more about how we help brands and publishers build and grow their affiliate marketing strategies.