With content platforms like TikTok making waves in the affiliate and partnership space, brands should leverage content creators to build engaging, profitable content.


Content marketing is making big waves in the affiliate marketing space, and it's no secret why. Platforms such as TikTok have over 1.534 billion users worldwide, and video has become consumers' favourite way of learning about a product or service.

There has been increased focus on content creators, and we've seen many changes in how content is made in recent years. At the heart of content marketing is the content creators - and forming infinite, proactive partnerships with creators and even other advertisers can be crucial to a successful campaign.
What is a content creator?
According to Sprout Social, content creators produce 'entertaining, educational or captivating content for digital distribution.' This content typically exists in videos, images, audio, or written form, and is distributed through popular social media platforms like Instagram or TikTok.

'Content creator' is a term often used interchangeably with 'influencer', and while they may sound similar, there is a distinction between them. A content creator's primary focus is to create and release content, while influencers help promote brand products and build an audience or following on social media platforms.


How has the content creator space evolved?
Content creators do more than create videos or post photos. The world of content creation has now evolved to networking, audience management, brand management, content planning and scheduling, and developing an optimised content strategy that drives engagement among their followers.

For advertisers, pushing the creative envelope with the right content creators is more important than ever. Working with content creators requires expertise, access to the right platform, and thinking outside the box.

Here are some of the ways brands can get creative with content creators.
Leverage established influencer relationships with Commission Factory
One of the biggest perks of working with a content creator is access to their engaged following. By developing creative partnerships with the right influencer, brands can get valuable marketing eyeballs from new audiences. Couple that with an engaging video or post, and it's a foolproof way to get clicks and purchases.

Finding the right influencer for your brand is crucial to the success of your campaign. Here are some considerations when looking for the right influencer:
• Do they have the right audience for my brand?
• Do they have the appropriate number of followers?
• What is their fee structure?
• How do they report and measure success?
Read the complete guide on how to work with influencers.
Partner with affiliate partners who have a network of influencers
Affiliates with their network of influencers are an excellent way to start with content. Bigger affiliates, such as Cheddar, are associated with micro-influencers that can help market brands to the right audience.
In the example above, fashion retailer Hype DC partnered with cashback app Cheddar for an exclusive promotion targeting Millennials and Gen Z. The affiliate then created an engaging, trending video with local influencer Emma Claire (@emmaclaiire) – driving synergy with the same audiences.
Cheddar partnered with influencer Tayleb Willis (@taylebwillis) to promote Youfoodz's healthy ready-made meals and snacks in another successful campaign. Considering the influencer provides content in the inspirational fitness space, this collaboration gives Youfoodz a targeted content strategy.
Tap into Influencer Networks
Commission Factory advertisers can take advantage of working with influencer networks like stylink, LTK and Metapic which connect brands with small and large-sized influencers.
Affiliate marketing works when brands and retailers have a clear understanding of their optimisation opportunities and how best to work with different publishers. The affiliate marketing landscape is difficult to navigate but Commission Factory consistently ensures that their team are across all of the latest developments in the space to inform their advertisers and the two sides are able to come together to produce maximum results to achieve conversions!
Alyce Tran, Brand Strategist, LTK
Performance-based influencer marketing is fast becoming the most effective and preferred way for brands to build meaningful relationships with their audiences. With an approach that emphasises transparency, Metapic enables brands to engage with influencers in a cost-effective way, helping them forge long-term partnerships that will provide value far into the future. Influencer marketing not only has the potential to drive real business results but can also lead to long-term rewards for both brands and influencers.
Seth Rubin, Regional Director APAC, Metapic
In the example below, Stylink and Novo Shoes partnered with micro-influencer Jo (@icurvy), a persona known for celebrating plus-size styles. The collaboration allowed Novo and Stylink to target a niche audience crowd.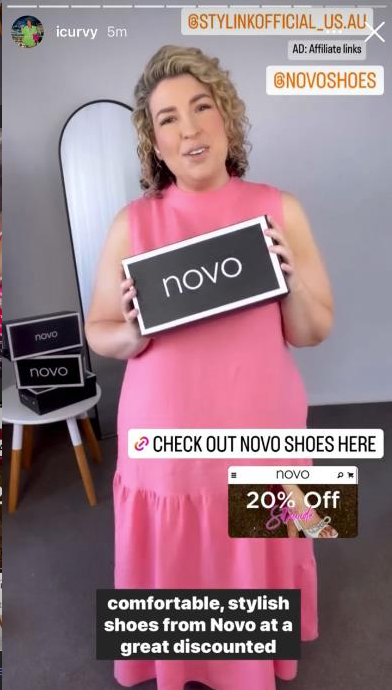 Trial Competitions
Social media competitions are a great way to get engagement and grow your following, so consider developing competitions that are fun and in line with your brand. Competitions also allow brands to show off their personality, so don't be afraid to take some risks with your contests!

Brands looking to run competitions should select an influencer with the right audience, as they come with a sizable following of their own.

In the example below, Lovehoney AU and ShopBack Australia, an advertiser and publisher at Commission Factory, have teamed up to develop a fun and engaging contest that helped both parties develop brand, liking and increase social media engagement.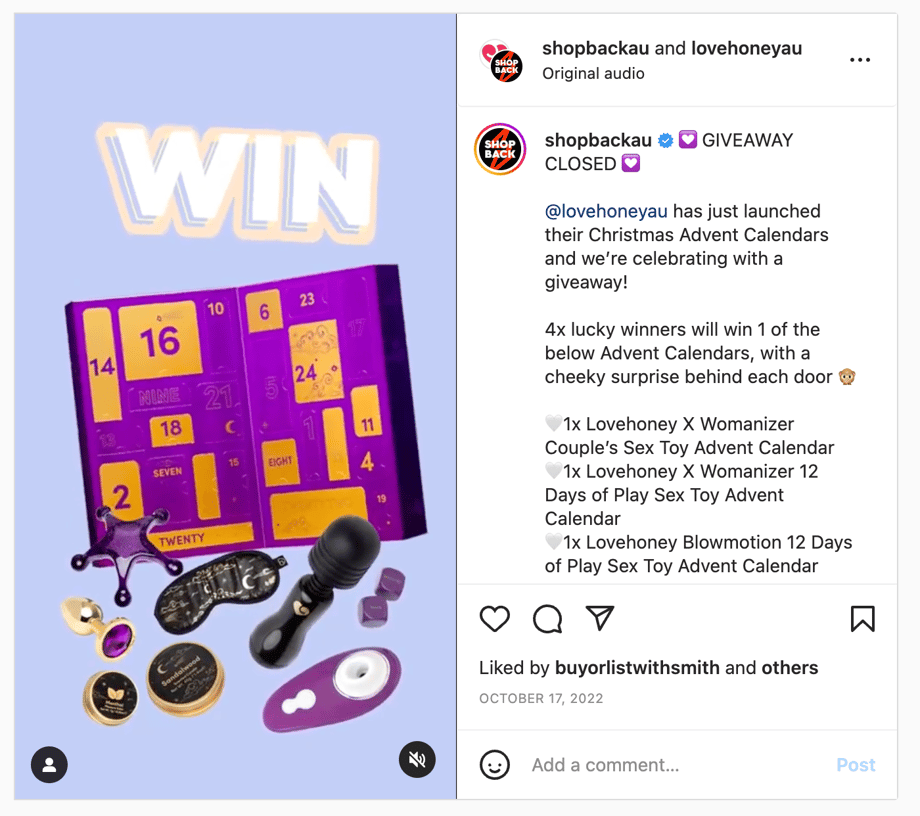 Use clickless codes to track and increase engagement
Clickless codes allow advertisers to designate unique, trackable codes for influencers and content creators to use across multiple channels, without relying on links.
Advertisers and creators can collaborate and use clickless codes creatively through competitions and giveaways, or by simply promoting the code in during regular content.
Clients are more likely to use the unique code supplied by their favourite creators to both show their support, and because it could easier to remember at checkout.
Work with micro-influencers & Product Reviewers
Micro-influencers are social media personas with an audience following of around 1,000 to 10,000 followers. While brands may think it's a good idea to go with the biggest influencer available, micro-influencers can provide brands with a more targeted social media strategy.

Additionally, their personal nature allows them to have more influence over their audience. So while the reach may not be as great, the conversion is. For example, in a campaign called 'A week of My Muscle Chef meals', Commission Factory partnered advertiser, My Muscle Chef, with local influencers @eatingupwiththehannashians' to review the brand's healthy, ready-to-eat meals.

The local Sydney influencers were known for their food content focusing on trending local snacks in Australia. They provided much-needed synergy for the advertiser to target a relevant target audience. It was also a highly successful campaign, contributing to a 33% cent quarter-on-quarter uplift in sales revenue for the brand.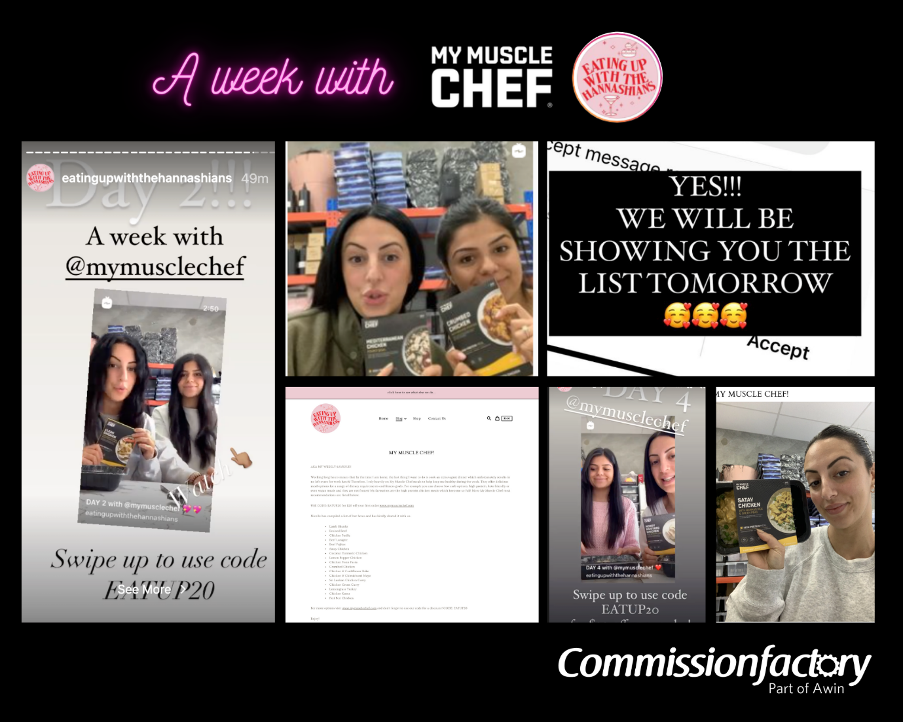 Because of their ability to instil consumer trust, getting influencers to perform product reviews online is another creative way to market your product. Be it through video or photo, product reviews allow consumers to understand a product more – making them more inclined to purchase.
Cutting Through the Noise During Key Retail Dates
Peak retail periods are the perfect time to work with content creators as an additional way to reach new customers, increase visibility communicate to new audiences in a fun way. By partnering with influencers during the holidays, businesses can maximise the program reach, increase brand awareness, and drive customers to the website with content created by relevant influencers during key times.

As a trial, NZSALE partnered with influencer HelloCallum, as seen in the example below, to boost visibility in New Zealand and reach a new audience. The influencer's sizable following and reach enabled the advertiser to gain more awareness for their brand.
Har
ness
the
Power
of
Content
Creat
ors
to
Grow
Your
Aff
iliate
Program
With online content becoming more popular among shoppers, having a creative content strategy with the right creator is essential for brands that want to expand their reach and increase their bottom line.

Commission Factory is Asia-Pacific's largest affiliate solution, creating accessible partnerships for over 800 advertisers. So if you're looking to develop inspirational and effective content with the right content creator, contact us about working with Commission Factory.