TikTok, it's the sound of another leading social media channel. But what is it and how can affiliate marketers get involved?

What is TikTok?
TikTok is a video sharing app that showcases short videos, ranging anywhere from knowledge-sharing content to art, dance trends and memes. With 800 million active daily users (1) consuming the latest trends and videos via the app, TikTok is popular with Generation Z's content creators, social media influencers and users.
Following the footsteps of multiple social platforms, TikTok is evolving into an opportunity to earn money and rise to fame from an increasingly younger age. While many brands may be familiar with TikTok as a force in popular culture, businesses can use it to promote the brand and increase sales of products and services. Read on to learn how to best use TikTok for affiliate marketing.
Brand and Affiliate Monetisation on TikTok
Before picking TikTok as the right avenue for affiliate marketing efforts, brands need to think about the TikTok audience. While TikTok's active users consist of a range of people from various generations, backgrounds and geolocations, 42% of TikTok's demographic (2) are young adults between 18 and 24 years old, with 67% of all TikTok users in the 13 to 24-year-old bracket.
Users spend on average 52 minutes per day (3) using TikTok, which follows closely behind the leading social media platform, Facebook, where users spend on average 58.5 minutes per day. (4)
Affiliate marketers should embrace the diversity and uniqueness of the TikTok app to reach their target audience. Using TikTok can be a great way to increase brand awareness, gain new customers and build loyalty. Users love engaging with brands that are both personable and fun, and TikTok encourages that kind of content.
Larger affiliates and brands have created contests, challenges and brand takeovers on TikTok. An example of this is UNSW Sydney, who are ramping up their social media presence to reach and acquire more students. TikTok is a more engaging way to reach the younger demographic than Facebook or Instagram Ads.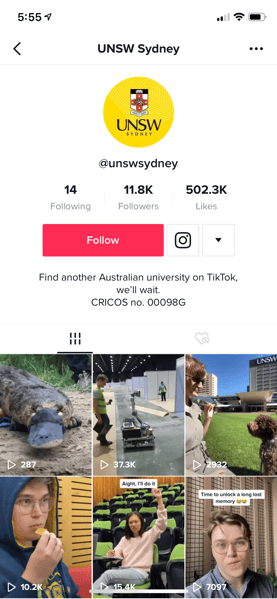 How Does TikTok Work?
TikTok makes it easy to shoot, edit and upload a video. There is no need spend hours learning an editing tool first and it is intuitively experimental and fun. Sharing and expressing creativity is especially relevant to users, and TikTok as an accessible creative outlet was rated as the top reason why users love the app. (5)
TikTok's algorithm is part of the reason for its popularity and what sets it apart from other social media platforms. One of the algorithm's metrics is 'Collaborative Filtering'. This populates and recommends TikTok videos to users 'For You' page, (the home page). Collaborative Filtering works by finding users who have followed and liked similar things, then recommending videos and other 'TikTokers' based on what those users have followed or liked. Additionally, the app populates videos based on geolocation, now quite common amongst many apps.
What is TikTok for Business?
What makes TikTok a much more lucrative forum for brand promotion and affiliate marketing is robust user base and the company's recent division of TikTok for Business. It is an exciting new, paid advertising feature(6) of the parent app, which not only allows major brands to share big promotions, but also allows smaller creators to create a niche for their business.
How to Use TikTok for Business
Influencers
When promoting a brand through affiliate marketing, publishers and advertisers should understand how to best use the platform and develop a unique TikTok strategy. To get started, they should try specific tested methods of getting attention:
1. Identify Content
Marketers need to figure out the content they are going to make and distribute. They should opt for a variety of popular trends, dance videos, tutorials, funny clips, product launches, and business promotions, or a mixture of these content types.
2. Engage the Brand's Audience
Publishers and advertisers should be aware of the user interface and how to make short form and fun video clips successfully. They should maintain a healthy balance between fun posts and business/affiliate marketing promotions to keep the brand's audience entertained and engaged.
3. Be Consistent with Uploads
Maintaining a balanced weekly schedule for video uploads to maximise reach to the target audience is important. Location tags prove incredibly beneficial in engaging audiences in and around a brand's locale, boosting the company' content to the top of the feed.
4. Use the Hashtag Challenges Creatively
Hashtag challenges bring a nice twist to the content sharing ability of a creator. They streamline the flow of information, and target the right audiences. They are especially helpful to creators and influencers, who can tag their audience to spread the challenge, such as dance challenges, which promote a cause or brand.
Brand Marketing
An affiliate marketer looking to create a following in the real world for their product have greater chances of being noticed if they are on TikTok. Here are the top three ways to make this happen:
1. Tutorials and Demos
Many cosmetic brands offer tutorials-based videos (7) on TikTok. For brand and affiliate marketing promotions, especially product marketing, video footage is a great tactic to show how the product works and different ways in which the product can be used. In between these promotional clips, challenges can be added with the product to further increase its visibility.
2. Special Occasions and Holidays
The TikTok app can be used to market to an audience that is gearing up for a special day, event, or holiday. Publishers and advertisers should consider running a product give-away or having discounted prices for special occasions. This not only helps to distribute the products , but also helps brands gain followers.
3. Brand Filters and Stickers
TikTok offers a feature to of add stickers, filters, or lenses. Marketers which use them to promote their brand encourage their audience to do the same so they can accelerate their passive marketing.
Advertising
Creating Tiktok advertisements requires several steps.
While the previously mentioned methods help marketers make the most of TikTok's organic reach, TikTok Advertisements allow a more targeted delivery of brand promotion. The packages range from a minimum investment of $500 up to $150,000 for the hashtag challenge. These ads can be localised and personalised based on user settings preferences.
The options include:
TopView

:

Video that starts playing as soon as a user opens the app, is usually a minute long and takes the

most premium space

. (8)

In-feed Videos:

Video ads that appear while a user is scrolling (does not pop up but

is often un

-

skippable and play

s

without audio).

Brand Takeover:

Video that plays for

five

or

six

seconds

with

logo

displa

y as

the app is

opened

on a designated day

Hashtag Challenge:

Videos encouraging user submissions using a custom hashtag.

Bra

nded AR Content:

Branded lenses, stickers, 2D, 3D

and custom

Augmented

Reality (

AR

)

content

that is

generated by brands to promote a product, event or campaign and for creators to use in videos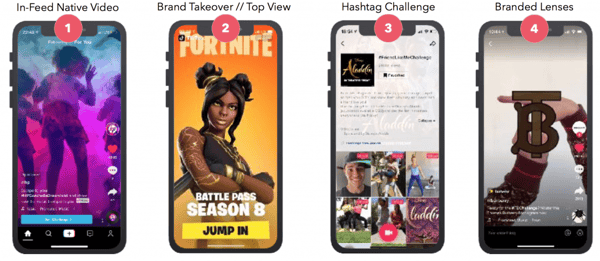 (Source: https://www.launchpadapps.com.au/blog/the-ultimate-guide-to-tiktok-ads/)
Brands or affiliates can make the most of TikTok with consistent development and by becoming well-versed with brand marketing on the platform. Most importantly, publishers and advertisers should understand the application's algorithm; the software pushes conversation-based personalised ads into user feeds to help boost promotions. This feature is great for small businesses and affiliate marketers. These may include food products, gyms, clothing, tourism, etc. Advertising is tricky when a brand's following is limited, but these can be boosted with the right approach.
If publishers and advertisers have a limited budget but still want to run a promotion, TikTok has recently rolled out a new feature to experiment with the way users shop through the app. This feature is similar to the way Instagram has created the 'Swipe Up' link via stories. TikTok users can easily be redirected to the brand's website through a link placed in the description of a video.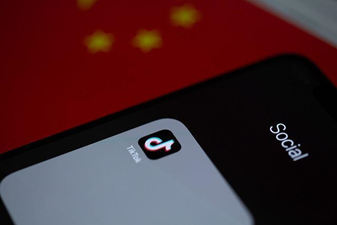 Source: Solen Feyissa
Is
TikTok
Good For Business?
Social media marketing is highly competitive and the content sharing process on those apps is quite rigid. This makes TikTok for Business unique and its business promotion field less saturated. TikTok is the fastest growing app among youth, and can provide a much larger audience that is extremely active in sharing content.
Given that TikTok is still relatively new, there is room for improvement in how the app facilitates people shopping online, through publishers and advertisers should not assume this is the priority for TikTok.
Final Thoughts
With many major brands shifting to TikTok, brands can grab this early opportunity for a short yet impactful marketing tactic. TikTok can also explore new ways of marketing that are fun and trendy. The advertising efforts are much cheaper compared to traditional and mainstream methods, and the power of word of mouth marketing adds fuel to the fire.
There is definitely no sign of TikTok slowing down any time soon. TikTok's focus on designing further advertisement packages and shoppable content solutions for brands will potentially become their primary source of revenue.
You may also be interested in reading the following articles: -
References: