TikTok, it's the sound of another leading social media channel. But what is it and how can affiliate marketers get involved?

What is TikTok?
TikTok is the revolutionary video sharing app that showcases short and sweet videos, ranging anywhere from knowledge-sharing content, art, dance trends and memes.
Here's a short history of how TikTok came to be.
Launched initially as Douyin in late 2016 in China, the app surpassed 100 million users within a year. Shortly after, TikTok was born to explicitly enter the western market as the international counterpart. To support TikTok's expansion into the market, their China-based parent company, ByteDance, acquired and merged TikTok with Musica.ly in 2018. The music-focused app was popular amongst Gen-Z and gave ByteDance easy access to their target market. Thus turning TikTok into one of the most downloaded apps in history.
With over 1.5 billion downloads on the App Store and Google Play, TikTok stands proud with over 500 million active users worldwide¹, so it is no wonder you have heard the name floating around lately.
But why is it popular?
Here at Commission Factory, we were also equally as stumped as to exactly why and how TikTok rose up to the likes of Will Smith, the NBA, Post Malone and even The Washington Post, to name-drop a few. There must be a reason this app has the attention of these stars and major companies.
Firstly, let's talk about how the app works. ByteDance has produced an app with the most uncomplicated, unique ability for anyone to create and access an endless pool of videos with minimal effort. It is extremely easy to point, shoot, edit and upload a video without needing to spend hours learning an editing tool first. Instead, it's intuitively experimental and fun. Sharing and expressing creativity is especially relevant to users, and TikTok's proposition as an accessible creative outlet was rated as the top reason why users love the app².
This accessibility reels in the interest of generation Z and Millenials; and naturally because all their friends are using it. Although, what is TikTok doing differently to retain its users where Vine couldn't?
TikTok keeps their algorithm quite hush-hush from the public as it is understandably their strategic USP (unique selling point). One of the algorithm's metrics that has been hypothesised online is 'Collaborative Filtering'. This is essentially one of the app's ways to populate and recommend videos on the users 'For You' page, aka the home page. Collaborative Filtering works by finding users who have followed and liked similar things to you, then recommending videos and other "TikTokers" based on what they have followed or liked. Additionally, the app populates videos based on your geolocation, which is now quite common amongst many apps.
Many users are attempting to 'crack' TikTok's algorithm to create viral videos, while others are genuinely curious. As the For You page seems quite randomly populated, users have collectively begun commenting 'fyp' (For you page) to try and trick the app's algorithm to feature the video onto other user's For You page. It is currently unknown whether or not this collective effort has been effective.
The algorithm is undoubtedly the reason behind the popularity of TikTok and is what sets it apart from other social media channels. And once the interest from half of the world's Gen Z and Millennial population is won-over, the big fish come into play, i.e., celebrities, e-commerce companies and other multi-million dollar businesses. Capitalism kicks in, and they begin to manifest on the potential of added monetisation.
The TikTok Audience
TikTok has, without a doubt been misinterpreted, with many believing the app is a waste of time, anti-social and limiting the brainpower and imagination of teenagers. We can hear the baby boomers recollecting their stories of the great outdoors and recollecting a life before the evils of technology in our pockets.
But who exactly is making the clock tick on TikTok? 500 million teenagers? TikTok's active users seem to be coming from a mix of people from various generations, backgrounds and geolocations. Yet, with no surprise, 41% of TikTok's demographic lies between the 16 to 24-year-old age group¹.
New trends show that the way people interact online is again changing. People are now disengaged and uninterested in sharing personal updates online, which was the opposite of how Facebook was used in the early 2000s. Instead, the purpose of these social channels has been redefined. Most find themselves endlessly scrolling through these apps for their daily dose of entertainment. This trend has been referred to as "Passive Browsing" ².
Users on TikTok spend, on average 52 minutes per day¹ engaging with the app. Following closely behind the leading social media app, Facebook, where users spend on average 58 minutes per day³. While time spent on both of these apps involve heavy passive browsing, there is a more wholesome reason users are occupied with TikTok.
What makes TikTok stand out is their second to none online community. It seems that users have a need to be a part of the wider community. This is reflected in the multiple ways a user can collaborate with others. There is the ability to take part in the abundant challenges and trending hashtags taking place every day on the app. React, reply and duet with other videos. Feature trending music, or even use the background sounds from other videos on your own content.
Following the footsteps of multiple social media channels, TikTok is no longer a sole guilty pleasure. The platform is evolving into an opportunity to earn money and possibly rise to fame from an increasingly younger age.
Brand and Affiliate Monetisation on TikTok
Marketers should definitely embrace and utilise the diversity and uniqueness of TikTok to reach their target audience. Even larger affiliates and brands themselves have created contests and challenges by using hashtags on TikTok. An example of this is UNSW Sydney, who are ramping up their social media presence to build a greater reach towards acquiring potential students. This creates a more engaging way to reach the younger demographic instead of using Facebook or Instagram Ads.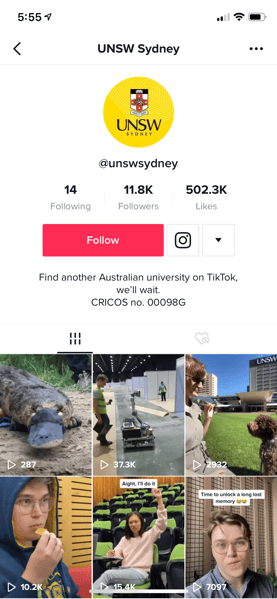 Depending on the brand, lightheartedness, creativity and humour can capture attention and is a great way to spread brand awareness, new customer acquisition and build brand loyalty. Users love engaging with a brand that is both personable and fun, which is why possibly creating a TikTok account can swing in your favour.
So far, TikTok has further capitalised the app by curating advertisement packages available for brands. There are currently 4 different paid ad features on TikTok, which include:
In-feed Videos: Video ads that appear while a user is scrolling.
Brand Takeover/TopView: Videos that start playing as soon as a user opens the app.
Hashtag Challenge: Videos encouraging user submissions using a custom hashtag.
Branded Lenses: A custom effect filter for creators to use in videos – similar to those on Snapchat and Instagram, except featuring brand-specific information.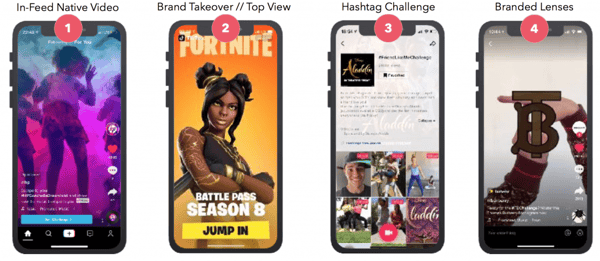 (Source: https://www.launchpadapps.com.au/blog/the-ultimate-guide-to-tiktok-ads/)
These packages range from a minimum investment of $500 and up to $150K alone for the hashtag challenge.
If you don't have that kind of money to spare but still want to promote your brand, TikTok has recently rolled out a new feature to experiment the way users can shop through the app. This feature is quite similar to the way Instagram has created the 'Swipe Up' link via stories. TikTok users can easily be redirected to the brand's website through a link placed in the description of a video⁴.
In terms of monetisation, where does this currently sit for affiliates on TikTok? Unfortunately, even with their prevalence and popularity as a social media channel, TikTok has not yet created a versatile way for affiliates to promote brands. That means, for now, affiliates will have to continue using similar promotional methods to that of Instagram, including unique clickless codes and text links.
Given that TikTok is still relatively new, there is plenty of room for improvement and for the app to reinvent how people shop online. We are visual creatures and shopping online has become more commonplace in society. However, we must also remember that creating a seamless shopping journey for users may not be the priority for the app. Nevertheless, whispers are floating around online to suss out what the app's future roadmap looks like.
The Future of TikTok
There is definitely no sign of TikTok slowing down any time soon and having the same unfortunate fate as Vine. ByteDance is expected to be very strategic in the way they form new updates, features and partnerships.
It seems that TikTok has been busy focusing on designing advertisement packages and shoppable content solutions for brands as it will be their primary source of revenue. However, will we be seeing any new groundbreaking solutions or features on TikTok to assist creators in monetising their content? Let's hope so. The affiliate industry is eagerly waiting.
You may also be interested in reading the following articles: -
Affiliate Marketing Trends in 2020
The Digital Revolution Down Under [Part 1]
The Digital Revolution Down Under [Part 2 ]
References: