With Cyber Weekend - one of the busiest retail events of the year - just around the corner, we're taking a look at how brands and affiliates can make the most out of proven Black Friday affiliate marketing strategies.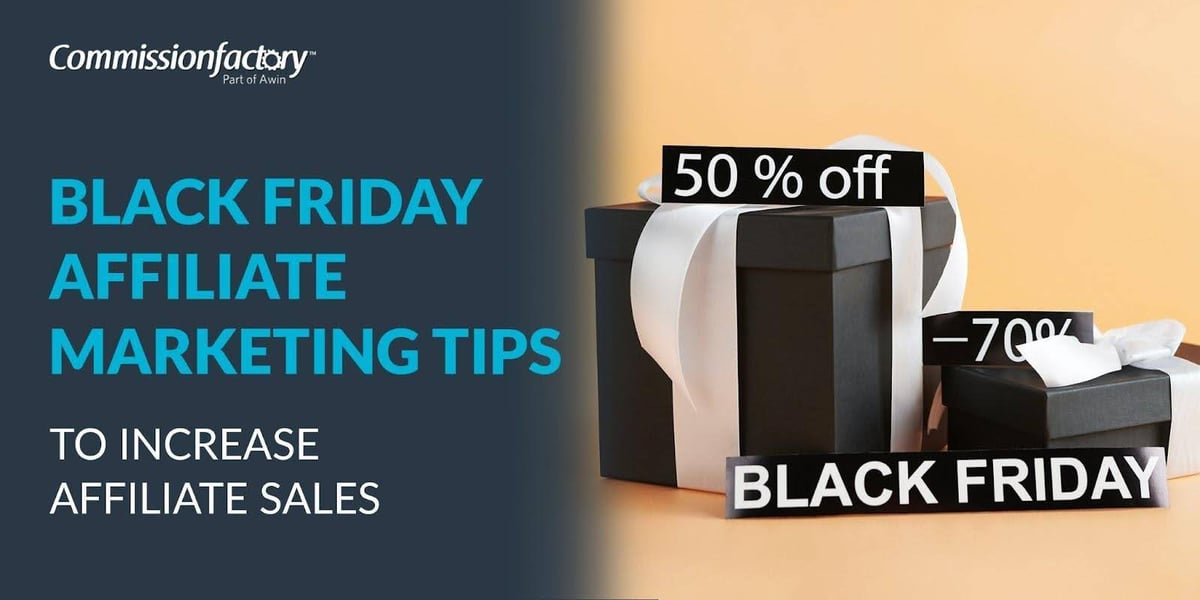 Australian shoppers spent more than $7.1 billion across the four days between Black Friday and Cyber Monday in 2022.1 Meanwhile, the average spend per shopper was $482.90.2
This year's Black Friday looks set for another bumper year, with spending levels projected to climb 20% year on year as nearly 40% of Australians plan to shop for the holidays in advance.3
More than 10 million Australians are expected to reach for their wallets during the sales period, spending in categories such as clothing, electronics, shoes, and beauty products.
Since Black Friday and Cyber Monday eclipse Boxing Day in terms of sales figures, it makes more sense for affiliate marketers to double down on their focus. For advertisers and affiliate marketers, this Black Friday affiliate marketing guide will help make the most of this important sales period.


Table of contents:
What Is Black Friday?
Black Friday is the name Americans have given to the day after the Thanksgiving Holiday, which is celebrated on the fourth Thursday in November each year. Black Friday, which traditionally marks the start of the US Christmas shopping season, has become an internationally popular event thanks to its large number of sales.
It is widely celebrated as an annual shopping event, with retailers offering deep discounts on big-ticket items such as household appliances and consumer electronic goods. The origin of the term Black Friday dates back to the 1950s, when overworked police officers in Philadelphia used it to refer to the unruly holiday shopping crowds that used to form on the day after Thanksgiving.4
By the 2000s, the day Black Friday had evolved into the biggest shopping event of the year in the US, eclipsing even the Saturday before Christmas Day. In 2005, Cyber Monday was created as an online equivalent with a strong focus on consumer electronics and PC hardware.
Since then, the lines between the two events have blurred, creating a four-day annual shopping event. However, it was only around the mid-2010s that the Black Friday phenomenon started gaining traction in Australia.5
Black Friday and Cyber Monday's popularity presents an excellent opportunity for advertisers and affiliates to generate greater sales during the holiday season. A good Black Friday affiliate marketing strategy involves:
Coming up with a comprehensive pre-Black Friday marketing plan
Finding the right partners to achieve said plan's goals
Executing the plan flawlessly on Black Friday
Reviewing analytics, collecting feedback, and retargeting post-Black Friday


When Is Black Friday in Australia?
Black Friday falls on November 24, 2023, with a wide range of brands and retailers offering substantial discounts, promotions, and great deals. The Cyber Weekend promotional season generally ends on Cyber Monday, which is November 27 this year. However, some brands may choose to extend the sales period.
To make the most of this season, advertisers should complete a comprehensive planning session with their technical team to ensure they have the following:
Product pages on all sites are live, and the products are still available for purchase
Tech infrastructure to handle high traffic
The ability to collect and monitor visitor data and feedback
Sound analytics for retargeting after Black Friday


Black Friday Consumer Trends and Behaviour
Brands in the technology, consumer electronics, appliances, homeware, activewear, footwear, and fashion will likely be the most active with offers on Black Friday. It's worth noting that Millennials and Generation Z will most likely lead the spending on Black Friday and Cyber Monday.6
Black Friday and Cyber Monday sales witnessed stronger-than-expected growth in 2022, with Australians spending more than $7.1 billion across the four days.1 This outpaced pre-sales predictions of $6.2 billion.7
In 2023, 14% more Australians are likely to take advantage of Black Friday sales compared to 2022.3 More than two-thirds of the surveyed shoppers planned to make a purchase during the event, including an overwhelming 77% of all Gen-Z consumers.
More than 60% of shoppers are interested in buying something during Black Friday in 2023.8 And over 36% considered the large discounts worth waiting for. In particular, shoppers were interested in the following categories of goods:


| | |
| --- | --- |
| What are you interested in buying during Black Friday 2023? | |
| Clothing | 32% |
| Kitchen Appliances | 21% |
| Smartphones | 16% |
| TVs | 15% |
Source: Choice Consumer Pulse Survey
Over the last decade, Australian retail spending has grown significantly thanks to cultural events such as Black Friday and Cyber Monday and the global pandemic. Lockdowns pushed online sales up to $62.3 billion in 2021, and this figure was originally predicted to double over the next five years.9
However, as inflation and the cost of living crisis affected households across Australia in 2022-2023, those growth figures haven't materialised. Instead, we see Black Friday sales providing some much-needed boost to sagging retail sales in the previous months.
For instance, the Australian Bureau of Statistics reported a 7.7% year-on-year increase in retail spending in November 2022, with consumers spending $35.9 billion across physical and online stores.10 This year has so far witnessed three consecutive quarters of falling retail sales volumes for the first time since the global financial crisis of 2008.11
There is room for optimism, however, with sales rebounding by 2.1% year on year in July.11 The arrival of Black Friday and Cyber Monday should provide a further boost for retailers across Australia, as more shoppers ready themselves for big discounts.
Recent retail spending trends suggest that Australians have upped their spending in November thanks to the increasing significance of Black Friday and Cyber Monday deals. There is also a significant consumer shift towards online shopping.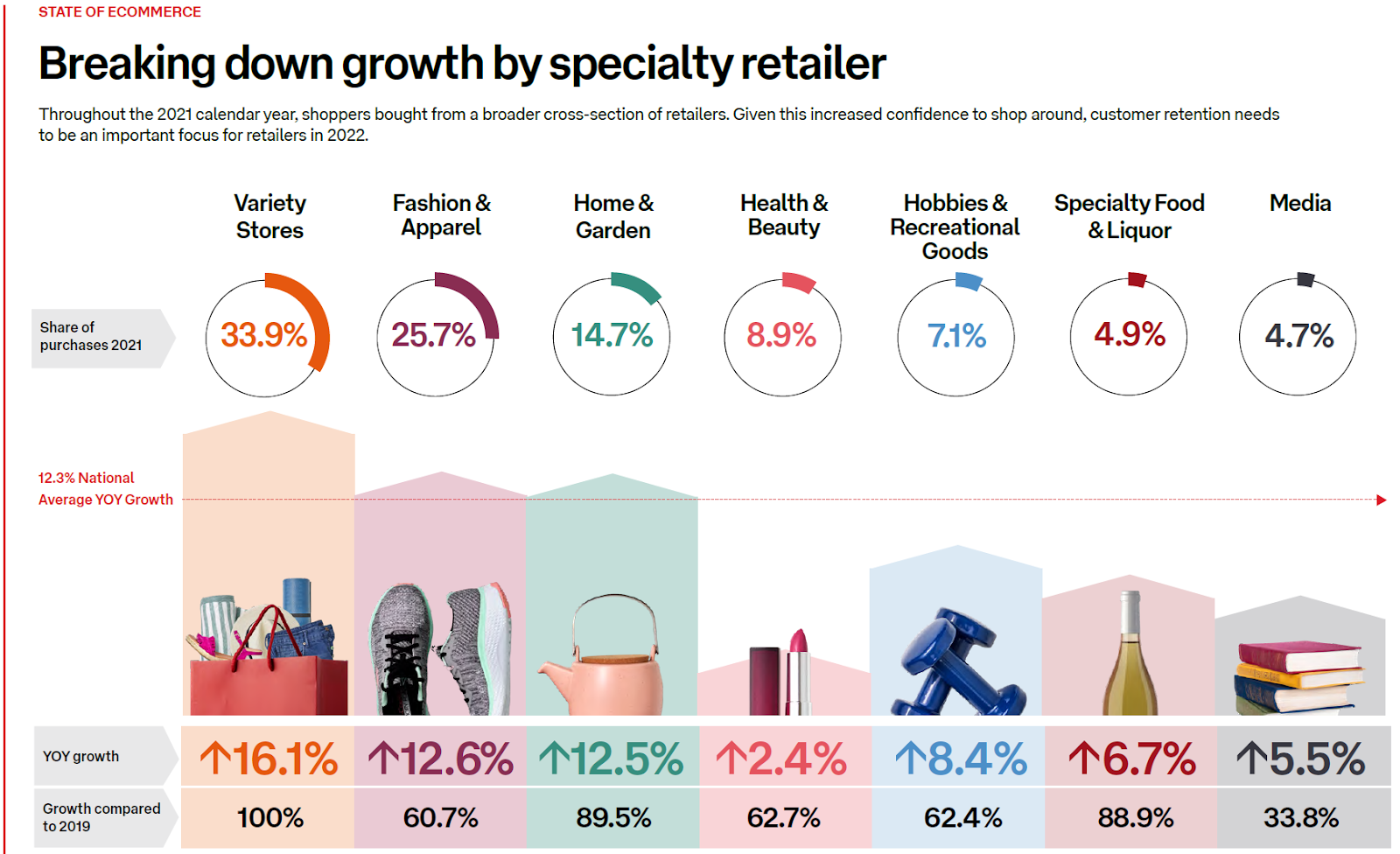 Source: Australia Post (PDF download)12


What Does This Mean for Affiliate Marketing Sales on Black Friday?
Australians spent around $52.7 billion online in 2022, up 12.3% since 2021. However, online sales still represent just 12.6% of the total retail market.13 The vast majority of Australian shoppers - 73% of them - preferred shopping at bricks and mortar stores in 2022.14
Bricks-and-mortar shopping is not going anywhere anytime soon, with Australians showing a stronger preference for offline shopping than peers in many other markets around the world.
However, it's also clear that online sales will eventually take over a significant chunk of brick-and-mortar shopping in the future. Particularly during events such as Black Friday and Cyber Monday, where the presence of steep discounts will drive more online sales.
Here are the major trends to consider when planning to promote advertisers for Black Friday in 2022:


eCommerce Is the New In-store
Australians spent more than $7.1 billion from Black Friday to Cyber Monday in 2022, with online spending increasing by 24% compared to an 11% increase in physical sales.1
For advertisers who run online stores, consider using and reviewing tools such as Commission Factory's data feeds feature so publishers can promote products to their audiences to maximise sales revenue via different partnership types.15


Shoppers Are Looking for Free Shipping
Since online shopping comes with its own shipping challenges, 65.5% of total online orders include free shipping. All four major cohorts of Australian online shoppers - super shoppers, selective shoppers, savvy shoppers, and occasional shoppers - want free delivery.16


Create Meaningful Partnerships
Affiliates and brands need to leverage partnerships to target to help deliver effective discounts, increase consumer reach, and target the right consumers this Cyber Weekend.
It's also worth noting that around 90% of online shoppers in Australia are signed up to at least one rewards program, with 8% having more than 10 subscriptions.17 The potential of loyalty programs to engage existing customers should not be overlooked.18
These programs have the potential of making affiliate-brand partnerships more effective both in the run up to the sales event as well as in the immediate aftermath.


How to Boost Affiliate Sales on Black Friday
Brands and affiliates who need additional support this Black Friday should consider implementing the following strategies. Planning with the right partner will improve the effectiveness of an online Black Friday and Cyber Monday ad campaign and performance, which will positively affect sales performance.


1. Plan Ahead
Media campaigns and promotions should be booked and communicated as early as possible to ensure bookings can be secured for the busy period.
Brands and affiliates should execute campaigns to acquire new customers during the pre-critical trading period as early as possible - thus ensuring they have a large number of visitors or member numbers to offer to advertisers. This will make their exposure propositions as appealing as possible and help them make the most of the day in terms of profits.
For example, brands can use Commission Factory's placement marketplace feature to browse Black Friday campaign opportunities posted by affiliates.19 The feature allows brands to browse up-and-coming advertising placements and apply through an easy, three-step application process.


2. Carry Out Research
Before rolling out a new marketing plan, brands and affiliates should consider the analytics and insights they have from last Black Friday. Statistics can provide a bigger picture of their performance and greater insight into competitor performance. Advertisers and publishers should consider the following statistics:
Year-on-year performance analysis: Measuring the publisher's performance and identifying the aspects that worked and those that did not.
Partnership evaluation: Identifying which affiliate or advertiser partner delivered the best performances from visitors and the deals that were in place.
Competitive assessment: Being aware of the offers, promotions and deals provided by other publishers and brands.
Performance to date: It's essential to consider the pandemic's ongoing economic aftershocks, which have resulted in historic inflation levels and a squeeze on consumer spending. Brands need to factor this into their strategies.
External factors: Finally, brands and affiliates need to consider social, economic and political factors. These can affect the strategy and how the campaign is executed.


3. Create Impactful Landing Pages
A high-quality landing page is essential for advertisers and publishers, as this is the point in the shopping journey which could influence a visitor's decision on a brand's products or service offerings.
Consider implementing good website hygiene and the best practices for creating a high-quality landing page, which will increase the likelihood of a customer placing an order. Examples of best practices include having all the necessary information ready, providing targeted recommendations, and creating a seamless cart abandon and checkout flow.
Here are some useful tips to help marketers do so:
Use bold and prominent fonts to highlight the brands' deals available
Display the price cut and amount of savings
Provide persuasive and impactful content that answers consumer questions regarding products on offer
Write and place a compelling call to action (CTA)
Supply readers with transparent and clear options on available deals, including shipping and payment methods
The above tips will help deliver impactful landing pages that can inform, persuade, and convert visitors. Brands and affiliates should also leverage their social media channels to bring in more sales and amplify their potential Black Friday success.


4. Leverage Fast and Affordable Delivery
Australian shoppers want more control over last-mile delivery. Click & Collect services accounted for 13.6% of the online shopping segment in 2022, largely driven by shoppers' need for fast and affordable delivery.12
At the same time, 29% of shoppers now expect deliveries to arrive faster than in 2019. Hence, brands and affiliates who offer more delivery options could see more significant benefits.
Every affiliate marketer should consider the customer experience, which includes express and same-day deliveries, as a way to aid revenue generation. Besides Click & Collect, brands and affiliates can also expand their choice of courier offerings to give customers more control over their order shipment.


5. Use the Most Effective Channels
Brands and affiliates should promote their discounts using a targeted and effective marketing strategy. Assessing a brand's or product's past performance will help to identify which advertisers' products or services they should promote. Here are some of the ways marketers can boost their sales.
Start posting about the Black Friday and Cyber Monday offers on all social media handles, including

Facebook

,20 Twitter,

Instagram

,21

TikTok

,22 and more.
Send customised messages about promotions to users via email to let them know about upcoming promotions
Use the 'Boost' option on Facebook and similar marketing strategies on other social media platforms to highlight special offers from brands
If appropriate, write impactful and engaging press releases and share them online for distribution to generate inbound links
Another option is

pay-per-click (PPC) ads

.23 However, brands and publishers should fully understand the cost versus benefit viability since pay-per-click ads could be a lot more expensive during the holiday shopping season
Create engaging YouTube videos and Instagram reels
Accumulate data and analytics and generate insights for retargeting and identifying new leads


6. Identify Popular Offers and Product Recommendations
When finalising the product promotions list, brands and affiliates should ensure they have carefully selected the best product deals and promotions available. Keep in mind that some offers may only go live for a brief period, so promotions should be continuously monitored and changed if needed to maximise their potential sales revenue.
Another good way to promote Black Friday deals is to create a landing page dedicated to product gift guides or product guides. Consumers often have difficulty finding and deciding what products to purchase, so helping them take the stress out of the purchase process can help drive greater conversions.


7. Use In-depth Product Reviews and Video Reviews
Affiliate marketers could leverage their blogs to publish in-depth product reviews backed by detailed case studies that show just how a particular product can improve their lives. This approach could potentially help increase awareness about specific new products and increase the audience's trust in the affiliate recommendations.
Adding video reviews to the mix is always a great idea from a reach and authenticity perspective. Video platforms such as YouTube added $890 million to Australia's GDP in 2022, both through direct employment and indirect economic benefits.24 Creators who publish video content earn an average of $150 per hour through sales boosts and brand partnerships.


8. Focus on Building Quality Backlinks
Rule number one of SEO is building quality backlinks. Bloggers and marketers seeking to increase incoming traffic during Black Friday and Cyber Monday face competition from other publishers in an increasingly saturated market in Australia.
The best way to outrank the competition is through better backlinking strategies. Instead of spamming, pay attention to more organic link-building strategies involving partner bloggers and other collaborators. To get natural backlinks that rank high on search algorithms, use proven methods like the skyscraper technique.25


What to Do on Black Friday
When the day arrives, here are some last-minute checks to ensure the day runs seamlessly:
Ensure that all the landing pages are working smoothly across different operating systems and devices
Affiliates should test and confirm that commission rates are set up correctly – which can be done using Commission Factory's

commission rules testing

feature26
Recheck the offers and promotions to ensure that visitors are not misled and will have a satisfactory user experience
Continually monitor partner product pages to ensure there is stock left of the products being promoted
Affiliates can monitor advertiser social media pages for any issues/changes or newsworthy content to add to the site.
Keep an eye on traffic data and other analytics to see what is working and run ad hoc ad campaigns and social media posts based on those insights
Ensure that all the information that visitors are looking for is available and accurate on all deals and landing pages
Brands and affiliates should also communicate in a transparent and efficient way with their user base.
This could entail marketers checking that all comments and direct messages on social media are monitored and appropriately responded to. Having an open communication channel ensures consumers can easily find answers to their questions and have any concerns addressed – which will contribute significantly to an affiliate's desired results from their campaigns.


What to Do After Black Friday
Once Black Friday is over, brands and affiliates should use all relevant data and analytics to prepare for Cyber Monday, which is just around the corner. The data can be used to:
Analyse the effectiveness of their marketing strategies
Reflect on the strategies that were essential to successful campaigns
Apply learnings from Black Friday to future campaigns
For example, Commission Factory's custom reporting feature allows affiliates to produce bespoke reports using dimensions and filters such as advertiser vertical reports, website traffic, and data throughout specific campaign periods.27 This will enable them to view a deeper, more personalised insight into their Cyber Weekend campaign.
Whether you're a publisher, advertiser or agency, it's vital to stay on top of your game and benchmarking data is a useful way of assessing the health of your affiliate campaign. Check out Awin's 2022 Peak Performance Tracker,28 which uses millions of data points from 20,000 advertisers around the world and a unique snapshot of the global affiliate industry.


Key Takeaways
When it comes to Black Friday and the holiday season, affiliate marketers have a great opportunity to generate greater conversions with the right mix of marketing strategies. Since this opportunity only comes around once a year, brands and affiliates should consider building strong partnerships to make the most of it.
Commission Factory is not only the Asia-Pacific region's largest affiliate platform, working with more than 800 of the world's biggest brands, but it is also a performance marketing platform that allows content creators and influencers to earn money and online businesses to increase sales.
If you're a brand or affiliate looking to give your Cyber Weekend sales a little push this year, get in touch with us about working with Commission Factory. Alternatively, register as an affiliate or an advertiser on our platform today.


References