Custom Reporting is a key reporting feature in the Commission Factory platform that helps affiliates find wisdom in their data.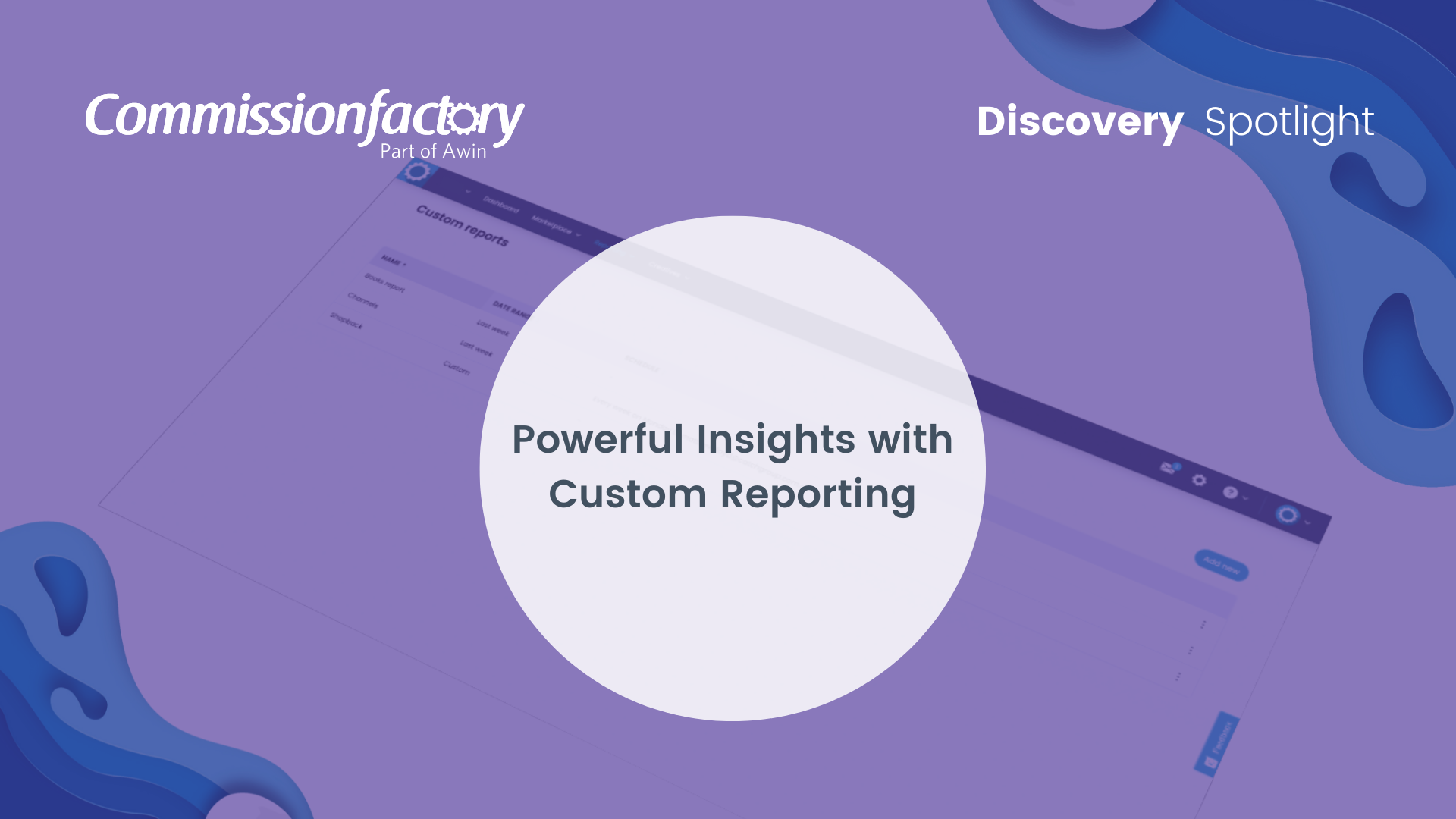 Here at Commission Factory, we pride ourselves on building features on our platform that'll benefit our affiliate partners and advertisers. As technology evolutionists, we understand the importance of finding insights in data which is why we've created Custom Reporting in our platform.
Custom Reporting is one of the most valuable features among our affiliates. In this article, we highlight how it can benefit our affiliates and assist them in finding great insights into their partnerships with advertisers.
What are custom reports?
Commission Factory's Custom Reporting feature allows affiliates to generate and schedule bespoke reports using any dimensions, filters, and metrics available via the API. This complementary reporting tool gives them a deeper and more personalised insight into their campaigns, and tailor their marketing strategies accordingly.
Custom Reporting is a beneficial feature for affiliates wanting to receive more granular reports from specific campaigns, regions, websites, advertisers, and more. Some examples of reports that can be generated via Custom Reporting are:
Advertiser vertical reports
Advertiser breakdown
Month-over-Month (MoM), Quarter-over-Quarter (QoQ), Year-on-Year (YoY)performance results
Website traffic
Data throughout specific campaign periods
Unique code reporting
And more…
How to set up a custom report
Custom Reports can be created easily using the reporting tab on the dashboard. From there, affiliates can simply create a name for the report, select the metrics they want to report on, and schedule it to be sent weekly, fortnightly, or monthly.
For full details on setting up and scheduling a report under Custom Reporting, check out our help centre article here.
What are the benefits of the feature?
The Custom Reporting feature uses data to optimise an affiliate's workflow and overall campaign management. Here are some of the benefits that our publishers get from using it on our platform.
Once a report is created, affiliates can easily schedule the CSV file to be sent to a chosen email address.
The reports can increase teams' productivity by sending it to multiple users at one time
It provides unique data that can drive decision-making.
It helps affiliates recognise new ways of working with advertisers and effectively create stronger partnerships
Affiliates can identify gaps within their program using report data
Data can be used for marketing plans in the upcoming months
Affiliates can make informed decisions based on the metrics they were elected to report on
What our affiliate partners are saying
Commission Factory affiliate partners who have utilised this feature have shared their feedback on how it has benefited their business and overall service for advertisers. Here's what they have to say:
"The Custom Report functionality has helped our team be more efficient in how we reflect on the performance of Commission Factory advertisers. This functionality has enabled our team to schedule and automate regular reports, and thus receive consistent performance insights directly to our inbox. Additionally, the ability to segment reports by advertiser category has provided our team with more in-depth insights into vertical growth and trends."
Honey by Paypal
"Custom reporting shows me the links that are converting the best and the items that are selling. In one snapshot, I can see what content I need to focus on, or more importantly - avoid…. So, this tool is essentially saving me time and making money."
Stay at Home Mum

Utilising this feature has undoubtedly assisted these affiliates with efficiency. It has provided insights into advertisers, categories, and key trends they should focus on - overall creating a more positive experience in the Commission Factory platform.

If you are an affiliate partner with Commission Factory and want to find out more about this custom reporting check out our help centre article here or contact us Publisher Development team. Not yet working with us, contact us.