Discover how advertisers can unlock hidden revenue, increase brand exposure, and more with Commission Factory's Placement Marketplace. Maximise your advertising potential and boost your campaign success.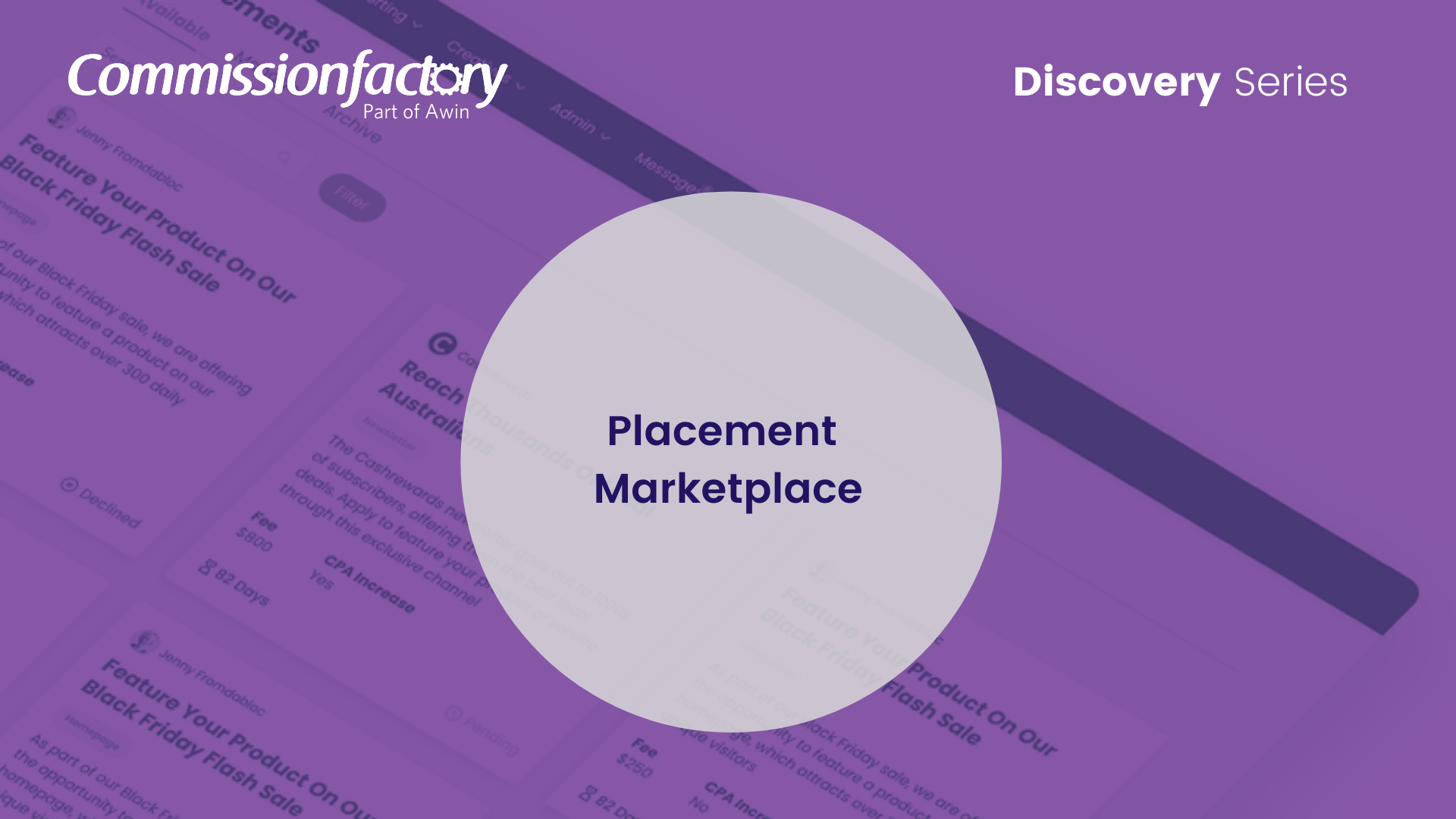 What is the Placement Marketplace?
The Placement Marketplace is an automated hub of advertising opportunities curated by affiliates across the network. Advertisers can browse up-and-coming advertising placements and easily apply to multiple opportunities using the simple three-step application process. Once approved and the placement is live, the automated billing system handles the rest.
Commission Factory recognises that placements can be time-sensitive and submission deadlines can lead to lost opportunities - which is why the team has designed a system centred around automation.
When is the Right

T

ime to

U

se the Placement Marketplace?
The best answer to this question is, "Now!"
Affiliates are using the Placement Marketplace to promote their opportunities on a daily and weekly basis. We recommend checking the opportunities at least once a week to see if there is an opportunity that suits your needs or meets your goals.
Whether an advertiser is building a Q4 plan, promoting a product launch, wanting to push a promotional offer or get that additional boost in sales, the Placement Marketplace can be used to help form a solid plan that will set the program up for success all year round.
Good promotional planning in the partnerships channel is all about execution, consistency and using the Placement Marketplace to bolster your marketing efforts.
The

B

enefits of

U

sing our Placement Marketplace for

A

dvertisers
Save time on finding new and creative ways to promote your business
Discover hidden (yet easy to win) revenue

Generat

e

additional sales

Plan

for peak retail events

well in advance

Plan

seasonal campaigns

with ease

Build

on existing relationships with affiliates

Stand

out from the competition

Increas

e

brand exposure

and reach

Automat

e

BAU

(Business

as

Usual)

tasks

to focus on other areas of growth



Five Tips on How to Make the Most of the Placement Marketplace as an Advertiser
1. The Early Bird Gets the Worm
Advertisers should make a habit of checking the Placement Marketplace on a daily or weekly basis to make the most of recently posted placements and last-minute or time-sensitive opportunities. With some placements having limited availability, it pays off for advertisers to be the first to apply. Timing is everything.
2. Fortune Favours the Prepared
Advertisers should plan the next month, quarter or even year with Placement Marketplace. With plans aligned and placements booked, advertisers can focus on other aspects of program management.
3. Testing the Waters
Advertisers should try something different and take advantage of niche opportunities that could potentially open additional revenue streams.
4. Equipping the Affiliates
Any specific campaign requirements will be requested in the placement. However, advertisers should ensure they supply all required creatives ahead of time to ensure the placement goes live without a hitch. The good news is, you can continue to be in contact with your affiliates leading up to the placement using the message centre, in case either party has questions or requires more information.
5. Flexible Commissions & Bonuses
Advertisers should leverage the Placement Marketplace to manage all placements across the platform. The Placement Marketplace allows advertisers to set everything up, including CPA (Cost Per Action) increases, flat fees and creatives. It is a centralised hub designed to automate, manage and view all placement activity.
How to get started
Login to your account and click on the "Marketplace" tab and select the "Placements" > "Directory". For more information please visit our Help Centre, watch the how-to videos below or contact your account manager.
If you would like to learn more about working with Commission Factory find out more here