As part of our discovery series, we will unpack the Placement Marketplace and how it can set advertisers and affiliates up for success in 2021.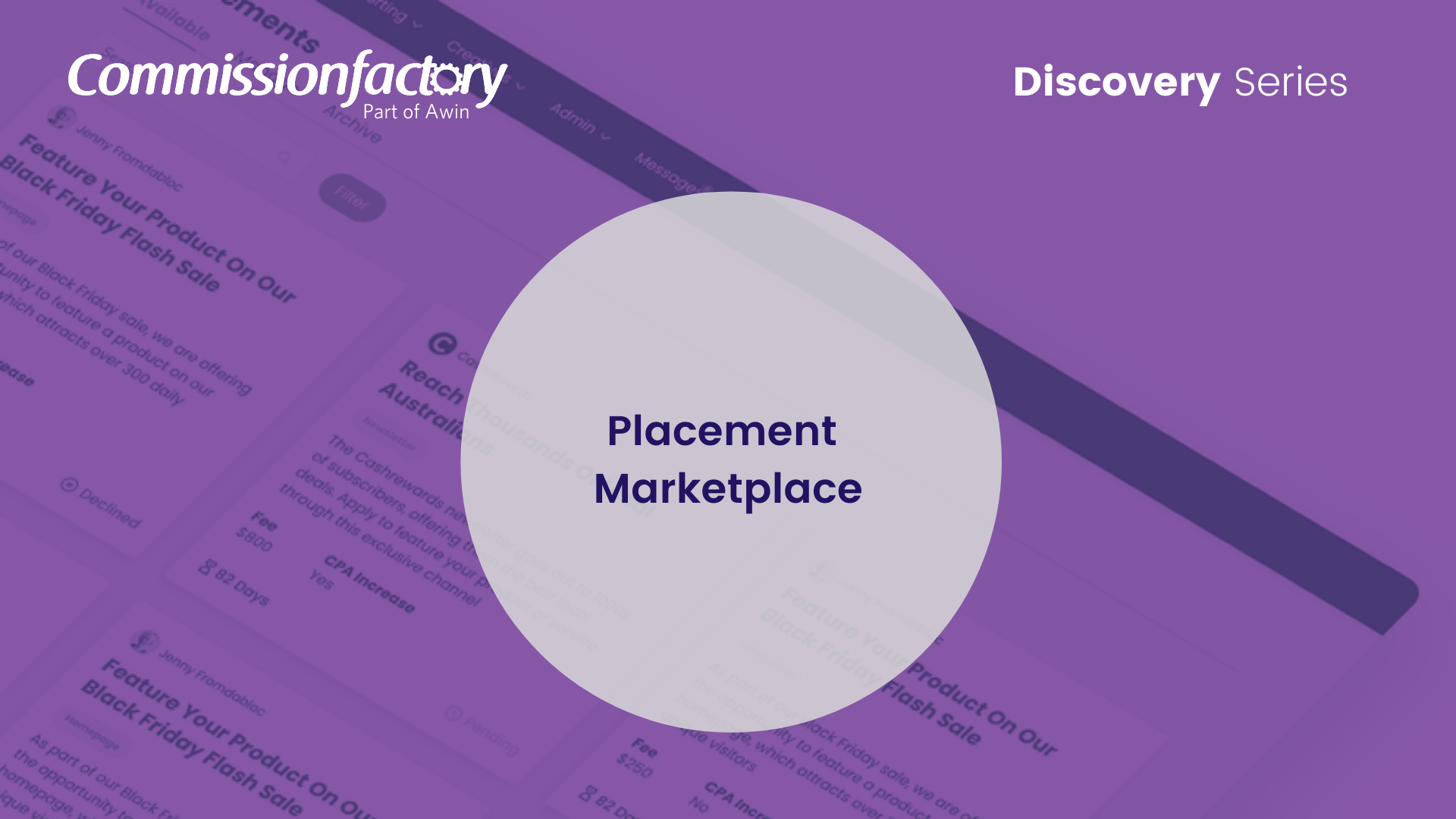 What is the Placement Marketplace?
Driven by client feedback, the Placement Marketplace is an automated hub of advertising opportunities curated by affiliates across the network. Advertisers can browse up-and-coming advertising placements and easily apply to multiple opportunities using the simple three-step application process. Once approved and the placement is live, the automated billing system handles the rest.
Commission Factory recognises that placements can be time-sensitive and submission deadlines can lead to lost opportunities - which is why the team has designed a system centred around automation.
When is the

B

est

T

ime to

U

se the Placement Marketplace?
Now is the best time for advertisers to use the Placement Marketplace, with affiliates adding new opportunities on a daily and weekly basis.
Whether an advertiser is building a Q4 plan, promoting a product launch, wanting to push a promotional offer or get that additional boost in sales, Placement Marketplace can be used to help form a solid plan that will set the program up for success all year round. It is about starting, consistency and the Placement Marketplace being part of the marketing affiliate marketing strategy.
The

B

enefits of

U

sing our Placement Marketplace for

A

dvertisers
Generat

ing

additional sales

Plan

ning

for peak retail events

Plan

ning

seasonal campaigns

Build

ing

on existing relationships with affiliates

Stand

ing

out from the competition

Increas

ing

brand exposure

Automat

ing

BAU

(Business

as

Usual)

tasks



Five Tips on How to Make the Most of the Placement Marketplace as an Advertiser
1. The Early Bird Gets the Worm

Advertisers should make a habit of checking the Placement Marketplace on a daily or weekly basis to make the most of recently posted placements and last-minute or time-sensitive opportunities. With some placements having limited availability, it pays off for advertisers to be the first to apply. Timing is everything.

2. Fortune Favours the Prepared

Advertisers should plan the next month, quarter or even year with Placement Marketplace. With plans aligned and placements booked, advertisers can focus on other aspects of program management.

3. Testing the Waters

Advertisers should try something different and take advantage of niche opportunities that could potentially open additional revenue streams.

4. Equipping the Affiliates

Any specific campaign requirements will be requested in the placement. However, advertisers should ensure they supply all required creatives ahead of time to ensure the placement goes live.

5. Flexible Commercials

Advertisers should take advantage of and leverage the Placement Marketplace to manage all placements across the network. The Placement Marketplace allows advertisers to set everything up, including CPA (Cost Per Action) increases, flat fees and creatives.
How Affiliates Can Generate Additional Sales and Scale Existing Partnerships
From time –to –time, plans fall through and there can be pressure to find alternative arrangements for pre-budgeted campaigns. The Placement Marketplace is the perfect tool to assist affiliates with finding a new deal to fill the gap.
Additionally, relationships sometimes require a spark to reignite engagement. That is why Commission Factory has built a system that allows for ultimate flexibility, whether that is negotiating a pre-determined CPA increase or agreeing on a fixed fee, the system can handle multiple requirements that meet unique circumstances. It is also no secret that the Commission Factory team values great design, which is why we have created a visual marketplace to enhance the advertiser's browsing experience.
The

B

enefits of

U

sing the Placement Marketplace for

A

ffiliates
Generat

ing

additional sales

Increas

ing

placement exposure

Scal

ing

existing advertiser relationships

A

c

entralis

ed hub for managing placements

Stand

ing

out from the competition

Empower

i

ng

marketing capabilities

Five

T

ips on

H

ow to

M

ake the

M

ost of The Placement Marketplace as an

A

ffiliate
1. Front of Mind
Exposure is everything! Affiliates should keep their options open and publish placement opportunities program wide. For affiliates who are not yet using the Placement Marketplace, this guide demonstrates how to get started.
2. The Devil is in the Detail
When posting a placement, affiliates should provide as much information as possible. They should clearly communicate any additional information within the placement description and ensure that the creative requirements are clear.
3. Plan, Plan, Plan
Adding in placements ahead of time allows affiliates to plan campaigns and their month, quarter, or year in advance, saving time and stress, especially during peak season.
4. Responsiveness to Applications
Affiliates should set up email notifications to monitor applications and approve and decline these on a regular basis. This allows advertisers to know where they stand and action any final creative requirements ahead of time.
5. Reaching Out
Affiliates should take advantage of the message centre and curate a list of placements that they think advertisers will be interested in and send out an EDM (Electronic Direct Mail) program-wide.
Set

u

p for

S

uccess
Commission Factory's goal is to power partnerships with The Placement Marketplace by providing additional revenue streams and automating existing business processes.
How to get started
Login to your account and click on the "Marketplace" tab and select the "Placements directory". For more information please visit our Help Centre, watch the how-to videos below or contact your account manager.
If you would like to learn more about working with Commission Factory find out more here