With the busiest retail event of the year around the corner, Black Friday, we look at how affiliates can prepare, what they can do on the day and things to consider to make the most of the biggest sales period in the year.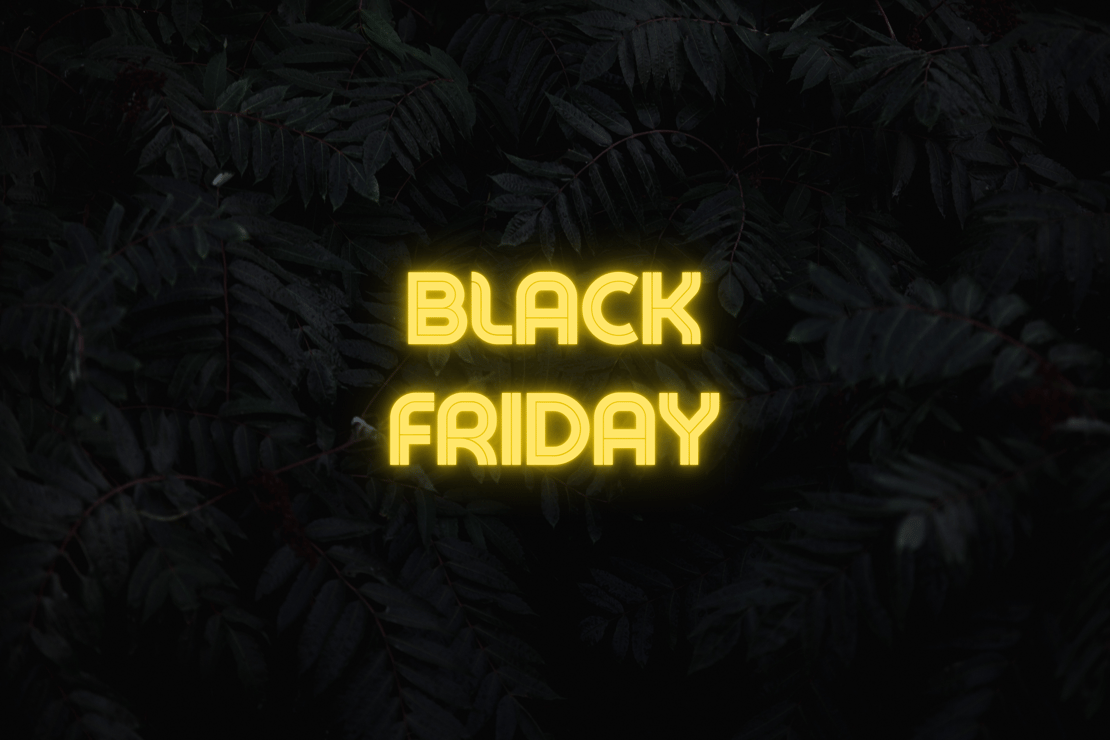 What is Black Friday?
Black Friday is an annual shopping event that is celebrated by retailers all around the world. It is their way to kick-start the shopping season for Christmas holidays with the majority of retailers offering unprecedented discounts, promotions, and deals on their products. Consumers often hold off their major purchases for Black Friday and Cyber Monday deals so they can take advantage of the offered savings.
Black Friday and Cyber Monday's popularity presents an excellent opportunity for affiliates to generate greater sales during the holiday season. An affiliate can make sure to do so by:
Coming up with a comprehensive pre-Black Friday marketing plan

Executing the plan flawlessly on Black Friday

Reviewing analytics, collecting feedback and retargeting post-Black Friday



When is Black Friday?
Black Friday in Australia will kick off on November 26, 2021, with a wide range of brands and retailers offering substantial discounts, promotions and deals. Affiliates can make the most of this season in Australia through comprehensive planning and ensuring they have:
Checked that the referred product pages on the chosen advertiser's sites are live and the products are still available for purchase

Technological infrastructure in place to handle high traffic

The ability to collect and monitor visitor data and feedback

The plan to use the analytics for retargeting after Black Friday



Black Friday Consumer Trends and Behaviour
Most deals are expected to be offered by the brands and retailers associated with technology, consumer electronics, appliances, homeware, activewear, footwear and fashion. For affiliate marketers, it is necessary to note that Millennials and Generation Z (4) are the two demographics who are most likely to spend the most during Black Friday and Cyber Monday events.
According to the statistics collected by Finder.com, in November 2019, Generation Z customers spent around AUD 668 while millennials spent close to AUD 600. On the other hand, baby boomers and Generation X customers were more conservative shoppers spending only AUD 560 on average.
More than 13.5 million Australians (2) had plans to shop on Black Friday, along with Cyber Monday, in 2019. In fact, Australians have spent close to a record $27.9 billion (3) in November 2019 on a diverse range of retail products including apparel, cosmetics, and consumer electronics.
Here is a breakdown of how much each Australian spent (2) on Black Friday within different categories:
AUD $130 on travel

AUD $127 on food and beverages

AUD $93 on clothing and footwear

AUD $72 on consumer electronics

AUD $53 on furniture

AUD $43 on toys

AUD $27 on cosmetics
Over the last decade, Australian retail spend has grown over 50% as both Black Friday and Cyber Monday sales continue to tempt shoppers more and more. In November 2008, the average Australian spent close to $1500 on retail products and services. That amount crossed the $2300 mark in November 2018 and grew by 31.6% year-on-year in 2019.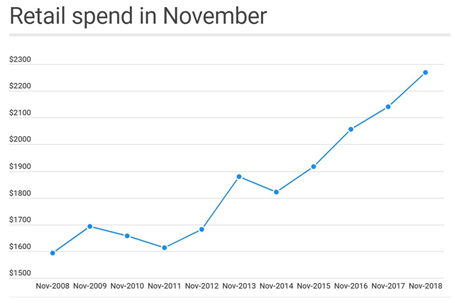 Source: Savings.com AU
The graph of retail expenditure shows that Australians have continued to spend more and more during the month of November due to the increasing significance of Black Friday and Cyber Monday deals and a major consumer shift towards online shopping.
What Will be the Impact of COVID-19 on Black Friday and Cyber Monday 2020?
Although the global COVID-19 pandemic has significantly reduced in-store sale opportunities, e-commerce sales have continued to show an upward trend during 2020. Online shopping has grown by a record-breaking 75.8 per cent YOY (4), as more and more people and households spend more time on the web (6) at home.
According to the Australia Post 2020 e-commerce update(4)
Over 1 million new families chose to shop online between the months of March and September.

In September alone, all product categories witnessed a growth of 100% YOY in Victoria.

73% of all Australian households are now shopping online.
Black Friday and Cyber Monday in 2020 are expected to break previous years' e-commerce shopping records as shoppers continue to get their Christmas holiday shopping purchases early during these events.
Source: Australia Post
What Does this Mean for Affiliate Marketing Sales on Black Friday?
Total e-commerce revenue now amounts to more than $28.6 billion (7) in Australia with online sales increasingly replacing brick and mortar shopping. There are 13.8 million Australians (8) that planned to shop early for the Christmas holidays in 2019, with more expected this year, which is a great opportunity for affiliates to capitalise on.
Here are the major trends affiliates should consider when planning to promote advertisers for Black Friday in 2020:
E-commerce is the new in-store
During 2019, 15% of all online sales occurred within a duration of five weeks (9), which included Black Friday and Cyber Monday events. With the pandemic still presenting a hurdle in the way of in-store shopping, an overwhelming majority of retailers and brands are now opting for full online Black Friday sales events. Affiliates should make the most of this with their affiliate promotions and offers.
Shoppers are looking for free shipping
Since online shopping comes with its own challenges of shipping, 65.5% of total online orders made include free shipping (10) while 60% of Australian consumers said that they would abandon shopping carts if shipping costs are higher than expected. This means that affiliates might want to prioritise deals from brands that include free shipping to potentially boost their sales substantially or listing advertisers who have free delivery when the consumer meets a minimum spend.
Opportunity to have a highly successful sales month
While the pandemic has created challenges for both vendors and shoppers, it has also given them the opportunity to engage in contactless and more convenient modes of shopping. This is where affiliates can leverage the opportunity to book placements with select advertisers on their homepage, social media posts or Electronic Direct Mail (EDMs) to celebrate potentially the largest online shopping consumer interest they are going to see this year.
Tips for Affiliates on How to Prepare for Black Friday
While affiliates should aim to already have developed a strong plan for Black Friday, for those in need of additional support, affiliates can consider implementing the following strategies. The sooner publishers begin their planning, the more effective their strategy and performance could be.
A. Plan Ahead
Media decks and exposure propositions should be finalised and communicated by September at the latest to ensure affiliates can be in the running to secure advertiser budget for the period.
Affiliates should execute campaigns to acquire new users during the pre-critical trading period as early as possible, to ensure they have a large amount of visitors or member numbers to offer to advertisers. This will make their exposure propositions as appealing as possible, and will ensure they make the most of the day too in terms of profits.
B. Carry Out Research
Prior to rolling out a new marketing plan, affiliates should take into account the analytics and insights they have from last Black Friday. Statistics give affiliates a bigger picture of their performance along with greater insight into competitor performance. Advertisers and publishers should consider the following statistics:
Year-on-year Performance Analysis

- Measuring the publisher's performance and identify the aspects that worked and those that did not work.

Partnership Evaluation

- Identifying which advertisers delivered the best performances from visitors and the deals that were in place with those brands.

Competitive Assessment

- Being aware of the offers, promotions and deals provided by other publishers.

Performance to date –

It is not enough in 2020 to look at year-on-year ; the last eight months will have bucked trends and create consumer anomalies due to the pandemic and should take these anomalies into account.

External factors

–

Finally, a

ffiliates

need to

consider social, economic

and

political factors. These can inform the strategy and how an affiliate could execute their proposition.
C. Create Impactful Landing Pages
A high quality landing page is essential for affiliates as this is the point in the shopping journey which could influence a visitor decision on a brand's products or service offerings. Affiliates will need to make sure that they are implementing all the best practices for creating a high-quality landing page, which will increase the likelihood of a customer placing an order. Best practices include having all the information they require to make a purchase.
Here are some useful tips to help marketers do so:
Use bold and prominent fonts to highlight the brands' deals available

Display the price cut and amount of savings

Provide persuasive and impactful content that answers questions customers might have on the brands' products on offer

Write and place an effective call to actions

Supply readers with transparent, clear options on available deals including shipping and payment methods
The above tips will help aid affiliates to deliver impactful landing pages that can inform, persuade, and convert visitors. Affiliates should also make sure to leverage their social media channels to bring in more sales and amplify their potential Black Friday success.
D. Leverage Fast and Affordable Delivery
Recent case studies have shown that Australian shoppers are now relying more on quick deliveries. This can be linked to a surge in online shopping of up to 161% in Victoria, 73% in New South Wales and over 50% in Perth and Brisbane compared to the number of purchases in the same week last year (11). Affiliates who choose brands that are offering fast and affordable delivery options could see greater benefits. Every affiliate should consider including advertisers with the speedy delivery as a way to aid revenue generation.
Publishers should keep in mind that customers are not just looking for quality products, but also smooth deliveries. Publishers should consider brands that are offering customers the option to choose from a wide variety of couriers for more control over their order shipment.
E. Use the Most Effective Channels
Publishers should promote their landing pages using an effective marketing strategy. Assessing a brand's or product's past performance will help to identify which advertisers' products or services they should promote. Here are some ways an affiliate marketer can boost their sales.
Start posting about the Black Friday and Cyber Monday offers on all affiliate social media handles including Facebook, Twitter, Instagram, TikTok and more.

Send customised messages about promotions to users via email to let them know about promotions from popular brands

Use the 'Boost' option on Facebook and similar marketing strategies on other social media platforms to highlight special offers from brands

If appropriate, write impactful and engaging press releases and share them online for distribution to generate inbound links

Another option is pay-per-click ads. However, affiliates must make sure that they understand the cost versus benefit viability, since pay-per-click ads could be a lot more expensive during the holiday shopping season

YouTube videos and Instagram clips

Accumulate data and analytics and generate insights for retargeting and identifying new leads
F. Identify Popular Offers and Product Recommendations
When finalising the product promotions list, affiliates should ensure they have carefully selected the best deals and promotions from advertisers available to promote. Affiliates should keep in mind that some offers may only go live for a brief period, so affiliates should continuously monitor their options to maximise their potential sales revenue.
Another good way to promote Black Friday deals is to create a landing page dedicated to product gift guides or product guides. Consumers often have difficulty finding and deciding on what products to purchase, so affiliates helping to take the stress out of the purchase process can help drive greater conversions.
What to Do on Black Friday
When the day arrives, affiliates should:
Ensure that all the landing pages are working smoothly across different operating systems and devices

Recheck the offers and promotions to ensure that visitors are not misled and will have a satisfactory user experience

Continually monitor partner product pages to ensure there is stock left of the products being promoted

Monitor advertiser social media pages for any issues/changes they need to be cross or content that is newsworthy to add to site.
Keep an eye on traffic data and other analytics to see what is working and run ad hoc ad campaigns and social media posts on the basis of those insights

Ensure that all the information that visitors are looking for is available and accurate on all deals and landing pages
Affiliates should also communicate in a transparent and efficient way with their user base. This could entail marketers checking that all comments and direct messages on social media are monitored and appropriately responded to. This will ensure the affiliate's members can easily find answers to their questions and have any concerns addressed. Having an open communication channel will contribute significantly to an affiliate's desired results from their campaigns.
What to Do After Black Friday
Once Black Friday is over, affiliate marketing professionals should use all relevant data and analytics to prepare for Cyber Monday, which is just around the corner. The data can be used to:
Analyse the effectiveness of their marketing strategies

Reflect on the strategies that were essential to successful campaigns

Apply learnings from Black Friday to future campaigns
Key Takeaways
When it comes to Black Friday and the holiday season, affiliate marketers have a great opportunity on their hands to generate greater conversions with the right mix of marketing strategies.
Since Black Friday is an opportunity that only comes around once a year, affiliates should consider investing in effective marketing strategies and processes to make the most of it.
References
Increased time spent on media consumption due to the coronavirus outbreak among internet users worldwide as of March 2020

Australian Consumers' Online Shopping Habits
Related Article: 15 Key Instagram Affiliate Marketing Methods