As we celebrate our 10th birthday this month, the team at Commission Factory looks at our achievements in the past decade and celebrate the people who've helped us get there.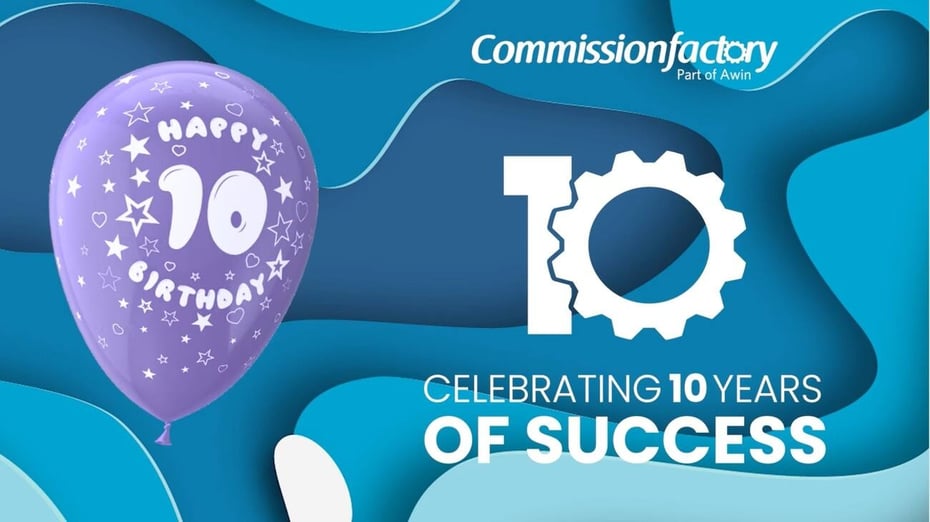 When our founders started the company in 2011, they knew that there was a long road ahead. Our goal was simple: To bridge the gap between affiliates and advertisers and help them efficiently manage their affiliate marketing program. Since then, we're humbled to have served hundreds of advertisers and tens of thousands of affiliates with our affiliate marketing solution.
Celebrating our 10th anniversary during a pandemic has increased our resolve for adaptability and agility. While we may not celebrate it together in person, we hope to celebrate soon and when it is safe to do so with everyone.
So what has happened in the last 12 months?
In January 2021, we began piloting working with 28 hours over four days. Employee satisfaction and work-life balance is always a priority at Commission Factory, and we wanted to support our employees by giving them more time for their personal lives. Since its implementation, our employees are more productive than ever and are committed to providing the best level of service to our partners.
Continuously improving our software is important to us. So in October 2020, we kicked off Project Tiramisu (otherwise known as Commission Factory 4.0). We gathered useful feedback from our clients and gave our software a significant makeover – such as adding a Placement Marketplace, including a new Custom Reporting feature, and improving our Custom Group feature. As a result, our software now is simpler and more intuitive than ever.
After many years of successful partnership, Awin fully acquired us in September 2020. This significant milestone has given us greater access to the USA, South America, and Europe markets. Awin has a global affiliate network of over 211,000 contributing publishers and 15,200 advertisers, and we look forward to using this as a catalyst to move us forward in our goals.
What has happened in the last decade?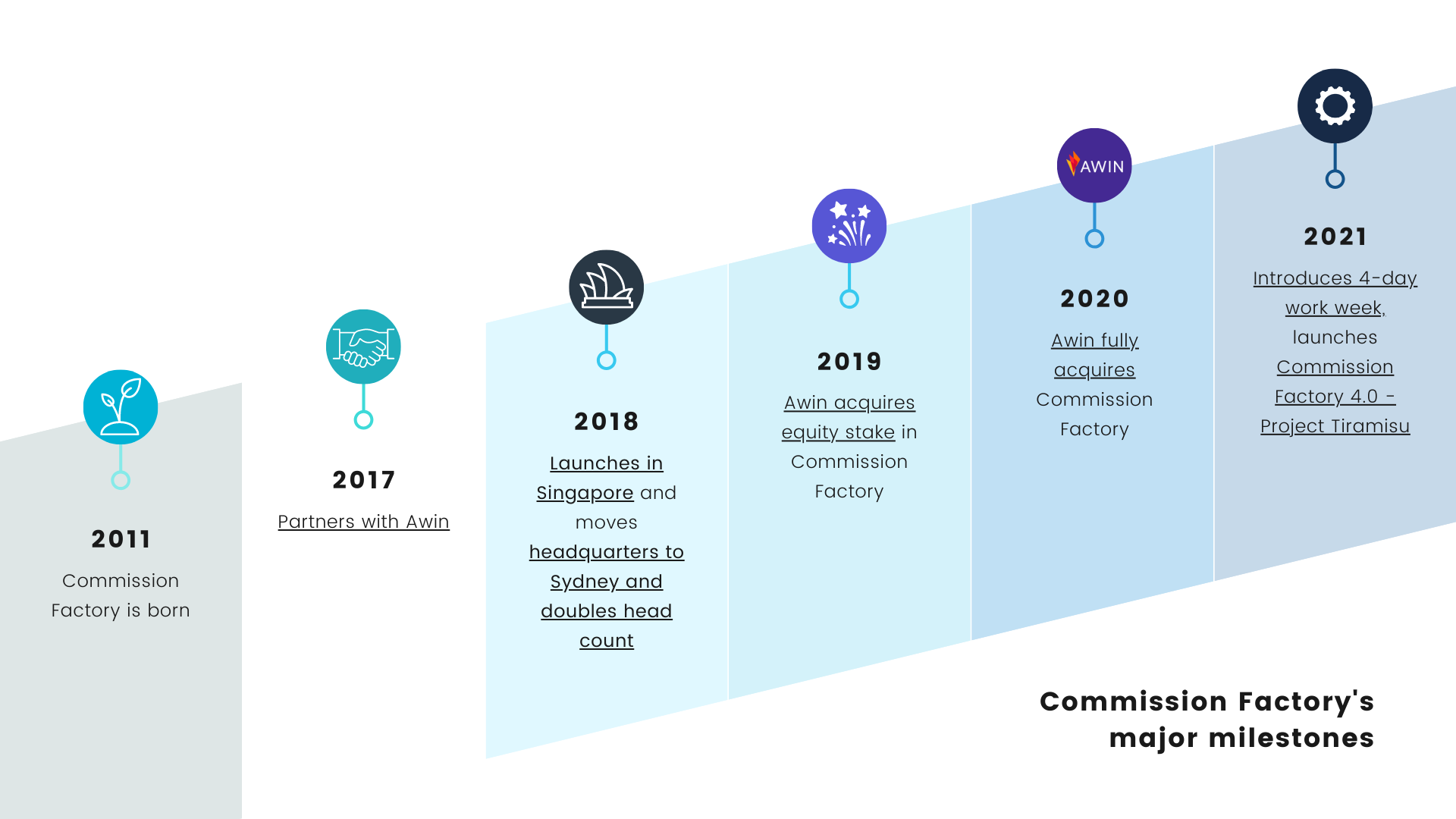 We've made some great friends.
We are fortunate to have such a great team who live and breathe Commission Factory's passion and vision and our partners who have helped shape what we are today.
As our business expanded, we've grown our network with many companies in Australia and worldwide. As a result, we've created Advertiser Spotlights, Publisher Spotlights, and Coffee & Cake Series to showcase and celebrate these companies and discuss the best practices in different industries.
Our collaboration goes beyond the digital and affiliate world. In May, the publisher team and our affiliate partners came together for Australia's Biggest Morning Tea to raise money for cancer research and support. We've also celebrated Multicultural Day and International Women's Day with our staff and partners to acknowledge our company's diversity and the superwomen in our industries.
Over the past decade, we have made meaningful connections and friends within the industry and amongst the Commission Factory team, a family. We look forward to making new connections and growing the Commission Factory family for many more decades to come.
Words from our CEO
"It all started with a question - "Can we make affiliate marketing simple and sexy". We recognised that what we were creating wasn't necessarily new in the marketing world but we wanted to present it in a new way that was accessible to all. Our ethos when creating our platform was "Simple by design and deep by choice" - a platform filled with opportunities that scaled with you and your business.
Now after 10 years, we can look back and decide whether we achieved that. I believe it is a resounding "yes". But beyond what was created, it is also about who helped us get there. We started as a 3 man team and grew to a 50 person operation filled with amazing and diverse human beings. Without them this would not have been possible. Equally the support we receive from our partners and clients had made us who we are and we appreciate each and every one of you.
I would also like to thank the executive team at Awin and the family we are now a part of. Your support and belief in us helped push us even further and now we have even more people we can call friends."
- Zane McIntyre
Our heartfelt thanks
As we look at what we've accomplished in the past decade, none of it would be possible without the support of our clients, affiliates, publishers, and our hardworking staff. We wish everyone the best of luck and safety during these unprecedented times, and we extend our utmost gratitude.
From a three-person team in the Sunshine Coast to a global network worldwide, we're humbled to be doing what we do, and we look forward to growing together for decades to come.
Do you want to join the team? Check out our career page here.