Commission Factory has always had a people-centric vision across the business, from our partners to our employees, which is why we have introduced a four-day work week this year.

What Exactly is a 4-Day Work Week?
A four-day work week means 28 hours over four days, with staff being able to enjoy a three-day weekend. It should not be confused with a compressed schedule, which is 35 hours over four days a week. A four-day work week means a reduction of hours from the traditional five days a week typical of a full-time working schedule.

The four-day work week may seem like a strange idea. However, it is not a new concept, as many countries around the world over the past 20 years have trialled it, reporting increased productivity and substantial benefits for the business and employees (1). Closer to home, we have seen New Zealand Prime Minister, Jacinda Ardern, also encourage the four-day work week and flexible working options "to boost tourism and help employees address persistent work/life balance issues" (2).
Why
M
ove to a 4-
D
ay
W
ork
W
eek?
Last year, we trialled a four ½-day work week to give the team some respite during tough times, especially as personal and workspaces merged, and homes became offices, gyms and nurseries all rolled into one. During the trial, we found that a flexible and autonomous workspace meant a balanced, more agile and high-performing workforce. Due to 2020's success, Commission Factory has started to pilot a four-day work week, with no reduction in salaries or partnership service level agreements.
The
K
ey
B
enefits of a 4-
D
ay
W
eek
,
A
ccording to
R
esearch
Increased

P

roductivity
Research from a White Paper by Henley Business School(3) which analysed a sample of over 500 business leaders and 2,000 employees shows an increase in productivity and quality of work during a four-day work week. It also reveals that the same amount of work could be done in fewer hours.
Employee

E

ngagement
A four-day work week can also result in employees who are less stressed and more committed to their jobs.(4) A study of a four-day week trial by New Zealand-based company Perpetual Guardian(5) reported that employees were as productive while showing greater levels of job satisfaction, employee loyalty and teamwork, and lower stress levels.
Reduced

Carbon

F

ootprint
With a shorter work week, employees can reduce time spent commuting and lower energy costs associated with upkeeping large office premises. A Utah trial of government employees who cut their working week from five to four days per week saw the project save over US$1.8 million from energy expenditure(6) and a reduction of 6000 metric tons of carbon dioxide emissions in the first 10 months.
The Commission Factory
P
ilot
Our teams have structured themselves to continue offering our usual high level of service and enhance it by improving internal collaboration and further embracing the agile approach we have adopted in recent years. Ultimately, we are committed to offering a better affiliate network for all our partners while ensuring we look after our staff's health and welfare.
We will closely monitor the four-day work week pilot to ensure it achieves our desired results, and that Commission Factory remains the partner of choice for affiliate marketing.
With this move to a more flexible way of working, the business is repurposing its offices to provide an environment that better fosters collaboration and innovation.
Four-the-win
We asked some of the team members what they will be doing with their extra day off, and the most common response was meeting with friends and family. With some of the parents in the team, the extra day is already being used to spend more time with their children. Other responses from the team included life admin, golf and going to the beach.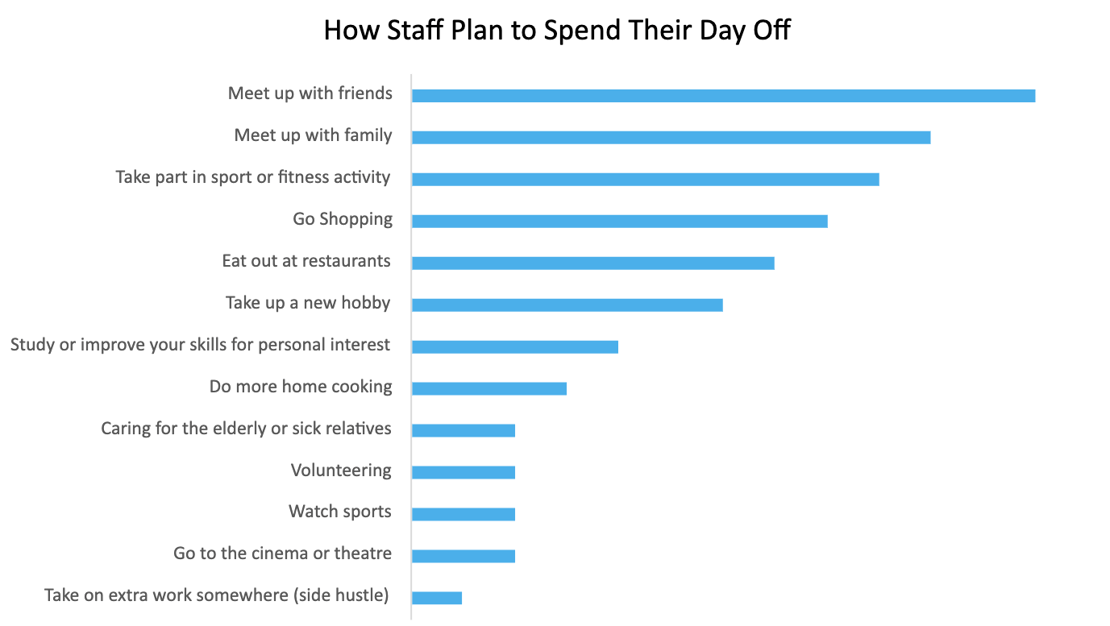 When we asked what the team thought of the four-day work week pilot, this is what they had to say.
Gavin Cozens, Client Service Team Leader
"It is a great initiative and very forward-thinking. Starting the four-day work week was initially very daunting. However, after working for four-and-a-half days for six months, the step to four days became less daunting. I feel it has really made me focus on where I spend my time. I constantly think 'Is this the best use of my time?' and readjust accordingly. It forces you and all the people you interact with internally to keep meetings short, conversations to the point, and to constantly search for and implement efficiencies. The four-day work week is very demanding and requires consistent focus and output, but the reward of an extra entire day off helps with motivation and allows you to come back rested and ready to resume after time away from work."
Amanda Calkins, Publisher Development Team Leader
"I am so grateful to be working for a company that truly values the happiness and wellbeing of all employees! Having a work-life balance has enabled me to pursue an MBA and the four-day work week is incredibly helpful in finding time to study."
Michelle Cefai, Account Manager
"The four-day work week is a great initiative, one that has been talked about a lot over the years by different companies, but I feel as though Awin and Commission Factory are one of the first to put this into practice. I think this shows how progressive and forward-thinking the company is and I feel very lucky to work here. That Awin/Commission Factory cares enough about its employees to offer such an initiative that truly promotes work-life balance makes me feel that the company sees my health and happiness as a priority."
Dini Van Haeren, Account Executive
"Absolutely love it! Love the time off to spend with loved ones and just simply recharge and have a refresher."
Isabella Gazzola, Account Manager
"So far, so good, as the day off is really rewarding. It does mean further productivity on your days at work but it's all worth it in the end as we have an extra day of freedom."
Commenting on the move, Zane McIntyre, CEO, said
"The four-day work week is an idea that has been floated around for some time, and the change in how we work which came about during the pandemic was the catalyst needed to take the plunge finally. As we have slowly reduced our working hours internally, we have not seen any change in the team's performance or the service levels for our customers, and we are confident that, while we are trialling the shorter work week, this will be a long-term change."
Regardless of how the team spend their time, we hope they can rest and prioritise what is important to them and, through the four-day work week initiative, achieve the work-life balance with Commission Factory.
Check out our career page here.
Sources