Commission Factory's
robust features allow advertisers to stay ahead of the competition with automation and insightful data.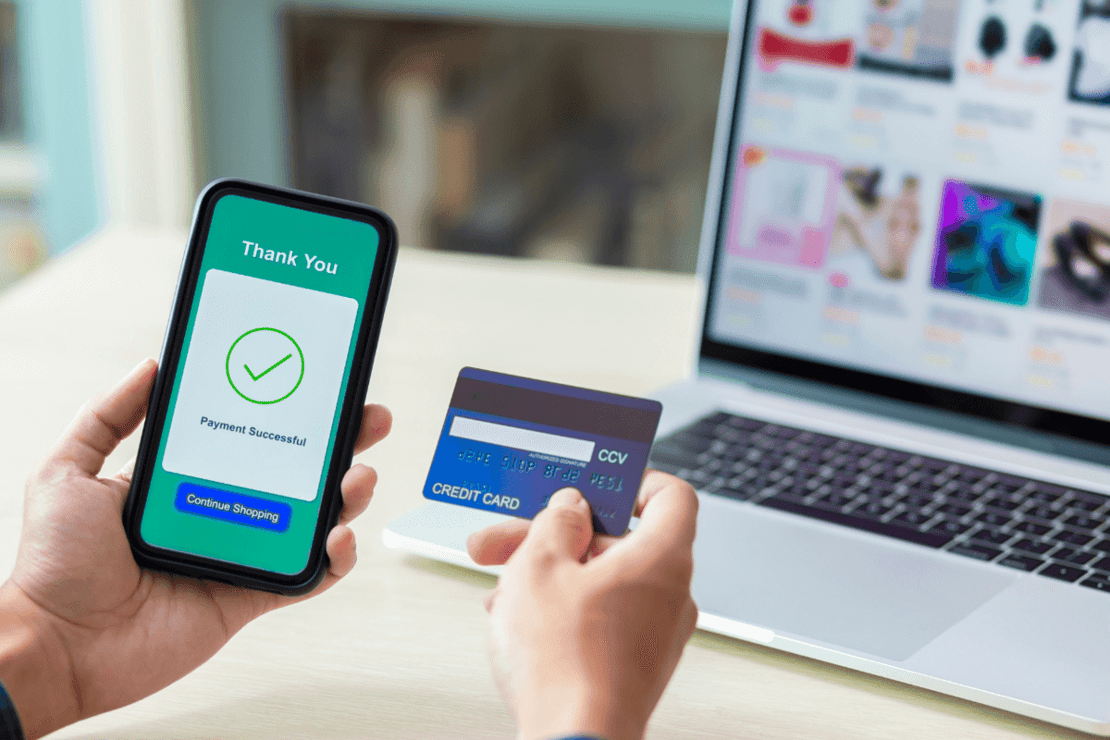 In the world of eCommerce, converting site visitors into paying customers is the ultimate goal. Online businesses need to have a well-optimized website with features and functionalities that provide a seamless shopping experience for its users.
As an affiliate and partnerships solution provider that's committed to innovation, Commission Factory helps advertisers achieve this through robust features and performance. With our Integrations Marketplace, robust tracking, and access to clean data feeds, we ensure our brands and affiliates enjoy the best partnership experience together.
In this article, we will explore how these tools can improve conversion rates and drive revenue for your business.
Integrations Marketplace
The Integrations Marketplace is a collection of apps and tools that can be integrated with a brand's eCommerce platform. This marketplace provides advertisers with the tools needed to optimise their website, improve marketing efforts, and streamline operations. For example, some popular integrations include cart abandonment solutions, onsite chat technology, and personalised retargeting tools.
One of the key benefits of using the Integrations Marketplace is that it allows advertisers to leverage the expertise of third-party developers. Brands can benefit from the expertise of developers who have created specialised tools - reducing the amount of time and money spent on developing custom solutions in-house.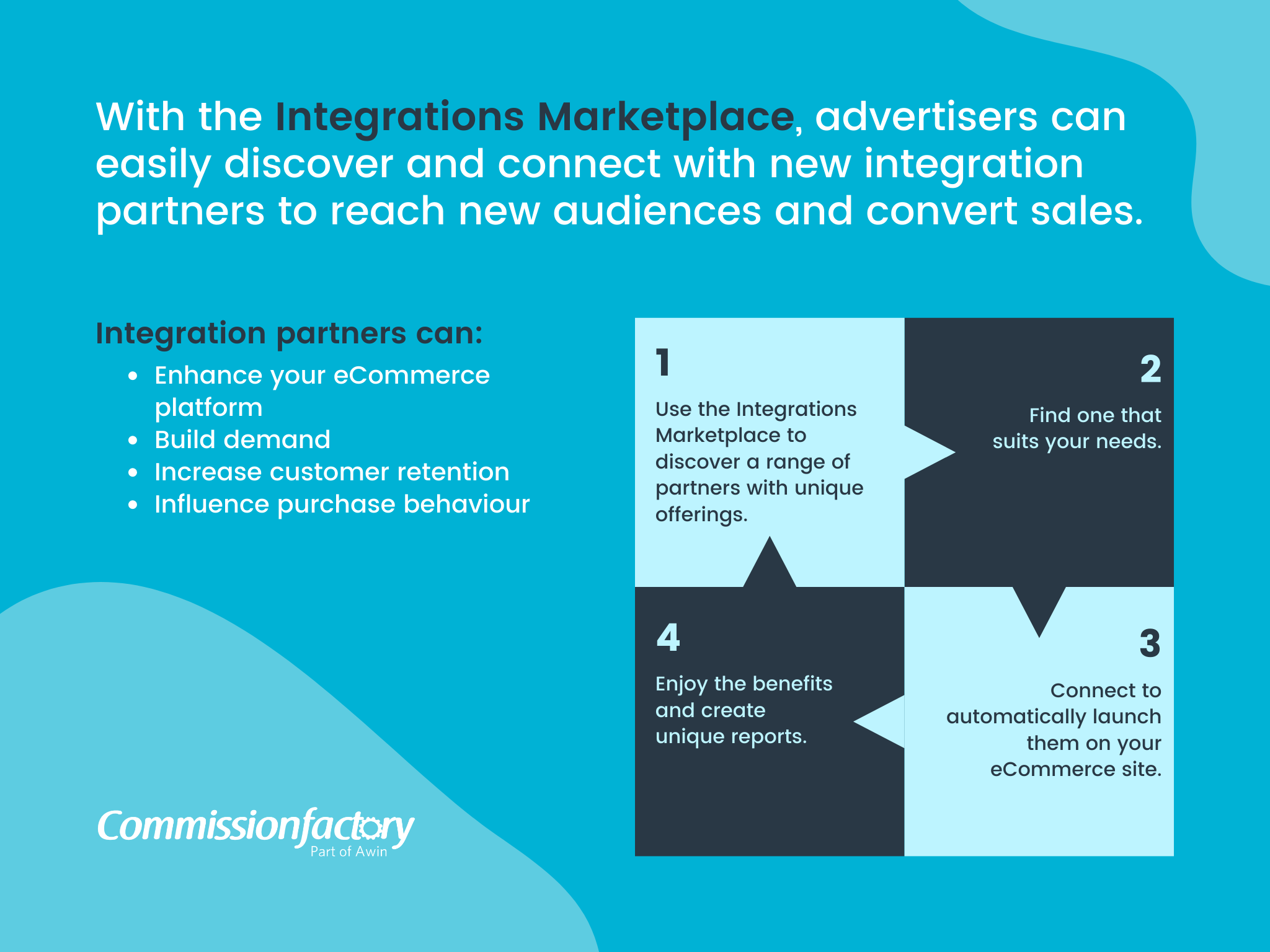 Integrating your website with the right partners can make your site more user-friendly and efficient, thus improving your conversion rates. For example, a chat tool, like Envolve Tech can help you engage with customers in real-time, answer their questions, and address their concerns. This can help reduce cart abandonment rates and increase the likelihood of customers completing their purchase. Read how Envolve Tech helped JUCY increase sales and achieve a 95% successful response rate here.
'Designed primarily to help improve site conversion and average order value, converting over $10m in sales over the last 12 months. Between 2% and 11% of all users engage with our technologies, at both a customer service and sales level.'

Dan Harding - Head of Commercial
Robust Tracking
To optimise websites and marketing efforts, advertisers need to understand how users interact with their site. This is where tracking comes into play.
Commission Factory's robust tracking helps advertisers gather data on the important elements that influence purchasing behaviour, such as promotional activity and affiliate trends. By analysing the data, advertisers will have a better understanding of user behaviour and make data-driven decisions that improve conversion rates.
Another key benefit of tracking is that it allows brands to identify areas of their website that need improvement. For example, you may find that users are abandoning their carts on a particular page of your website, and having access to drop-off data enables the brand to mitigate this, such as improving the page design, simplifying the checkout process, or offering a special promotion to entice users to complete their purchase.
For example, intelligent offer personalization technology RevLifter uses real-time signals to track when a valuable customer is about to abandon their cart. RevLifter has a number of tools and offer types for rescuing these sales, and its platform drives an average conversion boost of +30% thanks to targeted 1-to-1 offers, recommendations, and messages.
Additionally, tracking can also help brands identify their most profitable marketing channels. By tracking how users interact with their website, advertisers can identify which channels are driving the most traffic and revenue. This information can help optimize marketing budgets and focus efforts on the channels that provide the highest return on investment (ROI). Most advertisers will find that the affiliate partnerships channel offers the highest and most stable ROI of any digital marketing channel, with an average ROI of 17:1.
Data Feeds
In the context of eCommerce, a data feed refers to a list of products for sale on the website with details such as price, stock, SKU, promotion, description, and other relevant information. Commission Factory's data feeds can be used to provide up-to-date information to partners and affiliates, who will use this information to promote the advertiser more successfully.
One of the key benefits of data feeds is that they allow brands to easily manage their product information and ensure that it is consistent across all channels. For example, if an advertiser updates the price of a product on their website, that change will be automatically reflected in their data feed. This ensures that all partnered affiliates are seeing accurate and up-to-date information, regardless of how they access products.
In addition, by analysing data from multiple sources, brands can identify which products are driving the most revenue and adjust their marketing efforts accordingly.
For example, an advertiser may find that a particular product is selling well on social media, but not on their website. With this information, the advertiser can adjust their marketing strategy to partner with influencers who can drive traffic from social channels to the website. They could also work with a product recommendation and bundling integration partner, such as Particular Audience, to suggest the best-selling products to customers, using cutting-edge AI to increase basket sizes and conversions.
Key takeaway
Optimising your website with the right solutions and leveraging on features such as robust tracking and data feeds are essential for online businesses to improve conversion rates and drive revenue. By using these tools, brands can provide a seamless shopping experience , identify areas for improvement, and uncover new opportunities for growth.
Whether you are just starting out or looking to take your eCommerce business to the next level, Commission Factory is here to support you in achieving your goals. Our affiliate and performance marketing platform has helped over 800 brands grow their business and increase sales
Chat with Commission Factory today to learn more about how we can work with your brand.