Find the perfect partnership with the new Integrations Marketplace - the new home for advertisers to discover integration partners who can increase revenue, create customer demand and optimise eCommerce websites.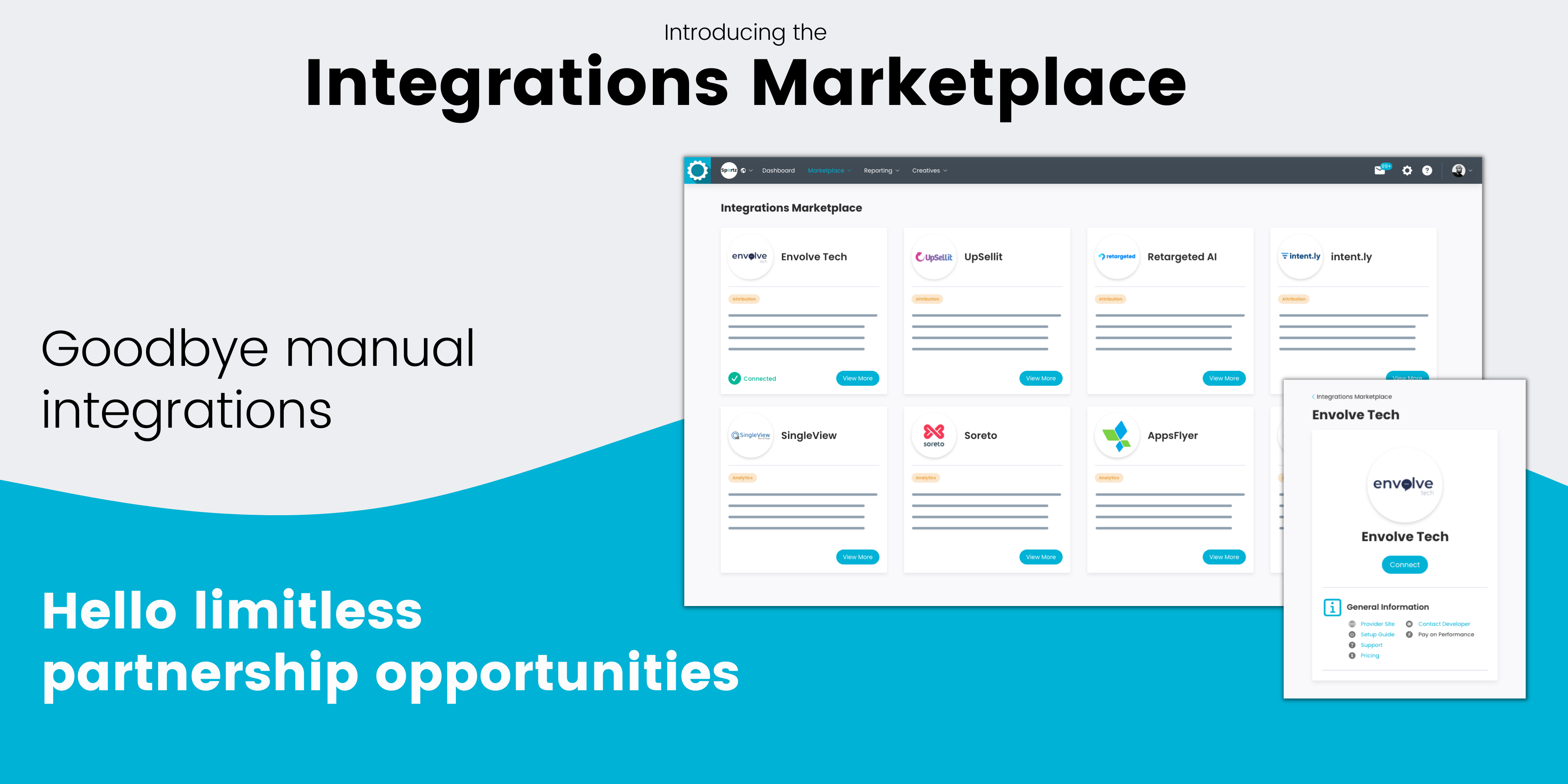 Creating a successful partnership marketing strategy is simple enough in theory. However, with a wealth of unique partners at your fingertips, it can be a daunting task to find the right affiliate.
Introducing the Integrations Marketplace – a revolutionary feature that makes finding the perfect partnership simple and effective.
This new feature is a visual directory of all "integration partners" on the Commission Factory platform, including cart abandonment publishers, app-tracking partners, and user journey partners. With just a few clicks, advertisers can easily discover and connect with integration partners through behind-the-scenes automation and a user-friendly interface.
The Integrations Marketplace offers many benefits for advertisers, such as:
The discovery of unique partnership opportunities
With all the information stored neatly in each integration partner's profile, it's easy to understand how both the advertiser and the integration partner can benefit from the partnership. Every integration partner has a platform to showcase their offering and give direct instructions on the integration process, streamlining the decision-making process for the advertiser.
Minimised manual effort required to connect with partners
Say goodbye to endless scrolling through affiliate directories to find integration partners. With the Integrations Marketplace, advertisers have access to all active integration partners at the click of a button. Connecting has never been easier.
Cost-effective partnerships based on CPA or fixed-rate basis
Advertisers and integration partners work together to form a partnership that suits their needs. Commission Factory's partnership marketing solution promises no restrictions on how partnerships should look – that means more power, and more opportunities, for all.
Greater revenue opportunities
Integration partners are a unique type of affiliate that integrate with the advertiser's eCommerce website to enhance the end-user experience. For example, a shopping cart abandonment integration partner can encourage consumer spend and increase basket value on the advertiser's website. That's just one example of how integration partners can expand advertiser's revenue without any extra effort on the advertiser's side.
Our goal at Commission Factory is to facilitate the best partnership opportunities for brands and affiliates. With the Integrations Marketplace, advertisers can easily discover and connect with partners that can enhance their eCommerce platform, build demand, and influence customer demand. Commission Factory is dedicated to evolving the affiliate industry through infinite collaboration, unique partnership opportunities, and innovative technologies.
The Integrations Marketplace feature is now live in the Commission Factory platform. Advertisers can access the feature and discover a world of new partnership opportunities.
Register as an Advertiser today.