Online shopping statistics in New Zealand suggest a steady growth for

eCommerce

not just in 2023 but over the next few years as well on the back of changed consumer behaviour and transformations in the online retail space.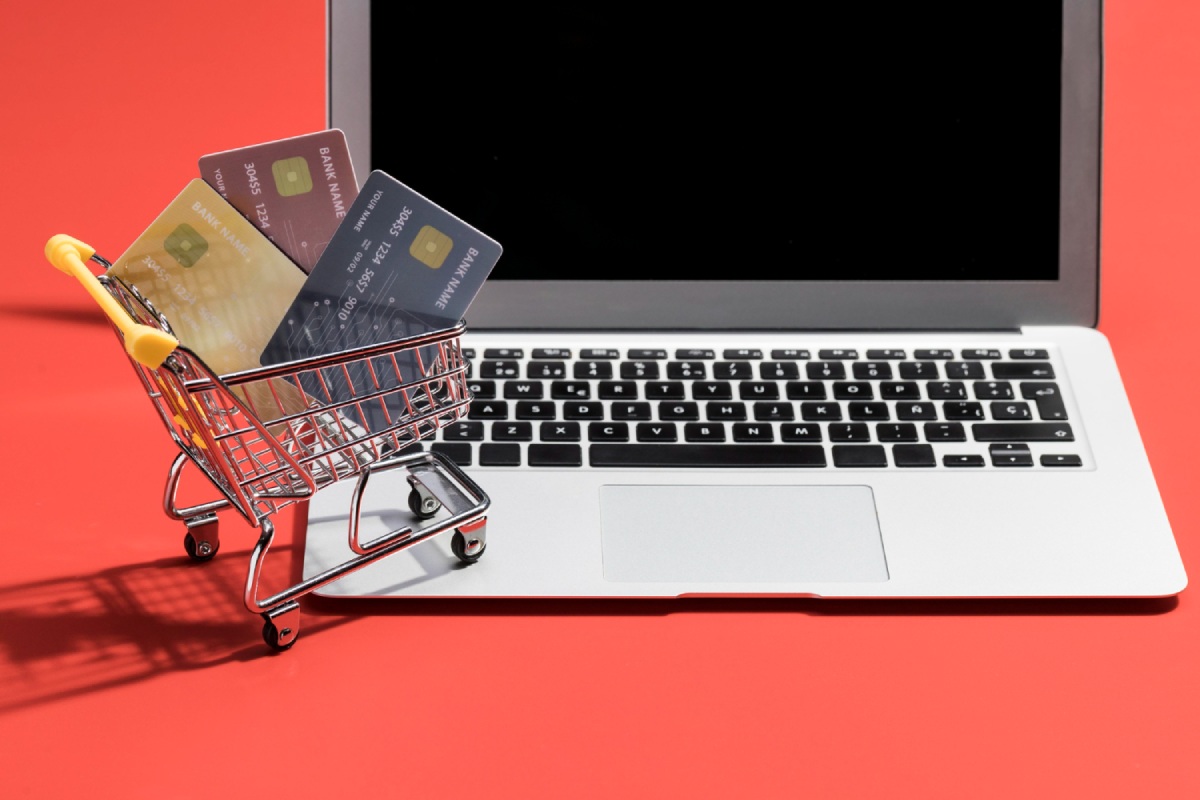 The eCommerce market in New Zealand is growing rapidly and is now among the world's fastest-growing. In January 2021, 88% of Kiwis aged between 16 and 64 had searched for products or services to buy online.1
With advanced technologies such as artificial intelligence (AI) and machine learning (ML), businesses can easily reach their target audience and meet this increased demand.
We've created a guide to help advertisers and affiliate partners to find the best-selling products in New Zealand and stay ahead of the competition. We'll provide insights into popular categories such as electronics, fashion, beauty, and home goods. Our guide will also explain why these products are popular and how they can boost your eCommerce sales.


The New Zealand eCommerce Market – Stats and Forecasts
As in the rest of the Asia-Pacific (APAC) region, eCommerce is rapidly replacing brick-and-mortar stores in New Zealand as more people opt for the convenience of online shopping. This trend is expected to continue as internet access and usage of mobile phones increase steadily.
Here's a quick summary of how much the eCommerce market has grown in New Zealand and what we can expect to see from it in the next few years:
The online shopping industry in New Zealand has experienced an average yearly growth rate of

10.5% from 2018 to 2023

.

2
The eCommerce sector in New Zealand is predicted to grow at 12.58% from 2013 to 2027, and is forecasted to amount to AU$15.15 billion by 2027.

1

The average online shopper in New Zealand made a

total of 27 online transactions

and spent an average of AU$4,614 online in 2022.

3

The 30-44-year-old age bracket makes up the largest segment of online shoppers in New Zealand at 37%. They're followed by those between the ages of 45 and 59 who account for 31% of New Zealand's online shoppers.

3

In regional terms, Auckland was where most online shoppers in New Zealand were located at 35%. It was followed by Wellington and Canterbury at 12% each.

3

Smartphone penetration in New Zealand

stood at 92% as of 2022

, one of the highest in the world.

4




Top 8 Best Selling Products in New Zealand
Here is our list of the top trending products in New Zealand, along with some useful stats and figures for each.
1. Fashion and Clothing
Fashion and clothing have traditionally been the top-performing segment in New Zealand. In 2022, it was the eCommerce market's largest segment, contributing to 27.8% of New Zealand's eCommerce revenue.5
Furthermore, the segment is expected to see consistent growth in the next few years, growing by 12.63% from 2023 to 2027, resulting in a market volume of AU$4.22 billion in 2027.6
Kiwi fashion tastes are eclectic, with a mix of local and international styles. While fast fashion remains popular for its affordability and trendy options, there is a growing trend towards locally-sourced and sustainable fashion, with consumers looking for ethically produced quality items.
Within this segment, activewear and shoes are among the most popular clothing items in New Zealand, reflecting growing investment in fitness and wellness routines. The athleisure trend, which combines style with comfort, is also on the rise. Additionally, unique and handmade clothing items produced by local artisans have a growing demand in the New Zealand fashion market.


2. Consumer Electronics
The electronics industry has been a thriving and lucrative market for years, and it shows no signs of slowing down. The consumer electronics segment in New Zealand is expected to bring in AU$1.25 billion in revenue by the end of 2023.7
The industry is further projected to grow at a compounded annual growth rate (CAGR) of 6.84% between 2023-2027, reaching a projected market value of AU$1.63 billion by 2027.7
The key driver powering the ongoing dominance of electronics is the high demand for portable and efficient devices in a highly connected and increasingly digital world. As many individuals work and study from home, there has been a surge in demand for reliable and user-friendly laptops, tablets, and smartphones.


3. Food and Groceries
The shift in the market towards online shopping, and the rise of meal kit delivery services, has made a significant impact on the food industry in New Zealand. In 2022, the food and groceries segment accounted for 25% of the total eCommerce spending in New Zealand, with revenue of AU$2.25 billion.3
It is expected to continue its upward trajectory in the coming years. This growth is largely driven by the popularity of meal kit delivery services that provide pre-portioned ingredients and recipe cards to consumers, making cooking at home more accessible and convenient than ever before.
In 2023, New Zealand's meal kit delivery sector is expected to post AU$410.10 million in revenue.8 At the same time, traditional brick-and-mortar supermarkets that have long held a dominant position in the food industry are now expanding into the online market to meet the growing demand for online grocery shopping.
Independent sellers have also entered the market, targeting niche categories such as veganism, gluten-free, natural and organic, and ethnic foods to cater to diverse consumer needs and preferences.
As online food delivery continues to gain popularity, the market for this service is projected to grow by 9.03% between 2023 and 2027, resulting in a market volume of AU$2.71 billion in 2027.9 This growth is driven by the convenience and speed of online food delivery, which has garnered widespread appeal among busy consumers who value time-saving and hassle-free shopping experiences.


4. Beauty Products
New Zealand's market for beauty products is thriving, and it's no surprise that retailers are offering a wide range of such products to satisfy growing consumer demand. Beauty products have become a popular choice for online shoppers, and the industry is projected to grow by 12.98% between 2023 and 2027, reaching a market volume of AU$213.73 million in 2027.10
Even a cursory look at research tools such as Google Trends shows heavy search volume for several popular beauty products that retailers sell online.
For instance, searches for the "moisturiser" have been steadily increasing in New Zealand over the past five years.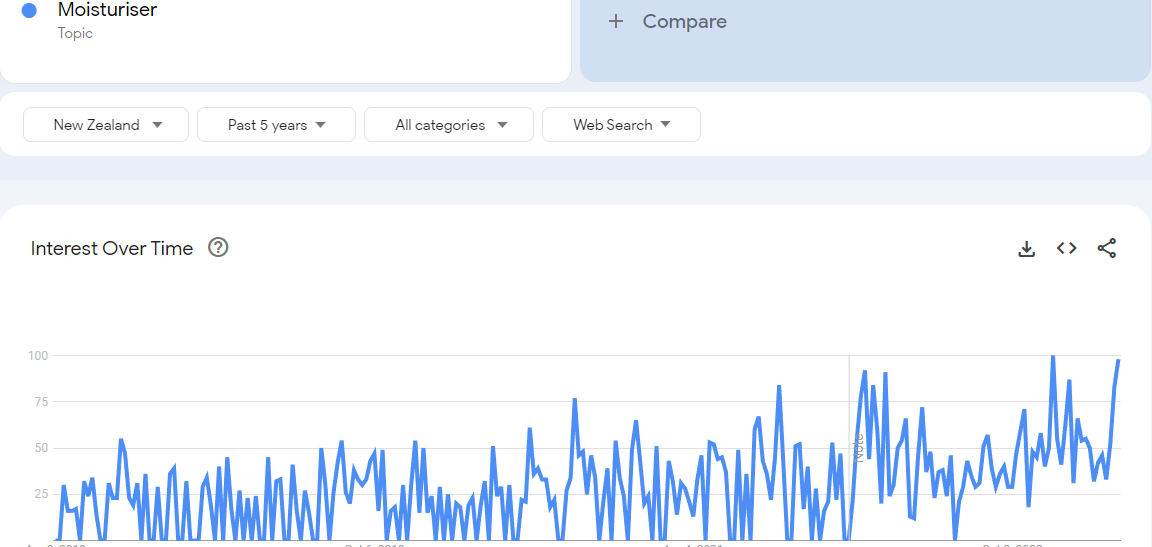 To take a more specific example, searches for American pop star Selena Gomez' cosmetics brand Rare Beauty have shown a strong upward trend starting from 2021.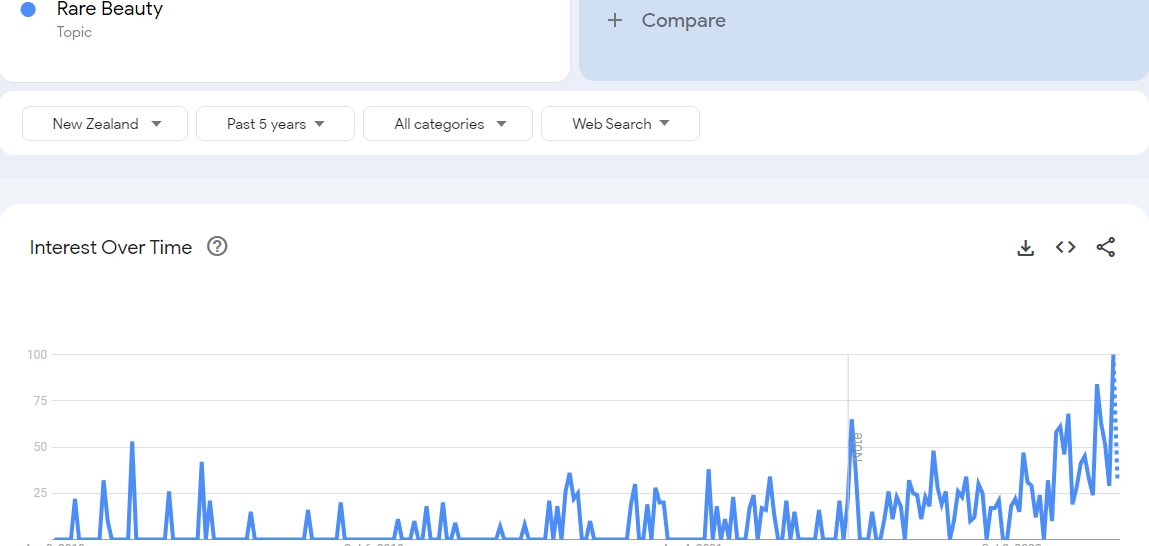 At the same time, consumers have become more conscious of what materials go into the making of a cosmetic product. As a result, there has been a shift towards more sustainable and eco-friendly products. Consumers want the right products that also align with their ethical and environmental values.
This allows companies to expand their product range by offering a variety of products with different ingredients and benefits to fit their customers' diverse needs.
Social media platforms such as Instagram and TikTok have played a significant role in the growth of the beauty industry in New Zealand by allowing consumers to discover a trending product and order it online from within the app.
Although there is a difference between influencer vs affiliate marketing, each approach relies on a similar strategy to drive sales. Influencers and beauty bloggers with thousands of followers use these platforms to sell and promote new products and trends to their target market, increasing their visibility and boosting sales.
The beauty industry in New Zealand is diverse and dynamic, with popular products ranging from skincare and makeup to haircare and fragrances. Some of the top-selling beauty products in New Zealand include facial serums, moisturisers, shampoos, and conditioners. Other popular products include lipsticks, eyeliners, and nail polishes.


5. Furniture and Home Goods
The furniture retailing industry in New Zealand has been growing at an average rate of 1.2% per year from 2018 to 2023 and is estimated to be worth AU$1.95 billion in 2023.11
Although the industry is relatively small compared to other sectors, it is no less significant. In fact, the furniture market in New Zealand is projected to reach AU$3.05 billion by 2023, with a compounded annual growth rate (CAGR) of 5.68% from 2023 to 2027.12
The furniture industry in New Zealand is still dominated by offline retail channels. In 2022, 81% of the revenue generated by the industry came from offline channels, while online channels contributed only 19%.12 However, the share of online retail is growing steadily, and is expected to make up 28% of the industry's revenue by 2025.
The convenience and accessibility of eCommerce mean consumers can easily purchase a wide range of home goods such as furniture, bedding, and kitchenware from the comfort of their homes. Digital marketplaces such as Etsy offer a plethora of competitively priced items that cater to the preferences and budgets of online buyers in New Zealand.
In terms of products, living room furniture is currently the largest segment in the New Zealand furniture market, valued at AU$810 million in 2023. However, other types of furniture are also experiencing growth in demand.12
Bedroom and dining room furniture are also popular areas, along with outdoor furniture. In addition, certain designs such as Scandinavian and contemporary styles, are highly sought after, owing much to their minimalistic yet chic appeal.


6. Toys and Games
Toys and games are considered one of the most sought-after eCommerce products in New Zealand, with high demand throughout the year. With an expected market value of AU$1.74 billion by 2023, the toys and games industry is projected to make up 17.7% of the total eCommerce sales figure.13
Board games, outdoor play equipment, and educational toys such as puzzles and puppets are some of the most popular products within this industry that have seen significant sales growth in recent years.
Retailers in New Zealand have noted an increase in demand for niche toys such as retro video games and collectibles as well, indicating that consumer preferences are becoming more varied and diverse.
The holiday season, in particular, is when the sale of toys and games spikes. Parents tend to purchase more educational toys than ever before as they recognize their value in facilitating their kids' learning and skill development.20

7. Books and Music
The books, movies, music and video games segment has been experiencing steady growth in recent years, with projections indicating that the revenue will reach AU$195.32 million in 2023.14
This is due, in part, to the increasing popularity of digital downloads of books and music.
Books and music, in particular, are expected to remain popular products in New Zealand, and will likely continue to be top-selling eCommerce products in the coming years. Given that this segment has a projected CAGR of 3.07% from 2023 to 2027, it seems consumers are showing no signs of slowing down in their quest to purchase their favourite titles or albums.14
These popular products are expected to be primary revenue generators for many brands, and eCommerce websites are in a good position to capitalise on the demand.
A fast growing subset of the music segment in New Zealand is the online events and streaming music segment which is expected to reach AU$180.35 million in 2023.15
People are increasingly buying concert tickets online through portals. At the same time, more events are being live streamed online with access controlled through paywalls and subscriptions. In 2020, 73% of music fans reported that they'd watched a music concert online.16 A survey conducted by TikTok in December 2021 revealed that 52% of audiences globally are interested in consuming live branded content.17
This allows brands and individual artists to reach a wider audience rather than relying solely on conventional retail outlets, which had limitations based on geographic location. Now, those who were once unable to obtain their preferred titles or albums have the power to purchase them with just a few clicks.


8. Pet Supplies
Pet supplies have become one of the top-selling eCommerce products in New Zealand, with an ever-increasing demand predicted for the future. Among these, the pet food segment has been projected to skyrocket in market volume, reaching AU$660 million by the end of 2023.18
With an anticipated growth rate of 2.42% between 2023 and 2027, the pet food industry in New Zealand is expected to attract more sellers and buyers, turning it into a highly competitive and lucrative market.16
This boost in the popularity of pet supplies in New Zealand can be attributed to a range of factors, such as the increase in pet ownerships, which has given rise to greater demand for pet products, and more pet owners shopping online to seek better convenience and access to niche products.
Animal lovers in New Zealand have been showing an increasing inclination towards purchasing top-quality pet supplies, like food, toys, beds, grooming products, etc., from eCommerce stores to provide better care for their beloved pets.
With the availability of home delivery and other flexible purchase options, pet owners in New Zealand can access a variety of brands and products at reasonable prices, without having to leave the comfort of their own homes.


Final Thoughts
It is clear that the eCommerce market in New Zealand is continuing to grow and evolve in response to changing consumer habits. The products highlighted here are likely to remain among the top selling products in 2023, with clothing, consumer electronics and recreation leading the way.
At the same time segments such as furniture, books and music, and toys show promise for growth in the future, even though they may not have the same sales volumes as larger selling items such as clothing and electronics.
For advertisers, it is important to understand the distinction between eCommerce vs affiliate marketing before drafting a strategy to capitalise on the opportunities described in this post.
Affiliate marketing allows affiliate partners and content creators to promote products without needing to take on additional inventory or shipping costs. With careful research and analysis of emerging affiliate marketing trends, there is no doubt that businesses can find success in this growing eCommerce space.
Affiliate marketing is also different from referral programs. Here is a useful guide on affiliate vs. referral programs comparing the two.


Outlook for Content Creators or Influencers Looking to Promote eCommerce Businesses.
In 2023, the eCommerce market in New Zealand is projected to continue its upward trend. To capitalise on this growth, affiliate marketers should stay current on promising sectors, valuable brands, market trends and strategies for monetising content, such as Instagram affiliate marketing methods.
Commission Factory is not only the Asia-Pacific region's largest affiliate platform, working with more than 800 of the world's biggest brands, but it is also a performance marketing platform that allows content creators and influencers to earn money and online businesses to increase sales.
Connect with the Commission Factory team to learn more about how we help brands and publishers build and grow their affiliate marketing strategies.


References
Active mobile social media users as percentage of the total population in New Zealand from 2015 to 2018 | Statista

Attitudes toward livestreaming concerts and music events among fans worldwide as of August 2020 | Statista

Share of TikTok users and non-TikTok users worldwide interested in live branded content as of December 2021 | Statista