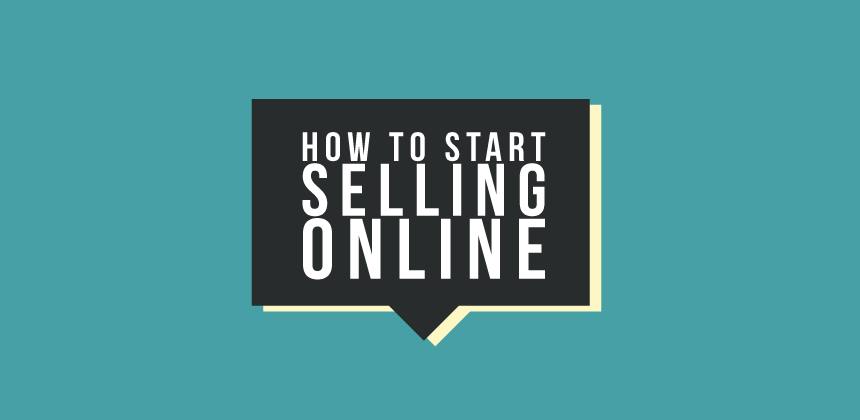 Selling online sounds like it should be pretty simple - figure out what your product is, set up a website, market it, get some happy customers and a good reputation and the rest will follow. However, there is a lot more to consider - things like where you should be selling your goods online, which ecommerce solution you should use, what kind of hosting you should get, and whether you should sell on online marketplaces, online auction websites or classified ads.

Read through Commission Factory's guide to selling online and you'll get all the info you need to get started.
TABLE OF CONTENTS
1. How to sell online?
2. Where to sell online?
3. Ecommerce platforms: hosted vs self-hosted
4. Sell products online on hosted ecommerce platforms
i. Shopify
ii. BigCommerce
5. Sell products online on self-hosted ecommerce platforms
i. WooCommerce
ii. Magento
iii. OSCommerce
6. Sell products online on online marketplaces
i. eBay
ii. Amazon
iii. Etsy
7. Selling online on other marketplaces
8. Final thoughts


How to sell online?
When you're thinking about selling online, there are a few important things to have in the back of your mind before you start. What is your budget for an eCommerce site? Do you want to have a well-known brand in the future? Are you planning on growing and scaling your business? While you're reading this guide, you should keep the answers on your mind so you can decide which is the best option for you.
Where to sell online?
In this day and age, there is an endless choice on where you could sell your products online. However, the way you should be thinking about where to sell is in the same way that you would try to find a good location if you had a physical store. The same should go for finding an online one. You want somewhere that suits your brand and enhances it, has the potential to attract the customers you are looking for, and that you like the feel of.

Essentially, you have two options:
Selling products online on ecommerce platforms (hosted or self-hosted)
Selling product online on online marketplaces
Ecommerce platforms: hosted vs self hosted
If you are setting up a website which displays your products only (as opposed to marketplace style websites like Amazon or eBay), one of the first things you should be looking at is whether you want a self-hosted or hosted online ecommerce platform. The difference between the two can be described by using renting or owning. With a hosted ecommerce platform it's like you are renting the shopfront, and with self-hosted, it's like you own the shop front.
Hosted ecommerce platforms are a good option for small to medium enterprises who aren't ready to invest in a bigger ecommerce website, whereas self hosted ecommerce sites are more for businesses who are ready to expand and grow.

In the table below, you can find the overview of pros and cons. To find out more details, read the entire sections on hosted and self-hosted ecommerce platforms.

Type of ecommerce platform




Pros




Cons

Hosted ecommerce platform

Relatively cheap websites
Beginner-friendly
Great free trial options
Don't need to care about technical maintenance

Limited customization options
If the company goes out of business, you need to find another hosting option.

Self-hosted ecommerce platform

Pricier option
You're responsible for fixing bugs and running the software from your own machine
Sell products online on hosted ecommerce platforms
With a hosted site, for example Shopify or BigCommerce, you can't make any changes to the look and feel of the site. If the company decides to make any changes, or goes out of business you will have to find another host yourself.

The great thing about hosted ecommerce sites is that they are relatively cheap, and often you can try them before you commit to using them. If you really don't like something then you can easily move to a different host with minimal fuss in the free trial period.

They are easy to use, especially for beginners, and as a plus, they are also responsible for any bug fixes they need to make to their software. If you think of it as renting a shop front to sell your products, which is hosted on someone else's server then you are exactly right.


Selling online on Shopify

Shopify, which is a Canadian company, is potentially one of the most recognisable ecommerce platforms that has more than 120,000 businesses using it already. There are several different reasons to use Shopify as your platform.
Shopify Design
Installing a theme that determines what your online store will look like is straightforward and easy to understand. Most of these are mobile responsive, so on any device you use the theme will adjust the size to fit the screen. This means that your visitors will have a good experience no matter what they are using to view your website.
Shopify free trial and pricing
With Shopify you can get a 14-day free trial to decide whether or not it's the right platform for your business without having to put credit card details in, and their basic plans cost $29 per month, $79 per month for growing your business and if you go for their advanced plan it's $299 per month. Each level has different inclusions depending on what it is that you need.

Shopify support, marketing and SEO
Shopify makes it simple to find exactly what you need when it comes to support - you can get in touch with them via email, live chat, or phone and they even have tools like the eCommerce university that helps new businesses to learn how to use Shopify quickly. They have a twitter page which promotes different products to their followers, and of course they can optimise your site for SEO (Search Engine Optimisation), which will help you increase traffic to your site quickly.
Shopify security
Customers can shop with you and not worry about who is accessing their details, because Shopify is secure. They process each payment with 256-bit SSL encryption, and they are level-1 PCI compliant. This means your customers can feel secure shopping on your website.
Selling offline with Shopify
If you want to also sell offline, Shopify offers a mobile app and card reader, so you can take payments in person. The credit card reader plugs into your phone and if you need to, you can pair it with a barcode scanner and receipt printer if you need it. This means if you have inventory you can keep track of it as well, so if you want to have a stall on a market or at a festival it's really straightforward.
Shopify downsides
If you do decide that Shopify isn't the right eCommerce platform for you, you won't be able to download any of your data. This means you won't be able to upload it onto another platform and you will lose everything that you have built, which isn't ideal and can be time consuming and costly to start from scratch.


Selling online on BigCommerce

Originally a self-hosted ecommerce platform BigCommerce as a company decided to evolve and changed into a hosted platform for small to medium sized businesses. Internationally BigCommerce has a larger presence so if you are based in Australia and want to expand your presence worldwide they do offer a wider set of shipping options as well.
BigCommerce Design
BigCommerce has more than 100 designs available for their users after a recent upgrade to update their designs. Some of their designs are free and they do offer some mobile responsive designs, although there are only a few in the free category. If you're happy to spend a bit of money on a theme that is mobile responsive, and not included in the free section, then this shouldn't be a problem.
BigCommerce Pricing
BigCommerce offers a free 15-day trial so you can see whether it works for you before you commit. BigCommerce plans start at USD$29.95 per month, which will give you your own online store. Their Plus program starts at USD$79.95 per month and helps you to grow your business using some online marketing tools. The Pro pricing is USD$249.95 per month which has more comprehensive tools. Enterprise pricing is available on application.
BigCommerce support, marketing and SEO (Search Engine Optimisation)
BigCommerce is on par with Shopify when it comes to support - they offer support via phone, live chat, and e-mail on a 24-hour basis, and they have their own BigCommerce university for newbies who are learning the ropes and want to gain more knowledge. In terms of SEO (Search Engine Optimisation) they allow you to integrate with Google shopping so you can bring in new customers, and they use product reviews to increase your ranking. You can also get access to apps from third party platforms like Mailchimp and you can integrate various marketing channels you might need to use for email, social media and multi-channel.
BigCommerce security
BigCommerce is the same as Shopify in that it is level 1 certified PCI compliant and you can choose to have your own SSL certificate or share one so your customers don't need to worry about the security of your data.
BigCommerce advanced customisation
BigCommerce allows users to manipulate their shops and stock by offering a handful of options that Shopify does not. Shop owners can add extra features so if you are able to code, then you can ensure that your site doesn't ever outgrow the platform.
BigCommerce cons
There are less free mobile responsive themes available on BigCommerce, which isn't a problem if you're happy to pay for a theme, but for smaller businesses who are bootstrapping, this might leave you with less choice.
Sell products online on self-hosted ecommerce platforms
With a self hosted ecommerce solution for example, WooCommerce or Magento, because you are running the software from your own machine you can control exactly how it looks.

If you want to build on what you already have then it's possible to do and it goes as fast as your company can go, though it does come with some downsides - this solution is a lot more expensive, and if it breaks then you are responsible for fixing any bugs.


Selling online on WooCommerce

WooCommerce is a free wordpress plugin download, so it helps if you are planning to build your site with Wordpress and you are not looking to grow to a huge scale.
Pros of WooCommerce
It's cost effective because you can download a free plugin to your Wordpress site, and offers free support. It doesn't need a lot of server space either, which means you save money which can go towards something else in your business.
It's easy to set up. If you have experience with Wordpress, it is almost exactly the same as adding any other feature or plugin to the website.
They have inexpensive themes for your site, and it's free to download.
There are good integrations with marketing addons such as email marketing and coupon codes, which will enable your site to grow quickly and extend your reach.
Cons of WooCommerce
There aren't as many features available as other self-hosted ecommerce platforms on the market, so if you're not looking for a lot of growth or scale then there might be other options that are better suited to your business.
You are tied to Wordpress as a content management system, which could be seen as a disadvantage.


Magento

Magento is a good investment if you plan on having your shop for a long time and plan on scaling the business. It is well-established and has everything you need to scale and modify your business.
Pros of Magento
You don't need any coding experience to create a shop front that you like.
You can start small and they provide the tools for you to scale up your business
There aren't as many issues as there would be in a complex ecommerce system because they have a team of talented developers who know the platform inside out
They offer SEO resources so you can attract traffic and customers to your site
Cons of Magento
Custom development or troubleshooting can be expensive because the system is quite complex, even though they have talented developers
If you scale your business you will more than likely need your own dedicated server which can be expensive. If you can't afford this, it can be slow to load which is frustrating for your website users.
OsCommerce



OsCommerce is a good place to go if you don't want to scale your business at a later date, and you're only looking to set up a small shop front.
Pros of OsCommerce
It is straightforward and easy to use - if you have a large inventory they have a detailed catalog system, which means you can keep track of your stock more easily.
They offer plenty of support, and a forum where you can troubleshoot, or find out more about any new features they bring out.
They have plenty of additional features and over 7,000 plugins to choose from.
This won't take up much space on a server, so this means the cost is low.
Cons of OsCommerce
If you or your developer have made any moderations outside of the norm then it can be prone to bugs. Even without the moderations, sometimes it can be a bit glitchy.
With OsCommerce it's not as easy to scale, and this could cause technical problems further down the line.


PRO TIP: Whether you're selling online on a hosted or self-hosted ecommerce platform, consider using classified ads. Classified ads are a great online advertising tool for selling larger items which are difficult to ship. The biggest bonus is usually they don't charge to list, but instead will charge a fee once an item has been sold. The website itself isn't involved in the sales, and you are responsible for the transaction between you and your customer.

Sell products online on online marketplaces
As well as the options to sell online using your own ecommerce website, online marketplaces can work for your business too. This is good for those businesses who just want to sell, and aren't interested in creating a well-known brand, because you can upload your products quickly and easily without any background knowledge. It also means that you can get a good amount of traffic without having to spend money marketing your products, as they are automatically included in the searches for relevant products. You could even do this in conjunction with an ecommerce website if it is profitable enough. These are some of the most popular online marketplaces.
Selling online on eBay
eBay enables their users to sell anything they want from eyelash extensions to irons, which means that it can be difficult to cut through the 'noise' of the other sellers and reach your audience. However, you can sell worldwide, which means you can increase your audience to different countries. They take 10% of any sales that you make (which means it can eat into your profit margin, and in some cases, creating an online shop would be cheaper. The other problem with eBay is that the buyer doesn't have to pay immediately, which can be frustrating when you have to relist an item.
Selling online on Amazon
While Amazon is relatively new in Australia, don't underestimate it as a method to sell your goods. Amazon has a good reputation, which means that there is a level of authenticity when you sell through them. People feel like they are buying Amazon products even though it is your shop that is selling them. Amazon's pricing depends on the quantities of goods that you are selling. If it is a high volume of sales, you pay a flat fee per month plus a fee based on the variable rate of what's been sold. It's particularly popular with people who sell electronics, books, and DVD's.
Selling online on Etsy
Etsy is a bit of a niche marketplace and was primarily created for those who like to sell handmade or vintage items. However their offering has increased over the past few years so they offer digital products now as well. Etsy can be incredibly profitable if your products fit their target audience, as their user demographic often have a bit more money to spend. It is easily personalised and you don't need any technical experience or background knowledge. The downside is, that they use Paypal, which means that not only will you pay listing fees, and final sales fees, you will also have to pay the PayPal fees which will eat into your profit.
Selling online on other online marketplaces
There are other places to sell and market your product, especially if you have a niche product. It might lead to more success than selling on any of the bigger marketplaces like Amazon or eBay. Generally speaking these will have a selection process before you will be able to sell, and the cost to sell will be higher than standard marketplaces, because these are such targeted marketplaces and they want to retain their authority.

Final thoughts
When it comes to selling products online, finding the right place for your business is important for the success of it. Whether or not you decide on a self-hosted or hosted site, or instead opt to sell a marketplace is a personal decision that you need to spend some time making.

It is important to consider your budget and what knowledge you have, and how much time you are prepared to spend on it before making a commitment. There are several sites that give you the option of a free trial, so take advantage of this option and find out what works for you. Hopefully you will be making sales quicker than you know it!
Related Article: