Millions of entrepreneurs aspire to build a retail empire. However, the cost of purchasing inventory then storing it is a steep enough barrier to entry to deter most aspiring sellers. The solution to this constraint is eCommerce.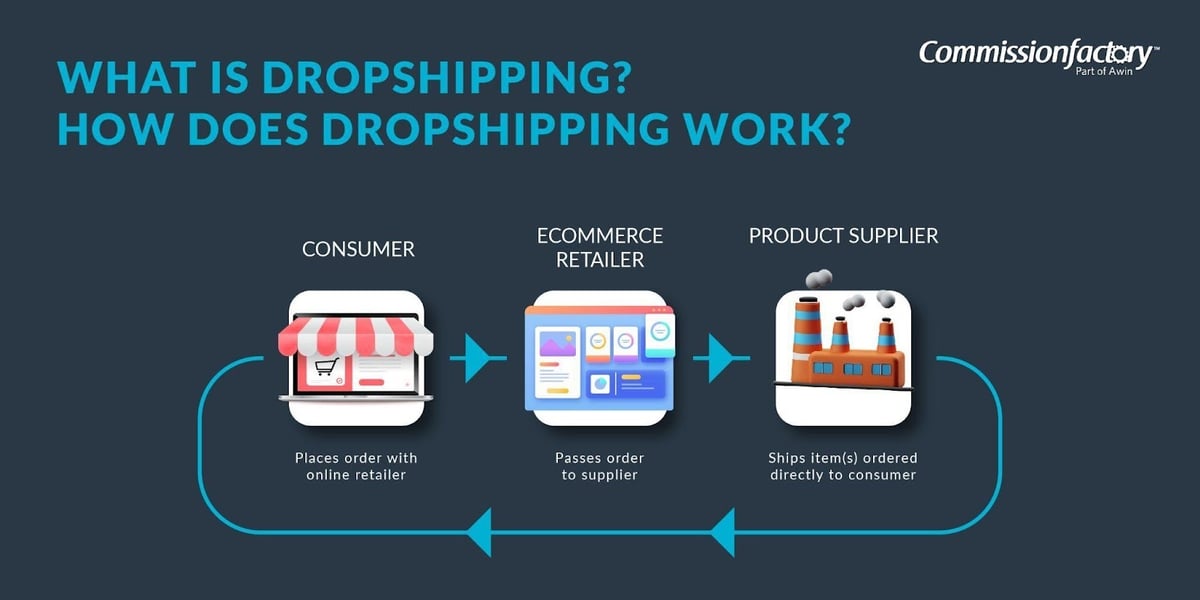 Why maintain an expensive store and even more expensive inventory when everything can be done online, with a few clicks? This is the phenomenon of dropshipping.
The Asia-Pacific region is the epicentre of the dropshipping revolution. With China as the main centre of manufacturing and supply, the region is leading the world in dropshipping, with a projected annual growth rate of 37.7% CAGR between 2023-2031.1
With a rapidly growing economy and the world's largest consumer base, the region accounts for the lion's share of the global dropshipping market value of $222.46 billion in 2022.2
What is dropshipping? How does it work? These are important questions for any aspiring entrepreneur living in APAC.
Join us as we take a comprehensive look at the basic definition of dropshipping, its advantages, disadvantages, and basic requirements. We also dispel some common myths related to dropshipping profit margins and take a look at the best platforms for dropshipping in 2023.


Table of contents:
What Is Dropshipping?
Dropshipping is where an eCommerce retailer manages product sales but not fulfilment, which is handled by a third-party supplier who stores and ships the products on demand.
The merchant only acts as the broker, essentially connecting the supplier with the end customer. Since there is no need to handle inventory, dropshipping carries minimal risk for the retailer.
dropshipping is the internet equivalent of mail-order catalogues from the 20th century. They both work on the same basic principle - taking orders from customers and then arranging delivery directly from a manufacturer or wholesaler.
Since it requires minimal up-front investment, anyone with an internet connection can start a dropshipping business and run it from virtually anywhere.
The global dropshipping market has grown from more than $111 billion in 2018 to almost $226 billion by 2022.3 With a prodigious growth rate of 23.4% CAGR, the sector is expected to breach the $1 trillion mark by 2030.
dropshipping is a subsector within the wider eCommerce market. As such, its surge in popularity is driven by the same fundamentals that have created the eCommerce boom - the ubiquity of smartphones, easier access to mobile internet, and other advances in online technologies.4
The growing eCommerce markets in the Asia-Pacific are the main engine for growth in dropshipping. Fashion, hobby and DIY, electronics, and appliances are the important segments attracting customers and businesses to this field.


What Is the Difference Between Dropshipping and the Standard Retail Model?
The biggest difference between dropshipping and the standard retail model is that the selling merchant doesn't stock or own inventory. Instead, the seller purchases inventory as needed from a third party - usually a wholesaler or manufacturer - to fulfil orders.
Shipping, logistics, and inventory management are handled entirely by the wholesaler/manufacturer. Marketing, promotions, customer acquisition, order processing, and payment handling are some of the responsibilities shouldered by retailers.


How Does Dropshipping Work?
There are two main participants in a dropshipping business model - a customer-facing online store and a supplier/wholesaler. Setting up the online store is the first step in a dropshipping business plan. The retailer then has to find suppliers who offer drop-shipping services.
There are many ways to do this – options include browsing online supplier directories such as Alibaba or ThomasNet, using dedicated dropshipping apps for Shopify, attending trade shows, and directly contacting manufacturers.
AliExpress is an example of a generalist dropship platform with global reach - retailers can find suppliers for a diverse array of products on this site.5 On the other hand, there are more niche platforms like ThomasNet (industrial and engineering products),6 and FashionGo (clothing, footwear, accessories).7
Retailers relying on eCommerce platforms such as Shopify can use dedicated apps for dropshipping.8 A good example is DSers, an app that connects stores on Shopify to wholesalers on AliExpress.9 It offers a wide array of solutions including supplier management, automated order processing, and tracking.
Once a supplier agreement is in place, the retailer then proceeds to list and highlight the products they want to sell on their website. This involves uploading product images, detailed and accurate descriptions, specifications, and prices.
Success in dropshipping relies heavily on marketing and other promotional activities. The market is saturated and the competition tends to be quite fierce. Retailers have to utilise everything from social media to email marketing, content marketing, and even paid ads to increase the visibility of their stores.
When a new customer places an order, the retailer collects the payment and forwards the order details to the supplier. Most sites and apps have tools that automate this process. Depending on the terms of the agreement, the retailer may send payment for the product along with the order. Once the supplier receives the order and payment, they will process it and ship the product directly to the customer through their established delivery networks.
After order fulfilment, the supplier doesn't have much to do. Other ongoing aspects such as customer service, support, returns and refunds are the responsibility of the retailer.


6 Advantages of Dropshipping
Contrary to popular belief, dropshipping is not an overnight success business model. As with any other business, it has its share of advantages and potential risks. The vagaries of the market and changes in macroeconomic conditions can easily derail a dropshipping business.
Here are a few reasons why dropshipping remains a popular model even now:


1. Dropshipping Is Easy to Start
Extensive business management experience is not needed to get started. Dropshipping is easy to start because there is no need to deal with physical products.
With dropshipping, there is no need to worry about:
Paying for a warehouse
Shipping orders
Handling returns
Ordering and tracking inventory
Managing stock level
Compared with the necessary assets and permits to run a more traditional retail business model, it's easy to see why dropshipping has become so popular.


2. Less Capital Is Required
The biggest advantage of dropshipping is that it is low-risk. There is no need to invest a huge amount of capital to start. With the dropshipping model, products only need to be purchased by the dropshipper when a customer orders them.
This eliminates the need for storage space and inventory, which are usually the most expensive aspects of starting up a retail business. Depending on the size of the store and its location (vital in offline business), the cost of setting up a retail business can run into the tens of thousands of dollars.
In stark contrast, it is possible to start sourcing products and launch a dropshipping store with limited financing. In some cases, it can be as low as $500.10


3. Low Overhead
As there's no need to manage an inventory or warehouse, the overhead expenses of dropshipping are relatively low and tend to remain that way. Once the suppliers have been found and everything is set up, dropshippers are mostly only responsible for their online storefront.
It's also possible to run a successful dropshipping business from the comfort of a home, eliminating the cost of renting an office space. For example, with Australia's commercial rents set to remain high in 2023-2024, a business that doesn't require storage space or office becomes more attractive.11


4. Flexible Location
Dropshipping can be a flexible career path since these stores can be run from just about anywhere with an internet connection. As long as there's good communication with suppliers and customers, it's possible to automate most aspects of dropshipping, including order processing and inventory tracking.
Other areas like customer care and inquiries can be outsourced, either to professional service providers or even sophisticated AI chatbots based on large language models (LLMs). With such flexibility, there's little need for retailers to be anchored to a single location.


5. Wide Product Selection
Since products don't have to be purchased upfront, consumers can be offered a much wider product selection without worrying about inventory management. It's possible to sell pretty much anything via dropshipping.
That said, the most in-demand products tend to be electronics and appliances, fashion, hobby and DIY products, furniture, food, and cosmetics/personal care items. For maximum marketing potential, especially on social media, entrepreneurs usually pick a niche where they have some sort of expertise.
For example, a professional chef or cooking vlogger can successfully launch and promote a store that sells kitchen utensils, food products, and home appliances. A beauty vlogger would do well to focus on cosmetics, fashion, and self-care products.


6. Dropshipping Is Easy to Grow
One of dropshipping's major benefits is that the costs don't increase when scaling. While a business owner will have to put more work into sales, marketing, and customer service, other day-to-day operational responsibilities will remain more or less fixed.
Furthermore, as orders increase, suppliers will manage most of the processing, allowing the dropshipper more time to focus on the business. As a result, it's easy to grow at a faster rate than more traditional models.


4 Disadvantages of Dropshipping
Dropshipping's relatively low start-up costs can make it look deceptively simple to the uninitiated. However, this is an oversimplification that ignores several weaknesses and vulnerabilities of the business model.


1. Initially Slim Margins
Dropshipping can be quite profitable, but there's a lot of competition and low margins should be expected initially. As it's easy to start and overhead costs are minimal, many dropshipping stores sell items at low prices in an attempt to attract customers and grow revenue.
Depending on a niche's level of competition, it can take a dropshipping start-up anywhere from a few weeks to several months to break even, let alone run a profit. The importance of a well-planned pricing strategy cannot be overstated.
Apart from the competition, a retailer also has to factor in shipping costs, cost of goods, and customer acquisition costs when pricing for profit. Aggressive marketing can erode profit margins, especially at the start.


2. Inventory Issues
With dropshipping, the goods are sourced from multiple warehouses, which are also fulfilling orders for other merchants. As a result, inventory can change daily. Unlike a traditional retailer, a dropshipper has zero control over any aspect of the supply chain.
During peak demand, this can lead to delays in restocking and backorders. With customers increasingly intolerant of delays, inventory issues can damage a dropshipping store's reputation.
Maintaining agreements with multiple suppliers, along with real-time inventory tracking, can help mitigate these risks to an extent.


3. Lack of Control
The lack of control over aspects of the dropshipping process can affect a store's ability to maintain a certain standard of service towards its customers. Suppliers control both product quality and delivery.
Dropshipping may also limit product customization and branding opportunities compared to traditional retail. As the retailer doesn't manage inventory, adding custom labels and other personal touches becomes harder and can increase product costs.


4. Customer Service Is More Challenging
When orders go wrong or suppliers fail, it can be difficult to handle customer support issues. While mediocre suppliers can cause significant frustration, even high-quality suppliers sometimes make mistakes.
Since the dropshipper is the face of the operation, they alone face the wrath of irate customers and negative reviews can quickly sink an eCommerce store. This means the stakes are high and the margin for error is low.


How to Find a Dropshipping Supplier or Wholesaler
Finding a dropshipping supplier or wholesaler is a relatively simple task. The industry's strong growth means an increasing number of B2B suppliers are entering the vendor space.
A quick Google search reveals several such dropshipping companies that offer their inventory and shipping services to retailers. Although the competition is stiff and growing more intense with each passing quarter, companies such as Doba, Salehoo and Alibaba continue to dominate the space.


1. AliExpress
AliExpress, owned by Chinese eCommerce giant Alibaba, is an international platform that specialises in providing access to wholesalers and dropshipping suppliers based in China. AliExpress merchants can ship products to over 220 countries, including across North and South America, APAC, and the EU.
Merchants on AliExpress sell more than 100 million products across categories such as consumer electronics, toys, fashion, jewellery, furniture, and DIY. Thanks to its support for small-volume purchases, AliExpress is the preferred platform for dropshippers from around the globe.
Many dedicated apps provide AliExpress integration to major eCommerce platforms. DSers is the dropshipping tool available to retailers who use Shopify. Developed by AliExpress, the works on Shopify, Wix, and other similar platforms.
AliExpress Dropshipping Fees
Unlike many of its competitors, AliExpress doesn't charge dropshipping fees. There is no upfront cost involved in accessing the platform, making it an excellent option for new players in the space.


2. Alibaba
Alibaba Online Marketplace is one of the largest eCommerce sites in the world.12
Alibaba is typically used to source suppliers who can provide products wholesale and in larger bulk quantities. As such, it isn't the best option for smaller dropshipping stores with more modest order sizes.
However, established online retailers with a wider user base and larger daily order lists can use the platform to their benefit. Alibaba is especially useful for retailers who want features such as more customised labels and product branding.
Alibaba Dropshipping Fees
Alibaba charges a commission on each transaction along with subscription fees to sellers with storefronts on the site. Retailers are not charged for listing their products, though additional selling features and upgrades are available for a fee.


3. Doba
Doba is a much smaller marketplace when compared to the likes of AliExpress. Instead of listing vendors, it integrates directly with a select few suppliers (around 165 as of 2023).13 Doba maintains a more centralised system with the option to place orders from multiple warehouses.
Retailers can access the full directory of suppliers and wholesalers, while also being able to buy products directly from the Doba marketplace. The platform offers more than 2 million products and the option for global shipping.
Doba is better suited for retailers operating in niches where only a few key suppliers exist (and are present on Doba).
Doba Dropshipping Fees
Doba offers several different pricing structures for businesses of different sizes. For start-ups, pricing starts at $24.99 per month, increasing to $49.99 for a business plan and $299.99 for enterprises.


4. SaleHoo
SaleHoo is a wholesale supplier directory focused on providing retailers with detailed directories so that they can find suppliers more easily.14 Retailers can filter their search and use Salehoo market research labs to find trending products and automatically calculate profit margins.
SaleHoo includes more than 8,000 pre-vetted suppliers and a selection of 2.5 million products. It primarily serves dropshipping merchants in the US, the UK, and Australian markets. The suppliers vetted by SaleHoo are sourced from AliExpress.
In essence, SaleHoo is acting as a middleman between Shopify and AliExpress. The paid subscription service is targeted towards beginners with limited knowledge about AliExpress vendors. The vetting process ensures that dropshippers have access to trusted and reliable suppliers.
Salehoo Dropshipping Fees
It costs a one-off fee of $67 for one year of access or $127 for a lifetime membership. SaleHoo offers a 60-day money-back guarantee, so retailers can try it out to see if it's the right fit.
5. Worldwide Brands
Launched in 1999, Worldwide Brands is one of the oldest online directories of wholesale suppliers.15 The directory maintains strict standards on quality and legitimacy, ensuring users access to the best vendors available online.
Dropshipping is supported by many vendors (but not all of them), especially in segments such as jewellery, consumer electronics, fashion, and home decor. Vendors on the platform are known for supporting smaller order volumes, albeit at a higher cost compared to platforms like AliExpress.
The platform claims to have more than 16 million certified products available wholesale. It seems to be geared towards retailers who use Amazon, eBay, and other third-party online stores for dropshipping products.
The lack of competitive pricing is probably due to Worldwide's emphasis on quality over quantity. It's a suitable option for more experienced dropshippers seeking niche and quality products with a premium price tag.
Worldwide Brands Dropshipping Fees
The platform charges a one-time fee of $299 for lifetime access to the directory services. Users can often get the service for a much lower cost of $197, when Worldwide offers discounts and price cuts.


How to Start a Dropshipping Business
Starting a dropshipping business can be broken down into the following steps:


1. Find a Niche
Aspiring dropshippers should think about how much profit they aim to make per sale, and look for products with healthy product margins. Then, take a close look at the competition and try to pick a niche with low market saturation. Finally, research potential future trends and consider the importance of seasonality.


2. Finding Supplier(s)
Suppliers are a critical part of the dropshipping fulfilment process. As such, dropshippers must make sure they are working with high-quality players. They should use supplier directories to check reviews before establishing a relationship. Unreliable suppliers typically result in customer complaints and can hinder a new store's profitability and growth.


3. Deciding Where to Sell
Once suppliers have been found, the next step is deciding where to sell the products - for example, via a website or a third-party platform. Having a website allows complete marketing control, but is also more high-risk than selling via another website.


4. Advertising
Once the dropshipping store is live, it is time to focus on advertising. There are many ways to advertise a dropshipping store. Facebook, Pinterest, Instagram, Snapchat, Twitter, and even TikTok are all good advertising options.
However, dropshippers should research their target audience, first making sure that they're on these platforms before spending any money on ad campaigns.


What Kind of Margins Can be Made from dropshipping?
The industry-wide margin for dropshipping is estimated at between 15 and 20%.16
From a seller's perspective, any margin above 20% is considered excellent, while a margin of 10-15% would be good, especially for a new business. In some instances, profit margins can exceed 20%, but those instances tend to be the exception rather than the rule.
Much, however, depends on the product. Certain product categories, such as electronics, might sell in higher volumes but with a low-profit margin, while other products might have a lower sales volume but enjoy a higher profit per sale. With accessories, margins can increase up to 100%.


Factors That Affect Dropshipping Margins
Dropshipping isn't drastically different from any other retail business when it comes to financial fundamentals. The profit margin here is influenced greatly by the following common factors seen in any business:
1. Product Pricing
A dropshipping business's pricing model ultimately determines its profitability. Price the products too high and the store will struggle to find buyers. Set the price too low and the business ends up losing money.
Retailers have to calculate product markups based on various factors including cost price, expected sales volumes, and customer acquisition (through promotions and discounts). Another hidden cost is the cost of online marketing and ads.
Last but not least, the cost of maintaining the online store and other payment services must also be factored into the pricing equation. This can include server charges, domain hosting charges, platform charges, and transaction fees.
2. Fees and Commissions
Many supplier directories and platforms charge fees - either as a single lifetime charge or subscription - in exchange for access to their vendor catalogues. Notable exceptions are AliExpress and Alibaba. In at least some instances, paying a premium for access to certain supplier catalogues is worth the costs.
The most common cost faced by dropshippers is the per-order fee charged by suppliers, which can range anywhere from $1 to $15, depending on the product sold. In ideal situations, this fee should not exceed 20% of each sale.17
Apart from platform charges and supplier fees, retailers also end up paying commissions to third parties involved in affiliate marketing and other sales tactics. Typically, the commission paid out by dropshippers ranges between 15-20%.


Where to Sell Dropshipping Products
There are many options to sell products as a dropshipper. Along with traditional options like websites and sales platforms, social media has emerged as a viable alternative for dropshipping in 2023.


Setting Up a Website to Drop Ship
Setting up a website to dropship can be time-consuming. However, if a dropshipper has the resources, skill, and expertise in marketing and SEO, setting up their own website can be a great way to ensure their ability to scale in the long run.
In terms of costs, there is a major trade-off involved with building a website. Setting up the site will incur extra costs. However, in the long run, the retailer can save on additional fees they would have to pay to third-party platforms such as eBay or Shopify.


Selling Via Another Website
For aspiring dropshippers looking to test out the waters, selling via a third-party website is the convenient, cost-effective option. It offers lower risk than building a dedicated site - if it doesn't work out, the seller can always find a better niche.
However, they should make sure to factor in any fees and know what their margin is so that they don't end up losing money. Popular dropshipping platforms in 2023 include eBay, Shopify, and Amazon. All three platforms offer instant access to millions of customers through their websites and apps.


Selling Via Social Media Marketplaces
Both Facebook and Instagram allow businesses to open dedicated storefronts on their social media platforms. Anyone with a Facebook account can list products for sale on the Facebook Marketplace and start selling immediately.
Likewise, Instagram Business accounts allow dropshippers to sell their products directly on the social media platform without creating a website. Since social media marketing is an important strategy, these platforms allow retailers to effortlessly link their ads with the on-platform stores.


Advertising a Dropshipping Business
Advertising is vital to start attracting orders as a new dropshipping site. An aspiring dropshipper in 2023 has access to many channels and platforms to market their business, often at a minimal cost. However, the sheer diversity of channels does present a "paradox of choice". Finding the right advertising strategies to wring maximum value for the budget is tough.
Audience and market research is critical here. It can deliver insights regarding the platforms most commonly frequented by the target audience of the store. Based on research and consumer feedback, a retailer can put up ads on any of the following platforms and formats:
Email marketing: Collect emails from existing customers and send them frequent alerts regarding new products, offers, and promotional discounts.
SEO marketing: Optimise product descriptions and blog content using long-tail keywords, backlinks, and meta titles/meta descriptions.
Video content: Short-form video can be an excellent driver of traffic to online store pages.
Online communities: Communities such as Reddit and Quora can help with connecting to target audiences and promoting the store.
Paid ads: Google, TikTok, YouTube, and Facebook all allow dropshippers to pay for targeted ads to drive website traffic and sales


Final Thoughts
Dropshipping is a great low-risk way to start a business. Once aspiring dropshippers have figured out their niche, they should be able to choose the right dropshipping suppliers with a good reputation to ensure customer satisfaction with product quality and delivery services.
When considering margins, they should factor in extra costs (especially if sales are done through a website like eBay or Amazon) and not underestimate the importance of marketing the products. This can be done via word of mouth, Facebook, SEO, and more, and will maximise the opportunities for a dropshipping business.
---
Commission Factory is the largest affiliate platform in New Zealand and the wider Asia-Pacific region. We connect more than 800 major international brands with our network of affiliated content creators and publishers to create lasting partnerships that create highly successful marketing campaigns.
To learn how Commission Factory can help dropshippers build their presence online, get in touch with our experts today.


---
Dropshipping FAQs
Is Dropshipping Legal?
Dropshipping is a perfectly legitimate and legal business model. There is nothing illegal about selling a product to customers without holding it in inventory, as long as the retailer has a system in place to deliver the product as promised.
However, a dropshipping business must respect relevant local and international laws when selecting products for sale. Some products are not legal in certain jurisdictions. Suppliers from certain jurisdictions may also be barred from doing business in other regions.


What Documents Do You Need for Dropshipping?
Dropshippers have to deal with several legal and administrative formalities with service providers, suppliers, and government agencies when starting out. Depending on the products involved, the size of the business, and the nature of ownership, the following documents may be necessary:
A business plan showing the goals, target market, and financial plans
A registered business name and number, such as an Australian Business Number (ABN)
Relevant documentation for partnership contracts, LLC, or business corporation
Licences and permits wherever applicable, depending on the products
Agreement contracts to be signed with suppliers and other service providers
Documents for customers, including terms of service, privacy policy, return policy, etc.


Do You Need a Business Licence for Dropshipping?
In most jurisdictions, dropshippers will need at least a registered business number, which is essential for sales tax. Other special permits may be needed if selling certain classes of goods such as food or medicines.


How Does Copyright Work Within Dropshipping?
Dropshipping businesses are required to respect the existing trademark and copyright laws. When selling products whose trademarks/copyrights are held by third parties, they must have the necessary licences and permissions from the original owners. Failure to secure these will open up the business to lawsuits


What Are Some Dropshipping Product Ideas?
Toys, puzzles, and board games are all great options for dropshipping. Fitness is also a growth sector where equipment such as trackers, yoga mats, massage tools, and nutritional supplements all enjoy decent margins.
Skincare products, pet supplies and accessories, productivity tools, desk organisers, kitchen gadgets, home décor items, travel gear, personalised gifts, mobile phone accessories, and other tech/PC components are all options that can be sold via dropshipping.


Do Dropshippers Ship Internationally?
The vast majority of dropshipping vendors on platforms such as AliExpress offer international shipping to virtually all corners of the globe. However, care must be taken while serving overseas customers as the shipping times can vary greatly from just a few days to several months.
There are ways to circumvent this, such as opting for pricier delivery options like airmail. It's also worth noting that the availability of international shipping can change depending on a variety of factors, including product type, import/export rules and restrictions, and other rules and regulations.


References
Register as an Advertiser today.