Pinterest is a powerful social media platform. While Facebook and Instagram far outweigh it in the number of users, the ease of deploying Pinterest affiliate marketing to generate revenue make it a brilliant tool for marketers and business owners.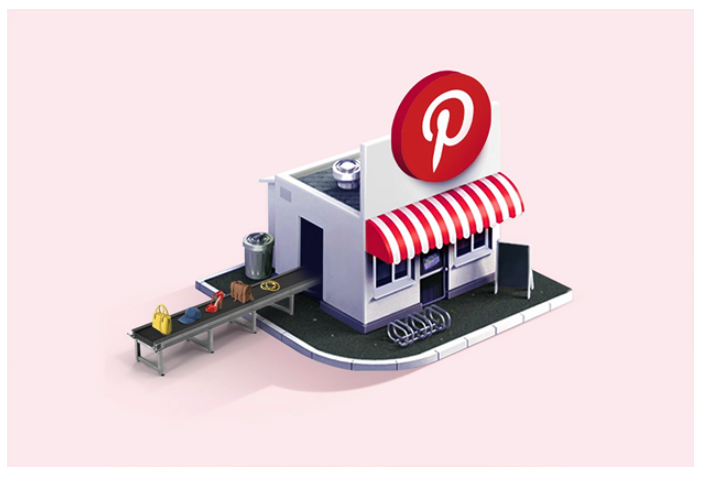 Think of Pinterest less as a social media platform and more of a visual search engine and a powerful promotional tool.
Add to that its 447 million monthly active users[1] (MAUs) at the start of November 2021, and Pinterest gives marketers and website owners a valuable opportunity to build a recurring passive income from affiliate sales of products, programs, and services.
It might seem overwhelming to run affiliate marketing on Pinterest, but the high return potential means the hard work will pay off. Once it has been set up, all Pinterest affiliate marketing requires following some best practices to drive decent traffic to the desired pins.
This guide explores Pinterest affiliate marketing and how it can be used by both affiliates and advertisers to start generating revenue.
What is Pinterest Affiliate Marketing?
Pinterest affiliate marketing allows for the recommendation of products and services on Pinterest for users to buy. When users purchase these products, the Pinner receives a commission from the advertiser.
To explain in more detail, let's take a look at how Pinterest works.
Pinterest is unlike any other social media network.
Posts are called pins, and they are mostly pictures and videos. While Instagram is all about sharing first-party content, Pinterest is used to find and save content pinned by other users.
Anyone with a Pinterest account can either pin content found elsewhere on the web, or browse Pinterest and add another user's pins to their own boards. Boards are simply collections of pins arranged by category.
Just as on other social networks, Pinterest lets users like, save and share pins with friends.
This is where the Pinterest algorithm comes in.
The more engagement a pin attracts, the higher position Pinterest gives it in the search - just like with SEO.
That means as the ranking of Pinterest pins improves, a Pinner can attract more traffic to their own website and content.
The goal of affiliate marketing on Pinterest is no different to that of Instagram affiliate marketing: the affiliate is leveraging the platform to steer users to affiliated products or services, purchases of which results in passive income for the referrer.
It's how this process is conducted that differs, which we'll detail later in this article.
Benefits of Pinterest Affiliate Marketing
Why should Pinterest be added to a marketing strategy? Before considering whether to use the social network for affiliate marketing, it is important to weigh up whether it's worth the necessary time and effort.
Take a look at the facts:
Pinterest Has 447 Million Monthly Active Users
Pinterest has had some serious growth since the start of the pandemic, growing its user base from 335 million MAUs at the end of 2019[1] to 444 million MAUs in the third quarter of 2021, with that figure growing again to 447 million on November 2.
This means Pinterest has more monthly active users than either Twitter or Snapchat.
The Platform Has Upped Its Focus on Shopping
After introducing several news features in October 2020[1] geared towards helping merchants maximise their sales, Pinterest made another push on this front in December 2021.
The company published a new guide[2] in the run up to the 2021 holidays on how to set up product listings on the platform using Pinterest's Catalogs UI.
As many as 83% of weekly Pinners have made a purchase based on content they saw from brands on the platform, according to Pinterest.
Pinterest is not only an online space for users to find new products, ideas and inspiration, but almost half of global weekly users[1] say they have discovered a new brand or product while browsing the network.
Pinterest Is the Only Social Media to Offer Visual Search
Every social platform has its own special features which make it good for a certain type of affiliate marketing. For example, affiliate marketing on Twitch is all about live chat. And affiliate marketing on TikTok is focused on videos, naturally.
Pinterest offers a search engine dedicated to finding products[1]—what other social media can offer that? None.
That means Pinterest can be a goldmine for making sales, which is what affiliate marketing is all about.
More Pinterest Boards Were Created in 2020
There was a 35% increase year over year[1] in the number of boards created each month in 2020.
Pinterest said there was a 44% increase in beauty boards, an impressive 95% increase in women's fashion boards and a 36% increase in home decor boards.
For affiliate marketing, this is great news.
Pinterest is a Long-Term Strategy
Pinterest is a rewarding way to build an affiliate revenue stream because pins have a long shelf life. A tweet or Instagram story has a short lifespan of just minutes or hours, but people can keep pins on boards for months or even years.
How Do I Become an Affiliate on Pinterest?
Launch a Pinterest Business Account
The first step is to set up a Pinterest Business profile, which opens the door to using Pinterest for commercial purposes including affiliate marketing.
Either create a new account for a business or convert a private account into a business account.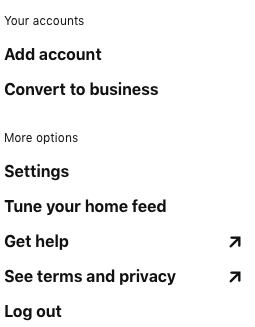 The great thing about a business profile is that it provides access to additional Pinterest features, such as Analytics, Ads, and Audience insights.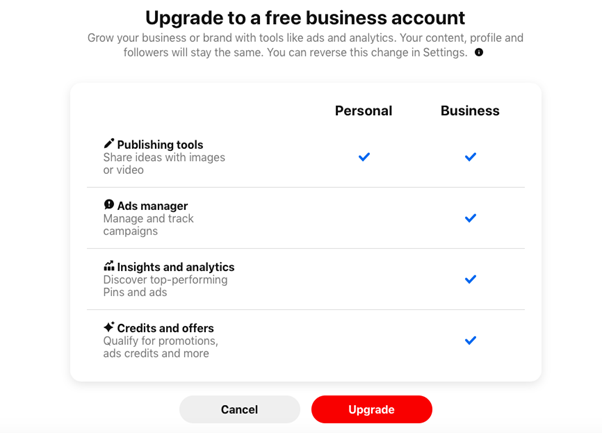 Once the account has been set up, the next step is gaining exposure for affiliated content. This process requires creating beautiful photos, videos, infographics and other visuals for the affiliate offers and products.
Sign Up as an Affiliate for a Product Category
Pick a niche to target with either a website or blog—it might be fashion, home, technology, travel or perhaps it's B2B.
Whatever the niche, there's an affiliate program to match.
For example, Commission Factory has a network of more than 600 brands, from airlines, fashion, technology brands and retail, so aspiring affiliates are sure to find an advertiser they'd like to promote.
Through a Commission Factory affiliate account, Pinners can track every sale in real time. Instant, in-depth information is key to understanding audience interests, which will help to cultivate boards and help show the audience the products they're looking to buy.
Create Blog Content to Promote Affiliate Links
The next step is to create content to house the affiliate links. This is the content to promote on Pinterest to gain followers and generate interest in affiliate products.
Publish this content on a website as blog or video posts.
How to Add Affiliate Links on Pinterest?
Once the content has been created, it's time to add affiliate links on Pinterest.
To do this, create Pinterest pin images for a post, then post them on your profile.
Start by creating a pin as normal from the profile page.
Simply click the plus sign in the bottom right corner of the screen, and hit Create Pin.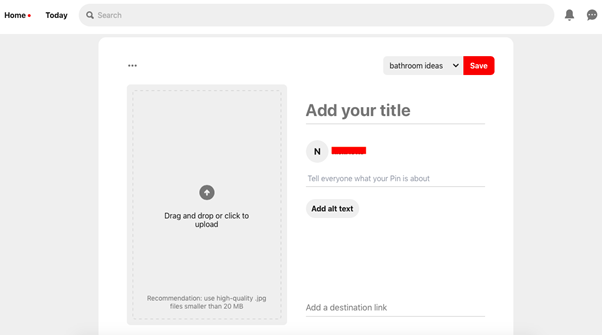 Don't stop at one post—create multiple pins for each content piece to maximise the chance of promoting affiliate products.
This will help showcase content to thousands of users every day on the platform.
How many is enough?
Some Pinners might create between 3–10 pins per blog post, while others create anywhere up to 20 per post.
The rule is simple: the more pins, the more traffic.
How Do I Promote an Affiliate Link on Pinterest?
When it comes to Pinterest, there are two options for affiliate links:
1) Link directly from pins to the brand's website.
2) Link from pins to an affiliate website and convert from there.
Picking an option comes down to the terms of the affiliate program . Commission Factory, for example, offers both options.
Here's an example of what it looks like being able to direct traffic to a self-published website.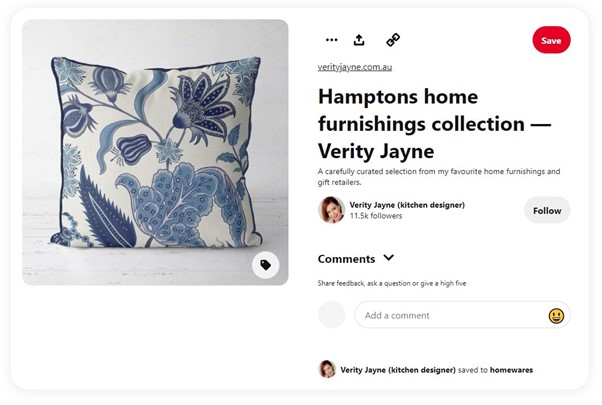 Clicking on the link leads to the Verity Jayne blog post:
Pinterest Affiliate Marketing Without a Blog
But what about Pinners without a blog to link affiliate pins to?
Not to worry.
Generally, if an affiliate program accepts direct links on Pinterest, there's no need for a blog to promote the affiliate product. Commission Factory has addressed this very concern.
However, don't promote the affiliate product in a way that compromises the quality of the content. In other words, make sure pins are always inspiring and valuable to Pinners, even if they are promoting affiliate links.
For example, a profile dedicated to interior design could host board s for different patterns and include a mix of affiliate and non-affiliate links in each Pinterest board.
Best practice is to be completely transparent and highlight an affiliate partnership with brands to avoid losing audience trust.
How to Use Pinterest for Affiliate Marketing
Here are a few golden rules to follow when using Pinterest for affiliate marketing.
Stay Consistent
It might take a while to set up and get moving, but this is one affiliate marketing strategy that will snowball with time—but consistency is key .
This doesn't mean a dozen pins need to be created for each post or that they need to be posted all at once.
Just add to the boards every day.
This will help boost follower numbers and create better brand awareness for affiliates .
Know Both the Market and the Trends
As with any form of marketing, listening to the audience to discover what to post and promote is essential.
Follow relevant boards with similar products or competitors, and find the same content that the target audience sees when browsing Pinterest. This will help reveal what's out there and how your content measures up.
Make It Look Good
Pinterest is a solely visual medium. That means that new content needs to stand out and attract the attention of followers.
Try easy-to-use free tools like Canva, which will help deliver good-looking results without the need for graphic design skills.
Create Quality Content
As mentioned above, content quality is critical .
Many Pinterest users are actively searching for products and services to buy based on what others are saving. So, creating beautiful and compelling Pins as visual content that brings value to users can maximise conversion potential.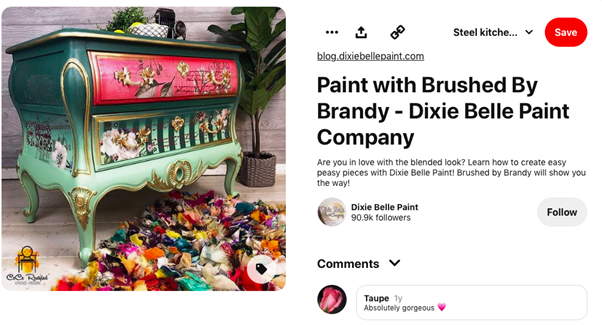 Tap into SEO
Pinterest is not a typical social media network. It's more like a visual search engine with huge referral traffic potential.

Approach the Pinterest algorithm with a similar mindset as search marketing. That means focusing on the phrases and the keywords used during pin creation to get in front of as many users as possible.
The first step is to make sure your Pinterest profile is search friendly—fill in all profile sections and ensure it isn't hidden from search engines. Simply go to settings and uncheck the box in "privacy and data preferences".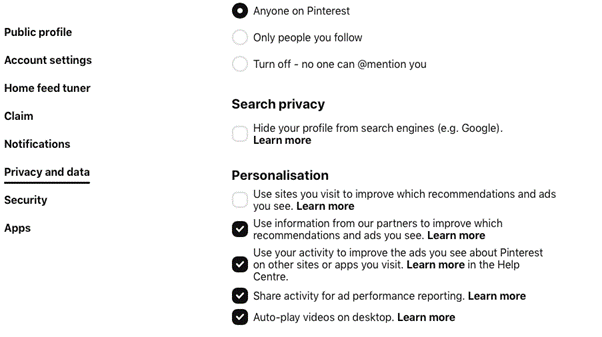 Research relevant keywords by seeing the commonly used terms in the Pinterest search bar. Then, simply add those to the pins' title and description .
Another top search optimisation tip is to organise pins into boards, so users and search engines can easily work out the structure and return the most relevant pins when a user searches.
Promote on Group Boards
Promote affiliate products by utilising different group boards.
These are places where multiple people can join and post their pins.
When someone joins a group board, all of their followers also join the board and will be able to see pins from other people. While this can cause follower dilution, the upside is being able to access all of that board's followers immediately. In other words, extended audience reach with none of the associated work.
Finding a group board is easy—simply use the search function to search "[topic] group board"
If the picture of the owner has multiple people, then it's a group board.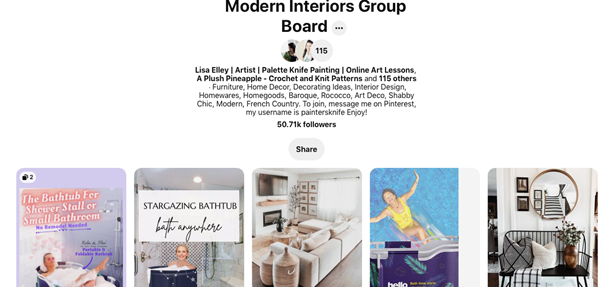 Analyse and Adjust
As with any marketing activity, the best way to improve is to analyse results and adjust marketing strategies accordingly.
Look specifically at:
Which pins and boards drive the most traffic to the blog?
Which pins and boards does the target audience engage with most? E.g., pins with the most comments or shares.
For this, use Pinterest Analytics, which is available to business accounts, as well as other analytical tools.
Also consider using Google Analytics. Simply use UTM links to track clicks from individual pins.
Best Practices for Pinterest Affiliate Marketing
Check the Affiliate Program Rules
Some affiliate programs do not permit affiliates to post their direct affiliate links on Pinterest. Instead, they must promote products in a blog post, and then link to that from pins.
Provide Value and Quality Content
Always offer Pinterest audiences something they will value. Create a how-to blog post, video, or free guide.
Disclose Affiliate Links
Be sure to tell users about any use of affiliate links . Transparency is always the best policy.
If it's a direct affiliate link, add #affiliate to the description.

If affiliate links are in a blog post, there's no need to say anything in the pin, but put it at the top of the blog post, or the sidebar.
Add the Social Media Platform to Your Website
Add website buttons so people can pin images to their boards with one click, or follow boards.
To add Pinterest buttons to a website, follow the instructions here.
Use Marketing Tools for Pinterest
There's a long list out there of marketing tools that can be used to either start making money on Pinterest or grow existing marketing revenue .
Here's a shortlist of the most useful tools:
Canva to create visuals

Buffer

to schedule pins and track their performance
Depending on the particular affiliate program, it may also provide a whole suite of tools to help, such as real time tracking and reporting.
Final Thoughts
Pinterest is a unique social platform, and there's no doubt it has significant potential to help affiliates and brands attract potential customers, increase engagement, drive traffic and build loyalty. To make the most out of the platform, it's important to pay attention to the way Pinterest works and how target users engage with content. Above all, remember it's a visual channel—make pins eye-catching and interesting or they won't drive traffic or sales.
References
You may also be interested in reading the following articles: