In this article, we explore how Twitch streamers can use affiliate marketing to create new revenue streams in 2022.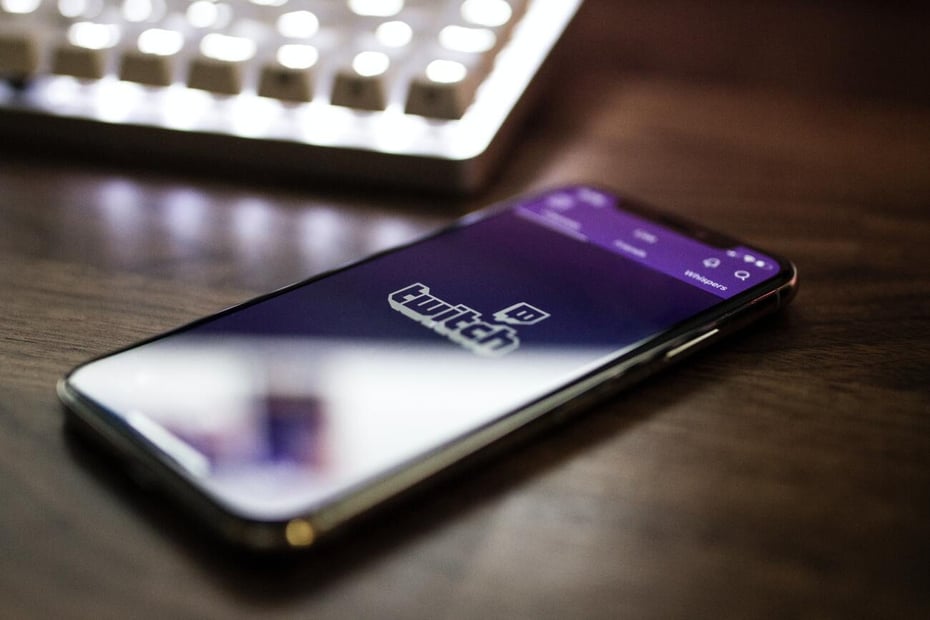 Twitch has exploded in popularity in recent years, creating a new type of influencer with a uniquely engaged audience.
Similar to other influencers and content creators, Twitch streamers can share products and services with their audience. However, these streamers also enjoy a distinct advantage over other media.
Streamers can constantly engage their viewers through the platform's live chat functionality, creating a deeper two-way connection with their audience.
It is important to note that while Twitch has an Affiliate Program, this should not be confused with affiliate marketing. Although both means offer streamers the chance to monetise their channels, they achieve this in different ways.
Twitch Affiliate, Partner and Affiliate Marketing. What's the Difference?
Twitch offers streamers two ways to monetise their channel: the Affiliate Program and Partner Program.
These programs allow qualified streamers to earn a share of the advertising revenue generated from their channels and open the door to paid subscriptions and virtual tips in the form of Bits. In addition, both programs offer additional perks to help with building and retaining an audience.
These programs are baked into the platform itself, and all revenue generated from them is shared to varying degrees with Twitch.
Meanwhile, with affiliate marketing, streamers use their content to promote brands, products, and services to generate a separate stream of income. In other words, streamers receive 100% of the revenue generated from affiliate marketing.
We'll delve into the advantages of Twitch's partnership programme a little later. But first, let's look at how streamers can use affiliate marketing to diversify their revenue streams.
How Can Twitch Streamers Use Affiliate Marketing?
The most obvious route for streamers looking to monetise content is the Twitch Partner Program, which is split into two tiers – Affiliate and Partner. After hitting these milestones, however, it's not immediately clear to streamers how they can build revenue beyond Twitch's own offerings.
This is where we recommend signing up with an affiliate network, as it can provide access to a large number of brands that resonate with streamers' audiences. In addition, various affiliate programs, offers, and links allow Twitch streamers to recommend relevant products and services, without disrupting their content or interrupting the stream with mid-roll video ads.
With an appropriate affiliate program, streamers will be paid on a commission-per-conversion basis, which resonates well with Twitch viewers, as many enjoy supporting their favourite streamers.
Twitch subscriptions are paid to the platform, with streamers receiving either a 50%, 60% or 70% share depending upon the size of their following. Affiliate relationships, however, allow viewers to support content creators directly by making purchases through affiliate links and offers.
Commission Factory currently supports more than 600 brands, providing ample opportunity for streamers to promote offers to their audience. Through a Commission Factory affiliate account, streamers can also access affiliate tracking links to further engage their audience.
Which Twitch Streamers Should Consider Affiliate Marketing?
Any streamer on Twitch looking to monetise their content should consider using an affiliate network. The more engaged and established the audience, the greater the chance of success and the greater the revenue that can be made.
Even smaller streamers can benefit from affiliate marketing. Given their audiences may see them as an "undiscovered" media personality, brands who partner with them would gain a certain amount of prestige., and the streamer would also gain a larger audience.
Commission Factory is an option for streamers looking to tailor their content and advertise with brands that resonate with their audience. To learn more about what's provided for affiliates and advertisers at Commission Factory, visit our FAQ.
Why Commission Factory Could Be a Good Option for Twitch Streamers
Commission Factory's platform has several features that are beneficial to any Twitch streamer:
1. Free Affiliate Accounts
Commission Factory is entirely free for publishers and streamers and allows any streamer, big or small, the opportunity to apply to partner with relevant brands.
2. Hundreds of Online Brands
With over 600 brands on the Commission Factory network, streamers have access to a wide array of partners to promote.
3. Real-time Reporting and Platform
Commission Factory's platform populates data in real-time, allowing content creators to see click data, transactions, commissions earned,
create custom reports
and much more, all in one place.
4. Brand Offers and Promotions
Twitch streamers who partner with brands on Commission Factory can receive custom codes, discounts, and promotions to share with their audience. These offers can be set up as "Clickless Codes", which awards streamers a commission if the code is used by any consumer. Streamers can also look to overlay a QR code on top of their video, which allows viewers to scan the QR code and take their users to an advertiser's offer or product page.
Some of Commission Factory's Affiliate Partners on Twitch
While streamers such as xQc, Guales, and AuronPlay have come to dominate the leaderboard of Twitch's most-watched creators, the platform remains a diverse ecosystem in which smaller creators can also enjoy success.
Commission Factory has teamed up with a number of streamers at various stages of growing their channels—from Anthony Day with 1,200 followers to Demalay with more than 30,000 followers.
While Tasman Stoker (15,600 followers), Athena Meletis (4,300 followers), and Chelsea Moses (2,200 followers) have each highlighted their partnership with Commission Factory client Mwave in their about sections, Clickless codes and QR codes remain an equally viable promotional option.
How to Become an Affiliate on Twitch with Commission Factory
To become an affiliate on Commission Factory and promote through Twitch, streamers will need to apply as an affiliate.
Opening a Commission Factory affiliate account is completely free and does not incur any fees. Once approved into Commission Factory's network, affiliates can select brands they wish to promote and apply to their programs.
New and existing affiliates must have their Twitch channel listed as a traffic source in their Commission Factory affiliate account. To learn more about adding or updating traffic sources, affiliates can visit our help centre article.
Tips on Taking the Next Steps with Commission Factory
Once approved on the Commission Factory platform, streamers should consider a few key points to assist with their account setup and access to brand offers.
1. Setting Up a Commission Factory Account
Streamers should set up their Commission Factory affiliate account to get approved access to advertiser programs and begin promoting as soon as possible.
2. Applying to Advertiser Programs
An important part of promoting brands is targeting the right audience. Finding a relevant brand for an audience and streamer content is crucial and will significantly impact the performance of the promoted affiliate offers.
For detailed instruction on how to apply for advertiser programs, read our help centre article.
3. Directing the Audience to the Brand
Streamers are in a unique position to engage their audience in real-time and chat with individuals as well as the entire stream. With this in mind, streamers should include links to the promoted brands in the stream bio, create chat links and commands, and make call-outs to the brand periodically in the stream.
Streamers can also choose to use a product from a brand they are promoting, or direct their audience to a website where they can find the products.
What Are the Advantages of the Twitch Partnership Programs
?
The streaming platform runs partnership programs — dubbed the Twitch Affiliate and Partner Programs — that are designed to reward successful streamers and help them build a more engaged audience.
Building a more engaged following also benefits streamerslooking to expand their affiliate marketing prospects.
Participating in the Twitch Affiliate Program requires an invite from the platform. That invite will be sent once a streamer has met the following criteria:
have at least 50 followers

have at least 500 total minutes broadcast over the last 30 days

broadcast for seven unique days

have an average of three or more concurrent viewers.
Twitch has mentioned that these criteria are likely to change as the program is developed.
Streamers who become Twitch Affiliates can:
Start earning money from the game sales and in-game items from the channel page.

Offer channel subscriptions.

Receive Bits; a "virtual good" viewers use to tip streamers.

Earn a share of their channel's video ad revenue.

Track their revenue via their account dashboard.
Additional benefits include getting up to five unlockable subscriber emotes, priority access to transcoding, subscriber streams, the ability to rebroadcast past content, and channel points and polls.
After becoming a Twitch Affiliate, you can then apply for the Twitch Partner Program.
A streamer's channel must have streamed 25 hours across 12 unique streams with an average of 75 viewers to become a Twitch Partner. However, while it allows you to apply for the Partner Program, it does not guarantee your application will be accepted.
A Closer Look at Twitch's Monetisation Paths
Twitch Affiliates have four ways to monetise their channel and earn revenue:
Subscriptions

– Anyone can check and view the live stream, but a streamer must accept his or her subscribers. Twitch Affiliates can charge different tiers of subscription options at varying prices: $4.99, $9.99, $24.99, and the Prime free subscription. These are called subscriptions affiliates. Usually, subscribers receive perks or exclusive emotes, depending on their subscription status and tier.

Advertising Revenue

– Twitch Affiliates earn a percentage of ad revenue from the advertisements streamed on their channels. The streamers can also customise mid-roll ad length and frequency.

Donations from Subscribers

– Bits popularly known as subscriber-based donations are used by viewers to "cheer on" the streamer during live broadcasts. Every time bits are given, the streamer earns one $0.01 per bit received, or the equivalent in their local currency cent. This way, qualified streamers can earn revenue from donations.

Game Sales

– Twitch markets numerous games and in-game items. When a Twitch Affiliate plays and streams one of these games, the affiliate can earn a 5% revenue share if a Twitch user purchases the game from the Twitch Affiliate's channel.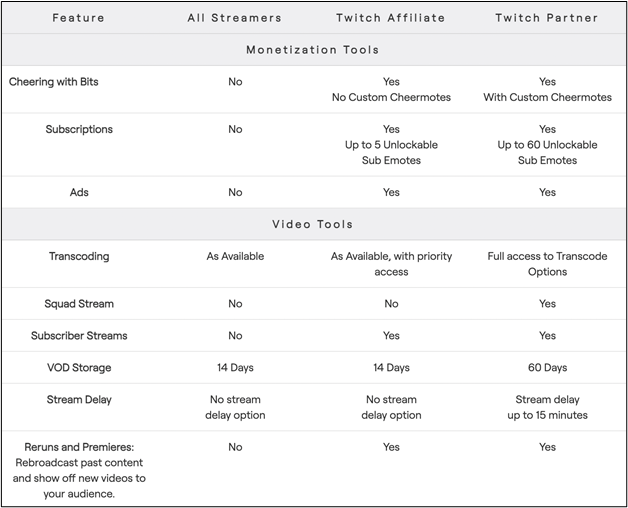 Source: https://help.twitch.tv/s/article/joining-the-affiliate-program?language=en_US
Affiliates get 14 days of VOD storage (more if they're a Prime or Twitch Turbo user) and can create polls as well as channel point incentives for viewers.
The same benefits are applied to Partners. In addition, they get full access to Transcode options, up to 60 emotes, 60 days of VOD storage, stream delay options, and squad streaming options.
Moreover, Twitch Partners can use a self-service emote tool. They can create stream teams and have special priority in line for customer service. But, more importantly, the Partner status comes with the iconic verified channel badge.
Final Thoughts on Affiliate Marketing on Twitch
Twitch has grown into one of the largest and most popular streaming platforms in the past few years3, reaching millions of viewers worldwide and creating a whole new channel of influencers.
Twitch streamers can engage and reach their audience unlike any other online influencer, and this provides valuable relationships for both streamer and viewer.
Twitch has shown promising growth, and streamers on the platform have been able to create lasting relationships with both viewers and brands. As such, streamers should be looking to capitalise on these relationships and diversify their revenue streams beyond the methods provided by Twitch.
Interested in becoming an affiliate with Commission Factory, sign up today.
Sources