Organic traffic from search engines is a crucial source of potential customers. This article explains how advertisers can find the key strategies to for more efficient SEO for retailers, enabling better content discovery and brand awareness


Why is SEO important for retailers?
Search engines are a vital part of the digital ecosystem. Users leverage them to find information, news, or research about the products they want.
Implementing better SEO for retailers means advertisers can position themselves in front of customers at the right times, maximising the likelihood of converting these impressions to the ultimate goal, sales.
What is Local SEO for Retail?
Local SEO is the process of optimising a store's presence for a specific location. It enhances local search presence and helps the local shoppers to find a retail store in search engine results. Local SEO for retail is vital to attract local customers to a physical location.
Why Is Local SEO Important For Retailers?
According to research(1) conducted by Shopify, 81% of US consumers prefer searching a local retailer online. Therefore, local SEO plays a crucial role in attracting nearby customers to your retail store.
The way consumers are shifting online to research the required products and stores, boosting local SEO rankings is equally essential.
Working on local SEO is vital for brick and mortar businesses whose target audience is local, in order for customers to find their store online.
How Does Local SEO Work?
Google uses an organic algorithm to bring up the search results for specific queries and keywords. Therefore, when someone performs a local search on Google, it works slightly differently and surfaces search results based on more factors than the standard search algorithm. These factors include:
Proximity: Is a business close to the query searched and the searcher?
Relevance: Is a website/content relevant to the search query or keyword?
Prominence:

Is a company trustworthy, and is its content accurate?
What Are Local Packs?
When a user types a query into Google Search, the results that appear above organic results at the top of Google search results are local packs or 3-pack results.
These results are shown on a map and list specific details about the local business displayed, such as its business hours, address, and contact information.
Each result also has customer reviews and star ratings, thus making the 3-pack section crucial for attracting local customers.
Here's what appears in the 3-pack when I type "bakeries near me" into Google Search: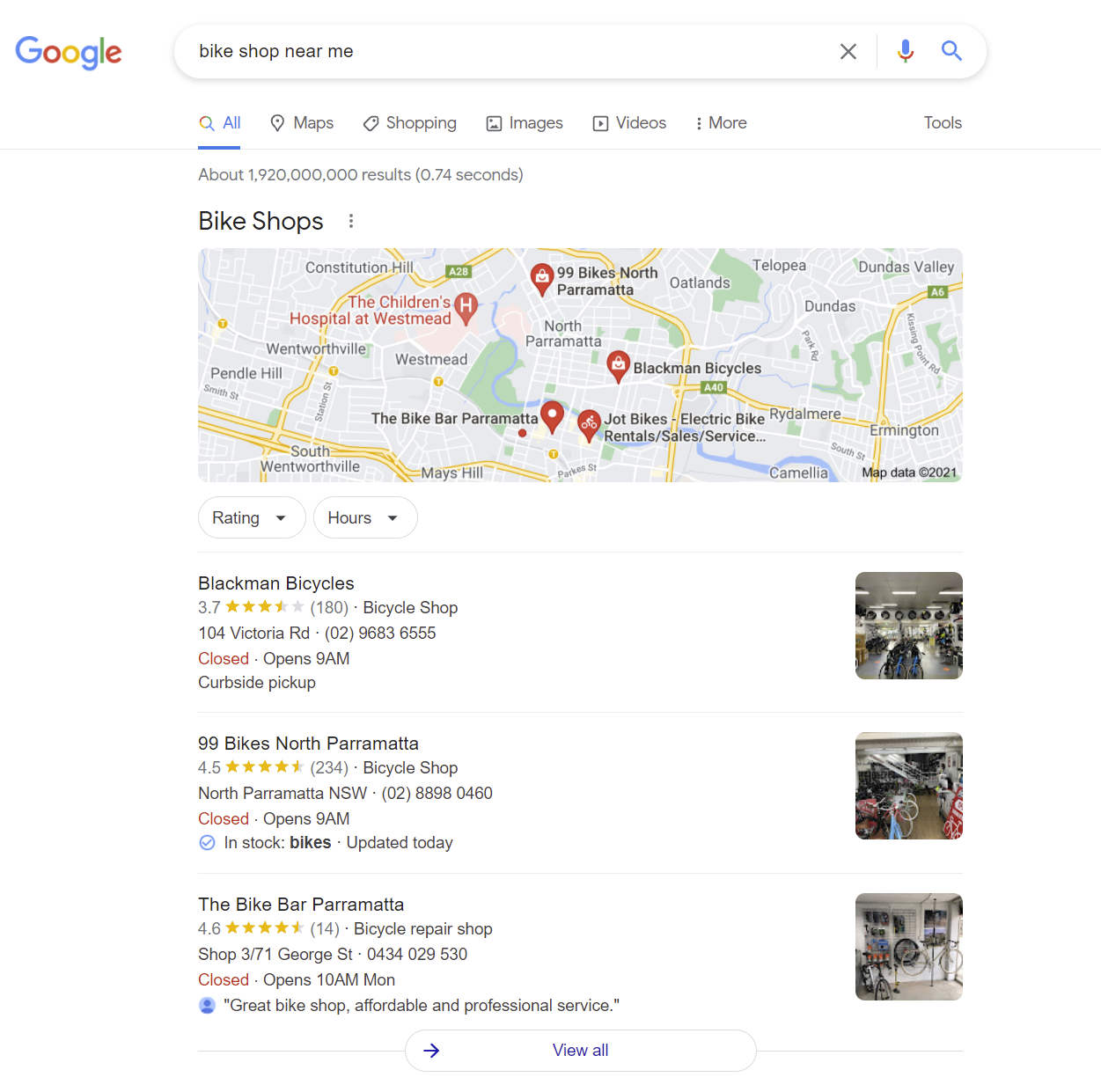 How To Optimise For Google's Local Pack Results
Claim your Google My Business (GMB) listing.
Add all the detailed information about your business to your GMB listing.
Confirm the business location and keep it updated.
Encourage customers to add reviews and respond to all the online reviews.
Add high-quality photos of the store and products to your listing.


How to Optimise eCommerce Store for Local SEO?
Optimisation for search engines is not just for online businesses. For example, for companies with a physical store, improving local retail SEO can help generate visitors to the local store from the areas it services.
Appearing in a prominent result in searches like "flowers in Melbourne" or "phone cases near me" would allow customers to find a store at a critical moment in their purchase journey: when they have most likely already made a purchase decision.
Companies need to sign up to online directories like Google My Business to optimise their listings for local SEO. Businesses can do this by following these steps.
1. Add A Store to Google My Business
Creating a business profile on Google is easy. Businesses simply head to Google My Business(2) and follow the steps to claim or add a business.
Once their business has been verified, they can manage its appearance on Google Maps and Google Search. This can be done by adding extra information that can be useful for potential customers, like:
Name, address, and phone number. This information must match other listings and the business website.
Business hours.
Customer reviews.
Pictures of the store, products, and a virtual tour.
Providing all this information will make it easier for a potential customer to choose one business over another. Listings should be as detailed as possible, and, in the case of images, using professional pictures can improve the effectiveness of a listing.
Google My Business is a great marketing tool. It can also be used to communicate with potential customers, from publishing announcements(3) like new products, offers, sales, and events to posting updates about certain products. In addition, businesses can include targeted call-to-actions in those messages, like Buy or Sign up.


2.
Go Beyond Google
Google may be the most significant player today, but it is not the only one. Businesses will be missing opportunities and potential customers if they do not take advantage of other business listing sites.
In addition, some apps take data from different business directories than Google, so having listings in other directories will ensure that a business is featured with accurate and rich information across several channels.
Creating a business listing on Apple Maps, Yelp, Bing, Facebook, and Foursquare is essential. When talking about local retail SEO, it would be necessary to explore other sites specific to the business's country or location.
In Australia, for example, there is Local Search, Search Frog, Pure Local and more(4).
The key is to ensure the post information is accurate, consistent, and as detailed as possible. Also, businesses should keep a list of the business directories they use, as it will make it easier to update them when they need to change their location or opening hours.


3.
Use Structured Data
Search engines have become adept at understanding the user intent behind each search query. As a result, they have adapted their result pages (SERPs) to accommodate specific information useful to each particular user.
For example, in the case of local business search results, it can include product reviews, ratings, or addresses. In this case, the information is pulled from a website instead of being submitted to Google or other directories.
To take advantage of this and make a site eligible to be featured in these rich results, businesses need to make specific changes to how the data is structured when coded into the website.
Using structured data allows search engine crawling bots to better understand the information that is presented to them and implement it in a way that is helpful to users.


4. Keyword Research
For brands wanting to succeed in reaching the top of search engines in order to sell as many affiliate products as possible, the first thing businesses need to do is ensure that they're using the most relevant keywords to find their target market.
Successful retail search engine optimisation starts with in-depth keyword research with a tool like SEMRush. Next, businesses need to think about the kinds of searches customers will make online when they are researching the brand's product niche.
Product pages and category pages will target fundamentally different keyword types. These pages will be more specific and brand-oriented, while category pages will focus on broader, generic keywords relevant to any of the products inside that category.
It is even advisable for brands to do competitor research to rank high on Google.
There are three elements needed to analyse a keyword for SEO optimisation efforts:
User intent. Looking at search result pages will help brands determine if a keyword is being used to search for information or products, and if the purpose is informational or transactional.
Search volume. Of course, businesses want to target the keywords most used by their customers. Checking keyword search volume is essential while choosing a target keyword.
Competition. Using keyword research SEO tools like SEMRush(8) or Ahrefs(9), businesses can assess how difficult it will be to position their site on the first page of search results.
By combining these three factors, brands can choose the ideal keyword with high volume and low competition for their online business and website to rank on top.
These tips are equally important for those looking to find keywords for paid search marketing.


5. Optimise Page Titles and Meta Descriptions
One of the first steps to optimise a site is to work on page titles and meta descriptions, making them more relevant to users.
The objective is not to include all the specific keywords in the title but to increase the search engine results by click-through rate. By doing so, the search engine understands that the site is a relevant result for that query, improving the web page or website position in the SERP.
Businesses can include a call to action like buy now or a free trial. But what's important is to add the key information that will allow a user to visit the site before any of the other results in the SERP. Of course, that information may differ depending on the product or service.
Businesses should remember to keep their titles below 60 characters and descriptions below 160 characters to ensure they show completely for most possible scenarios in Google. The most crucial information should appear at the beginning, with the brand name included at the end.


6. Write Original Product Descriptions
Most online retailers to multi-brand eCommerce sites provide descriptions that businesses can add to their product pages. This can save eCommerce retailers a lot of time. But it also means that they will have a description used by many other retailers that also carry the same brand.
Writing original content for a product page has two clear benefits:
First, it allows businesses to differentiate themselves from other retailers, enabling them to avoid penalties in search rankings for using duplicate content.
The original descriptions become part of the 'brand voice'. It helps to increase the brand profile and make the content more readable. This increases loyalty and repeated visits from search. And this, in turn, will send a positive signal to search engines about the site's relevance.
When implemented correctly, this can be one of the most effective parts of an SEO strategy. Businesses can add long-tail keywords to get on top of the organic search, thus ranking their product pages well on Google.


7. Differentiate with User-Generated Content
Another option for brands looking to create unique, original content on their product pages is to include user-generated content (UGC), like questions or reviews.
A positive side effect of including this feature on a website is that it uses the vocabulary and language of site users. Thus, enhancing the overall user experience(UX) of a website.
By adding UGC, brands get free content that not only ranks well but works as part of a broader SEO strategy.


8. Create Organic Product Listings in Google
Google is now in heavy competition with Amazon and other big retailers for product search. As a consequence, they are showing more and more product listings directly in mobile Google search results(5).
By transferring information from the merchant's sites to their search results, Google increases its role and value to search users.
To take advantage of this new search feature, besides adding schema markup to their pages, businesses can submit their product feed to Google Merchant Center. This is perfect for product page SEO and will help brands with a product's organic search.


9. Improve Mobile Speed and Usability
Google started the switch to a mobile-first index in 2016, which means their bots will crawl a mobile site first and take it into account when ranking their search results.
Also, in 2019, roughly 2 billion people made online purchases via their mobile devices(6).
A mobile site with reduced speed due to slow image file load or usability will affect a brand's visibility, reputation and search rankings.
On the other hand, an excellent mobile experience will increase rankings, not only on mobile search but on desktop too. Thus, ensuring product pages, blog posts, and overall website has good mobile speed is essential for businesses in every vertical.


10.
Organise Navigation and Taxonomy
A recent study found that optimised category pages performed significantly better on search than product pages(7), driving 413% more traffic. This is even more important on broad keywords and phrases.
For example, businesses can't optimise each of the electric guitars in their store for the keywords "electric guitars", or they will compete against each other. However, they can instead target that keyword with the category page for electric guitars.
For products with a short shelf-life, like fashion, keyword optimisation is even more important. SEO is a long-term effort. If a dress is only available for a few months, it won't rank on the product page for the relevant keywords accurately. This means any SEO efforts will be wasted once that dress is retired.
Having robust navigation will help users find, sort, and filter products. And search engines will be able to crawl the website more quickly and efficiently.
Using a taxonomy that reflects the user's vocabulary and keeping a website structure as flat as possible will help minimise the number of links necessary to reach any product from the home page.


11.
Manage Updated And Non-Available Products
It is best practice to redirect users using a 301 redirection for discontinued products, out-of-stock items or items not replenished, to a similar product or an updated version, or the category page. This way, businesses traffic and their search rankings will remain largely unaffected.
Suppose the business decides to keep the product page. In that case,they can present the user with the available options (related products or updated versions) in prominent links, which will help search engines find them.


12.
Organise Internal Links
Brands can easily optimize their site's navigational structure using breadcrumbs, making sure each product links back to its main category. Breadcrumbs are a small text, usually located at the top of the page, which provides information about where a user is in the site's structure.
For example, it could be something like: Home > Home Decor > Furniture > Sofas. These crumbs make it easier for Google to understand the structure of a site.
Google assigns a crawl budget for each site. A crawl budget is the number of pages Google's crawling bot will visit each day before moving on.
An excellent navigational structure will help Google prioritise the essential pages of a site;internal linking is essential on big eCommerce sites with thousands of products.


13.
Optimise Product Images
Product images are a crucial asset to improve the overall search engine rankings of any eCommerce website. There are two main ways to optimise images with search engines in mind.
One is to reduce their size to maximise site speed. Fast load times are a key positive signal for search engines in order for product pages to rank well.
The other action is to provide alt-text for each image. Alt-text is an HTML property of images where the image is described. Search engines use this text to better understand what the page is about.
Having a compelling alt-text optimised with the product keywords will also help the image to rank higher in image search.
14. Create Related Content to Drive Traffic
Besides product and category keywords, businesses can create educational and informational content in a blog or guide to target content keywords. So, if they sell fitness equipment, for example,they can publish content about fitness and nutrition: benefits, tips, guides, or instructional videos, to name a few.
Visitors to these pages would likely be in the early stages of the customer journey. It is the job of the website to move them to the next step. This can be done by asking them to subscribe to a newsletter or offering a first-purchase offer, like free shipping.
15. Link Building
Links are still the best and most reliable signal for search engines about the relevance of a website. The more links a page has, the more likely it'll dominate the rankings for the relevant keywords it is targeting. There are several link-building strategies an eCommerce site can use to generate incoming links.
Content marketing: Besides creating high-quality content, content marketing involves promoting that content on social media and other online communities to make sure it reaches the target audience.
Events: Brands can create events, which can also help to develop a local community if the business has no existing physical stores. Sponsoring an existing event is another brands can gain traction. Promoting related events on social media for free can increase a brand's visibility
Public Relations: Brands can consider working with influencers(10) or journalists to have them try and review products. It is one of the most popular marketing trends in recent times. In addition, brands can research influencers who can help in promoting certain products.


16.
Use Schema Markup for Rich Search Results
Search engines like Google allow businesses to add more information to their search results, like reviews, price, and product descriptions. To take advantage of this, businesses need to add schema markup to their product pages.
Site owners can use several schema markup configurations for product pages, like product, price, availability, ratings, and review.
Showing this information directly on search results will allow businesses to attract more visitors to their site.
5 Best SEO Tools that SEO Experts Actually Use
To get the most out of their SEO Strategies, brands should leverage these SEO tools to better understand their keywords, audience, and conversions.
1. Google Keyword Planner
This is the most used Google Tool. It pulls up the historical metrics of keywords and helps analyse the average monthly search volume and competition of targeted keywords. Businesses can also use the "Discover new keywords" option to get ideas for new keywords.
2. Google Trends
It is a great SEO tool that gives a graphic visual of how relevant keywords are currently trending. It can also be used to analyse the current trending keywords.


3. Answer The Public
For brands looking for a tool for content marketing, Answer the Public is perfect. It helps in generating content ideas for a specific topic or keyword. It offers a quick view of the questions the public is asking about selected keywords. These can then be used to create a blog or landing page to answer those questions.


4. Ubersuggest
This combines Google Keyword Planner and Google Search Console into one platform. Its Keyword Analyser tool is similar to Google Keyword Planner and gives an overview of the keywords. It also provides links to the search results for a particular keyword.
The tool is quite vast, offering complete on-page, off-page analysis, and competitors' analysis.


5. Quora
Quora is a great tool to check what questions are most frequently asked related to various words, and in most cases, also the trending answers. Therefore, it is a great option for businesses who are confused about content ideas and need inspiration.
Retail SEO Is a Long-Term Effort That Requires Constant Work
Optimising a site for search engines is a constant process that needs monitoring and maintenance. Businesses should start by analysing results to see what works and what does not. They should look to monitor not just traffic quantity but traffic quality along with the impact of SEO on conversions and revenue. SEO requires sustained effort as part of a comprehensive marketing strategy, but the effort does pay off, with long term positive effects on business growth.
If you are an advertiser who would like to speak to one of the sales team about becoming an advertiser with Commission Factory, please get in touch with us.
Sources: