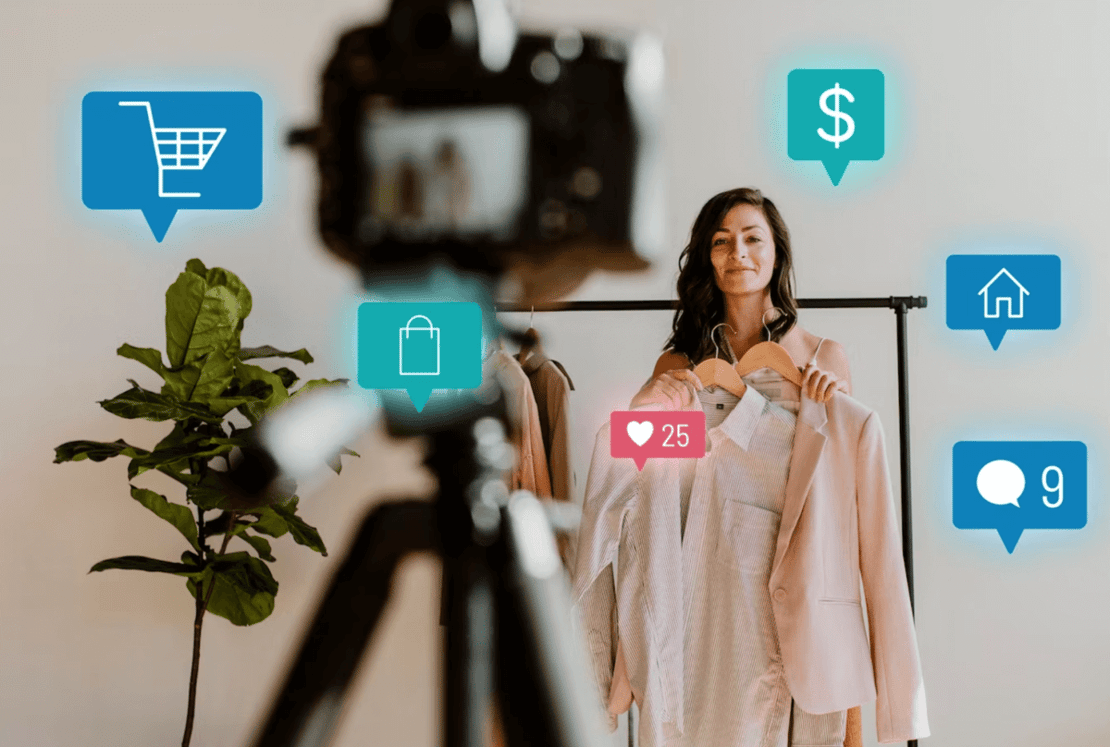 Affiliate marketing and eCommerce are two of the most popular online business models.1 This is because of the relatively low barriers to entry and high potential for conversions and monetisation.
Both these models are increasing in popularity. eCommerce sales are projected to grow by 56% over the next three years, reaching about $8.1 trillion by 2026,2 while the global affiliate market industry was reportedly worth $8.2 billion in 2022.3
For entrepreneurs already running an online business or in the process of launching one, it's essential to consider which business model is best suited to their needs. We explore each model in detail and weigh in on each one's pros and cons.
Table of Contents
eCommerce Marketing vs Affiliate Marketing: Differences and Similarities
An eCommerce website sells its products or services to consumers using an online shop. An affiliate website, on the other hand, displays or reviews products from several different brands without selling them directly to the consumer.
Instead of the visitor moving through the sales funnel directly to the shopping cart as they would on an eCommerce site, the user clicks on a product link on the affiliate website or social media page and lands on that brand's website.
In return for referring a customer who buys something from the brand's website, an affiliate marketer earns a commission on every sale made. All sales are tracked via affiliate links from one website to another.
Although eCommerce and affiliate marketing seem very similar, they are quite different.
When an online store that sells its own products or services under its own brand name or acts as a vendor that stocks other brands' products, it is eCommerce. In other words,eCommerce entrepreneurs have their own online business and are consequently responsible for every aspect of running it, from sourcing to storage to fulfilment.
Affiliate marketing businesses on the other hand only refer visitors to other websites or eCommerce stores in return for affiliate commissions. While eCommerce sites can recruit affiliates to promote their products for them via affiliate programs, affiliate sites list other retailers' products and redirect visitors to their sites using affiliate links.
A typical example of an eCommerce site is Book Depository. When customers visit their website, they move through the entire sales funnel on-site. Their customers browse their website and complete their purchases on it. Additionally, they have access to their shopping cart in the right-hand corner of the screen. An affiliate site might look similar, except it would list products from different brands, and will not have a shopping cart and checkout screen as it is not selling its own products.
Although eCommerce stores sell their own products, they do not necessarily have to store and ship these themselves. Under the dropshipping eCommerce model, businesses tie up with suppliers, allowing them to focus on marketing the product, while the supplier takes care of inventory and fulfilment. This means entrepreneurs can start a dropshipping-based eCommerce business with almost as little initial investment as is needed for an affiliate marketing business.
Given its benefits, dropshipping is becoming increasingly popular. From 2021-2026, the market size for dropshipping eCommerce is predicted to grow to $476.1 billion.4
For online business owners considering dropshipping as an alternative to affiliate marketing, we've created a guide to provide a better understanding of the differences between affiliate marketing and dropshipping to allow businesses and affiliates to make informed decisions.5
What Is eCommerce Marketing?
eCommerce marketing is the process of driving awareness and action toward a business that sells its products or services online. It includes the entire customer journey, from attracting customers to the online store, converting them into buyers, and retaining those customers post-purchase.
This style of marketing encompasses a variety of strategies and tactics used to promote an online store and its products. These may include:
SEO (search engine optimisation)

Content marketing

Email marketing

Social media marketing

Influencer marketing

Paid advertising

Remarketing campaigns
Each strategy plays an important role in driving traffic to a store and converting visitors into paying customers.
What Is Affiliate Marketing?
Affiliate marketing is a type of performance-based marketing in which a business rewards one or more marketers for each visitor or customer brought in by the affiliate's own marketing efforts.
Affiliate marketing is very popular online, as it allows individuals and businesses to earn commissions from products or services they recommend. The global affiliate marketing industry is expected to grow at a compound annual growth rate (CAGR) of 9.89%, resulting in a market size of $27.78 billion by 2027.6
Affiliate marketing works by allowing businesses to partner with affiliates who promote their products or services on their behalf. The affiliate receives a commission when someone clicks on their link and makes a purchase from the merchant's website.
The success of an affiliate program depends largely on the quality of its affiliates and how well they are able to market the merchant's products or services. Affiliates must be knowledgeable about the product or service they are promoting and have an understanding of how to effectively market it online in order to generate sales for the merchant.
With the rise of social media platforms like TikTok and Instagram, affiliate marketing has taken on new forms and strategies.
TikTok affiliate marketing involves partnering with influencers on the platform to promote a business's products or services.7 These influencers create videos showcasing the product and include a link to the merchant's website in their bio or in the video itself. When a viewer clicks on the link and makes a purchase, the influencer earns a commission. TikTok affiliate marketing can be a highly effective way to reach younger audiences and generate sales.
An affiliate program is different from a referral program in that affiliates are usually paid a commission for each sale they generate, while referral programs typically offer a one-time reward for referring a friend or family member to the business.8 Affiliate programs are often more scalable and can generate more sales than referral programs, but they may also require more effort from affiliates to market the product effectively.
On Instagram, affiliate marketing methods include sponsored posts, placing affiliate links in bios, and using swipe-up links in Instagram Stories. Influencers on the platform can use their large following to promote products and earn commissions for each sale. Instagram affiliate marketing can be highly effective for businesses looking to reach a wide audience, but it is important to ensure that influencers disclose their relationship with the merchant to maintain transparency with their followers.9
What Do Affiliate Marketing and eCommerce Businesses Have in Common?
We've looked at how these two businesses differ. They also share a few basic similarities which we explore in detail.
Easy to Get Started
Generally speaking, both online business models have a much lower barrier to entry when compared to a traditional brick and mortar establishment.
The start-up costs are much lower for these business models. Entrepreneurs need a lot fewer resources to get going online than with a physical storefront. In both cases, a good, well-functioning website or blog is all that is needed to get going.
Growing Online Customer Base
The amount of people shopping online is huge. There's no doubt that the Internet is taking over nearly every aspect of shopping because, after all, who can deny the convenience of a package delivered right to the door with just one click?
Both affiliate marketing and eCommerce try to similarly capitalise on the ever-growing number of people shopping online, with the total value of goods and services sold online measured at $5.7 trillion in 2022.10
Data Analysis and Optimisation
These two business models require one big thing to be successful - continual tracking and improvement. It's essential to gather and track data on consumer behaviour. But that's not all. Data is just the beginning.
To create profitable online businesses, entrepreneurs must experiment with what works best in their marketing strategy. There are always several variables to experiment with to optimise performance.
eCommerce or Affiliate Marketing: Which Is Better?
When it comes to choosing between eCommerce and affiliate marketing, entrepreneurs should think about how much time and money they are willing to invest.
An affiliate website might be easier if someone plans on doing this as a side job or after work. On the other hand, eCommerce businesses can take years to grow and require a full-time commitment and long-term vision to achieve scalable growth.
Running an eCommerce store also involves various operational tasks such as setting up payment processing, managing returns and refunds, and customer support. On the other hand, affiliate marketing does not require these processes. Operating as an affiliate could also be a great option for those interested in starting an online side business with low overhead costs.
When it comes to profits, a study conducted by the NYU Stern School of Business in 2023 estimated that an online business can yield a gross profit margin of 42.78% and a net eCommerce profit margin of 0.64%.11
For both affiliate marketing and eCommerce, research and competition analysis are key.
Thus, while both have their pros and cons, it's important to consider factors like time, investment, and competition before making a decision.
Benefits of Starting an Affiliate Marketing Website
Starting an affiliate marketing website comes with various benefits, some of which are:
1. An Affiliate Marketing Website Costs Less
Compared to starting an eCommerce store, creating an affiliate website is a more cost-effective option as it relieves affiliates of several time-consuming and expensive aspects of selling their own products.
Affiliates don't have to worry about payment processing, sales taxes, warehousing, fulfilment, and other associated costs. This allows them to focus on promoting their partnered brands and generating revenue through commission-based earnings.
2. Affiliates Don't Have to Worry About Customer Service
Affiliate marketing provides a unique partnership opportunity that allows affiliates to focus on promoting their partnered brands without having to deal with the customer support responsibilities that come with it.
This is especially important in a world where customers expect quick responses from brands.
By partnering with brands as affiliate marketers, affiliates can leave the customer support responsibilities to the brand while they focus on driving traffic and sales to their website. This allows affiliate marketers to optimise their efforts and resources toward promoting the brands they partner with, resulting in higher profits and better returns on investment.
3. Affiliates Can Earn Commission on Items They Don't Actively Promote
Affiliate marketing provides a unique opportunity for affiliates to earn commissions on products they have not even promoted or seen. This is because once a customer lands on a brand's website after following an affiliate link, they may end up purchasing a product or service different from the one promoted on the affiliate site.
Benefits of Starting an eCommerce Business
For those thinking of starting an eCommerce business, here are some benefits to consider:
1. Greater Margins on Products
As independent entrepreneurs, eCommerce business owners are free to decide their own profit margins. Given that the average eCommerce business is likely to yield a gross profit margin of around 40%, eCommerce businesses typically enjoy better margins than affiliate marketers.
On the other hand, affiliate commission rates are usually a set percentage of each sale referred, limiting affiliates' earnings to the commission rate.
2. More Control
Whether running a promotion for new visitors or minimising upfront costs, budding online eCommerce entrepreneurs can decide themselves on how to run things.
Affiliates are limited to available promotions the brands they feature are running. Of course, affiliates can always ask the brand if they would be prepared to run a promotion with their affiliate website, but there is no guarantee this will happen.
3. Dropshipping
For entrepreneurs who may be concerned about the costs associated with maintaining and inventory and fulfilling orders, dropshipping is a very good option. When an eCommerce store sells a product using the dropshipping model, it purchases the item from a third party and has it shipped directly to the consumer. This allows the business to realise better margins than the affiliate model without incurring any additional costs.
Final Thoughts
The type of model aspiring entrepreneurs should choose for their online business depends on what they want to get out of it.
Entrepreneurs who care about building their own brand and being in control of their business might prefer a traditional eCommerce site. Those who are interested in spending more time working on their website and marketing without having to worry about the products being sold might prefer to start an affiliate marketing site.
It is important for business owners to consider all options and look at the amount of time and energy they are willing to invest in their online business to make it a success.
Commission Factory is not only the Asia-Pacific region's largest affiliate platform, working with more than 800 of the world's biggest brands, but it's also a performance marketing platform that allows content creators and influencers to earn money and online businesses to increase sales.
This makes it a great choice for entrepreneurs who want to leverage the power of affiliate marketing to increase their online sales and earn revenue without the upfront costs and time required by traditional eCommerce.
By partnering with Commission Factory, entrepreneurs can tap into a network of top brands, gain access to valuable marketing tools, and benefit from the support of a trusted platform to grow their online business.
Connect with the Commission Factory team to learn more about how we help brands and publishers build and grow their affiliate marketing strategies.
References