Recruiting affiliate partners can mean substantial growth and the success of an affiliate program. So how do brands recruit well next year?
As we approach the new year, there's no better time than now to start thinking about building a rich, profitable affiliate marketing strategy. We have seen the boom of eCommerce and smartphones in the last decade and an increase in online consumers – all of which points to an excellent opportunity for brands.

If 2022 has taught us anything, affiliate and partnership marketing continues to be a successful tool that generates leads and conversions cost-effectively. Research shows that 80% of brands have an affiliate program, and the value of affiliate program spending is estimated to be USD$ 10 billion in 2023. However, brands should not hope to find success by simply having a program.

A critical part of affiliate marketing is recruiting the right affiliates. Reports from the IAB Australia 2022 show that 83% of advertisers add affiliate partners to their program monthly. As we move into a growth phase post-pandemic, we expect to see this figure rise in 2023

Affiliate recruitment requires a well-thought recruitment strategy, a product or service worth promoting and a compelling reason for new affiliate partners to join an advertiser's program. Here's how brands can recruit better affiliate partners in the coming year.


Why is affiliate recruitment important in 2023?
Recruiting the right affiliate partners is important for companies to reach their intended target market, create brand awareness, and generate more sales in 2023. Generally, the ideal affiliate partner should have direct contact with an intended target market, especially if the goal is to reach a new target audience.

Advertisers targeting a niche market would also benefit from affiliate partners in the same niche, which will allow the advertiser to build a strong network with new audiences. For example, an advertiser that sells hiking gear can recruit opinion leaders that are hikers into their affiliate program because they sell to the same customer base.

Besides that, recruiting also allows advertisers to connect with successful affiliates. Different affiliates come with different strategies and ways to promote a product to generate sales, be it in a discount code, compelling content or through social media or brand-to-brand partnership.

As such, businesses should start leveraging their affiliates and form relationships that can increase their knowledge about their target markets in 2023. Additionally, the affiliates can work with advertisers to generate content for their platform or audience - resulting in a win-win for both sides.

So how does an advertiser begin to recruit affiliates the right way?

Attracting affiliates to a program is not easy, but it's certainly doable. Here are some top ways to recruit affiliates that any advertiser can use.


How to recruit affiliates for a successful affiliate program in 2023
1. Utilise affiliate program directories
If there's one tool that should not be underestimated next year, it's an affiliate program directory. These are databases storing many different affiliates for brands to connect with and invite into their affiliate program.

When advertisers recruit their affiliates through a directory, they can see affiliate details such as their URL, their rank, and their location. Advertisers could also filter and select the best affiliates for their program.

So, a great tip for 2023 would be to leverage an affiliate solution, like Commission Factory, with a massive recruitment directory advertisers can filter by channel, country, and ranking on the platform to help find the right affiliate for the program.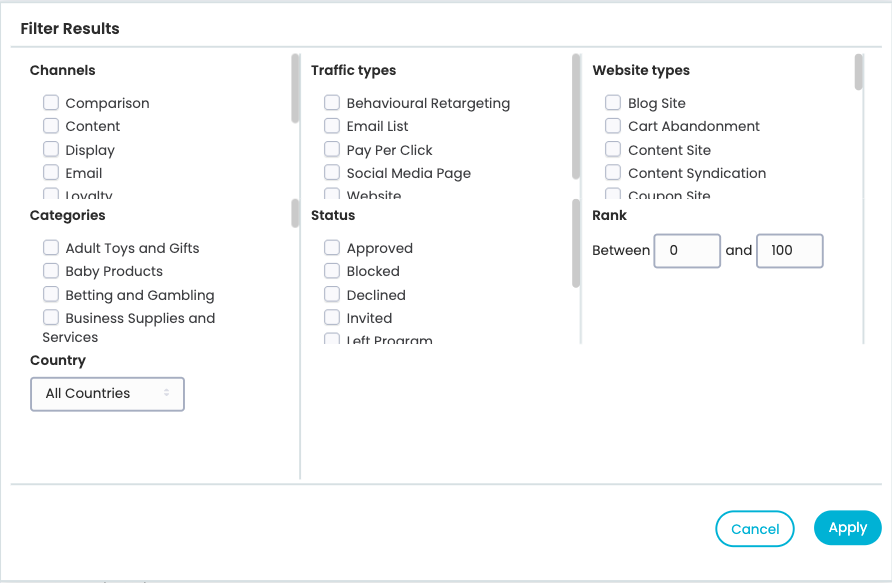 2. Research
Advertisers should conduct thorough external and internal research before recruiting affiliates for their affiliate program.

We'll look more into internal research shortly, but what key questions should brands ask themselves before recruiting potential affiliates?

Who is my target audience?
Brands with a solid knowledge of their customers will automatically know which influencer is popular in their space or which websites customers spend their time on.

According to McKinsey's studies, consumer sentiments worldwide have changed, and they are becoming more value-oriented than ever. This creates a greater need for businesses to know their audience before knowing their affiliate partners.

How do my customers shop?
Are my consumers price-sensitive? Do they rely on word-of-mouth before making a purchase?
Asking questions like this will help businesses recruit the most effective affiliate partners suited for the program. For example, if a consumer is deal-conscious and loves spending time looking for deals online, then using a coupon or deal website for affiliate marketing is the best way to get them.

Which affiliates are the best for my brand and my customers?
Brands should focus on recruiting affiliates with direct and positive relationships with their customers. It's also important to note that affiliate and partnership marketing is a long-term investment, so a recruitment strategy should also factor that in.

In 2023, businesses should focus on looking for partners that are consistent in their work and who can deliver a reasonable conversion rate without breaking the bank.
3. Work with an experienced localised team
Rapid digital advancements have created a borderless world, especially regarding eCommerce shopping. A report by J.P. Morgan states that cross-border and buy now, pay later publishers, like Klarna, are growing rapidly because consumers are more willing to adopt new shopping and payment methods.

As such, next year, advertisers looking at the international market should work with local affiliate managers who know the market. An affiliate manager can assist in managing and recruiting the right affiliate and promote the program through effective messaging appropriate to the locals.

Brands can also utilise a local team to assist with getting affiliates when they are unfamiliar with the market. Besides creating the right messaging, these local networks are familiar with the type of affiliate partners that would suit the brand, which minimises wasteful resources spent on the program.
4. Reach out with an affiliate landing page
One of the best recruitment methods is to reach out to the affiliate partners directly through an affiliate landing page. It is essentially a page on an advertiser's website to convert potential affiliates into publishers for the program and is a great passive way to recruit affiliates.

Just like sales, brands should aim to promote this page on their website as much as possible. This can be done through marketing campaigns, paid ads, or social media advertisements. Most of the time, happy customers of a brand are more than willing to promote their products, so feel free to promote the landing page through email campaigns.
So, what should be on the landing page?

The page should begin with a catchy introduction of the advertiser and contain all the benefits of becoming an affiliate. A successful landing page should entice affiliates to join the program.

Like consumers, affiliates can tell if the business is 'selling' too much on their website. Hence, advertisers should be as clear, honest, and transparent as possible. Most importantly, they should provide a clear link on how to apply to be an affiliate partner.
5. Grow your list
Landing pages and affiliate directories aren't the only way to get publishers to notice an affiliate program. The right affiliates might be within social groups on Facebook or other social media channels, and it could also be from satisfied customers wanting to advertise their favourite business.
So here are some other ways that advertisers can grow their list of affiliate partners::-
Engaging in an email marketing campaign to recruit customers to become an affiliate
Running paid ads (such as Google ads) to promote the affiliate page in search engines
Running Facebook ads to attract top affiliates
Promote the affiliate program through groups on social media
Take up ad space on websites or platforms that might host affiliates
For niche brands, join industry-specific meetups and groups to network with affiliates
Once brands have an affiliate recruitment landing page set up, they can direct the potential affiliates to sign up directly from their website.
6. Consolidate and Organise contacts
With so many affiliates available, it's easy to get lost in the sheer volume of it. Once advertisers have enough potential affiliates, they should organise their contacts so that it's easy to search for an affiliate based on a set of criteria.

Consolidating and organising contacts saves advertisers time looking through the right affiliate for a program. It also helps advertisers have a quick view of which affiliates are the best for a specific type of outreach and filter through those who aren't.

For example, some criteria brands can use to sort affiliates within the Commission Factory platform are country, channels, traffic types and rank. In reality, sorting affiliates is easier than it seems, and no fancy tools are needed. Plus, with automated filters, advertisers can create groups in a matter of clicks.
On top of the affiliate platform, there are many other tools that brands can use in their recruitment efforts in 2023, such as:
Facebook & LinkedIn

- Useful social media platforms filled with groups of like-minded individuals relevant to the advertiser.

Instagram & Twitter -

Brands can use hashtags to search for relevant affiliates in the same industry.

YouTube

- A great platform to search for influencers showcasing video content.

Google Search -

Google Search is an underrated platform brands can use to search for affiliates selling their product type. For example, an advertiser selling beach towels can conduct a search to see the most popular retailer in that category and begin to recruit that affiliate into their program.7. Use Departments within the Business
7. Resources and Tools to Use in Affiliate Recruitment
Perhaps one of the most important recruitment strategies advertisers can use next year is looking internally for potential affiliate leads. For example, they can utilise their marketing and PR team, who may have publishers they work with for business. Affiliate managers could align with them by getting the influencers and relevant publishers to join the affiliate program via the affiliate network so that it's easy to track each publisher's performance in one place.


Key Takeaways
While it's understandable to overlook affiliate recruitment in a busy marketing environment, it's never too late to start next year. Recruitment ensures that businesses produce visible results with their affiliate program, and brands are strongly encouraged to make it a part of their strategy in 2023.

Commission Factory has helped brands recruit and work with the right affiliates. If you are a business seeking assistance in growing online through the affiliate and partnership channel, get in touch with our sales teams at Commission Factory to find out more.