According to LinkedIn Learning 2020 most sought after employee skills list, affiliate marketing came in at number seven in their 'hard' skills list. Depending on
whether or not you are a brand looking for an affiliate manager, or an agency who has been asked to manage a brand's affiliate program for them, it is important to understand what an affiliate manager does, and the different options available to you.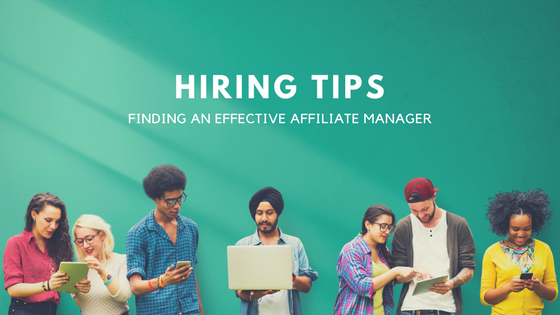 For those who are new to affiliate marketing, it's important to make sure you have someone managing the program to ensure growth and revenue. To do this, you need to understand exactly what an affiliate manager does, and that without someone working on the day to day management of an affiliate program, it is likely to fail because the program will not have the attention it needs to grow. This is because in performance-based marketing it is all about creating a relationship with your affiliates.
What does an affiliate manager do?
There are many other things that an affiliate manager does, aside from relationship management. The absolute minimum each day includes affiliate approvals, replying to messages from affiliates, and validating sales to keep track of everything, especially when there are big spikes. If an affiliate manager only does these things, the program is unlikely to grow and there is a high potential that money could be lost.
However, if you want a successful program, then affiliate managers need to be able to keep their affiliates engaged and interested in their program. See the checklist below to ensure your potential hire has all the necessary qualifications.


Affiliate marketing manager: job description
A perfect candidate for an affiliate marketing manager would be a person that has the knowledge in everything from SEO, email marketing, and web design to HTML/CSS, content writing, and conversion optimization. As you can see, affiliate managers tend to wear multiple hats.
However, skills can be learned. It's more important that the affiliate manager shows commitment and has the right mindset for the job.
Here's an overview of affiliate marketing manager's job description:
Recruiting new affiliates that have a high potential for making sales (both from within the affiliate network, and any other websites that you wish to work with in the affiliate channel)
Informing affiliates about promotions that are coming up
Regular communication with affiliates
Negotiating placements and commission increases with the affiliates that drive a high volume of sales for your website
Ensuring effective ad spend by forecasting potential sales
Providing affiliates with creatives and banners that can help to increase conversions.
With this in mind, there are a few options for hiring an affiliate manager. You can have someone in-house or choose to outsource. See the table below to explore options.
Hiring an affiliate manager in-house

Using an existing employee
Hiring a new employee

Outsourcing your affiliate manager

Using an agency
Using an affiliate network
Using a freelancer
Hiring an in-house affiliate manager
1. Turning an existing employee into your affiliate manager
Using an existing employee who understands marketing can be a good way to have someone manage your program, and the biggest benefit for a brand is that they have an insight into how the company works already. With a marketing background, they will be able to understand the basics fairly quickly, and will understand the seasonality of specific products. However, gaining a full understanding of all of the ins and outs can take some time. For agencies, this could mean adding to an already busy schedule of your employer, with little time to devote to a program's growth.

Consider reorganising your internal resources and turning your existing employee into an affiliate marketing manager, i.e. changing their job description. If you think this person would make an excellent affiliate manager, you can hire new employees to fill in their job position. This way, they will not feel burdened under too much workload and you will have a trusted affiliate manager (an 'insider', if you will) whom you can count on.
2. Hiring a new employee as your affiliate marketing manager
Hiring a new affiliate manager with experience means they will already have an in-depth knowledge of affiliate marketing, and may already have relationships with some high-performing affiliates. This means it will take far less time to recruit them to your program. The person you hire will understand how to draw attention to specific deals, so that affiliates can drive more traffic to the website, and because of their specific affiliate experience, they will be able to grow the program quickly and efficiently. They will also understand the technical aspect of installing a pixel onto a website, which is a clear bonus.
Outsourcing your affiliate manager
1. Using an agency
Many advertisers choose to use a digital media agency to manage their affiliate program. Digital agencies tend to manage paid search, media planning and buying, and sometimes social media and affiliate marketing. This means that the overall cost can be pricier than outsourcing to an affiliate network or a freelancer. It's important to choose an agency that fits your needs, and make sure that they do offer affiliate program management as an option or an agency that specialises in affiliate marketing.
2. Using an affiliate network
Many affiliate networks offer a managed service for your affiliate program, for an additional cost. The huge benefit here is that they are talking to affiliates every day, and know about opportunities that your brand can take advantage of. This means your brand can get in front of more affiliates, and your brand will see program growth more swiftly. Affiliate networks also know how to get your deals and creatives in front of the right affiliates. Often it is cheaper than hiring externally, which is a huge bonus.
3. Using a freelancer
Using a freelancer with experience in affiliate marketing can also be a cost effective way of managing your affiliate program. Usually they charge a small retainer fee, and then the rest is based on the performance of the program, however this can differ from freelancer to freelancer. It is useful if they have other clients in the same category as your business because then they are likely to already be in contact with relevant affiliates for your program.
Tips for sourcing an affiliate program manager
When you are looking for an affiliate program manager there are a few tips that might help you to make your decision:
Think about what your budget is for this - if you cannot afford to hire someone externally to do the job, maybe an affiliate network would offer you better value
It is important to think about how much time you will need to spend on an affiliate program - between 8 and 15 hours a week is the best way to ensure growth for your program. Does someone you already have working for you have the capacity for this? Or, can you hire someone part time for the role?
If you are hiring externally, the most important quality they should have is relationship management as this is the most important aspect of the job! A knowledge of marketing is also important too.


Commission Factory is not only the Asia-Pacific region's largest affiliate network, working with more than 700 of the world's biggest brands, but is also a performance marketing platform that allows content creators and influencers to earn money and online businesses to increase sales.

Register as an Advertiser today.




Related Links:

Referral Marketing vs. Affiliate Marketing