New Zealand has a population of slightly more than 5 million people, and yet, is ranked as the
48th largest eCommerce market in the world
.
1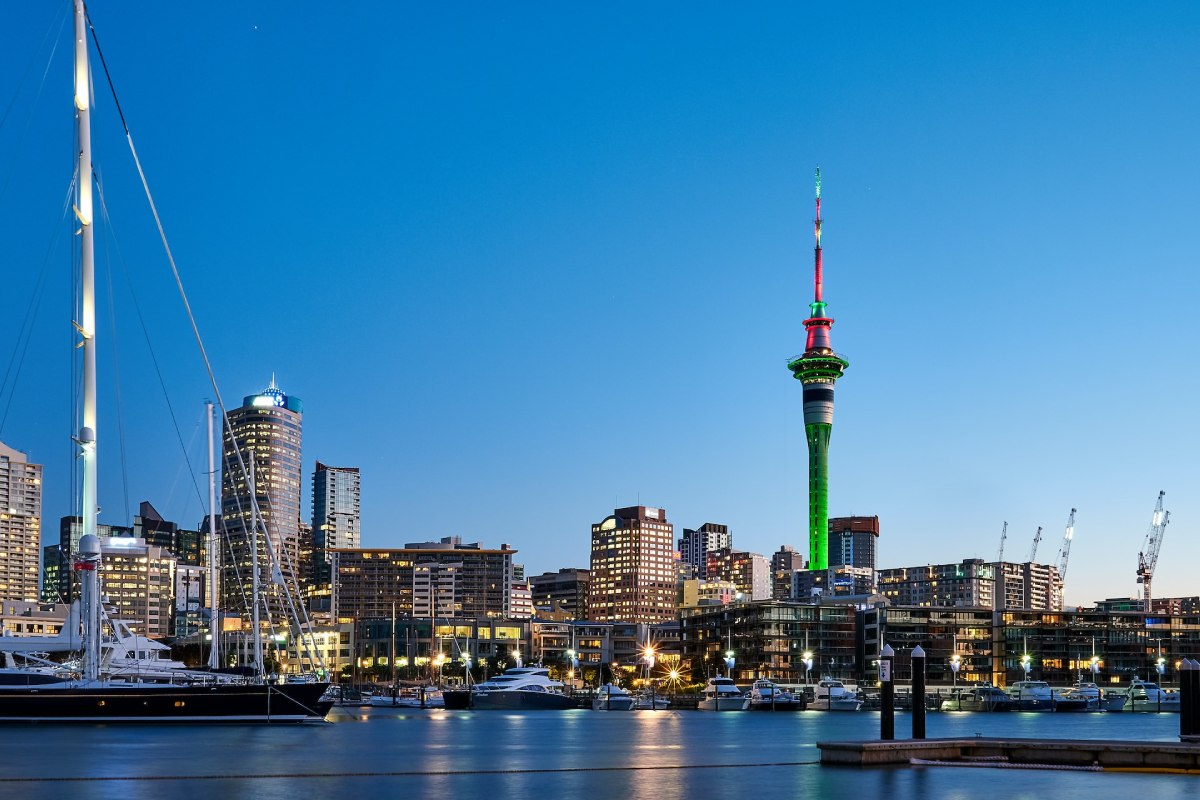 New Zealand's eCommerce sector is projected to bring in $5.33 billion in revenue in 2023, which translates to an average revenue per user (ARPU) of nearly $1,000. New Zealand also has a per capita income of $48,249 - one of the highest in the world.2
All this makes the country a lucrative market for advertisers looking to promote their products. With all this in mind, we've looked at some of the most important trends driving eCommerce in New Zealand in the immediate future.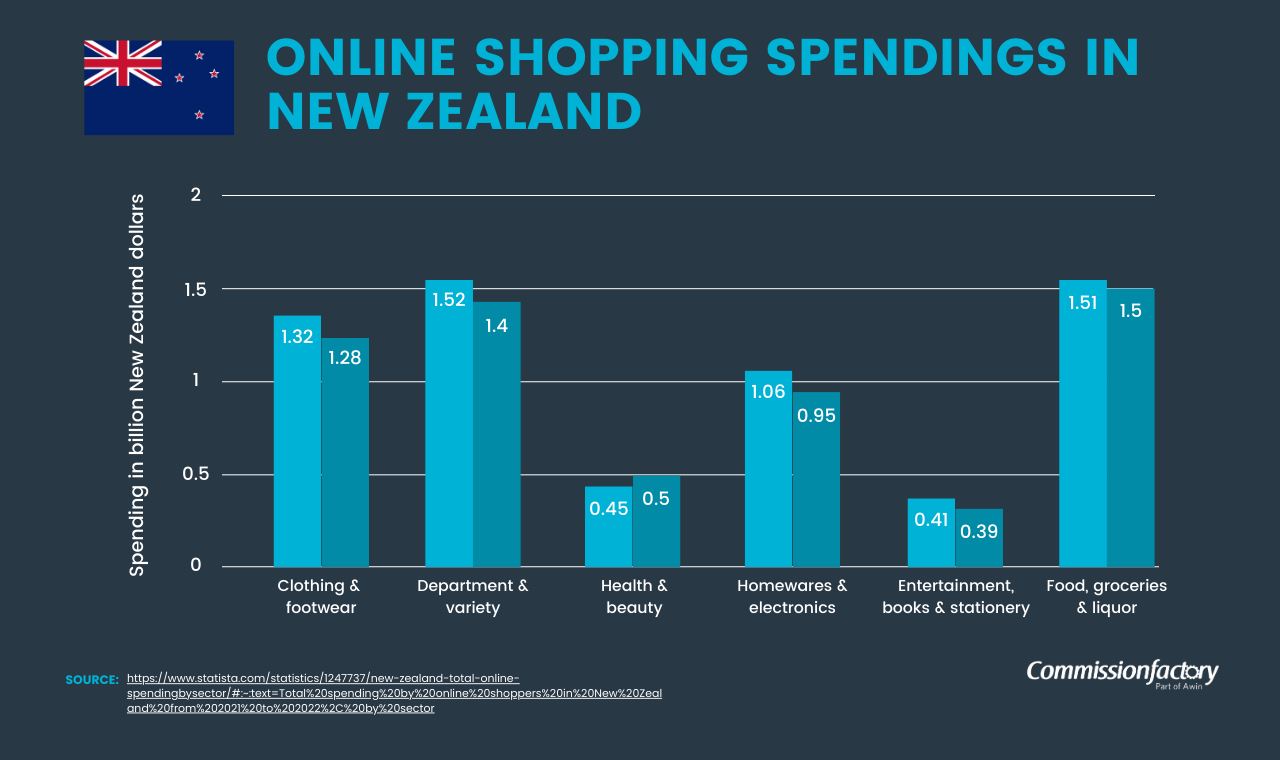 Table of contents:
New Zealand Remains a Growth Market
New Zealand's eCommerce revenue is expected to grow at a compound annual growth rate (CAGR) of 11.8% over the next half a decade, reaching $8.32 billion by 2027.
Even though other countries in the APAC region such as Singapore (36%), Indonesia (34%), and the Philippines (25.9%) are projected to grow faster, the country's eCommerce sales trends are well ahead of the global average and show no signs of slowing down.3
Additionally, there is still plenty of room for growth since the online user penetration in the country is still relatively low at 61.8%.4 A big chunk of those missing out are from the older demographics.
For instance, those aged 45-59 upped their online purchases by 20% (PDF download) and 30% for those above 60 in 2021.5 So, advertisers would do well to tailor their strategies to cater especially to this demographic.


Inflation Has Had a Significant Impact on eCommerce
As an island nation located away from most major economies, New Zealand is acutely vulnerable to fluctuations in the global trade ecosystem. Apart from food, the country imports most major resources, resulting in an annual trade deficit of $3.2 billion as of March 2023.6
Amidst a global slowdown, New Zealand experienced record high inflation of 7.2% in 2022, well above the usual average of 1-3%.7 With rising prices and increases in cost of living expenses, shoppers have reduced their offline retail spending by as much as 59% in 2023, according to industry sources. 8
This has also resulted in a massive 22% drop in online spending in the first quarter of 2023, according to the latest figures from NZ Post, the country's major logistics service provider.9
However, the current figures are still 13% above the first-quarter sales stats from 2020, which indicates a net bullish trend in the sector despite the global economic slowdown.


Continued Support for "Buying Local"
More than 77% of consumers made their purchases at local stores in 2021. This sentiment was reflected in eCommerce as well, with 71% of all online spending going to local retailers according to NZ Post in 2021.10
Fast forward to 2023, and NZ Post reported a slight decline, with local retailers getting 69% of consumers' total online spending.11 But that proved short-lived, with 72% of shoppers preferring local retailers for shopping online in the first quarter of 2023.


Shifting Priorities and Spending Habits of Online Shoppers
The best-selling products in New Zealand eCommerce come from four main categories – food/groceries and liquor (25%), department/variety and miscellaneous (23%), clothing and footwear (21%), and appliances/electronics (16%).12
Possibly owing to their higher costs, products in the appliances and electronics segment witnessed the steepest fall in demand in 2023 at 33%.13 Spending on food, groceries, and liquor was down by 25% compared to the 2022, while clothing and footwear fell by 15%.
Even health and beauty, which had retained consistently high demand throughout the pandemic going well into 2022, has seen a smaller decline of 13% in 2023.
With the rise in popularity of online stores such as TradeMe and Amazon, mobile shopping has become more popular among New Zealand's online shoppers. More than 67% of Gen-Z and 44% of Millennials made online shopping decisions based on content seen on social media platforms like Instagram in 2022.14
Stepping into 2024, eCommerce revenue in the food and groceries and beauty and healthcare segments look poised for healthy gains over 2023. However, the electronics and fashion segments are expected to register minor declines in revenue. The eCommerce sector as a whole is expected to grow from $5.55 billion in 2023 to $6.53 billion in 2024.

Strong Growth for Buy Now Pay Later (BNPL)
Buy-now-pay-later (BNPL) schemes refer to short-term retail loans with zero interest. Consumers can pay their online shopping bills in convenient installments with only a small fraction paid up-front. Since 2020, there has been an explosion of interest in BNPL services in New Zealand.
The sector has witnessed frenetic growth of up to 66% between 2021 and 2023 as shoppers look for ways to reduce the impact of online spending on their wallets.13 Despite the fall in online shopping between 2022 and 2023, the BNPL demand has continued to increase by at least 6%.


Key Takeaways
Despite adverse economic conditions globally, eCommerce in New Zealand has a bright future ahead of it.
The worst of inflation is already over, although it might take a year or two to drop to acceptable levels. In the meantime, the eCommerce industry will continue to gain new consumers, reaching a forecasted 3.26 million by 2027.4
Commission Factory is the largest affiliate platform in New Zealand and the wider Asia-Pacific region. We connect 800+ major international brands with our network of affiliated content creators and publishers to create lasting partnerships that create highly successful marketing campaigns.
Advertisers and brands looking to promote their products/services effectively in the booming eCommerce market in New Zealand should get in touch with our experts today.


References