We ask industry experts which opportunities
advertisers and publishers
should
consider in 2021 to stay
ahead of the competition.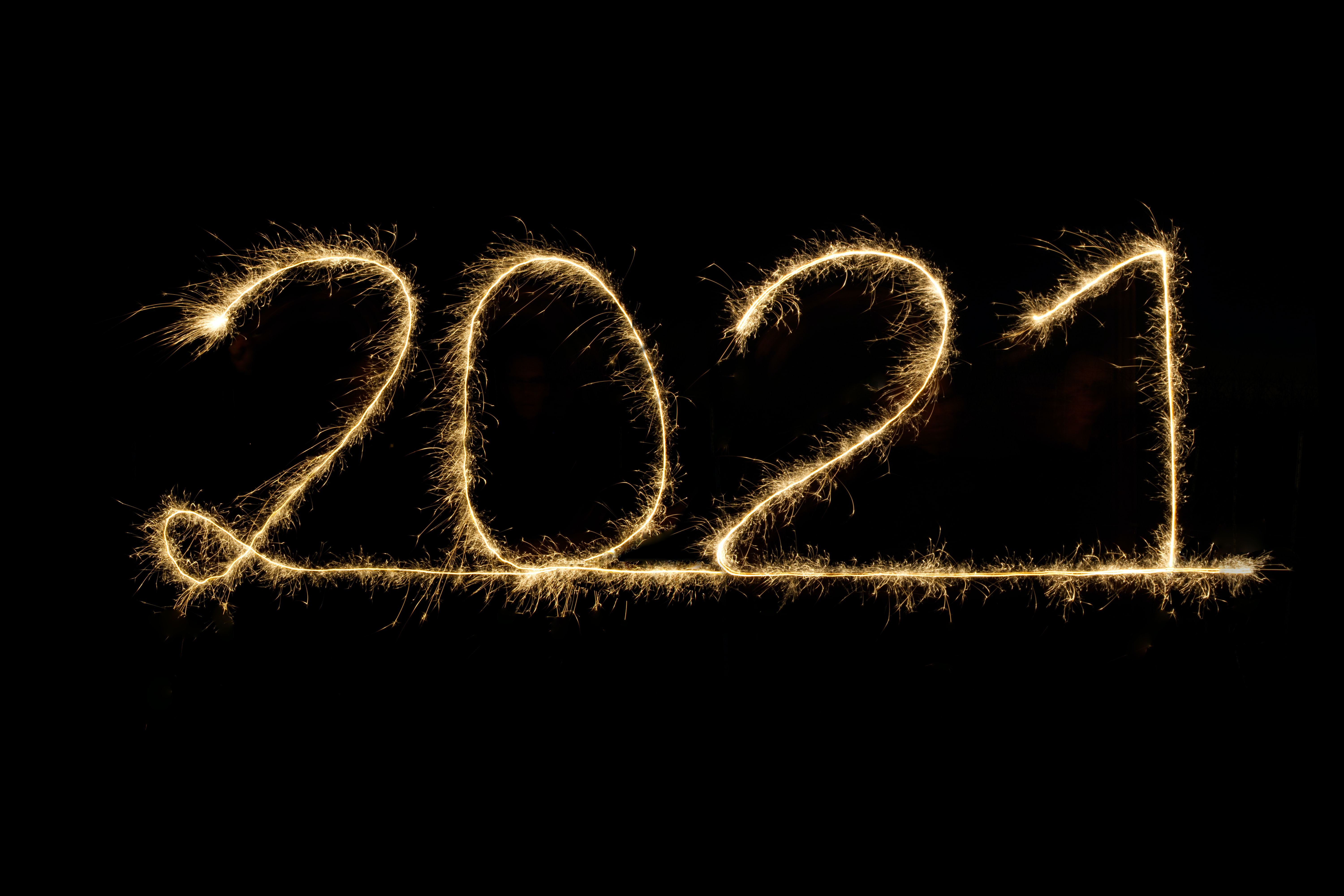 It is difficult to make precise predictions for the affiliate and partner marketing industry in 2021. If the last twelve months have taught us anything, it is that plans can swiftly change and the ability to adapt at short notice is the key to staying ahead of the competition and remaining relevant to consumers.
Predictions that

S

tuck

in

2020
At the beginning of 2020, we had made several predictions, some of which we saw accelerated in the early part of the year. We also saw people's behaviour, shopping habits and social interactions change due to the pandemic. It presented challenges and opportunities for businesses and the need to change tactics and increase the focus on supporting and helping customers.
The projections that became a reality and stood out for us include:
An

I

ncrease in

P

articipation in

A

ffiliate

M

arketing
We saw advertisers increase investment into the affiliate channel and shift budgets from other digital channels.
For advertisers with brick-and-mortar stores, the shift was made to make up the shortfall from offline revenue. For others, the performance channel meant that brands could ramp up online presence during lockdown with little risk and reach new audiences through the affiliate channel (1).
Increase

d

R

eliance on

V

isual

M

ediums to

M

ake a

P

urchase

D

ecision
Consumers wanting to hear from real people turned to influencers for authentic and accessible advice, content inspiration and recommendations. With beauty brands reporting up to 115% year on year increases for influencer-driven sales, Instagram, YouTube, Twitch and Snap became more important for brands this year. (2)
Merging of

C

hannels
During 2020, we have seen several brands pivot and transition from an advertiser to a publisher, while others looked to diversify their business and affiliate marketing. Advertisers have also looked to diversify their publishers to drive new customers and revenue, turning to brand-to-brand marketing, influencer marketing and large media houses.
Global

M

arketplace
Marketplaces have continued to accelerate, especially in Australia, where businesses are predominately SMEs. Small retailers can reach a broader audience with little investment and low risk using marketplace infrastructure and scale, as well as be present where the consumer is shopping (3).
Here are some of the opportunities identified by the industry experts for 2021.
Opportunities to Prepare for in 2021
Continued Growth Online
"While 2020 presented insurmountable challenges for countless major retailers, the onset of COVID-19 inadvertently shook up the industry, creating new opportunities for online retailers big and small. Upfeat Media was able to tap into these opportunities, driving unprecedented growth during the last twelve months for our partner retailers.

I believe we will continue to experience similar challenges in the new year. However, as the global economy adapts to a post-pandemic recovery, today's consumers are primed to continue to rely upon online retailers to deliver the convenience and dependability to which they've grown accustomed. It's our goal to keep consumers engaged and online, to lean into the trust and loyalty that we've worked to build together. Savvy retailers have already pivoted their business model in favour of online sales, and they will continue to utilise this traffic for the foreseeable future."
Pete Wakim, Sales Director, Upfeat
The Re-Purpos

ing

of

Offline
"While online purchases have increased phenomenally this year, offline still has a place in the consumer journey; I don't think online will ever replace in-store completely. The context and the reason for offline stores have and will continue to change, with more of a focus on in-store being a value-add.

We already see brands using their in-store primarily to provide convenience with click-and-collect/curb side pickup, especially during the lockdown. In other cases, experiential or pop-up stores allow consumers to consult with experts, see product demos, try before they buy or reaffirm the brand narrative. It is about delivering what the customer wants in a meaningful way."
Sophie Metcalfe, Head of Publisher Development, Commission Factory
Affiliate Boom in 2021
"If 2020 was the year when C-Suites globally sat up and took notice of affiliate marketing, 2021 will be the year that they need to remember that affiliate marketing isn't just a partner for the tough times, but a partner for all times. That will be the main challenge for affiliate marketing as C-Suites globally, start to look again at their more traditional digital channels. It will be tempting to put the budget back into those channels. But 2021 should be the year that they put the pedal to the metal with affiliates. That is the biggest challenge in the affiliate space for 2021-, keeping the affiliate momentum going forward with the old foe fixed budgets.

The upside to 2020 is that the affiliate channel has proven it can play a much larger role than we have historically seen. With words like acquisition, app, data, pivot, ROAS, video and voice, we still are at the fore. But the most significant and exciting change has been the way that affiliates across the board have started to diversify. And will this be the year the affiliate (performance) marketing breaks through the traditional barriers with Instagrammers, particularly with all the changes on Instagram? With changes here and other developments, you can only see affiliates going from strength to strength. 2021 could be one heck of a year for the affiliate space, possibly the biggest yet."
Matthew Lloyd, Group Affiliate and SEM Marketing Manager, Catch Group
"The effects of the lockdown have reshaped the digital marketing world. Stricter budgets and a need for accountability and transparency are driving more and more brands towards the performance model. We are seeing a similar response on the publisher side, with partners entering the affiliate space who wouldn't normally operate on a commission basis. 2021 will see a continuation of these trends, accelerating the evolution of affiliate marketing, with opportunities being more creative and diverse. Affiliate Marketing needs to be a priority for Australian advertisers in the coming year."
David Glasgow, Director, Navigate Digital and IAB Affiliate Marketing Workgroup Chair
Increase in

T

ravel

B

ookings
"I see an opportunity for mid-to-late 2021 for 'bounce back spending' in the travel sector. With positive news and updates regarding a Covid-19 vaccine, a sense of optimism has begun to creep in, particularly in Australia. Aussies love to travel abroad, and if vaccines are successfully rolled out and travel restrictions with specific well-coping countries lifted, we could see a boom in travel marketing and spending. Many people have had to cancel trips and would have accrued time off during 2021. After a period of working from home and local travel, consumers will be itching and well-positioned to use their banked leave for a long-haul holiday. Some initial destinations that could appeal based on the handling of the pandemic so far and proximity to Australia could be New Zealand, Japan, Vietnam and Taiwan."
Gavin Cozens, Client Service Team Leaders, Commission Factory
"We're already starting to see it, but we're expecting to see a massive boom in domestic travel for 2021 as Aussies find alternatives to overseas travel!

There was an estimated $38B not spent on international travel in 2020, so we expect people to explore and travel Australia like never before."
Tom Howard, Head of Sales, ShopBack
How to Thrive in 2021
Advertisers and retailers need to be ready for the unknown, despite how difficult it may seem. 2020 has taught us many lessons, including agility.
Here are things advertisers and publishers should consider this year:
Supply Chain to

Fulfilment
As we have seen last year, fulfilment can be significantly impacted due to factories closing, border movement limitations and changes announced at short notice. Addressing supply change management and building a rapid-response and backup plan for fulfilment can help advertisers meet consumer demand during the pandemic.
Below McKinsey & Company map out the step's retailers should consider.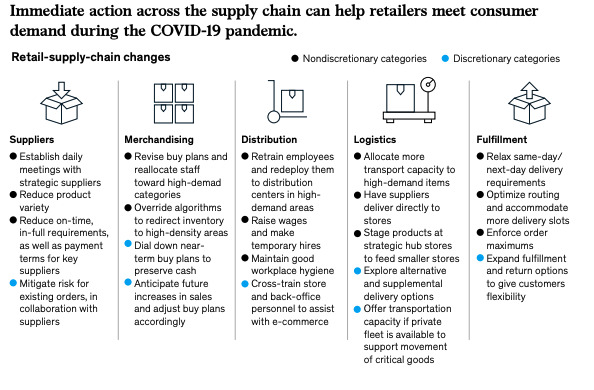 Source: McKinsey & Company- Five actions retail supply chains can take to navigate the coronavirus (4)
The key aspects of supply chain management that advertisers should consider are:
Secur

ing

a fast and reliable supply

Look

ing

at local suppliers in case international suppliers are cut off

Diversify

ing

suppliers to reduce risk of one being

cut

off

Review

ing

product categories and s

implifying SKU

s

Assess

ing

w

arehouse

c

apabilities

and flexible working hours

H

ealth and safety measures

should be reviewed

on an on-going basis

Determin

ing

whether

alterative or additional delivery methods

can

be u

sed

at times of

high-volume

activity
For more information on supply chain management, read Five actions retail supply chains can take to navigate the coronavirus pandemic (4).
The Consumer i

n

Mind
Over the past twelve months, consumer values, behaviours and consumption have swiftly changed, and new shoppers took to online shopping to bulk-buy essentials. Businesses should keep these changes in mind when considering how to approach their existing and new consumers.
Added Value Beyond Cost
Consumers are looking for more than just the lowest price. Companies need to go beyond price to win customers through convenience (such as curb side pickup) or great customer experiences. They should also focus on building trust with new and existing customers or member bases. The Google Insights team found that cognitive biases influence purchase decision-making, identifying the six main biases from their study as the following:
6 biases that influence purchase decisions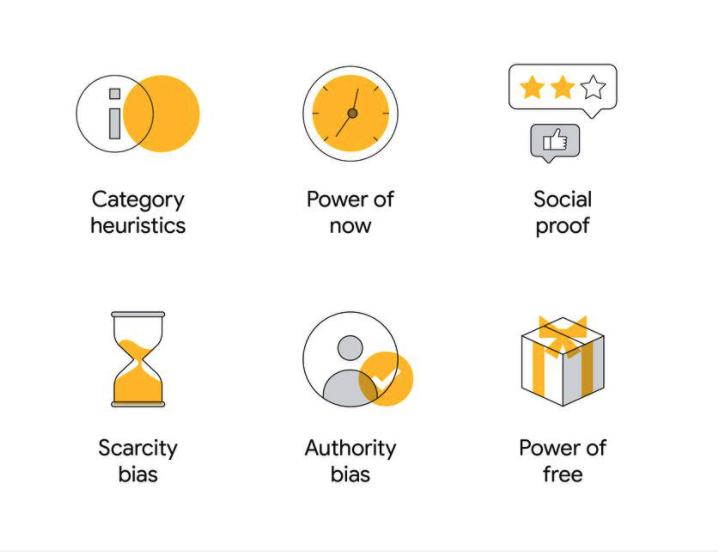 Category heuristics

: Short descriptions of key product specifications can simplify purchase decisions.

Power of now

: The longer you

must

wait for a product, the weaker the proposition becomes.

Social proof

: Recommendations and reviews from others can be very persuasive.

Scarcity bias

: As stock or availability of a product decreases, the more desirable it becomes.

Authority bias

: Being swayed by an expert or trusted source.

Power of free

: A gift with a purchase, even if unrelated, can be a powerful motivator.
Source: Think with Google: How people decide what to buy lies in the 'messy middle' of the purchase journey(5)
Serving

New Customers
New consumers are turning to online and the demographics of visitors to sites may be changing or have already changed. Businesses should assess how their site traffic has changed and the steps they are taking to accommodate these new users through their marketing and communications. They should focus on strategies that will resonate with the new users, such as personalised campaigns based on past purchases.
Business should also look at different types of incentives, for example, exclusive codes for loyal customers, referral schemes, VIP programs or points programs to get new shoppers to purchase or to encourage repeat purchases.
Although 2020 has shown it is hard to predict what consumers will do next, returning to the last twelve months of data and reviewing it on a regular basis will give more insights than comparing 2019 to 2020. Whether new customers are retained comes down to their overall customer satisfaction and experience. It is up to the business to adjust according to consumer needs and ensure they are providing value.
Gain and Retain Consumer Confidence
Australia is in a privileged position in comparison to other countries in terms of being able to shop in-store, go out and return to some version of normality. That said, there is still a need to build and retain consumer confidence (1). While COVID-19 should not be the main focal point of messaging, advertisers and publishers should address consumer demands on reliability, safety, and convenience in order to win customers' trust. Above all, it is about showing a high level of understanding for customer concerns and needs and simply being human.
The full article can be found here.
The Ability to Adapt
Stop,

S

tart or

C

ontinue
The pandemic has given businesses the opportunity to reassess their products/services and their entire way of working. They need to see how they can thrive in this new normal. Now is the time for businesses to assess what to start, stop and continue within the business.
From Adversity to Opportunity
We have seen many businesses pivot these last twelve months to keep up with consumer demand, changing their behaviour and shifting to accommodate new trends. Doing the same as previously and expecting the same results will not suffice. Brands and publishers will need to adapt to ever-changing consumer needs and behaviours. They should be ready for change.
Timely with Decisions
Having a plan will give advertisers and publishers a firm handle on the year. However, plans can change and being able to make a swift decision can allow a company to pivot and mean the difference between merely surviving or growing the business exponentially.
As we enter 2021, we are still living in a COVID-19-affected world. Reviewing business supply change management, developing a COVID plan and looking to consumers will help businesses navigate future potential outbreaks.
If publishers and advertisers keep all of the above in mind, they will be well equipped to take advantage of the opportunities 2021 has to offer and to prepare for new and exciting trends. We wish advertisers and publishers a successful 2021.
Sources