Close to 60% of the world's population are active users of social media platforms – more than
4.76 billion people
.
1
As more and more people rely on social media for information, business is booming for content creators and social media influencers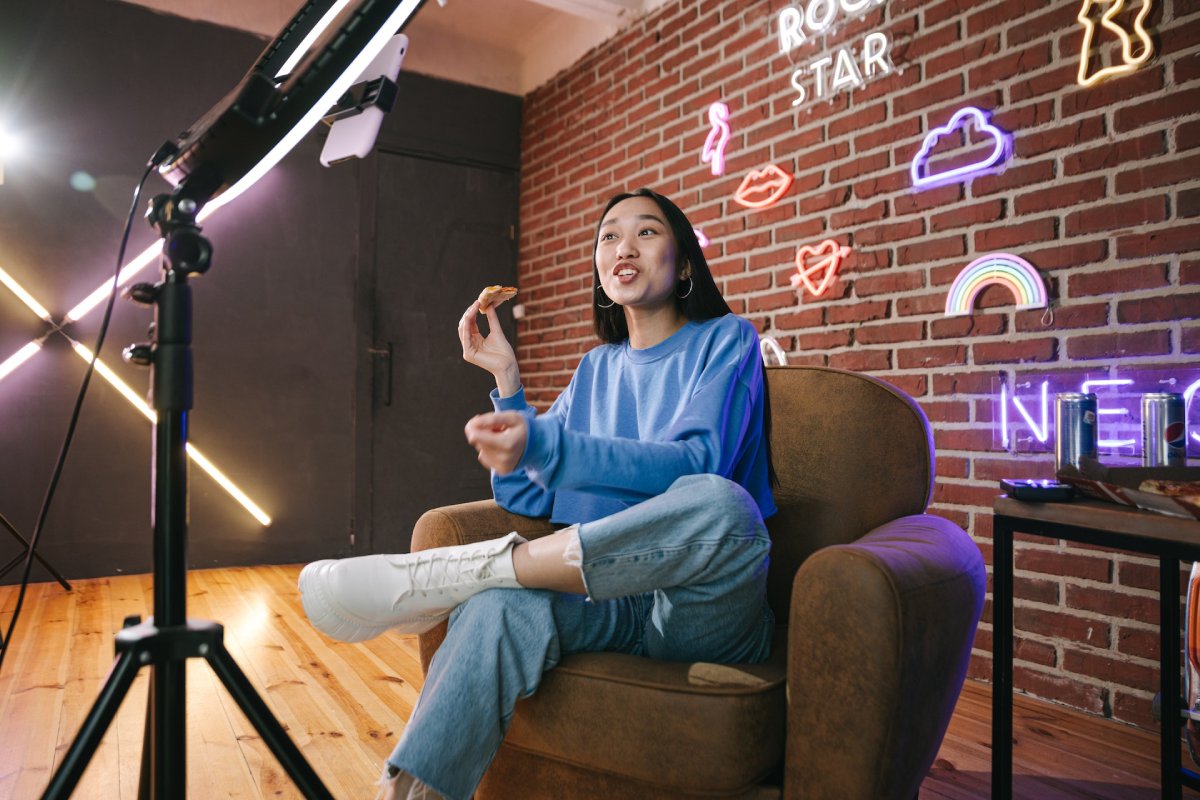 Australian businesses spent AUD 566 million (from a total budget of AUD 13.9 billion) on influencer marketing in 2022.2 And that number is expected to rise to AUD 670 million in 2023. At the global level, the figures are AUD 41 billion for 2022 and AUD 48.60 billion for 2023.3
Meanwhile, YouTube paid out around AUD 45 billion between 2018 and 2021 to the 2 million creators on the video-sharing platform.4 Twitch streamers earned more than AUD 1.5 billion in 2022 on the live-streaming site.5
There were more than 50 million content creators or influencers in 2022.6 At the same time, the global digital content creation market is estimated to be worth around AUD 38.5 billion, with an annual growth rate of 13.5% CAGR.7
However, a startling lack of clarity persists in the digital marketing space. Many reports and commentators use the words "content creator" and "influencer" interchangeably. While there is a fair bit of overlap between both influencers and content creators, they are, in fact, unique roles with some major differences.
A clear understanding of the differences between influencers and content creators is essential for anyone even remotely interested in digital marketing, be it as a future career prospect, or as an avenue to promote their brand.
Read on to understand the differences between the two, their unique role in marketing, the advantages and disadvantages of both careers, and more.


Table of contents:
What Is a Content Creator?
People who create video, audio, text, or other digital content to entertain or educate their online audience are typically called content creators.
Blogs, YouTube videos, Twitch live streams, and podcasts can all be considered "digital content". Content creators, also called digital creators, are vital for the online ecosystem which caters to people who use the internet for the following core purposes:
To buy products on eCommerce platforms

To seek out specific information

To gain new experiences
Social media plays a massive role in all this, with over 4.76 billion users in 2023 – more than half the global population8. And content marketing is more relevant than ever before, according to our social media predictions for 20239. To keep up with the demand, brands need relevant, authentic and high-quality content. This is where content creators become indispensable.
To remain authentic, most content creators tend to restrict themselves to a particular niche, where they have some form of experience, specialised knowledge, or domain authority. This could be anything - cooking, nature and wildlife, science, health and fitness, sports, video games, movies, and so on.


What Do Content Creators Do?
The actual job of a content creator can vary wildly, depending on the type of content, their mode of doing business, the platform they publish on, and many other factors. Online content could be anything – from the text you see on a website or blog, to the logo on a brand, to a video, podcast, social media posts, or photographs.
As a professional, creating content can include writing and editing copy, graphic design, video editing, animation, sound engineering, or even playing a video game in front of a live online audience. These days, a digital creator can opt to create content in the following ways:
Working solo, creating content for a dedicated audience

Working at a content creation agency

Doing in-house content creation for a large company

Creating content as a freelancer for other clients/businesses
Some creators focus on writing skills, while others are experts in videography, graphic design, etc. Some common tasks handled by content creators include:
Articles, emails, ebooks, blog posts, white papers

Graphs, infographics, logos, graphics, photos/images

Movies, video content, short clips, animations,

Audio, podcasts
Apart from skills directly related to the "creative" process, influential content creators also need to be proficient in certain other skills such as:
Marketing skills to promote brands and products

Search engine optimization (SEO) best practices

Managing social media accounts

Engaging with the audience

Brainstorming new content ideas as a team

Monitoring engagement metrics on websites or social platforms
MrBeast is a prominent example of a content creator specialising in entertainment videos.10 Neil Patel is a highly influential blogger within the SEO/marketing niche.11 Joe Rogan, meanwhile, has the world's most popular podcast.12


What Is an Influencer?
An influencer is any public personality who can sway the purchasing decisions of their followers through product endorsements and promotions on social media.
In the pre-internet age, celebrities – movie stars, athletes, and supermodels – were the original influencers in TV ads and print marketing campaigns. Businesses relied on these celebrities to build brand awareness among their target audience.
But with the rise of social media, a new breed of influencers has also come to prominence.
These modern influencers are individuals who have steadily built up an aura of authority and knowledge in a particular niche.
Influencers influence their audience by posting highly informative content and closely interacting with their audience, providing insights, answering questions, and so on. Instagram is the most popular social media platform influencer marketing campaigns, being incorporated into 94% of campaigns in 2021, outpacing Facebook at 43% and Tiktok at 13%.13


What Do Influencers Do?
Influencers are social media users who work hard to build an authority persona online in a specific niche, such as technology, cosmetics, economics, cryptocurrencies, music, and more.
Influencers don't need large followings to be efficient or effective in terms of marketing, however. Smaller influencers can be more effective than their bigger counterparts, with less risk of controversies, more authenticity, and a higher chance of engagement.14
Once an influencer has an appropriate number of followers, they can engage with brands and perform the following marketing functions:
Create brand awareness among followers

Collaborate with brands on special promo campaigns

Become official brand ambassadors
Apart from outstanding communication skills, influencers need creativity, a keen eye for design, content curation skills, project management experience, and above all, flexibility to adapt and learn new skills to keep them relevant.
The Kardashians, with 1.2 billion followers, are the peak of the social media influencer universe.15 Other notable social media powerhouses with millions of followers include video gamer Pewdiepie,16 Turkish chef and restaurateur Salt Bae,17 and make-up artist Huda Kattan.18


What's the Difference Between an Influencer and a Content Creator?
In a nutshell, content creators focus on creating the content - whether blog posts, images, or videos - that either they themselves, or other people can promote. Influencers, on the other hand, are more concerned with engaging with their audience and building a brand - whether their own or someone else's. In a very simple setup, influencers may end up using content created by content creators. However, in reality, the two roles often have a significant degree of overlap.
Both content creators and influencers need a strong understanding of digital technologies, social media engagement metrics, and excellent communication skills. YouTube and Instagram affiliate marketing methods are used by both sides as potential sources of income.19
However, once we venture beyond these common denominators, we can see divergent paths that can be categorised under the following headings:


Different Skill Sets
Influencers have to heavily invest in the social side of things – engaging with their audience across social media platforms, doing live streams, promoting and advertising brands, and generally focusing on a particular niche.
Content creator skills are largely concentrated on their chosen discipline – be it photography, writing, editing, or graphics design. They are more focused on skills associated with publishing content – SEO, content research, and audience research.


Different Goals
The primary goal of a content creator is to aid their brands/clients/business owners by developing captivating content. They earn revenue through ad revenue, affiliate marketing, donations, and paid membership subscriptions from their audience.
According to the latest affiliate marketing trends, content creators - especially bloggers - constitute a key demographic, accounting for nearly 65% of all affiliate link traffic.20
Influencers are more focused on building strong bonds with their followers. When they work with brands, they use this influence to persuade followers to try the influencer-endorsed products. They earn revenues primarily through sponsorships and brand deals.
Influencer Kylie Jenner reportedly earns nearly USD1 million for each Instagram post featuring a brand partner.21


Different Tools
Content creators use a wide array of software and tools for everything from word processing to video editing, audio editing, blogging, and keyword research. WordPress, Google Trends, SEMrush, Audacity, Adobe Premiere Pro, Adobe Photoshop, and Final Cut Pro X are all tools in the content creator's arsenal.
In contrast, influencers' tools are mostly focused on the social media side of things. Filters and other content management/user engagement analytics tools on platforms like Instagram provide most of the basic features that an influencer needs.
In addition, they may use some content creation tools like Premiere Pro for videos, or Photoshop for images. Expertise in this area can make a massive difference in audience engagement levels.
Instagram is a crowded platform where over 1.3 billion images22 are shared each day among an active user base of 2 billion accounts.23 To stand out and grab the attention of the viewer idly scrolling through hundreds of posts on their mobile, an influencer needs high-quality, expertly crafted content.


Benefits and Considerations of Becoming a Content Creator
Research has shown that 29% of American children aspire to become a content creator on YouTube or other social media platforms.24 Meanwhile in Australia, nearly 6 million people, (PDF Download) or about a quarter of the population now identified as being online content creators.28 Of these, 80% post online on a daily basis, compared to 65% in the US, 58% in Japan, and 47% in South Korea. What's more, 48% of Australian online content creators are now able to monetise their content.
While it may seem quite alluring to the uninitiated, content creation, like any other job, has its fair share of benefits and things that need to be considered before committing:


Benefits
Can work on passion projects

Have creative freedom

Have career flexibility

Can be the boss




Considerations
There are millions of content creators

There is no guarantee of success or a stable income

Gaining traction on social media can take years

Doing everything solo can be challenging




Benefits and Considerations of Becoming an Influencer
The most influential content creators/influencers on Instagram flaunt a glamourous jet-setting lifestyle – with fast cars, luxurious mansions, and exotic getaways.25 However, getting there from scratch is not easy. For every advantage, there is a dark side.26
Here is a quick look at some of the benefits and considerations of the influencer career path:


Benefits
Can set own hours of work

Can provide new experience and opportunities

Perks from brand collaborations, such as gifts and bonuses

Potentially lucrative sponsorship deals




Considerations
Constant audience engagement requirements

Heightened exposure to abuse online

Balancing integrity with promotional obligations

Securing brand deals can be challenging




Learn More About Promoting Affiliates as a Content Creator/Influencer at Commission Factory
Content creators and influencers are both concerned with maintaining a reliable income stream, with the journey to financial stability potentially taking months if not years. Combining the financial leverage of affiliate marketing with influencers' reach can go a long way in stabilising that income stream. 27
Commission Factory is not only the Asia-Pacific region's largest affiliate platform, working with more than 800 of the world's biggest brands, but is also a performance marketing platform that allows content creators and influencers to earn money.
Get in touch with us to learn more about how we help brands and publishers build and grow their affiliate marketing strategies.


References