Southeast Asia offers a unique and rich landscape for bands and affiliates to accelerate their eCommerce, but how does one succeed in the region?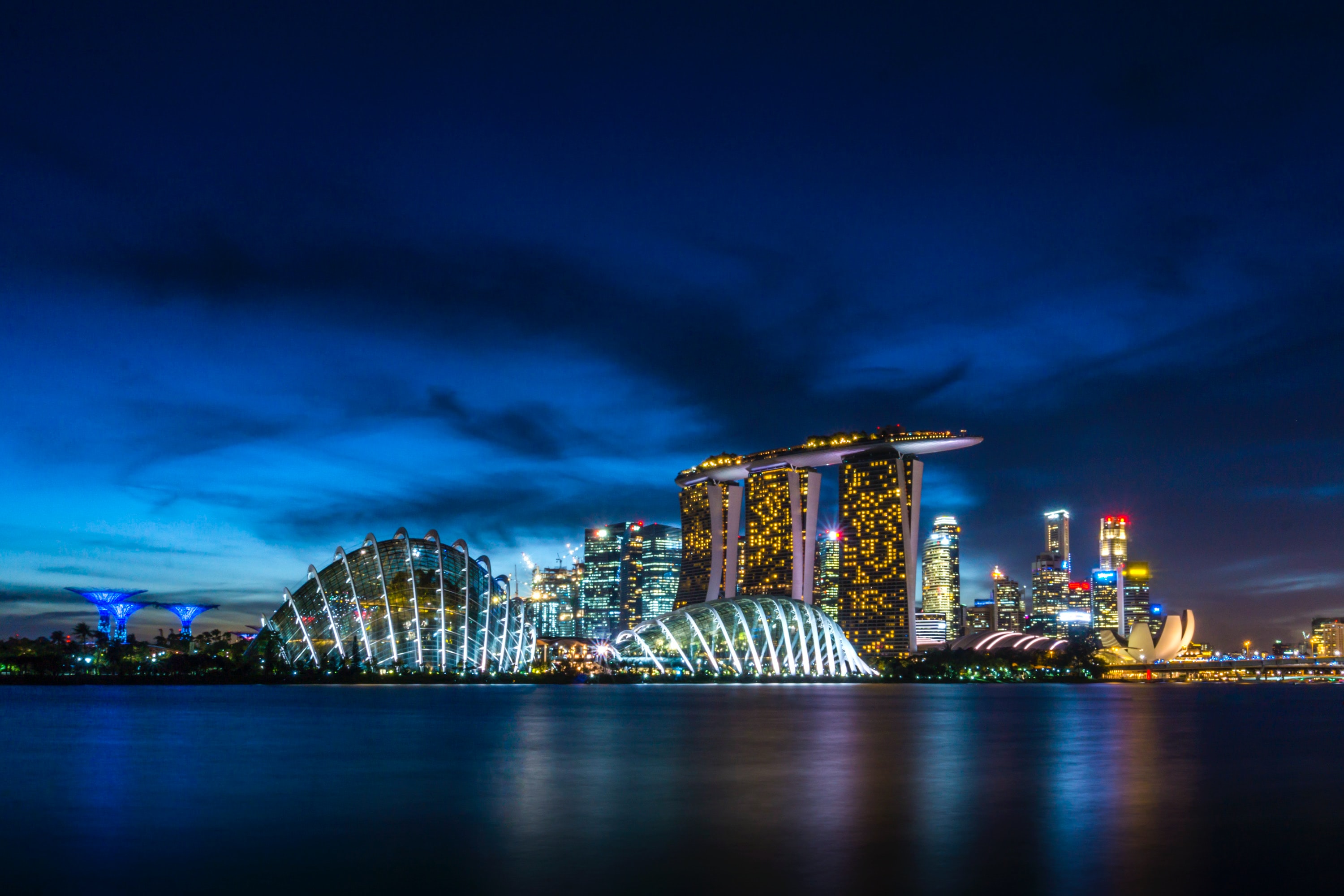 Southeast Asia is a region of 11 nations, with major countries such as the Philippines, Thailand, Singapore, and Malaysia at its economic forefront. With eCommerce sales expanding at the fastest growth rate in the world, it is a thrilling space for eCommerce.
This is unsurprising, considering eCommerce, social commerce, and mobile commerce (mCommerce) sales have recently experienced global growth, even during the economic downturn of COVID-19. However, Southeast Asian consumers are at the centre of this growth by adding 70 million more shoppers since the pandemic began.
For both new and established affiliate marketers, this brings about a necessity to rethink conventional eCommerce experiences and find new ways to inspire and connect with new customers online. It also requires them to combine product databases from online retailers, understand customers' online purchase behaviours, and recognise new business-to-consumer(B2C) opportunities.
B2C eCommerce Asia Market Growth – What We Know
The increase in online consumers during the pandemic has seen individuals become more comfortable with shopping online, and it's estimated that 90% of consumers will continue this trend well after the pandemic ends.
Again, southeast Asian countries like Singapore are well-positioned to drive this trend forward – which is expected given that eight out of ten regional consumers are digital consumers. Moreover, Southeast Asia's eCommerce penetration rate is higher than China and India's, accounting for 11 per cent of total retail sales worldwide.
So what has contributed to this eCommerce growth spurt?
At a glance, Southeast Asia benefits from a high population of mobile-savvy consumers. For example, Indonesia is one of the largest players in eCommerce worldwide, recording a revenue of over USD$30 billion.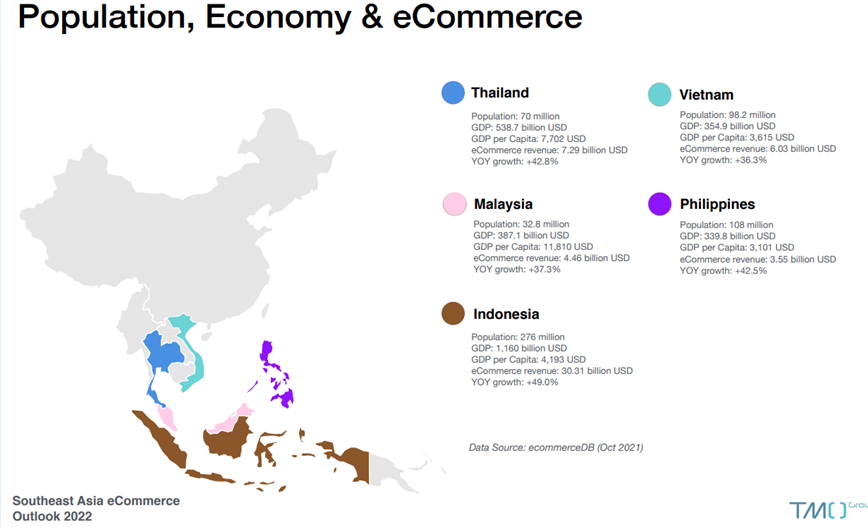 Source: https://www.tmogroup.asia/downloads/southeast-asia-ecommerce-outlook/
Another significant contributor to eCommerce growth is the region's big eCommerce marketplaces. Online platforms such as Lazada, Tokopedia, and Shoppe are reigning in Southeast Asia, delivering just about any product from any category to consumers.
According to TMO Group, the eCommerce market is dominated by several key marketplaces and 'rising stars.' Different players also dominate the eCommerce sector in different countries. For example, while Shopee enjoys the majority market share in the Philippines and Malaysia, Tokopedia reigns in Indonesia.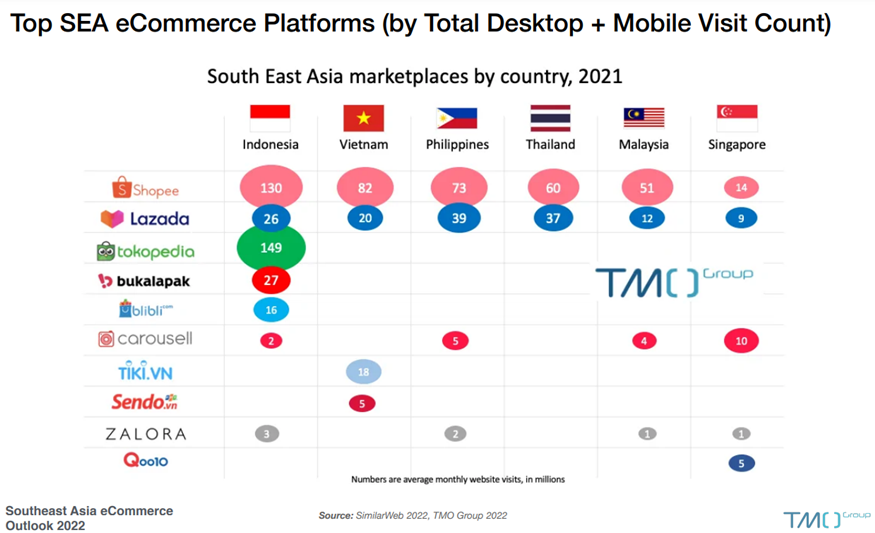 Source: https://www.tmogroup.asia/downloads/southeast-asia-ecommerce-outlook


Along with the giant online supermarkets, Southeast Asia has a large seller base, offering many types of products and services in the eCommerce platforms. This constant influx of sellers (and buyers) has grown the marketplaces to a revenue-generating platform at an explosive rate.


Another significant reason for its eCommerce expansion is the digital boom - marked by digital wallets, super apps, and tech start-ups. This is mainly driven by a surge of cheap and innovative technological devices, which reimagined all aspects of business and social life. Currently, there are over 7000 start-ups in Southeast Asia, a sure sign of a growing economy. In a nutshell, we can say that the biggest catalysts to Southeast Asia's eCommerce rise boil down to one thing - the people.
The Southeast Asian Consumer
Over the past years, we have seen a significant increase in Southeast Asian consumers, and it's growing steadily. Reports forecast that the number of digital consumers in the region will account for 82% of the total population over 15 in 2027. This is around 402 million digital consumers.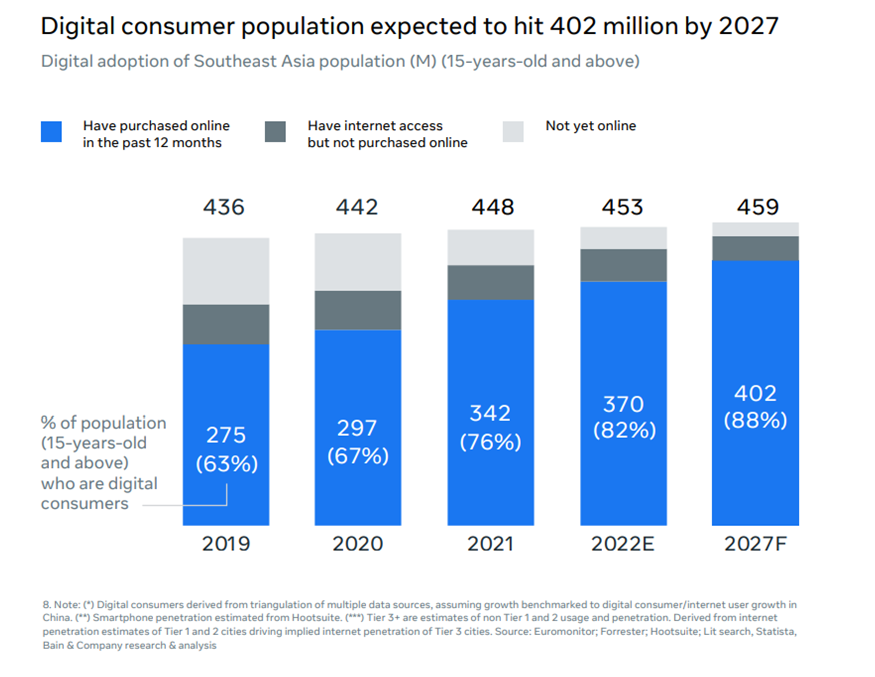 Source: https://www.bain.com/globalassets/noindex/2022/meta_bain_syncsea_2022.pdf
Rapid digital adoption in the inner cities has seen these consumers grow in the eCommerce space, with the number of internet users increasing steadily in the coming years. In addition, smartphones and the internet have become a necessity in major and inner cities, encouraging the rapid adoption of eCommerce.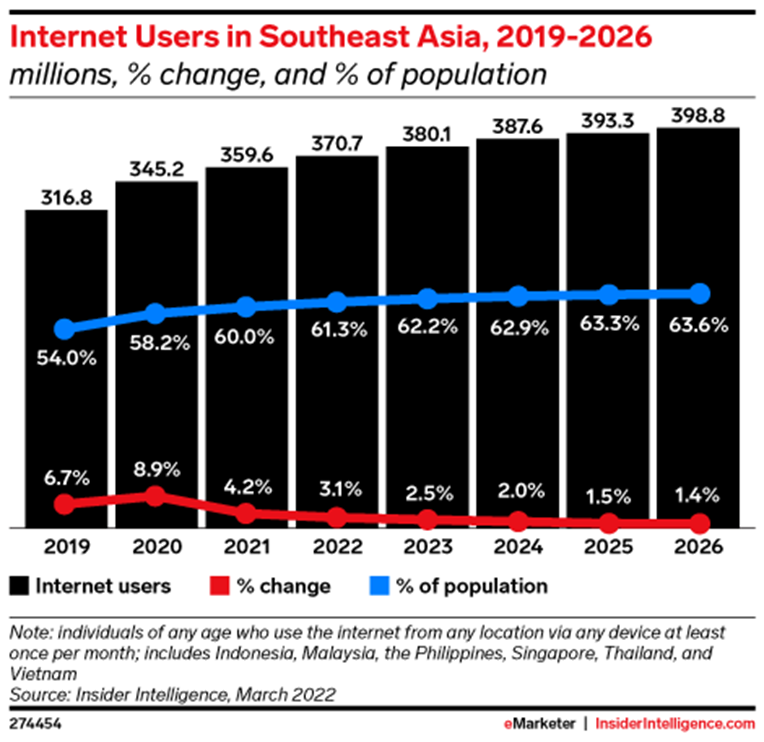 Source: https://www.insiderintelligence.com/content/upside-internet-user-growth-remains-high-southeast-asia
However, this doesn't necessarily mean that Southeast Asian consumers are entirely online – even after all that online shopping done during the pandemic. Studies show that since the region has opened up, 12% of consumers have shifted at least one of their purchase categories from online to offline.
Moving forward, these consumers will combine both online and offline shopping to examine the products in person, avoid shipping fees, and leverage promotional discounts. The figures below show how consumers use omnichannel (online and offline shopping) for essential and non-essential product categories.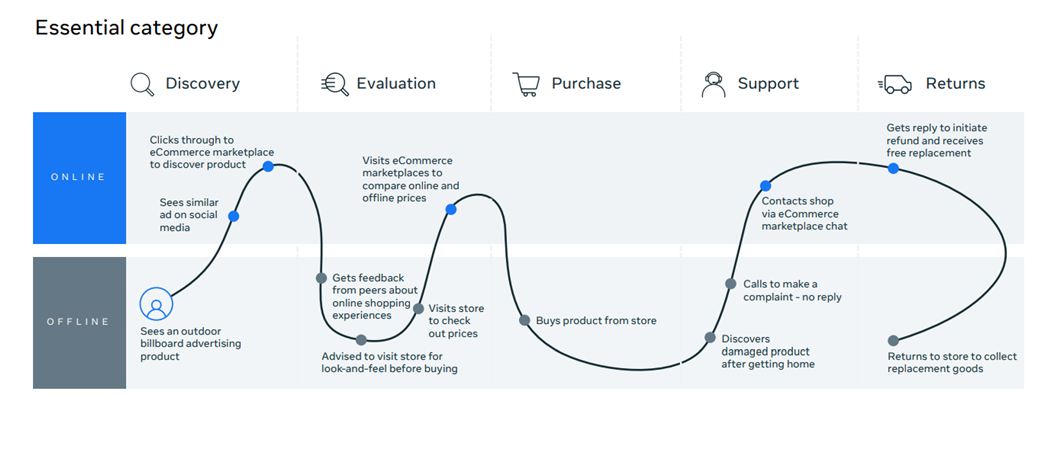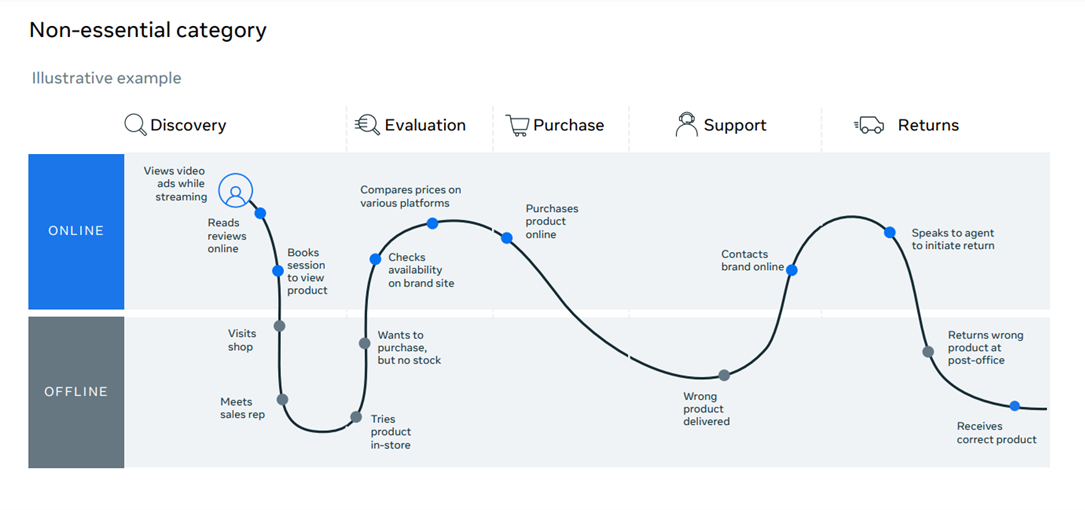 Source: https://www.bain.com/insights/southeast-asias-digital-consumers-a-new-stage-of-evolution/
Ecommerce Predictions in the Southeast Asian Market
As mentioned, consumers' increased access to mobile phones, evolving eCommerce platforms, and COVID-19 have accelerated the rise of eCommerce and social media platforms in Southeast Asia. In fact, it's estimated that the global eCommerce sales value will surpass $USD100 billion by 2025.
Mobile commerce (m-commerce) is also multiplying in emerging markets, including several Southeast Asian regions. For example, 71% of Thailand's smartphone users shop online at least twice a month, and it's a clear indication of how over 60% of Southeast Asian consumers use their mobile phones to make purchases.
As communication technologies progress, consumers will use mobiles more widely to make purchases. eMarketer predicts that by 2022, 80.33% of all eCommerce in the Asia-Pacific region will be m-commerce.
This growth presents many affiliate marketing opportunities for both publishers and advertisers. However, succeeding in the market requires localised skill and knowledge, and they must approach the region with expertise.
Here are some opportunities for digital marketers in the Southeast Asian eCommerce market.
What Publishers and Advertisers Can Do to Thrive in the Southeast Asian Market
With over 60% of Southeast Asian consumers admitting to not knowing what they want when they shop, how does one successfully reach out to them?
Here are some curated strategies for brands and affiliates.


1. Localised and Cultural Content
Each Southeast Asian country has its own language, customs, and cultural nuances. Hence, publishers and advertisers must first be able to distinguish between the distinct cultures.
Communicating in one region (even within the same country) may be perceived entirely different in another. Therefore, to ensure culturally appropriate messaging in Southeast Asian markets, advertisers should collaborate with local affiliate marketers.
Meanwhile, publishers who want to expand into Southeast Asian markets should consult local affiliates and affiliate platforms to become familiar with the local language, customs, and cultural nuances - as consumers differ culturally from country to country within the market.
It is crucial that brands and publishers address marketing localisation, its technical elements, and understand consumer behaviour and patterns when buying online. From here, they can optimise these factors to fit the local languages and culture, which strengthens the quality of the customers' experience.


2. Mobile Commerce is Key
With the overall rise of access across the Southeast Asian market to mobile phones, focusing on mobile commerce and mobile attribution is highly recommended.
Advertisers should collaborate with publishers whose content is optimised for mobile, and publishers should ensure they keep up with the latest mobile commerce trends to ensure they do not fall behind their competitors.
For example, ensuring seamless payments and checkouts, especially during the busy season, is necessary for delivering a positive customer experience.

3. Focus on Key Platforms and Content Types
Advertisers must remember that Southeast Asian markets vary in terms of major eCommerce platforms, and should understand which ones to target. For example, the top platforms that affiliate marketers should include are Shopee and Lazada, but they are not popular in all countries.
Aside from that, big eCommerce platforms may also be oversaturated with sellers, brands, and affiliates. So it's important to research and develop a clear strategy before choosing a platform.
Brands and publishers should also understand the type of content that gets consumers' attention. For example, video has constantly been a popular source of engagement among Southeast Asian consumers, and 2022 was no different – as consumers spend more time viewing short and long videos more than ever.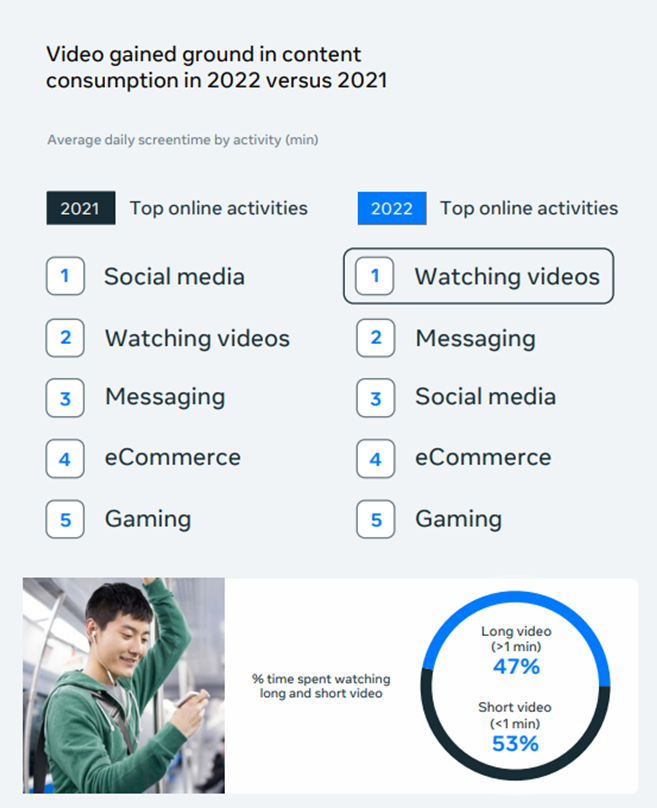 4. Opportunity for Affiliate Marketing
The upward trends of eCommerce, mobile, and social commerce in Southeast Asia are a fantastic opportunity for publishers and advertisers to develop proactive partnerships. Furthermore, publishers who can familiarise themselves with the individual Southeast Asian markets will have many opportunities to promote brand offers.
Advertisers can collaborate with local affiliates with deeper insights into the local customs, languages, cultural holidays, and other essential factors.


5. OTT Advertising
According to the 'OTT is for Everyone APAC research' report by SpotX, the top markets for OTT viewing were Singapore (91%), Philippines (72%), and Indonesia (76%).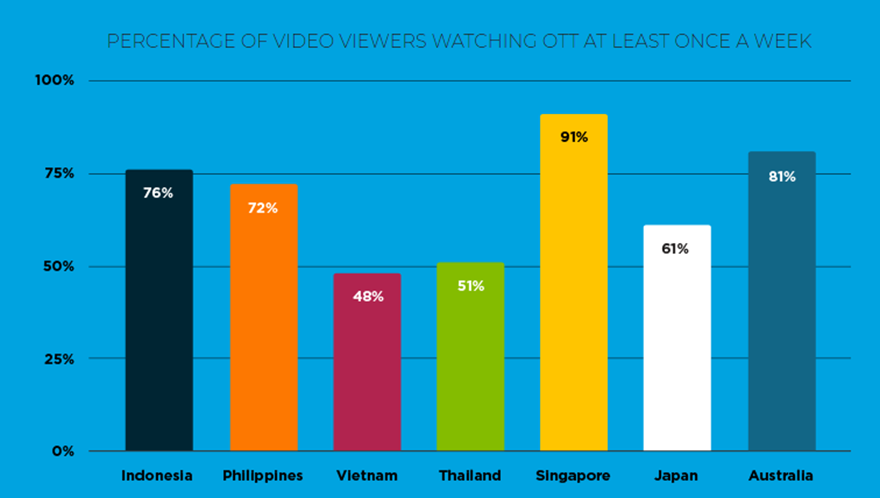 Source: https://www.spotx.tv/resources/blog/spotxer/ott-is-for-everyone-and-its-the-future-of-video-in-apac/
More than 400 million people now use OTT video streaming services across the Southeast Asia region, with Singapore leading the race. In addition, over 69% of video viewers in the area stream online videos at least once a week.
COVID-19 has affected marketing spending for traditional advertisements, and many advertisers are keen to try out over-the-top (OTT) advertising. Hence, with a more performance-driven goal in mind, advertisers are ready to experiment and compare traditional metrics with OTT platforms. This provides new opportunities for brands and publishers to collaborate and reach new consumers.


6. The Rise of Programmatic Guaranteed Advertising
Programmatic guaranteed advertising has been shown to effectively replace the manual execution processes involved in brand campaigns. In addition, it allows brands and affiliates to automate and be agile in many advertising functions.
A recent study conducted by BCG, which includes 23 advertisers, agencies, and publishers, states the programmatic guaranteed process is more than 50% more efficient than traditional approaches for publishers. Moreover, it is 30% more efficient for advertisers and brand-buying teams.
Publishers can secure ad revenue via reservations, automatically update their forecasts, and automate billing and collections. In addition, it saves them time from constantly looking into issuing invoices and chasing payments.
Businesses ahead of the curve understand the immense benefits that programmatic guaranteed advertising offers in the marketplace. However, its implementation requires a complete rethinking of organisational operations and systems.
Key Takeaways
The Southeast Asian eCommerce market is growing exponentially. Factors such as better connectivity and access to mobile phones, improved economic standing and eCommerce platforms, and COVID-19 have all contributed to this growth.
As such, the region presents significant opportunities for affiliate marketing. However, cultural and market-specific factors are essential factors that must be considered before entering this lucrative market.
To be successful, brands and publishers should develop key partnerships that can drive their agenda without overextending their resources. Fortunately, there is a way to do this easily.


---
Commission Factory is Asia-Pacific's largest affiliate solution, working with over 800 advertisers to boost brand trust and sales. If you are an advertiser publisher looking to improve your affiliate marketing strategy with a great partner, get in touch with us about working with Commission Factory.
Sources
Related Articles: APAC Marketing Trends That Brands Should Leverage On