In an increasingly digitally driven world, consumers are becoming savvier, and selective, than ever before.
That being said, how can brands successfully build consumer's trust online?

With some stats indicating that 61% of consumers read reviews before they complete a purchase, brand loyalty is more important than ever before(1). By prioritising brand trust, businesses can increase marketing receptiveness, build loyalty with existing customers, and drive new business. This article looks at building brand trust and the best practices for online brand management.
What is Brand Trust?
Brand trust is one of the most important factors that influence consumer's purchase decisions. In PwC's June 2021 Global Consumer Insights Pulse Survey, 46% of consumers said brand 'reliability' will likely influence their decision to remain loyal to a brand (2).
Simply put, consumers want brands to meet their expectations at every touchpoint. By being consistent, brands can build trust and loyalty in their customers. But brand trust is earned, not given, and businesses need to practice a combination of methods to build trust online.
Building Brand Trust
One of the best ways to tell customers a story is through branding. A brand is not just the organisation's logo design, font types, or products; it's a combination of these physical attributes and the values, culture, and emotion that a business evokes in its customers. Basically, a brand is what makes a business unique.

Brand strategy is what helps guide a business on how to communicate its brand values with its customers. To find success when building brand trust, it's important to humanise the brand and make the customer the hero of the story.
By doing this, companies can provide value to their customers and set themselves apart from their competitors.
But building brand trust online doesn't happen overnight; many factors can shape a brand and the business it represents. According to Oberlo, a few key factors help drive a customer's decision to purchase based on the brand. In their report, it's clear that customers value transparency, authenticity, and trust. The report also states that 66% of consumers believe transparency is the most attractive quality in a brand. Furthermore, 81% of consumers buy based on trust, and 86% of consumers say that authenticity is a key factor when deciding what brands they like and support(3).

Other key attributes that drove consumers' brand choice include being vocal about social issues, brand consistency, the value of user-generated content, and the importance of being meaningful. In other words, consumers want to connect with brands as humanly as possible. There is no need for fluffy ads and punchy taglines. Instead, they want a story that evokes a positive feeling. In reality, branding is a chance to tell customers a story and build authenticity and trust in the business.

Building brand trust with consumers takes a lot of time and consistency. Although, multiple factors can determine how a business successfully builds trust. The five methods below, when consistent, are great ways to build brand trust.
5 Ways to Build Brand Trust
1. Provide Valuable Content
With the accelerating shift to digital marketing, valuable online content has never been more critical. Whether through a company blog, social media or email campaigns, valuable content can help position a brand as a thought leader in the space, which can help build trust with consumers.
Before writing content, it's important to perform competitor research and understand what gaps the brand content can fill. Then, create content that fills in the gaps they've left by being more detailed, authentic, and honest.
By filling in the gaps, brands can prove their authority within their niche and build trust simultaneously. For example, when creating valuable content, consider the 80/20 rule. 80% of a brand's content should be educational, and 20% is promotional. The balance of the 80/20 rule will show consumers that their wants and needs are a number one priority rather than just a sales pitch. This rule should apply to all content marketing efforts, including blogs, social media and video.
2.
Engage with Customers on Their Preferred Channels
In a consumer insights survey by PwC, customers survey has found that they are now more focused on cost-saving, going digital, and becoming more data conscious. Now more than ever, most consumers prefer to do extensive research before making a purchase decision. Instead of typical advertising avenues and marketing communications, they turn to their family and friends, influencers, and reviews for insight into a product(3).
These consumers are also daily users of platforms that give them the appropriate product advice. To build trust, brands should join them and engage in authentic conversation on these platforms. Instead of pitching the key benefits of your products, brands should answer questions, responsibly respond to negative reviews, and create discussion via social media comments.
3. Harness User-Generated Content
User-generated content (UGC) is any content-text, videos, images, reviews, etc., that is created by customers and viewers rather than brands. Most brands will often share UGC to their social media accounts and website
UGC is a crucial marketing strategy because it allows you to promote brand authenticity, build trust, and drive purchasing decisions. When used correctly, it can be far more effective than traditional techniques and tactics like paid advertising and sales promotions (4).
The strategy works well because consumers are usually research-driven and seek social proof. They also seek to validate their purchase decisions by searching for information through social media, word of mouth, review sites, and YouTube (5).
These platforms play a major role in showcasing and inspiring loyalty. By offering clear guidelines on what creators can post, brands can build an unlimited content library.
Common examples of UGC include:
Online reviews and ratings of the business on popular review sites
Customer success stories and testimonials
Video reviews of a product or service posted on YouTube, Instagram, TikTok, and stories that tag the business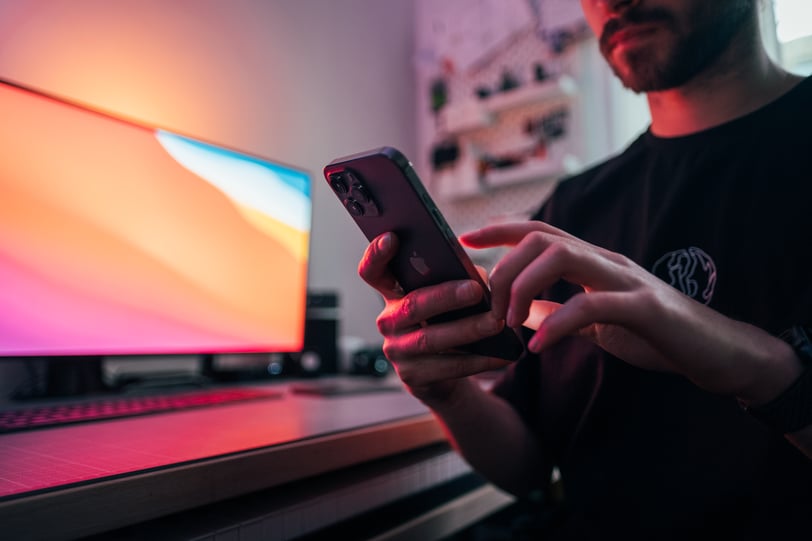 4. Manage Online Reviews and Ratings
Online reviews can shape consumer perception and brand reputation. They have the power to directly impact direct impact a customer's ability to trust a brand.
On average, negative reviews can stop 40% of buyers from wanting to buy from a business (6). And with roughly 95% of customers reading reviews before they make a purchase, reviews and ratings have the power to generate more sales and build brand trust without having to post content (7).
Whether a review is good or bad, both create a unique opportunity for a business to build brand trust and offer complete transparency to consumers. In fact, negative reviews should be welcomed as they can add credibility to a product.
5. Deliver a Great Customer Experience
Customer experience is the impression customers have of a brand throughout all aspects of the buyer's journey (8). It results in their views and can impact their overall brand trust and revenue. A positive customer experience helps promote loyalty, improves customer retention, and encourages brand advocacy. Despite a poor customer experience, brands can still recover and find ways to improve each customer touchpoint.
To do this, brands need to listen to customer feedback and reviews and uncover insights to better understand consumers' wants and needs. Acting on this valuable data can bring more returns and customer retention in the long run.
Best Practices For Affective Online Brand Management
To grow an audience and successfully build brand trust online, brands need an effective brand management strategy. These methods and techniques will help companies be more consistent with branding, leading to a more engaged audience, increased brand loyalty, and a UGC that will positively impact its revenue.
1. Choose Someone to Lead Brand Trust
Although this step won't make or break the opportunity to build brand trust, businesses should consider it mandatory to get their brand trust right. A brand trust lead is responsible for ensuring that the brand-trust goals and vision are well-detailed.
The brand trust lead should also detail what success looks like and how it will be measured. They will then develop systems for achieving trust through content across all marketing activity and customer touchpoints and be responsible for monitoring and evaluating the brand's perceived trust. A brand trust lead's job is not a one-off, as they would continuously improve and lead brand trust strategies.
2. Social Responsibility and Link Sharing
The top brand attributes that influence customers decision to remain loyal are brand exclusivity, commitment to giving back to society, ethical practices, and sustainable practices (3). No matter the initiative, brands should be sharing these updates in their content. Brands should also consider the external website links that they decide to share on social media. Links connect brands to the outside world, and whatever link they decide to share should lead to a reputable source.
Brands can use high-authority links such as factual references in blog posts, industry favourites links for curated content, and branded links on social media, so followers click on value-added links.
3. Embrace Transparency
Transparency is essential when building brand trust online. Whether it's user-generated content or reviews, good or bad, brands that remain transparent have an opportunity to develop genuine connections with their customers and make them the hero of their stories.
Transparency means showing customers the truth about the brand, its products or services, and the team. It means embracing the businesses core values and mission publicly in order to connect with customers that resonate with similar values and goals.
It's important to remember that brand transparency limits depend on the business. For example, transparency could be publishing case studies about products or services, divulging ingredients or production processes, or responding openly and honestly to questions on social media.
4. Continuously Encourage Customers to Write Reviews
To effectively manage consumers brand trust, businesses should encourage customers to provide reviews of their products or services online. Even bad reviews offer an opportunity to showcase the company's transparency, and they demonstrate a willingness to turn that negative customer experience into a positive one.

Once a company responds to a review, seven out of 10 consumers change their opinions about a brand (9). Furthermore, 41% of customers say that when brands reply to their online reviews (10), it gives them the perception that the company cares about their customers. And if that didn't drive home the importance of reviews, when a business replies to at least 25% of their online customer reviews, they can earn 35% more revenue on average (7).
Final Thoughts
In this competitive age, a brand isn't simply what a business says it is, but rather a reflection of consumer trust in the product or service. Providing valuable content, interacting with customers, and maintaining brand consistency is essential to building a brand that people trust.
Brands that can develop trust online can turn it into a powerful marketing tool for their business by closing the gap between expectations, experience, and competitive offerings. To do this, brands need to actively manage their online reputation, listen to customers' feedback, and embrace authenticity.
It takes work and planning, and getting involved and interacting with consumers, but it has the potential to cultivate a lasting trust that will build brand loyalty and benefit the online brand into the future. The Commission Factory platform helps connect publishers and advertisers to create partnerships that capitalise on building brand trust.
New potential partnerships can be discovered through our open network, leading to mutually beneficial relationships in which partners can collaborate and monetise. If you are a publisher or advertiser and want to improve brand trust, learn more about joining Commission Factory here.
Resources
1. eCommerce consumer reviews: why you need them and how to use them
2. The global consumer: Changed for good - PwC's June 2021 Global Consumer Insights Pulse Survey
3. 10 Branding statistics you need to know in 2021
4. A Marketer's Guide to Using User-Generated Content on Social Media
5. Social Proof: How Online Reviews Influence Customers
6. Local Consumer Review Survey 2020
7. 51 Customer Review Statistics to Make You Rethink Using Them
8. What Is Customer Experience? (And Why It's So Important)
9. Responding to Online Reviews Can Have Significant Benefits for Brands