Malaysia is one of the fastest-growing economies in the Asia-Pacific (APAC) region, with relatively high-income levels, and social media usage statistics in Malaysia in 2023 reflect this.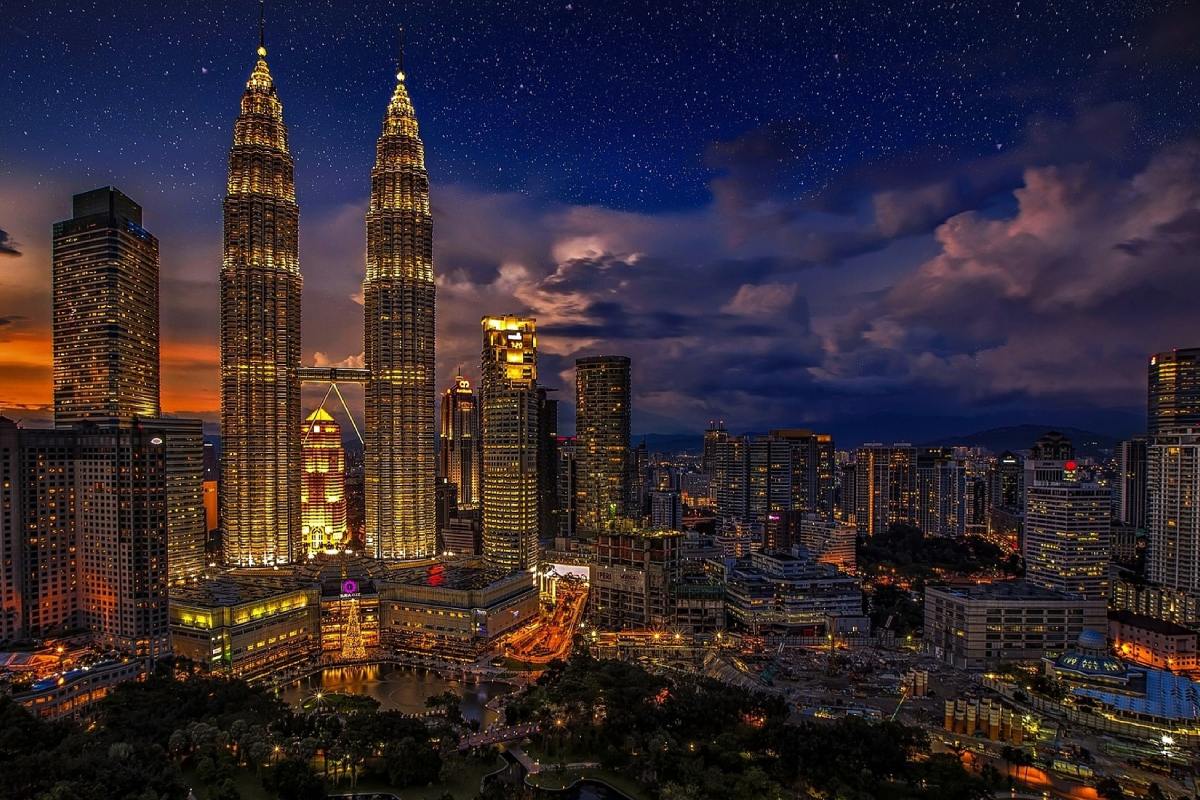 With an internet penetration rate of 96.8%, Malaysia ranks 10th in the world for internet use in 2023.1 There were roughly 30.25 million social media users in the country in 2022, which is 91.7% of Malaysia's total population of 33.5 million.2
If we consider just the adult population, we can see social media usage approaching full saturation levels at 99.8%.2
This is not a new trend as Malaysians have always been highly active on social media right from its early days. As early as 2011, Malaysian Facebook users reportedly had the most active friend networks in the world with an average of 233 friends.3
For marketers and advertisers, this represents an exciting opportunity to tap into Malaysia's fast growing consumer market. To explain how and why, we take a deep dive into the latest social media statistics and trends in Malaysia in 2023.


Table of contents:
Is Social Media Growing Fast in Malaysia?
Malaysia's annual social media user growth was pegged at 2.3 million new users in 2021-22. Given the already high internet and social media penetration in the country, this is a remarkable growth figure.
However, this high growth rate, combined with the pre-existing high levels of social media, could lead to saturation in the medium to long term.
In the short term, however, there is plenty of potential for growth as Malaysia adds an estimated 400,000 new adults to its population each year.4
Several studies have shown that at least 67% of Malaysian youth are active on social media platforms. In 2022, a survey of pre-university students (PDF download) aged 17-19 at Universiti Kebangsaan Malaysia revealed that 92.7% of respondents used social media every day while 52% used it more than seven times a day.5
Booming eCommerce is another crucial factor to keep an eye on. Growth in social media usage often goes hand-in-hand with increases in online shopping, as users often shop from within apps such as Instagram and Facebook. The latest Malaysia eCommerce statistics reveal that Malaysia is expected to experience the highest eCommerce growth rate among all ASEAN countries.6


Malaysia's Social Media Habits
In 2022, Malaysians ranked sixth in the world for daily average time spent online at 9 hours and 4 minutes.1 For reference, the neighbouring Philippines was number one, at 10 hours and 23 minutes.
At the same time, there has also been an 11% reduction in time spent online by internet users in Malaysia in 2023. The latest numbers indicate that Malaysians, on average, spent an hour less online in 2023 at 8 hours and 6 minutes. 7
Out of those 8 hours, an estimated 2 hours and 47 minutes were spent on various social media platforms. By comparison, the time spent on social media was 3 hours and 11 minutes in the previous year.
The reduction in usage levels is largely in line with what we are seeing around the globe. 8 Due to the rollback of pandemic restrictions and general digital fatigue due to overconsumption of digital content, people are spending less time online - around 20 minutes less on average.9


Which Are the Most Popular Social Media Platforms in Malaysia?
Here is a quick overview of the most popular social media platforms in Malaysia:
| Social Network | Number of Active Users (millions) | Percentage of Total Internet Users (16 to 64) | Ad Reach as a Percentage of Total Population |
| --- | --- | --- | --- |
| YouTube | 23.90 | 93.2% | 70.0% |
| Facebook | 20.25 | 84.8% | 59.3% |
| Instagram | 13.90 | 74.3% | 40.7% |
| TikTok | 19.30 | 59.9% | 56.6% |
| FB Messenger | 11.20 | 55.8% | 32.8% |
| Twitter | 5.50 | 47.5% | 16.1% |
| LinkedIn | 7.00 | 25.9% | 20.5% |
| Snapchat | 1.45 | 16.1% | 4.2% |
Globally, Facebook is the most used social media platform with over 2.9 billion active users. YouTube is second with 2.5 billion users, followed by WhatsApp and Instagram both at 2 billion each.
However, in Malaysia, WhatsApp is ahead of Facebook in terms of sheer popularity and number of active users in 2023. The Meta-owned messaging app took the crown from YouTube in 2022. 10
Apart from WhatsApp, the other messenger apps popular among Malaysians include Telegram, FB Messenger, and WeChat.
But when it comes to time spent on a platform, content consumption vies on an equal footing with messaging. This implies that Malaysians also spend a lot of time on networks such as YouTube, Facebook, and Instagram consuming content, besides sharing content on messaging platforms such as WhatsApp.
YouTube, for instance, has over 1,000 Malaysian channels with more than 1 million subscribers from Malaysia.11 The most popular search queries on the platform are for movies, songs (lagu in Malay), "remix", "DJ", and "Upin Ipin" – a popular animated TV series.
The majority of YouTube users from Malaysia are men at 52.4%, with women making up 47.6% of the user base. However, the roles are reversed on Instagram – women dominate with 54.4% Instagram ad reach vs just 45.6% for men. 7


Social Media Users by Age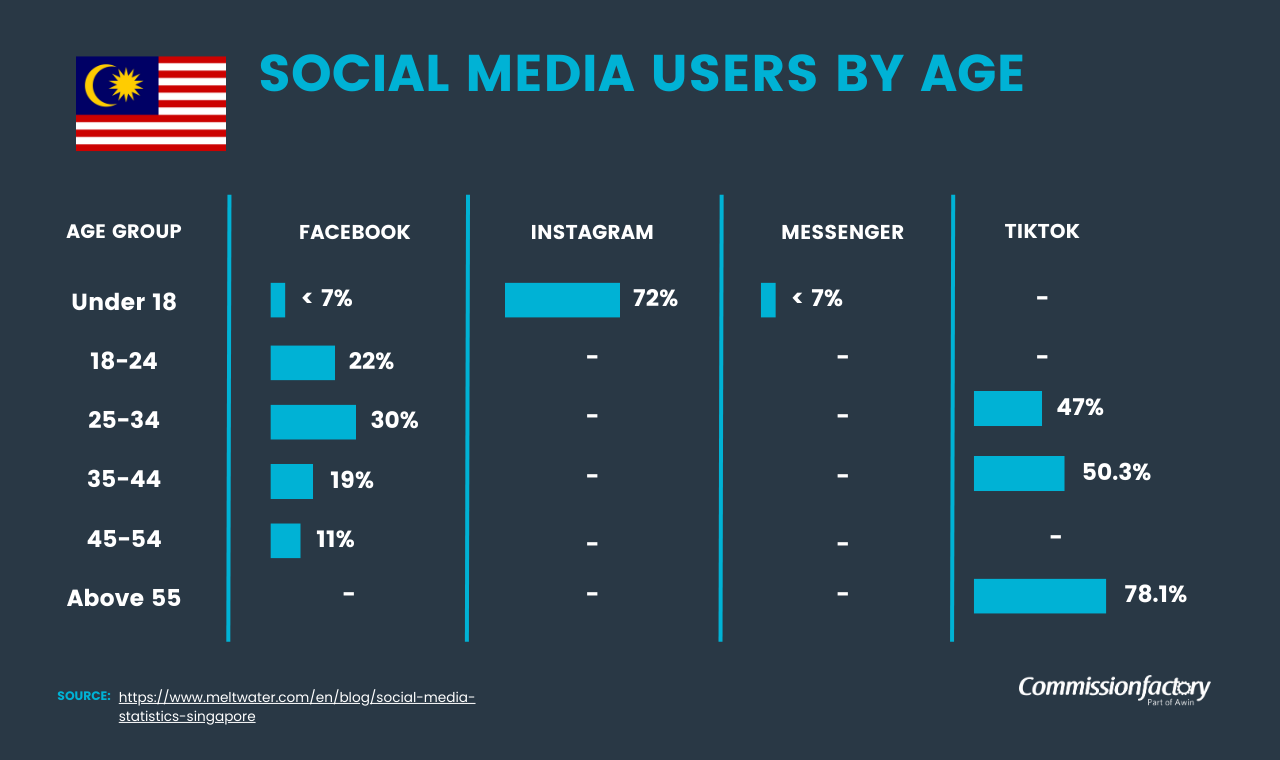 Across Meta's platforms - Facebook, Instagram, and Messenger - teenagers under the age of 18 account for less than 7% of users. The biggest demographic is those aged 25-34, making up around 30% of the user base, followed by the 18-24 age range at 22%.7
The next sizable contingent among Malaysian social media users is those in the age groups of 35-44, making up 19% of the user base, and 45-54, who make up 11%. Senior citizens (above 55 years) have numbers that are comparable to the youth and teenagers among Meta's ad audience.7
People aged 13-34 account for 72% of the total user base on Instagram. Among these, young adults are the dominant category, with a 34% share. Women are ahead of men across all major age groups in the Instagram audience.7
TikTok user demographics are skewed heavily in favour of youngsters and young adults. People between 18-24 account for 50.3% of the viewers, followed by those between 25-34 at 47.1%. The platform is also more popular with a male audience - 78.1% vs just 21.9% female.2
Broadly speaking, however, participation in social media does not have any pronounced gender differences in Malaysia. Women account for 48.6% of users, while men account for 51.4%. This is in line with the official gender ratio in the country.12


Key Facts About Social Media Usage in Malaysia in 2023
With its combination of a relatively small population, high economic development, and high internet penetration, Malaysia is an exciting yet highly competitive market for advertisers.
Here are some important facts and trends about social media usage in Malaysia worth knowing in 2023:


Malaysians Are Highly Social
In many other countries, entertainment is cited as the primary reason for use of social media platforms. But Malaysians are a little different in this regard. Keeping in touch with friends and family is the main reason cited by 54.6% of social media users, entertainment gets 52.7% of the vote, while searching for news gets the third position with a 42.6% vote. 7


Middle-Aged Malaysians Are Highly Active on Social Media
In most parts of the world, social media is dominated by millennials and Gen Z.
However, in Malaysia, users between the ages of 35-54 are a significant user base, accounting for around 30% of the ad audience in Malaysia for Facebook, Instagram, and Messenger. 7
Given the predominance of middle-aged Malayians on social media spaces, it is not surprising that cash transactions continue to dominate the Malaysian economy.
When shopping online on social media apps or eCommerce platforms, the younger generation of Malaysians are less dependent on traditional payment methods like cash. Payment methods in Malaysia have undergone a massive shift in recent years, with the rise of new options like digital wallets.13 Unsurprisingly, it is Malaysians under the age of 40 who are the predominant users of newer payment methods such as digital wallets.


People Are Becoming More Selective on Social Media
Malaysians are spending nearly one hour less online, with a 15-minute reduction in time spent on social media. From an advertiser's perspective, this means that the quality of the content will take centrestage going forward. Users will become more selective and seek out high-quality content instead of idly scrolling through posts.
This trend also extends beyond mere content consumption into the realm of eCommerce. If we take a look at some of the best selling products in Malaysia, we see that they are all backed by exceptional marketing strategies.14


Social Media Use Is Peaking in Malaysia
Over the last 15 years, there has been a steady uptick in the number of internet and social media users in Malaysia. The pressures of the pandemic boosted them even higher than normal between 2020 and 2022.
But now, with more than 90% of the national population already using some form of social media, and total internet penetration at 96%, the growth rate is bound to slow down. In the coming years, we can expect the penetration levels to reach closer to 99%.1


What Are the Most Used Mobile Apps in Malaysia?
In terms of monthly active users, WhatsApp and Facebook are the top mobile apps in Malaysia. Other social media apps on the top 10 list in 2023 include Instagram at fourth, Telegram at sixth, Facebook Messenger at seventh, and Tiktok at ninth.7
TikTok leads the list of top apps by downloads in 2022, indicating a growing user base. WhatsApp is third on that list, followed by Telegram at fifth, and Facebook/Instagram following closely behind
Overall, Malaysia has excellent mobile connectivity and penetration, with over 44 million cellular mobile connections in a country with a population of 33 million.7 Each year, 1.2 million new connections are added. Over 94% of the mobile connections are on 3G/4G/5G broadband networks.
Android devices are the most popular with a 70.52% share when compared to iOS at 27.73%. The total number of mobile app downloads across all platforms exceeds 1.25 billion. Malaysians spend $656 million on mobile apps and in-app purchases each year.7
When it comes to spending money on social media apps, Tiktok again comes out on top, followed by Youtube in second. Facebook is the only other social media app on the top 10 list at a distant ninth.


Final Thoughts
Malaysia has a mature and well-developed social media ecosystem. The user base has been active and growing since the early days of social networks. The country is well on track to having close to 99% of the population online in the not-too-distant future.
Such a diverse and wide audience presents both exciting opportunities and major challenges for digital marketers and influencers in Malaysia. Here is a seasoned and discerning audience that cannot be swayed easily by low-quality content.
With over 30 million users, advertisers have plenty of space to carve out their niche.
To learn more about future trends in this space, don't forget to check out our latest social media marketing predictions. 19
As the largest affiliate platform in the Asia-Pacific region, Commission Factory can help content creators and influencers in Malaysia get in touch with over 800 of the world's biggest brands.
Connect with the Commission Factory team to learn more about how we help brands and publishers build and grow their affiliate marketing strategies.

Frequently Asked Questions
What Percentage of the Total Population in Malaysia Are Active Social Media Users?
At the end of 2022, 91.7% of the total population in Malaysia were active social media users. The total population of Malaysia is around 33.5 million. That puts the total population of social media users in the country at 30.25 million. The number of users saw a massive increase of over 2.3 million since 2021.1


What Are the Most Popular Social Media Platforms in Malaysia?
For messaging family and friends, Malaysians rely heavily on WhatsApp. The other major platforms on the top five list are Youtube, Facebook, Instagram, and TikTok. On average, a social media user in Malaysia has accounts on seven different platforms.10


How Many Hours Are Spent on Social Media in Malaysia?
Malaysians spend around 2 hours and 47 minutes on average each day on social media apps and platforms in 2023.1


References
Social Media Influence to the Life of Malaysian Pre-University Students | Malaysian Journal of Social Sciences & Humanities (MJSSH)