Malaysia's eCommerce market has boomed in recent years. Its high internet penetration rate means people are using mobile devices more than ever, leading to more demand for online products and services.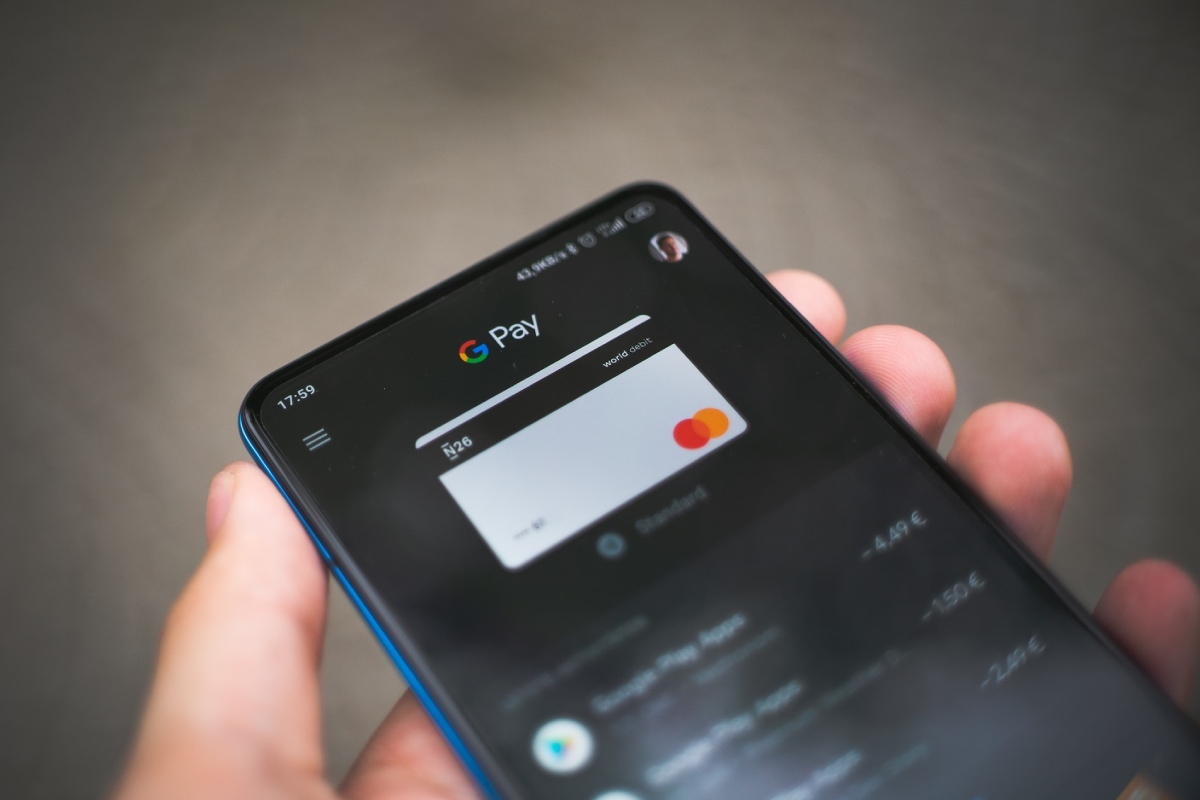 The way Malaysian consumers pay for goods and services is changing rapidly.
Preferred payment methods in Malaysia have increasingly moved to digital options, with the rise of e-wallets and cashless payments. However, some traditional payment methods, including credit and debit cards, remain popular. There are also new spins on traditional payment methods, such as virtual credit cards and "cashless" cash on delivery.
Home to 32.7 million people as of 2022,1 Malaysia clocked a GDP of MYR 383.8 billion in Q3 2022 (PDF download).2 More than 50% of Malaysia's population uses e-wallets on a daily basis for making payments.3
As brands and retailers look to reach Malaysian consumers and expand into emerging markets, it is essential to understand how people want to pay for goods online.


Table of Contents:
Fast Facts about eCommerce in Malaysia
Malaysia has a population of 32.7 million people as of January 2022.

1

There are

31.79 million

internet users, making an internet penetration rate of 89.6%.

4

90% of Malaysians access the internet through a mobile device.

The Malaysian eCommerce market is projected to hit

$30 billion by 2025

.

5

55.9% of eCommerce transactions

are completed on a mobile device.

6

33.9% of the population (aged over 15 years) made a purchase on the internet in the past 12 months.

6

34% of internet users ordered groceries via an online store.

6
eCommerce Growth in Malaysia
Malaysia's eCommerce revenue is projected to hit $11.65 billion in 2023.7
eCommerce growth in Malaysia has been driven by many factors, including rising internet penetration, rising disposable incomes, as well as the push away from brick-and-mortar stores catalysed by the Covid-19 pandemic. Many Malaysians who had never shopped online before began regularly using eCommerce on a regular basis.
In the post-pandemic era, this impressive growth of eCommerce continues unabated.This in turn has fundamentally shifted the way people pay for products, thereby accelerating the country's adoption of digital payment methods.


Payment Trends in Malaysia
The key payment trends in Malaysia are summarised below:
In 2022, the market size of the Malaysian cards and payments market was

pegged at $62.4 billion

.

23

The Malaysian cards and payment market is expected to grow at a compounded annual growth rate (CAGR) of 11% in 2022-2026.

23

Cash still accounts for more than 50% of all payments made in Malaysia. However, cards and digital wallets are fast catching up.

23

The key market segments where cards and digital payments are most used in Malaysia are eCommerce, in-store payments, mobile payments, and bill payments.

23

Maybank, BSN, Hong Leong Bank, HSBC, and Bank Islam Malaysia are the primary Malaysian banks that issue cards and enable digital payments.

23

5 Most Popular eCommerce Payment Methods in Malaysia in 2023
There are five central eCommerce payments in Malaysia that are important to recognise and understand: Bank transfers, cards, digital wallets, cash payments, and Apple Pay.
Let's take a closer look at each payment method, how it's used, and the trends driving their popularity.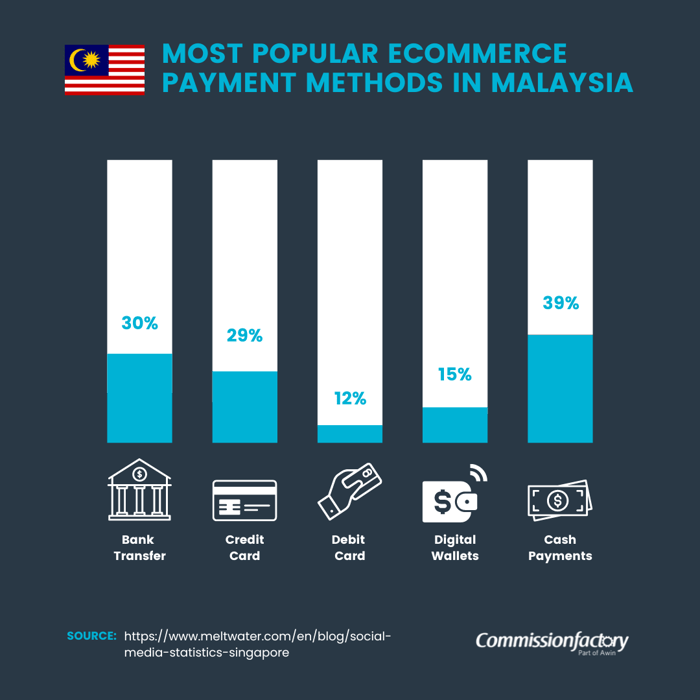 1. Bank Transfers
When it comes to the eCommerce market, the traditional bank transfer remains the most popular payment method in Malaysia.
There are several reasons why bank transfers are a popular Malaysian payment method. The first is that bank penetration in Malaysia is high, sitting at 96% in 2022.6 Digital banking is also exploding, with 90% of Malaysian consumers using online banking at least once per month in 2021 compared to 62% in 2017. 8
This means bank transfer is an accessible and convenient payment option for a vast majority of consumers.
The Malaysia-based secure payment system, Financial Process Exchange (FPX), helped gain consumers' trust in bank transfers by creating a convenient and safe payment system. It means customers can easily complete transactions online using their bank credentials.
The FPX payment system has partnered with almost all banks in Malaysia to help them provide a smooth transaction experience when shopping online.
Other secure payment services include eGHL, iPay88 and Stripe. These are becoming popular with businesses looking to provide a secure and smooth payment system for customers.
Some local banks are also introducing their own eCommerce payment options. Maybank has introduced Maybank2U Pay, a payment gateway for businesses of all sizes. It allows the business to debit money from the customer's Maybank bank account, while giving the customer more confidence to make payments when they see a familiar and trusted bank.
Another internet banking service allowing shoppers to pay for online shopping through their internet bank account is CIMB Clicks.
2. Debit Cards and Credit Cards
As with bank transfers, credit cards and debit cards haven't lost popularity among Malaysian consumers paying for online purchases.
Cards are still the second most popular online payment method in Malaysia, even as other payment methods enter the ring. Almost 73.8% of Malaysians owned a debit card at the end of 2021.1 At the same time, there were 9.92 million credit cards in circulation in Malaysia as of July 2022.9
Malaysia's Use of Credit Cards
Credit cards are a popular online payment method simply because of their convenience. As a result, a significant proportion of Malaysians have credit cards, and the number is growing.
According to figures from the Bank Negara Malaysia (PDF download), credit cards in circulation in the country increased from 9.65 million in 2021 to 10.05 million by November 2022.10
At the same time, the volume of credit lines, also known as credit limit, reached a record high of MYR 154.34 billion in July 2022.9
Data shows that the transaction volume of e-wallets is higher than credit cards, while the value of credit card transactions is higher, suggesting that consumers still trust their credit cards for higher-value purchases.
During the pandemic, there was a period of lower credit card usage, suggesting that consumers were more cautious about taking on credit card debt. During this time, debit cards briefly became the preferred payment option at 1.44 cards per capita.11
The value of card payments in Malaysia also recorded a slower growth of 4.3% in 2020 compared to 11.5% in 2019. However, as of 2022, Malaysia's credit card market has clearly picked up pace again, and is expected to reach MYR 322 billion by 2025.12
While credit cards remain popular, there are innovations driving the card payment method into the digital era. One of these is contactless credit card payments which is fast gaining traction.
Another emerging fintech is virtual credit cards (VCCs), or digital issued cards. They offer all the benefits of a physical card but with the added advantage of the digital card details being securely available on the bank's mobile banking platform. This means the consumer can use the card for online transactions, as well as in e-wallets.
Nearly seven in 10 (69%) Malaysian consumers are interested in using VCCs for daily purchases and financial transactions, according to a 2021 study by Visa.13
Malaysian Debit Card Market
Debit cards are a frequently used payment method, as all ATM cards come with debit card features, making them a default for cashless payments.
Despite the emergence of e-wallets, debit card usage is not slowing. A total of 1.079 billion debit card transactions were recorded in the period up to November 2022.10 This is nearly twice the number of transactions in 2021, when 657.28 million debit card transactions were registered in the first 11 months of 2021, at a value of MYR 69.55 billion.14 Commentators have suggested this could be a result of older generations reluctance to use e-wallets for online commerce transactions.
3. E-wallets and Digital Wallets
Digital wallets and e-wallets are fast-growing payment methods in Malaysia. Malaysia leads Southeast Asia in digital wallet usage, with at least 50% of the population having used digital wallets for their daily needs in 2022.3 This compares favourably with the Philippines at 36%, Thailand at 27%, and Singapore at 26%.
What Are e-Wallets and Digital Wallets?
Digital wallets, e-wallets, and mobile wallets all refer to digital methods of payment, with the terms often used interchangeably.
An e-wallet is the digital equivalent of a physical wallet, functioning as an app on a mobile device. Consumers need to "top up" these wallets with cash using credit cards, debit cards, or online bank transfers. Providers also implement strict online security measures to ensure that transactions and user information remain safe and secure.
There are lots of benefits to e-wallets for Malaysian consumers. Transactions made using e-wallets and digital wallets are automatically recorded, providing an easy way for users to track their spending. They can be used to pay for services or goods at participating online and offline merchants, or to transfer funds to other e-wallet users.
Another benefit of digital wallets and e-wallets is that they can be used for online and offline transactions, giving them the same flexibility as credit cards and debit cards.
The Rise of E-wallets
E-wallets are fast becoming one of the most popular payment methods for online shopping in Malaysia. The adoption of e-wallets was boosted during the COVID-19 pandemic as people stayed at home and increased their online shopping activities.
A 2022 study by Paynet (PDF download) found that 96% of Malaysians who use e-wallet apps are monthly users.15 Again, this figure has grown since the pandemic hit. Monthly usage frequency of e-wallets soared 60% on average from 10.5 times per month to 16.8 times. And it's not just urban consumers - adoption by non-urban Malaysians also increased.
The growing adoption of mobile wallets and e-wallets has been encouraged by attractive incentives and aggressive marketing campaigns, such as cashback deals, discounts, loyalty points, and government COVID-19 assistance programs.
The Malaysian government has also launched initiatives to prompt the adoption of digital wallets and to boost consumer spending.The number of active e-wallet registered users has seen explosive growth, jumping to 13.5 million in 2021 from 8.7 million in 2020 as more people turned to the method for eCommerce payments. In Q1 2022, nearly 68% of all Malaysians used an e-wallet for payments.16
So, who's using e-wallets? In Malaysia, millennials (aged 27 to 40) make up the majority of e-wallet users, which is unsurprising as they are the generation most familiar with digital systems along with Gen Z.17
Not only has adoption and usage of digital wallets increased, but the average per-transaction value has increased from MYR152 before the pandemic to MYR175, which is a 15% rise.
Types of Digital Wallets in Malaysia
As usage grows, the choice of digital wallet providers is increasing to meet the demand. However, there are restrictions. E-wallet providers in Malaysia must apply for a licence from Bank Negara Malaysia and are subject to multiple regulations.
Despite this, Fintech Malaysia reported a total of 53 platforms in 2019, and Bank Negara Malaysia's latest data in 2021 showed that the non-bank e-money issuer licences issued by the bank stood at 47.18 This number further increased to 49 in 2022, which is in line with the government's aim to transform Malaysia into a cashless society.19
It's no surprise, then, that 78% of Malaysians have more than one e-wallet.15
Along with international players such as PayPal, Alipay, WeChat, and Google Pay, there are several popular e-wallets in Malaysia. One of the leading e-wallets in Malaysia is GrabPay by Southeast Asian ride-hailing company Grab, which has ventured into food delivery and cashless payment services.
Registered users can pay for in-store purchases, bills, prepaid reloads, and other services through the "Payment" tab of the Grab app. Transactions also earn GrabRewards points for the user to redeem on deals or discounts.
Another popular e-wallet brand in Malaysia is Boost, owned by telecommunications group Axiata. Consumers can use the app's Scan & Pay feature at over 200,000 merchant points across Malaysia, as well as top-up game credits, reload prepaid mobile credits, buy vouchers, pay for online shopping, and pay utility bills.
In December 2021, Boost partnered with Mastercard to offer a range of innovative payment solutions to Malaysian and Indonesian consumers, including a Mastercard prepaid card.20 This will allow Boost consumers to make safe and secure transactions wherever Mastercard is accepted in Malaysia, Indonesia, and around the world.
Lastly, Touch 'n Go is TNG Digital's e-wallet and aims to enable Malaysians to go completely cashless using a single app for everything. Currently, Touch 'n Go users can pay directly at over 300,000 merchant outlets.
4. Cash Payments and Cash On Delivery (COD)
Cash on delivery (COD) is a popular form of cashless transaction that allows customers to pay for their purchases at the time of delivery. The cash is given to the courier. This payment type was one of the most popular payment methods before Covid.
Leading Malaysian couriers GDex and Pos Laju offer COD services, which means online shops can offer a cash payment method to their customers, increasing their customer base to those who do not feel comfortable paying digitally.
COD is especially popular amongst older generations and first-time online shoppers who prefer to see the product they are purchasing before making a final decision.
Despite the rise of online shopping, there are still many Malaysian consumers who prefer to pay in cash for their online purchases, because they still do not entirely trust online payment methods or find them complex and confusing. Some customers are more inclined to buy higher-value goods through COD because of a lingering mistrust, even though they are comfortable paying online for less expensive goods.
However, more recently, payment gateway systems have proven the strength of their security and authentication processes, and there is a broader range of online payment methods for consumers to choose from.
In July 2021, popular eCommerce platform Lazada launched a new COD option to help overcome consumers' mistrust of digital payments.21
This cashless COD method works the same way as the traditional COD payment method, except payment is made via a digital wallet. Lazada customers can scan a DuitNow QR when they receive their order via Lazada Express (LEX). Lazada aims to reinforce customer trust in digital payments, improve consumer protection, and help increase eCommerce adoption amongst Malaysians.
5. Apple Pay
Apple Pay is the latest payment method to have made its way to Malaysia. Launched in August 2022, it allows Apple users to make both in-store and online payments through their Apple devices such as iPhone or iPad.
At the time of its launch, Malaysia was only the second country in Southeast Asia after Singapore where Apple launched the service.22 The distinct advantage that Apple Pay provides customers over existing contactless payment methods is that it does not require a PIN for verification. Major banks such as HSBC have already integrated Apple Pay with their credit cards, providing their customers with more options.24


Final Thoughts
Whether expanding into the Malaysian market, taking a local business online for the first time, or looking to grow existing eCommerce revenue, success hinges upon knowledge of the country's most popular eCommerce payment methods.
Businesses and merchants looking to move into the Malaysian eCommerce market will need to adapt to keep up with Malaysia's evolving needs. While there's little doubt digital payments will continue to grow in popularity as the country moves toward a digital and cashless future, there is still a proportion of consumers who prefer traditional methods.
As such, merchants need to offer multiple payment services that include popular bank transfers, credit cards, debit cards, e-wallets, and COD.
Commission Factory is not only the Asia-Pacific region's largest affiliate platform, working with more than 800 of the world's biggest brands, but is also a performance marketing platform that allows content creators and influencers to earn money and online businesses to increase sales.
Malaysian Market Insight Report
Popular payment methods are just part of the picture if businesses hope to succeed in one of the fastest-growing economies in the world.
Dig deeper into Malaysian consumer purchase behaviour to understand the trends and future growth opportunities for brands in this unique and complex market.
References
1. Current Population Estimates, Malaysia, 2022 | Department of Statistics Malaysia
2. Malaysia Economic Performance Third Quarter 2022 | Department of Statistics Malaysia
3. How COVID-19 Shaped The E-Wallet Landscape in Malaysia | Oppotus
4. Number of internet users in Malaysia from 2010 to 2020 and a forecast up to 2025 | Statista
5. e-Conomy SEA 2020 | Bain
6. Digital banks to challenge incumbent banks in Malaysia | New Straits Times
7. eCommerce - Malaysia | Statista
8. Digital banking preference accelerates in APAC | The Malaysian Reserve
10. Malaysians use credit cards more and borrow more | The Edge
11.E-commerce Payments Trends: Malaysia | JP Morgan
12. Card payments to reach RM322bil by 2025 | Free Malaysia Today
13. Virtual credit cards emerging as a trend | The Edge
14. E-money transactions in Nov 2021 highest in five years | The Edge
15. Weathering the pandemic | Paynet
16. Q4'2022 Update: MYCI Slightly Dipped in Last Quarter | Oppotus
17.Cover Story: The cashless quandary | The Edge
18. E-money transactions in Nov 2021 highest in five years | The Edge
19.Financial Sector Participants Directory | Bank Negara Malaysia
20. Malaysia Prepaid Card and Digital Wallet Markets Report 2022 | Cision
21. Lazada launches its latest cashless payment on delivery | The Star
22. Apple Pay Launches in Malaysia | TechCrunch
23. Malaysia Cards and Payments – Opportunities and Risks to 2026 | Globaldata
​​​​​​​24. HSBC customers in Malaysia can now integrate their credit cards with Apple Pay | TechNave