What are consumers spending during their time at home? Here's our snapshot of the top product categories from June 2021.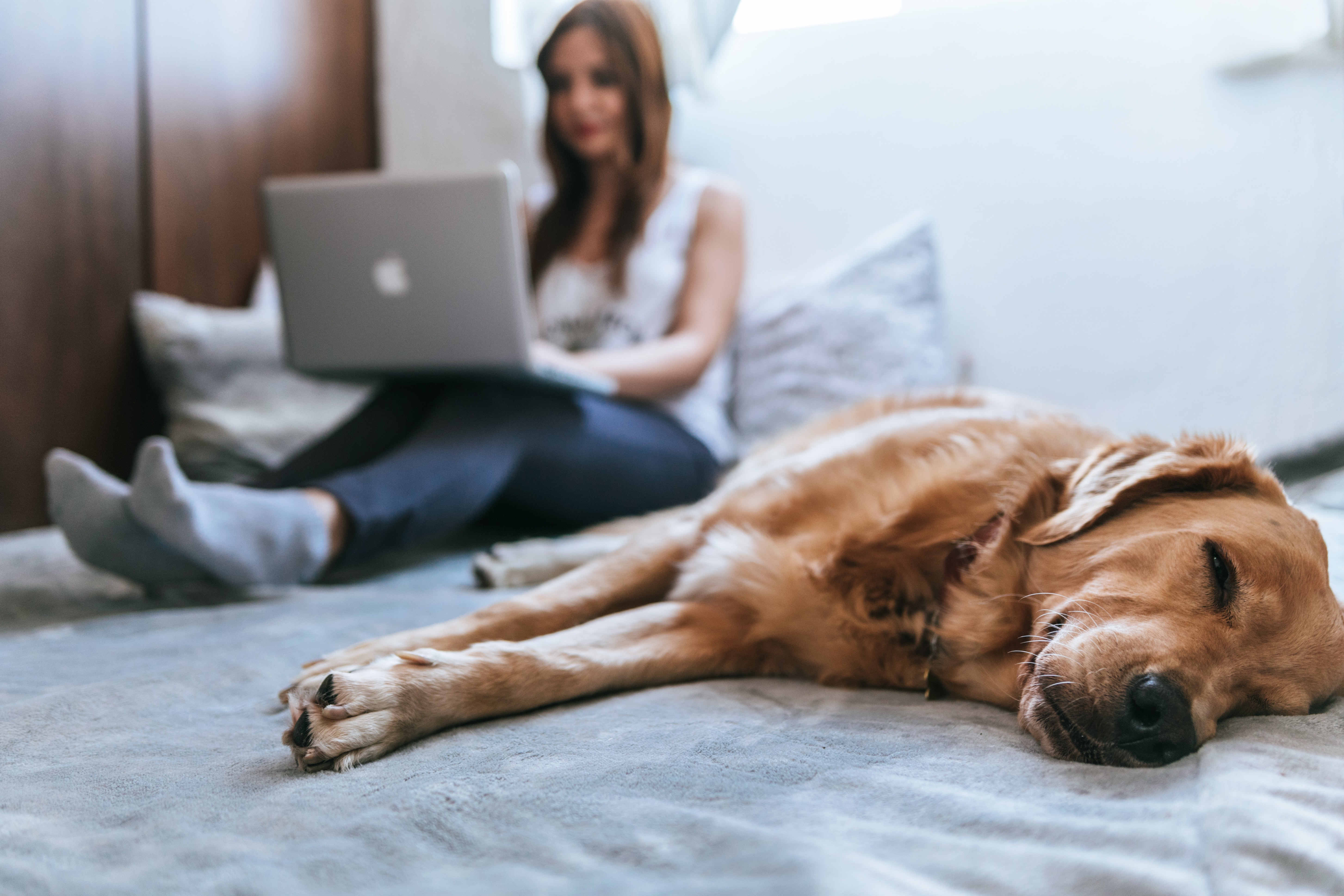 When we look at the statics the month the lockdown started in June, in comparison with the month before, there has been an average 9% increase in revenue for our advertisers across the network. Looking at NSW specifically, the Inside Australia Online Shopping eCommerce August report shows a 48.2% YoY growth in online shopping, during the lockdown, showing lockdown has had a direct impact on consumer behaviour and shopping habits (1)

Source 1
Top product categories during the 2021 Sydney lockdown.
The COVID-19 Pandemic has brought with it a whole new way of life. Lockdown restrictions and social distancing have seen a shift in the major markets across the global economy. The global pandemic has seen consumer priorities shifting, with new customers being drawn to online stores and making purchasing decisions based on the new norm. When we look at the Australian Ecommerce 2021 Report and what products are being bought online in the last 12 months, it is consistent with what we are seeing as a network (2).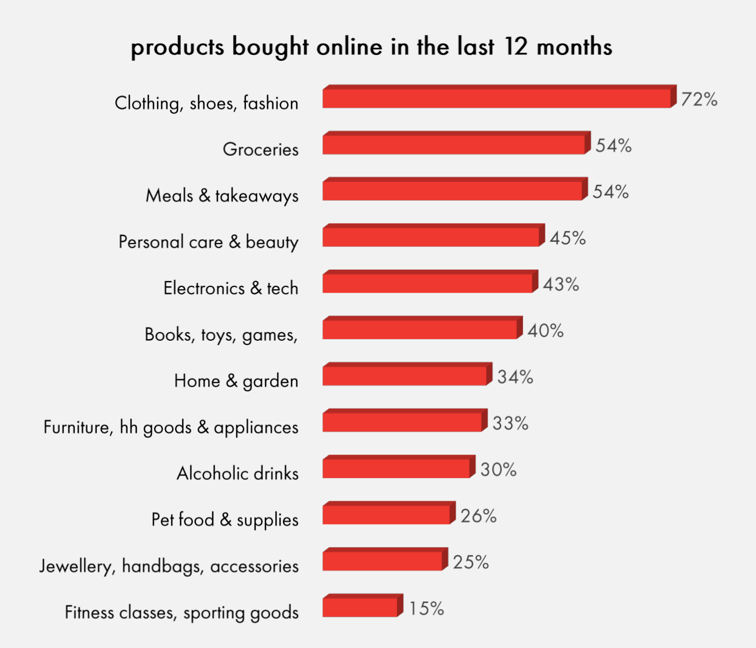 Source 2 Australian Ecommerce 2021

Similar to the IAB eCommerce Report's findings, there are five major categories that have seen a huge increase due to COVID-19. Of the 32 product categories across our network, the top five categories for consumers based on revenue were:
Clothing and Fashion
Health and Beauty
Home and Garden (home improvement)
Electrical
Food and Drink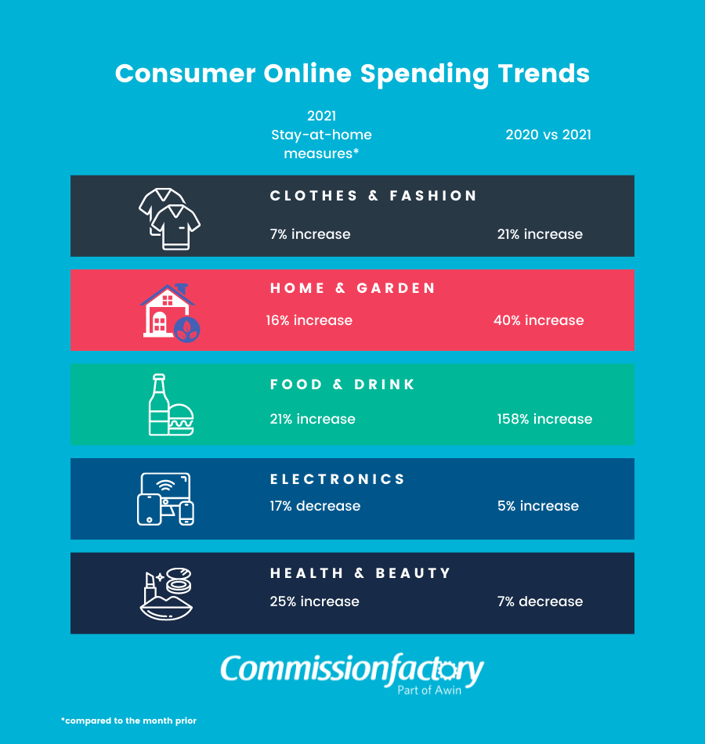 Out of the top five categories, all saw an increase in revenue during the lockdown except for the Electrical category compared to the month prior. The category that saw the highest growth and revenue out of the top five was Health and Beauty. This category increased by 25% compared to the month before the 2021 lockdown.
The Health and Beauty category increased in revenue both during the 2021 lockdown and the 2020 lockdown. However, compared to last year, consumers spent 7.1% less on Health and Beauty products during the 2021 lockdown.

Food and Drink

The Food and drink category saw a significant increase in revenue from 2020 to 2021. Consumers spent 158% more in this category during the 2021 lockdown compared to the 2020 lockdown. Additionally, during the 2021 lockdown, we have seen a 15.2% increase in food and drink in comparison with the month prior to lockdown. Most notably, advertisers selling gift baskets and delivering alcohol were up 50% in revenue compared to the previous month before the 2021 lockdown.

Learning and Education

Despite not making the top five in terms of revenue, the Learning and education category saw a 122% increase in revenue during the 2021 lockdown compared to the month prior. This equates to the most percentage growth of our 32 categories. The change could be attributable to various factors, including the two weeks school winter holidays starting in New South Wales at the same time as lockdown and later progressed to home learning- and video conferencing- for students (3).
Compared to the Sydney lockdown in 2020, consumers spent far less on Learning and education products in 2021. According to the data from our network, consumers spent 60% less on Learning and education during the 2021 lockdown compared to the 2020 lockdown. During 2020 home learning went on for eight weeks which may have prompted the spending within the Learning and education category.
Dating and Holiday Spending Saw a Downturn

Consumers have spent much less on the Dating and Holidays and travel categories during the Sydney 2021 lockdown. Advertisers within the Dating category have seen almost a 60% drop in revenue during the Sydney lockdown compared to the month before. This shows how the restrictions set in place by the government impacts consumers spending. The Holiday and travel category were down around 40% in revenue during the 2021 lockdown compared to the month prior. The restrictions limiting movement are likely strong contributors to the decrease in these categories. Despite the restrictions, consumer spending indicates optimism given the 225% increase in spending on Holiday and Travel during the 2021 Sydney lockdown compared to last year.
While lockdowns can be harsh and impact many businesses, we have seen a positive trend for many advertisers' categories on our network. Out of the 32 product categories, 83% have seen an increase in revenue. For advertisers, this means lockdown can create opportunities to optimise with affiliates to promote their brands to consumers. While for affiliates, this means lockdowns can be a chance to push brands further.
Sentiments That Are Driving Consumer Purchase
Local and Sustainable is Cool
Consumers are gravitating to local and sustainable purchases more than ever. Studies show that 54% of consumers state that they prefer to buy from brands that are ethical and sustainable, while 56% of consumers agree that they are more likely to purchase from brands that have been well-behaved during the pandemic crisis.
This means that it's more important than ever for brands to think about their 'conscience' and develop meaningful relationships with consumers by caring for social and environmental issues that are close to them. No longer is it acceptable for brands to turn a blind eye to these issues.
Trust and Transparency is Key
Although consumers enjoy the perks of shopper reward programs, they place an equally high value on transparency and trust when it comes to their data. 41% of consumers are somewhat concerned with how retailers use their personal data with loyalty programs, and this sentiment is even more prevalent among the 60-70 age group (2).
Brands should be more aware and transparent with consumers on how their data is being used and always give consumers an option on what sort of data they'd wish to share. This is especially true for brands that target an older demographic.
Convenience is Worth a Premium
Convenience is a huge driver in online shopping, beating out factors such as free deliveries, lower prices, and discounts. This means that consumers do not mind spending more for convenience, understandably considering that lockdowns have made it somewhat of an inconvenience to purchase items offline.
Brands should use this as a key takeaway in their marketing strategy – focusing on the value of convenience and shopping from home. A positive omnichannel experience for consumers is also key in driving a convenient experience while shopping.
Amplify Brand Proof Points
Consumers are getting increasingly aware of brands when they make a purchase. Around 70% of consumers state that they would always research before purchasing from a brand for the first time. Meanwhile, 70% of consumers use online as their main source of brand research, even more than family and friends. (2)
This means that brand online reputation must be squeaky clean, to the point of spotless. Direct brands would do well in emphasising brand proof points such as innovation or personalisation over hygiene factors. In the end, it's all about what consumers see as the brand's personality, that solidifies their decision.
With that in mind, brands should consider these factors when it comes to planning their activity with affiliate partners and when considering their messaging. Online shopping is getting bigger, and it's not going anywhere anytime soon. Therefore, brands that understand and anticipate their consumers' shopping behaviours will have an advantage over their competitors.
Commission Factory offers an extensive network of advertisers and affiliates in various categories including fashion, sports, food, electronics and more. If you want to grow your eCommerce and find relevant affiliates to increase your sales, you can contact our team here.
Likewise, if you are an affiliate wanting to connect and promote advertisers, you can apply to join Commission Factory here.
Sources