Join

Commission Factory and Awin for the Affiliate Management Expo two-day online event.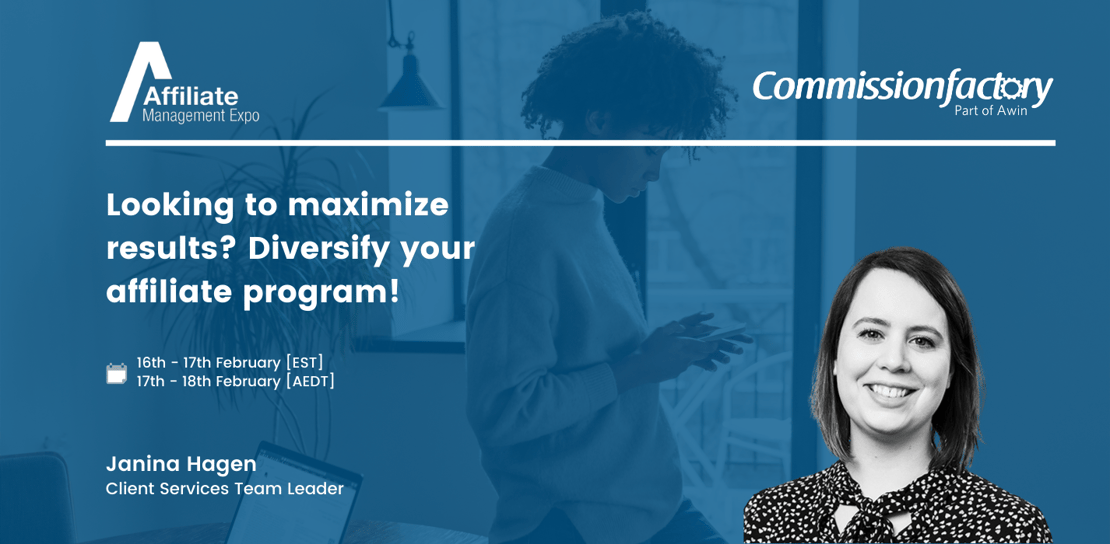 The Affiliate Management Expo is a new online event, which is free to attend. The focus is on helping advertisers understand the value of affiliate marketing and empowering and inspiring them to grow their affiliate program.
Date and time
Affiliate Management Expo two-day event starts at 9 am Eastern Standard Time [EST] on the 16th February/1 am Australian Eastern Daylight Time [AEDT] on the 17th February.
The presentations will be live for 48 hours after the session for those who registered for the free ticket. VIP Access Pass is also available for purchase on the Affiliate Management Expo website, which will give you lifetime access to the recordings.
Affiliate Management Expo Talks
There is an excellent line-up of affiliate industry experts worldwide, with over 20 sessions on affiliate management from affiliate recruitment, affiliate activation, the impact of COVID and how to build relationships.
On the first day, Janina Hagen, Client Services Team Leader at Commission Factory joins the line-up of speakers and will deep-dive into the importance of affiliate diversification and why it is essential for an affiliate program. The session will touch on different affiliate types, their value, and how they fit into a diversification strategy.
Topics over the 2-day event:
Affiliate Program Management 101

Influencer Strategies

Conversion Optimisation

Affiliate Activation Strategies & Tactics

Affiliate Fraud - How to combat?

Emerging Trends

Affiliate Marketing on Mobile

Affiliate Marketing Data & Analytics

Affiliate Recruiting Strategies & Tactics

How to work around Challenges and Threats

Different types of affiliates
On the second day, Jeannine Crooks, Partner Acquisition & Development Manager from Awin will present The Awin Report: A Look Back, A Look Forward, offering some early insight into the Awin Report 2021 due for release later this month.
Register for free and get access to all the presentations for 48 hours after the session. If you miss the event, you can also purchase a VIP Access Pass, which will give you lifetime access to the recordings.