It has never been more important than now, that the consumer comes first, as Australia is in stage three lockdown due to the Coronavirus, it is evident that online retail is where consumers are spending and will continue to spend. The question is what can retailers be doing to instil confidence in consumer purchases?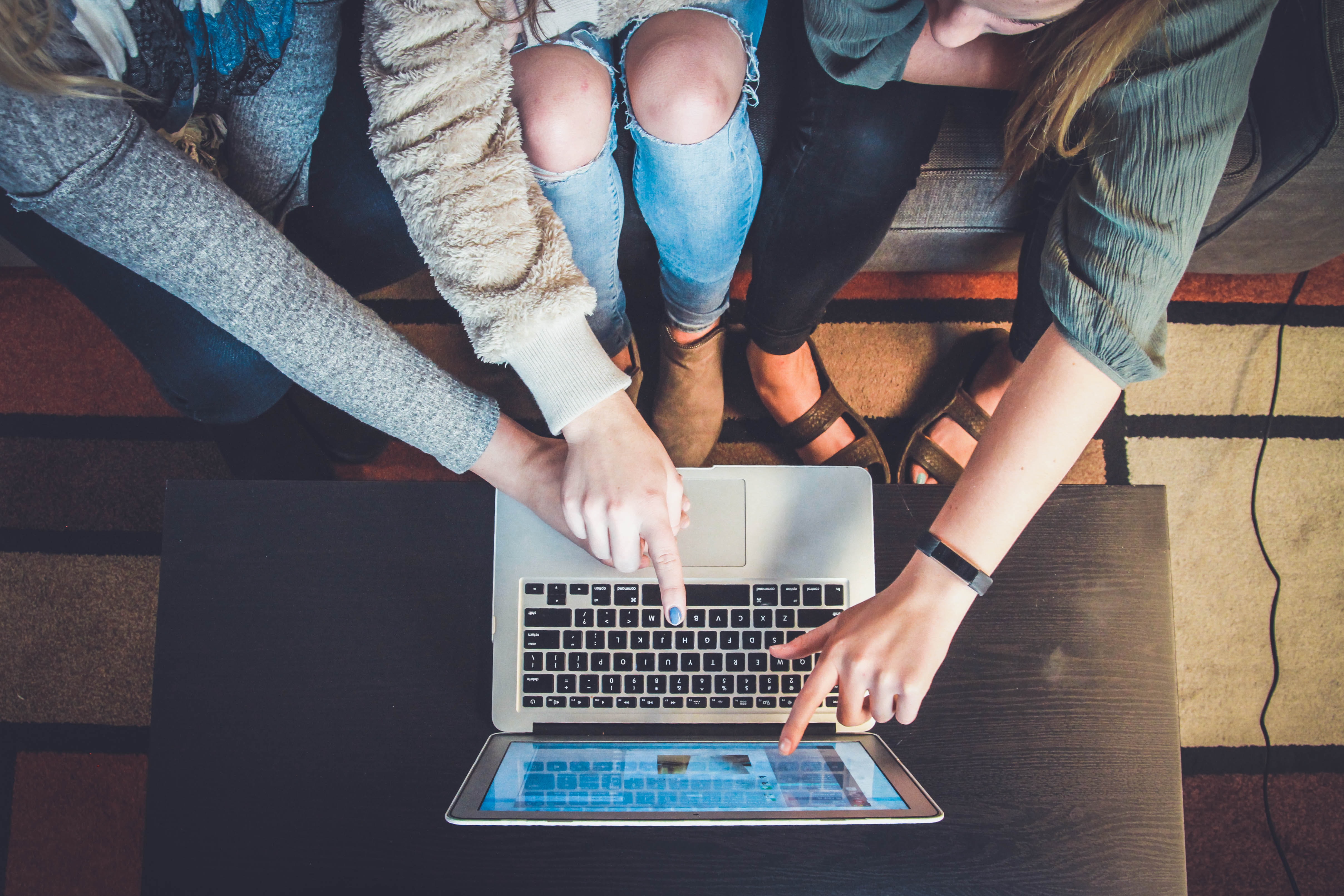 With a 54% increase in revenue YoY for pure-play e-commerce and retailers online activity over the past seven days(1) and with delivery to consumers still allowed for all products, unlike New Zealand who is only allowing the delivery for essential products, although that may change in a few weeks (5), there is an opportunity for online retailers to meet the needs and wants of consumers during these uncertain times.
For any business, whether a vendor, retailer or affiliate it is difficult to determine what the right thing is to do right now, however the unique difference between pre and post the announcement of the pandemic is the fact that Australia is experiencing it together. It is not a specific demographic or subset of people, but everyone who is living through this, therefore retailers and digital marketing experts are able to look through the lens of the consumer more crystal clear than ever before as they are the consumer.
We will be looking at the five things retailers can be doing to ensure consumers can continue to purchase in confidence.
1. Providing customer support & transparency
1. Provide customer support & transparency
It is important you have customer support readily available and information on the business operations during COVID-19. Below is an example of Fantastic Furniture clearly stating all aspects of their service with COVID-19 in mind from contactless delivery and collection services and contactless return and exchanges, Click & Collect delays, as well clear messaging on in-store and online open.
Making sure your customers are up to date and aware of the process for order and for delivery and timeframes has never been more important. If the business has procedures in place for COVID-19, it is worth making this visible and accessible for customers.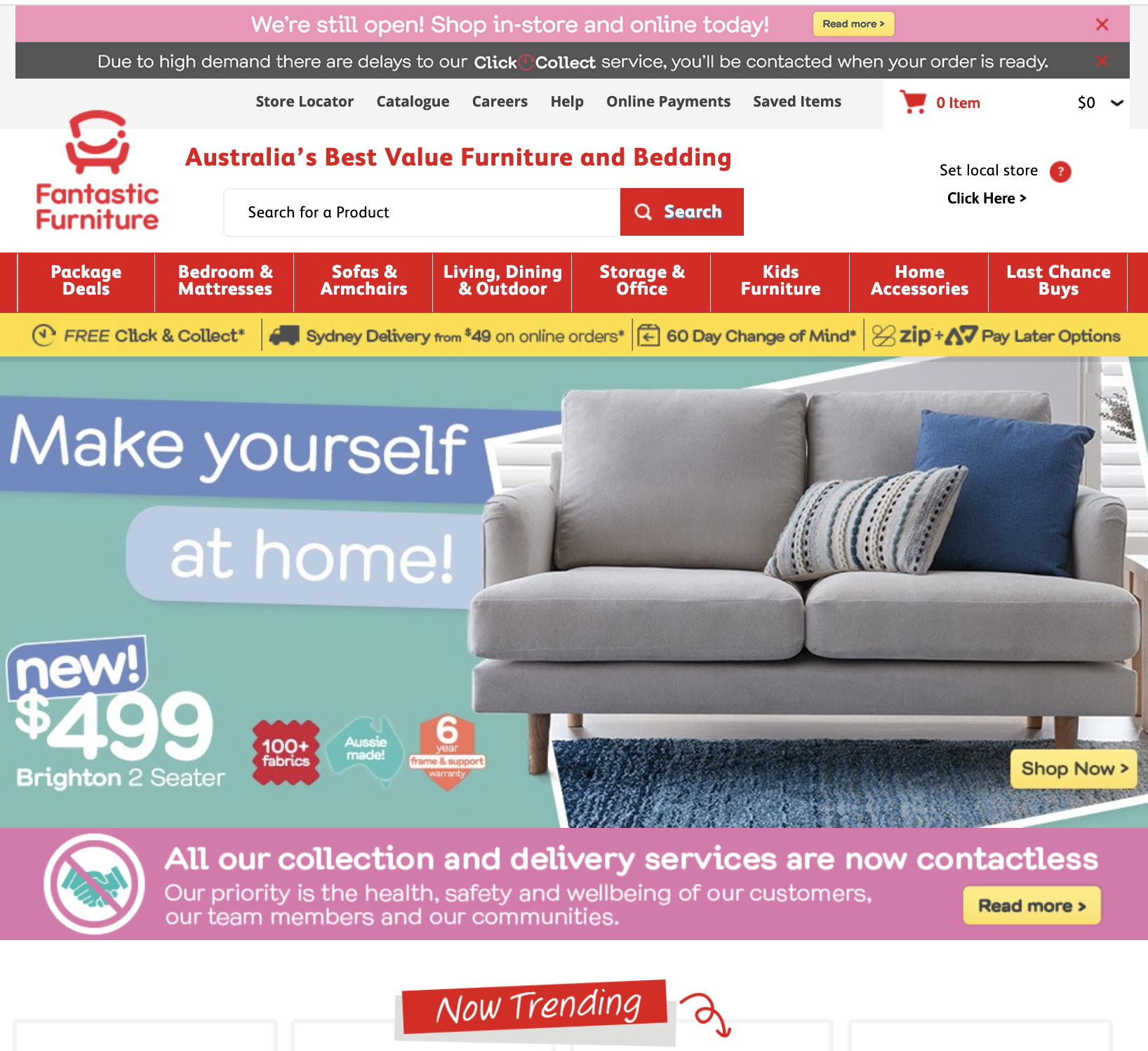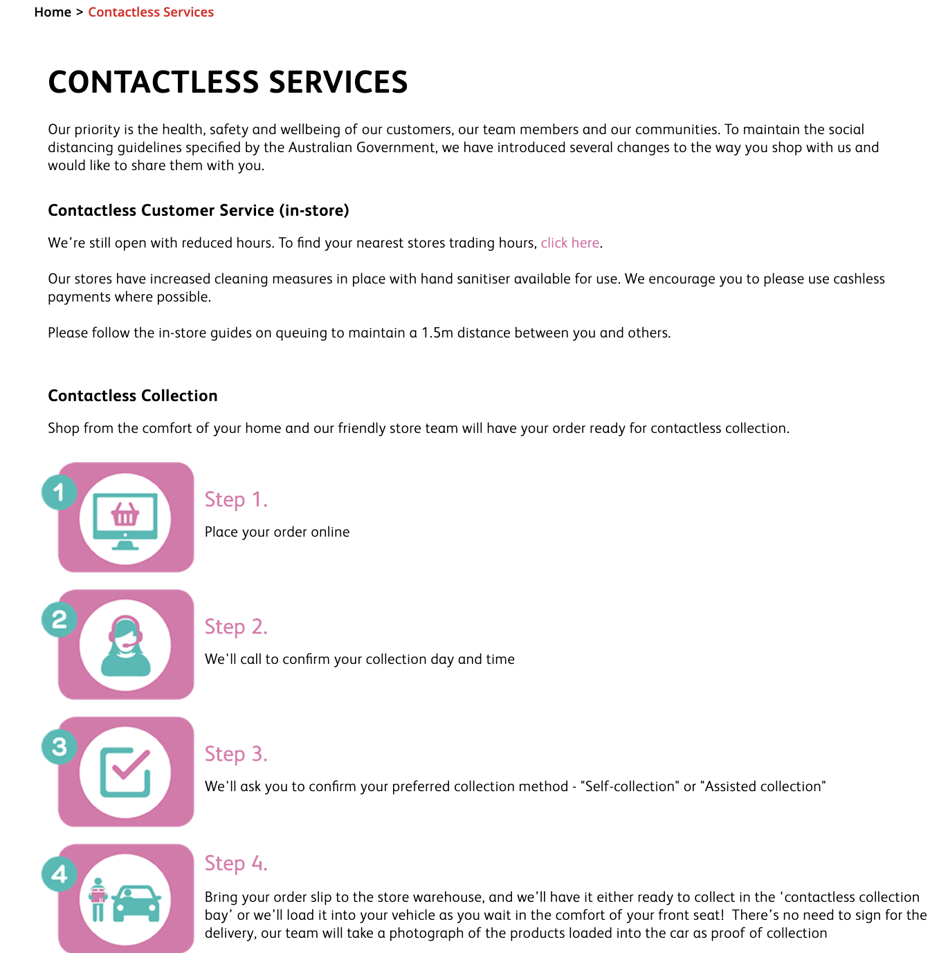 During difficult times, it is even more important to keep customers and potential customers informed and to be transparent, to give them the confidence to purchase products from a retailers site.
In the below example Adairs is an example of addressing customer uncertainty in a subtle callout above the fold around ordering online, delivery time and a link to their response on COVID-19. It is succinct and visible for anyone landing on the homepage. It is providing rest assurance to the customer, whilst managing expectations on delivery.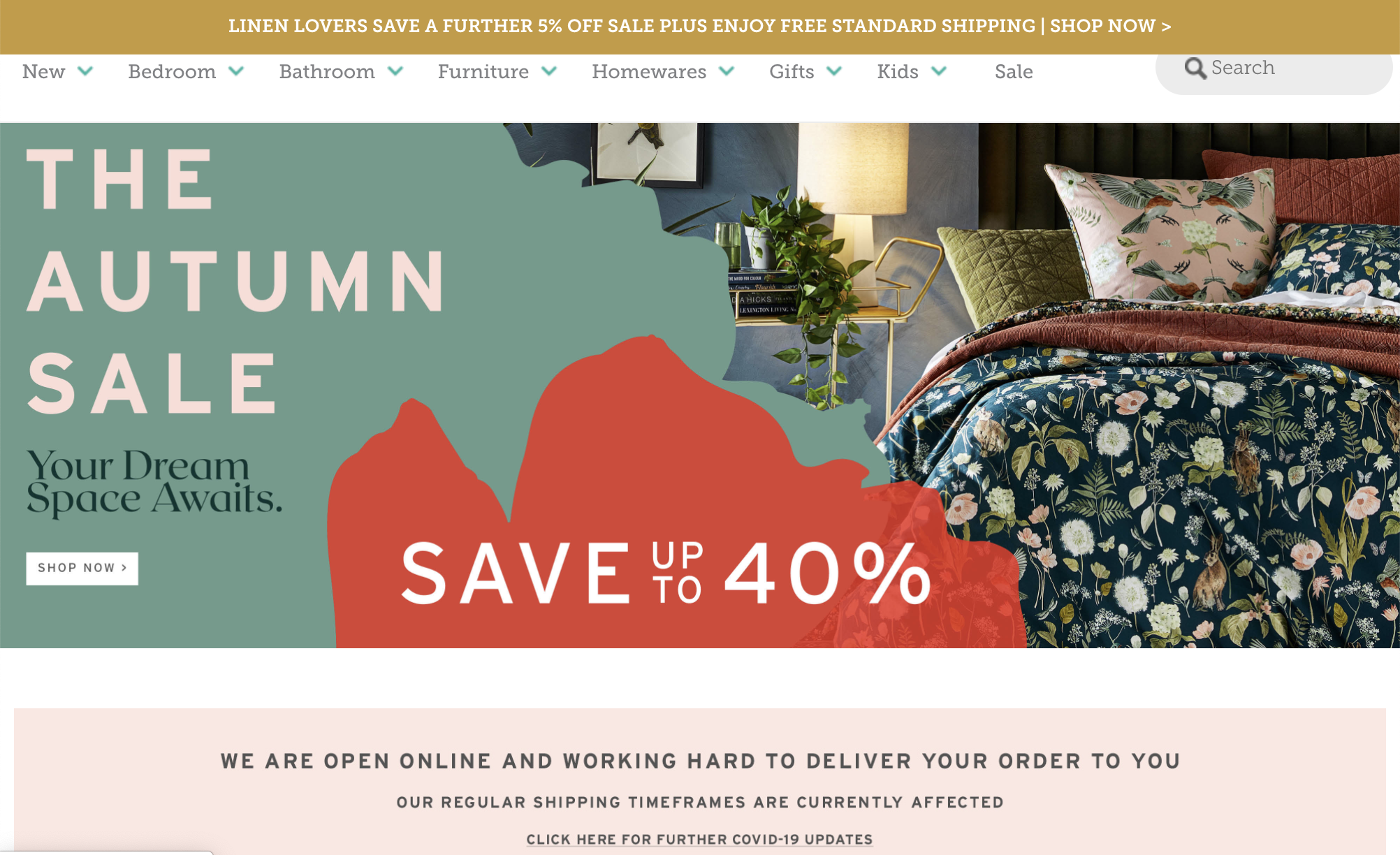 Adairs response to COVID-19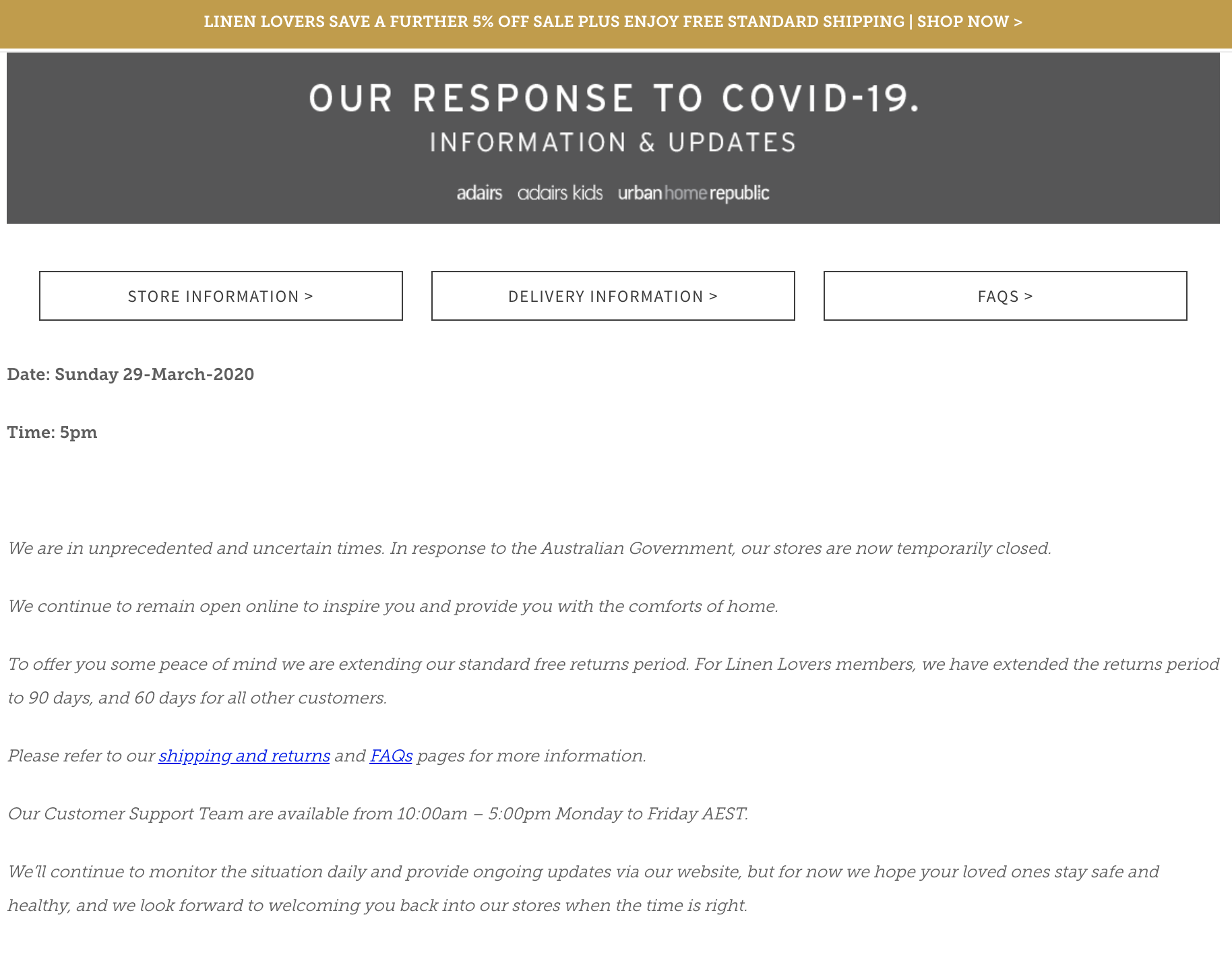 2. Evaluate Pricing
With 54% of Australian consumers reporting that brands should offer free services and 76% (2) of Australian consumers agree that brands should offer flexible payments, retailers will benefit from looking at their pricing amongst their competitors and the available payment plans on the site.
Below are examples of the Superdry and JuliusMarlow sale being prominently promoted on their homepage, over their general range, anticipating the potential reluctancy to spend and price sensitivity some consumers may have right now. In the Superdry example, as Australia are in stage three lockdown, which effectively means lost sales in-store, the retailer is leveraging their online store to make up for the gap on in-store sales.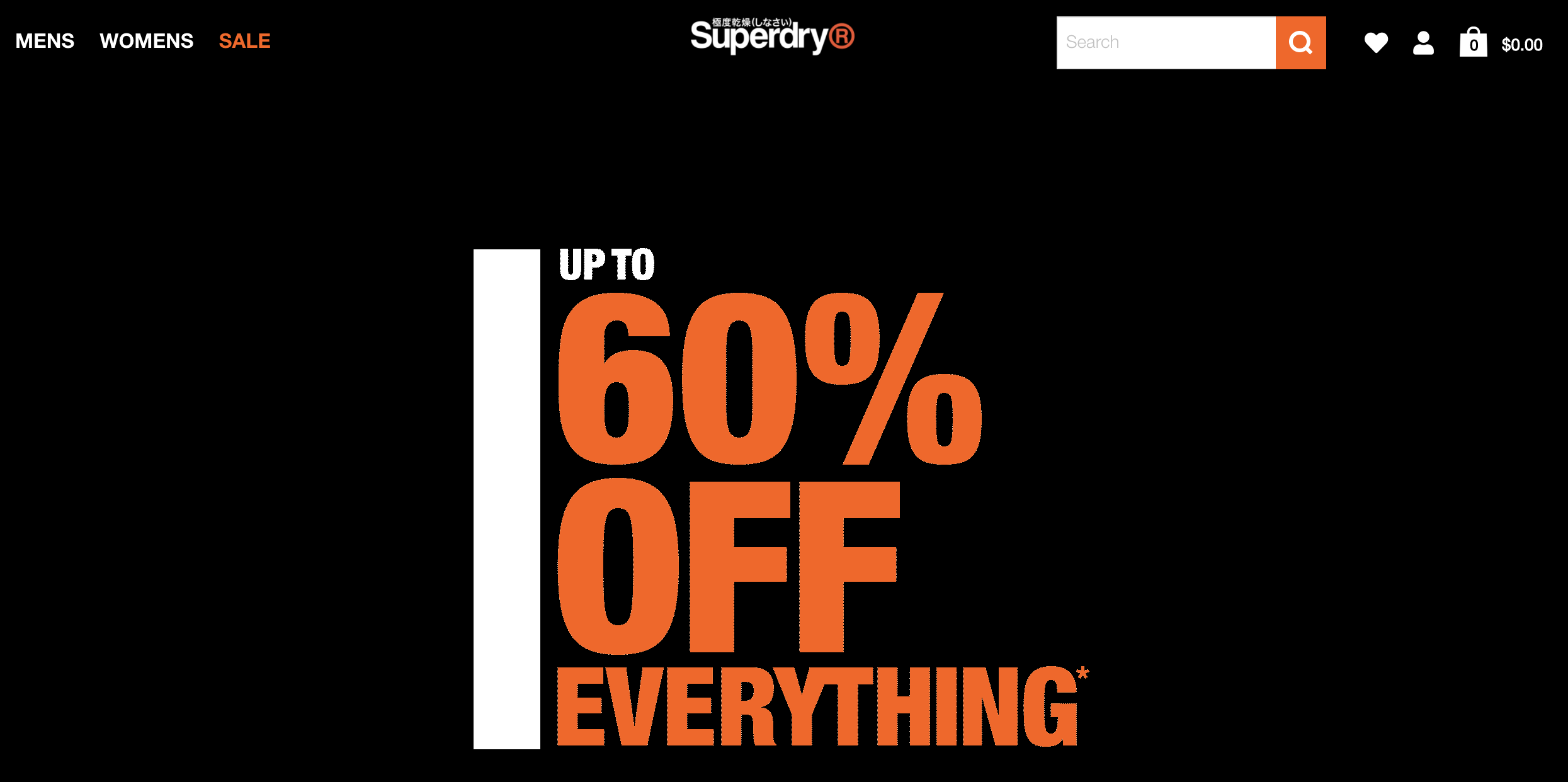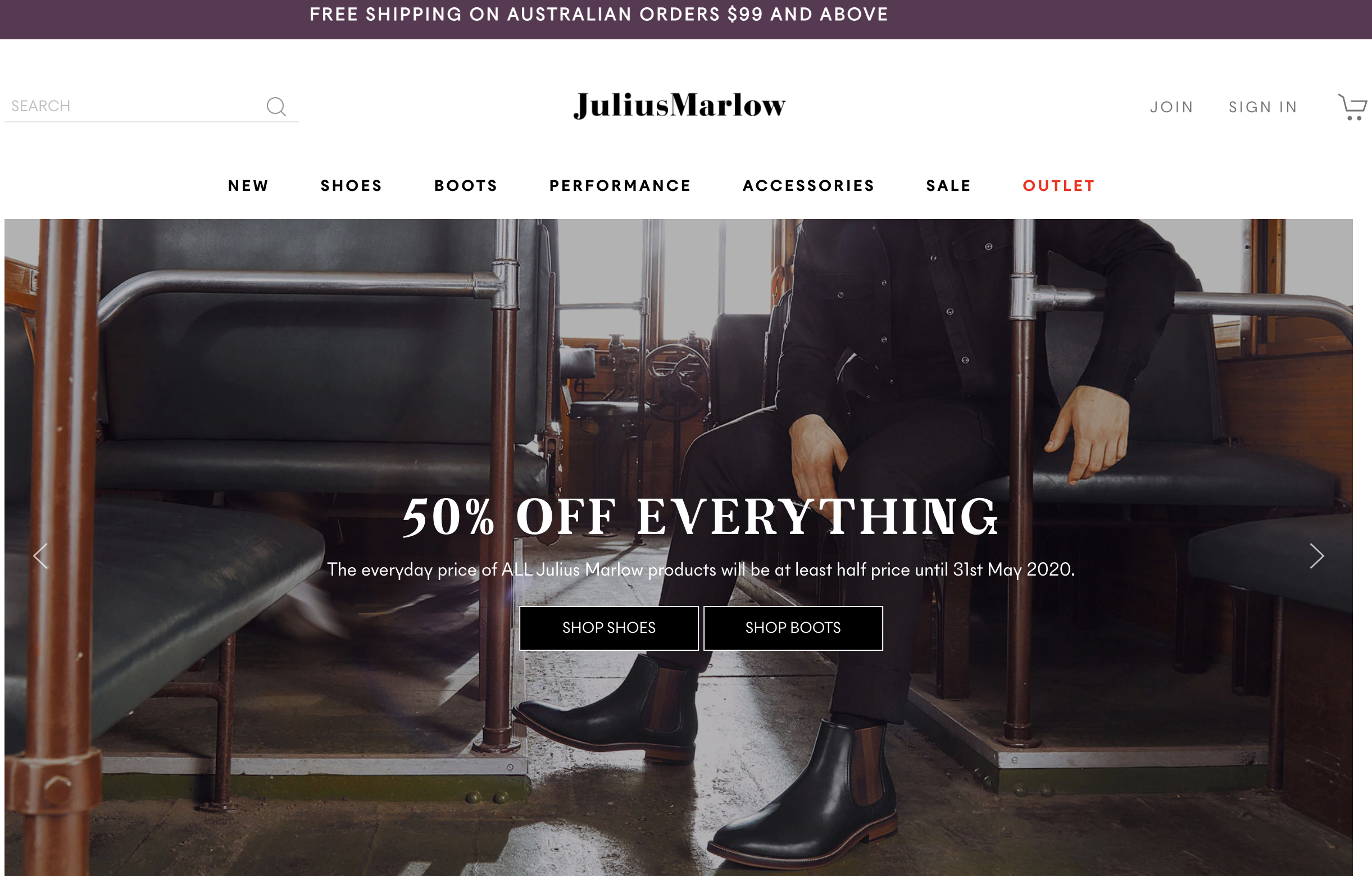 Retailers can also look at the following:-
Spend and stretch offers - Setting out minimum spend thresholds with an increased discount for each threshold. For example: Spend $50 and get 5% off, Spend $60 get 10% off
Buy one get one free
Discounting on products with a higher profit margin
Free gift offer - End of life stock could potentially be added on to order above a certain spend threshold
Bundle Offers - Depending on what the sector, there may be a number of products that make sense to be purchased together, therefore retailers can make the consumers' life easy and create bundles with these products included at a discounted price.
3. Contactless Delivery
Whether it is on the homepage, the checkout page or confirmation email, it is worth addressing how products will be delivered. Pizza Hut is a great example of a clear callout on contactless delivery and pick up.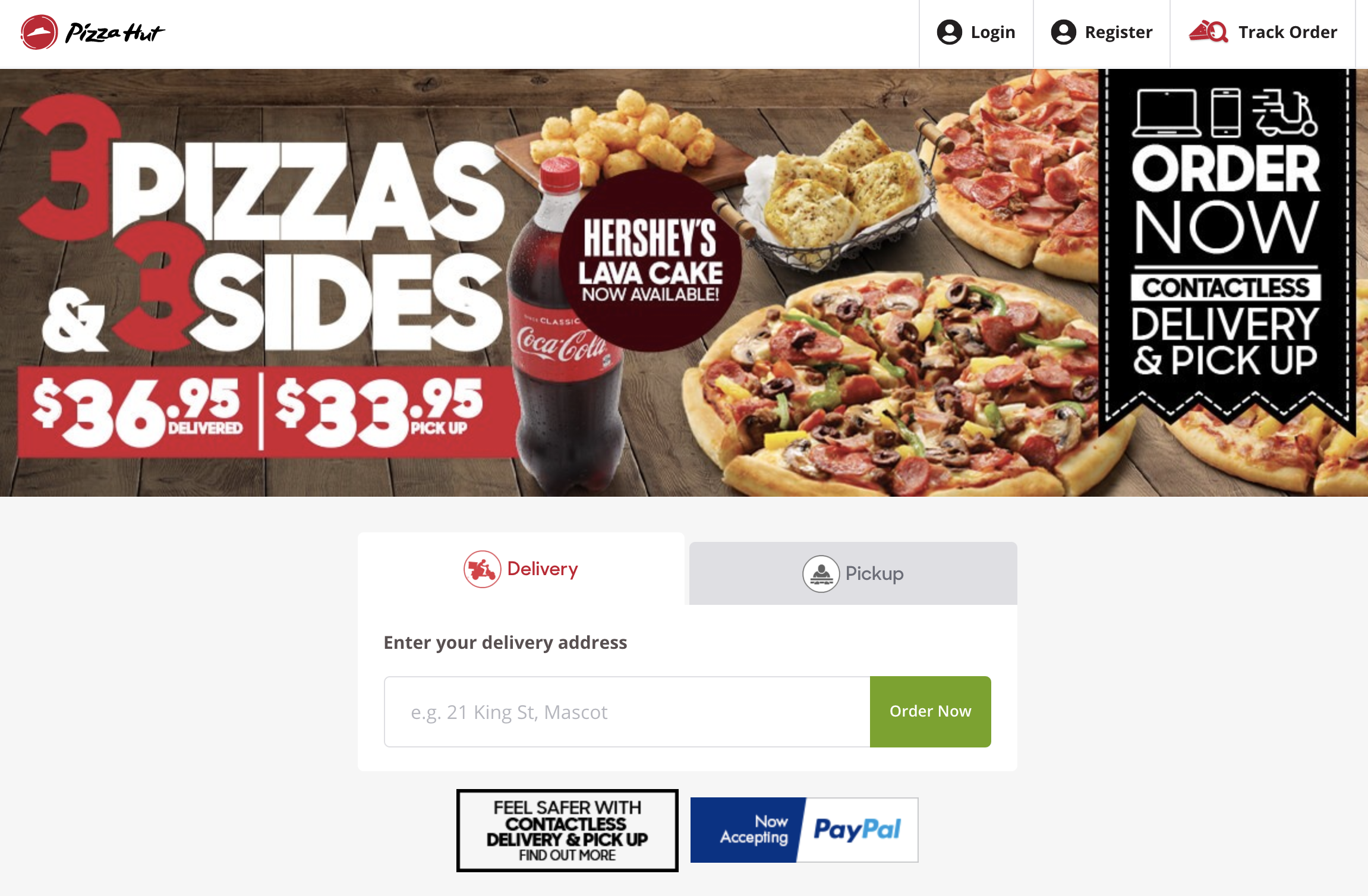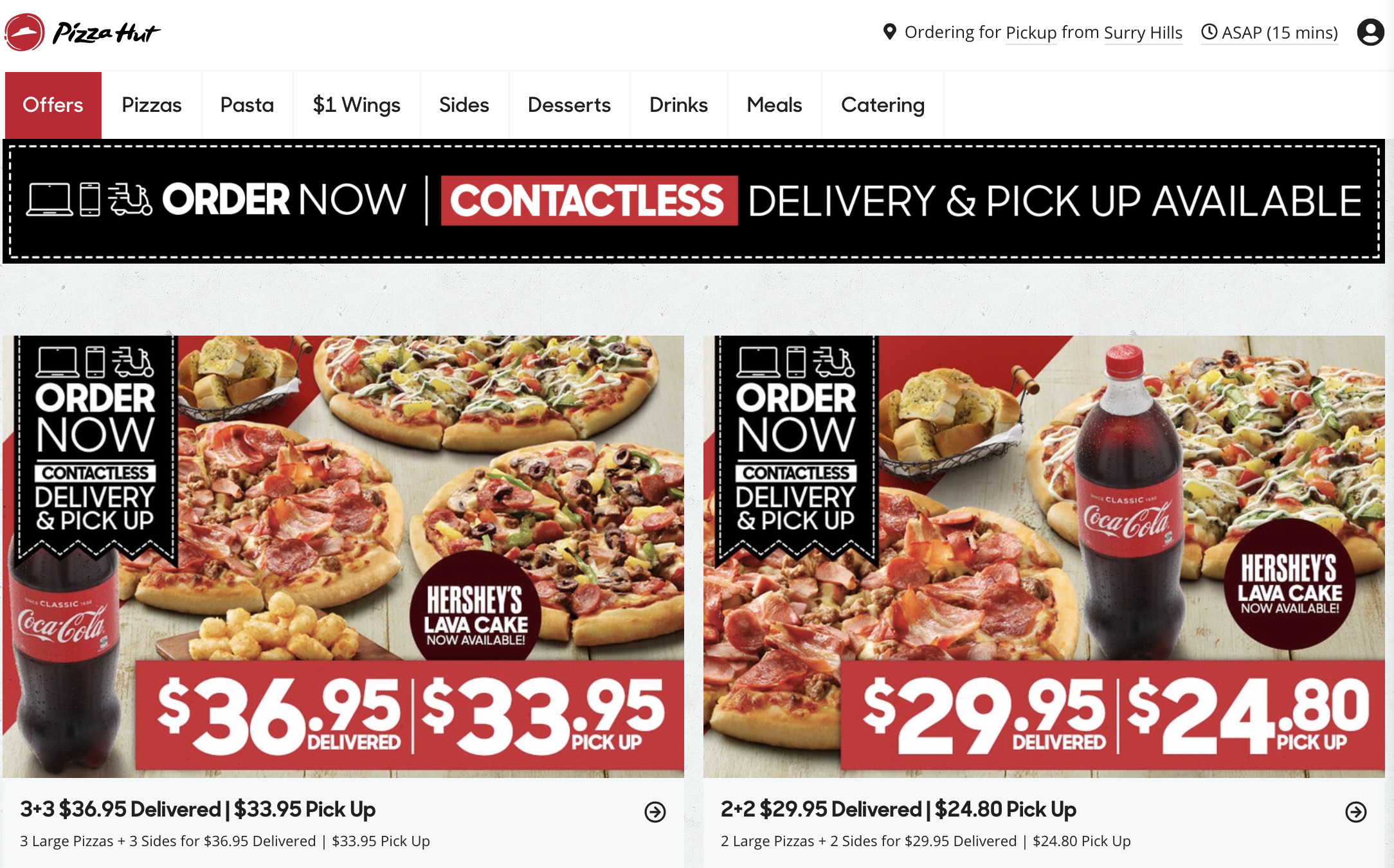 4. Fulfil consumer demand
With consumers adapting to a new "stay at home" setting, the split between different demographics, below, highlights the areas of interest and the opportunity for the retailers. On top of that, it was reported that 95% of consumers are spending more time on in-home media consumption (global).(3) It may be surprising to note that younger Australians aged 13- 24 age group is seeing the largest growth in consumption for food and cooking content.4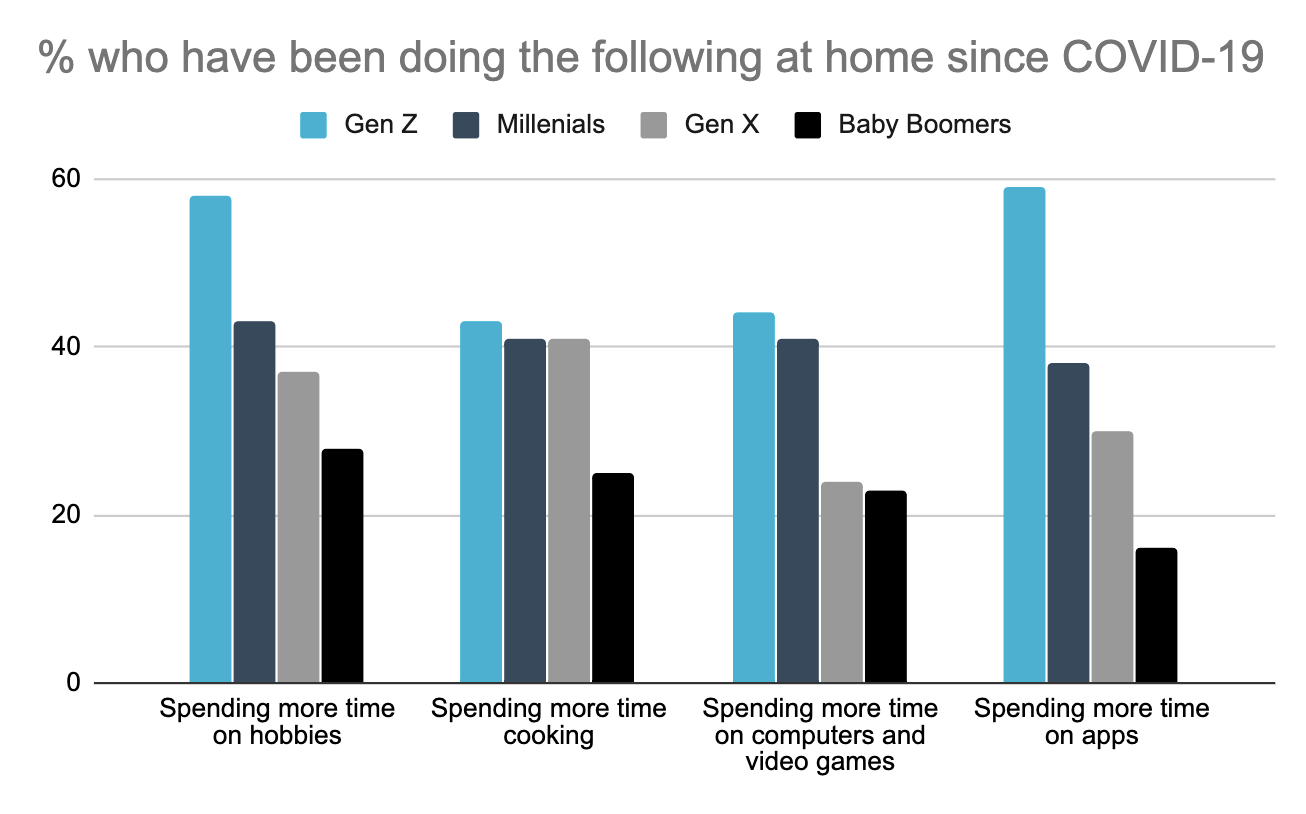 Source: GWI, Global study from GlobalWebIndex across multiple markets, Date: March 16-20 3
With consumers continuing to purchase, it is about retailers shifting their focus to fulfil the stay at home hobbies, activities and needs suitable to their new world and day-to-day situation.
Bing Lee is an example of a retailer tapping into the home entertainment and cooking on their homepage. With the 54% increase revenue YoY it is clear that consumers are still spending money online, in-line with the data from the GlobalWebIndex study regarding the areas of interest.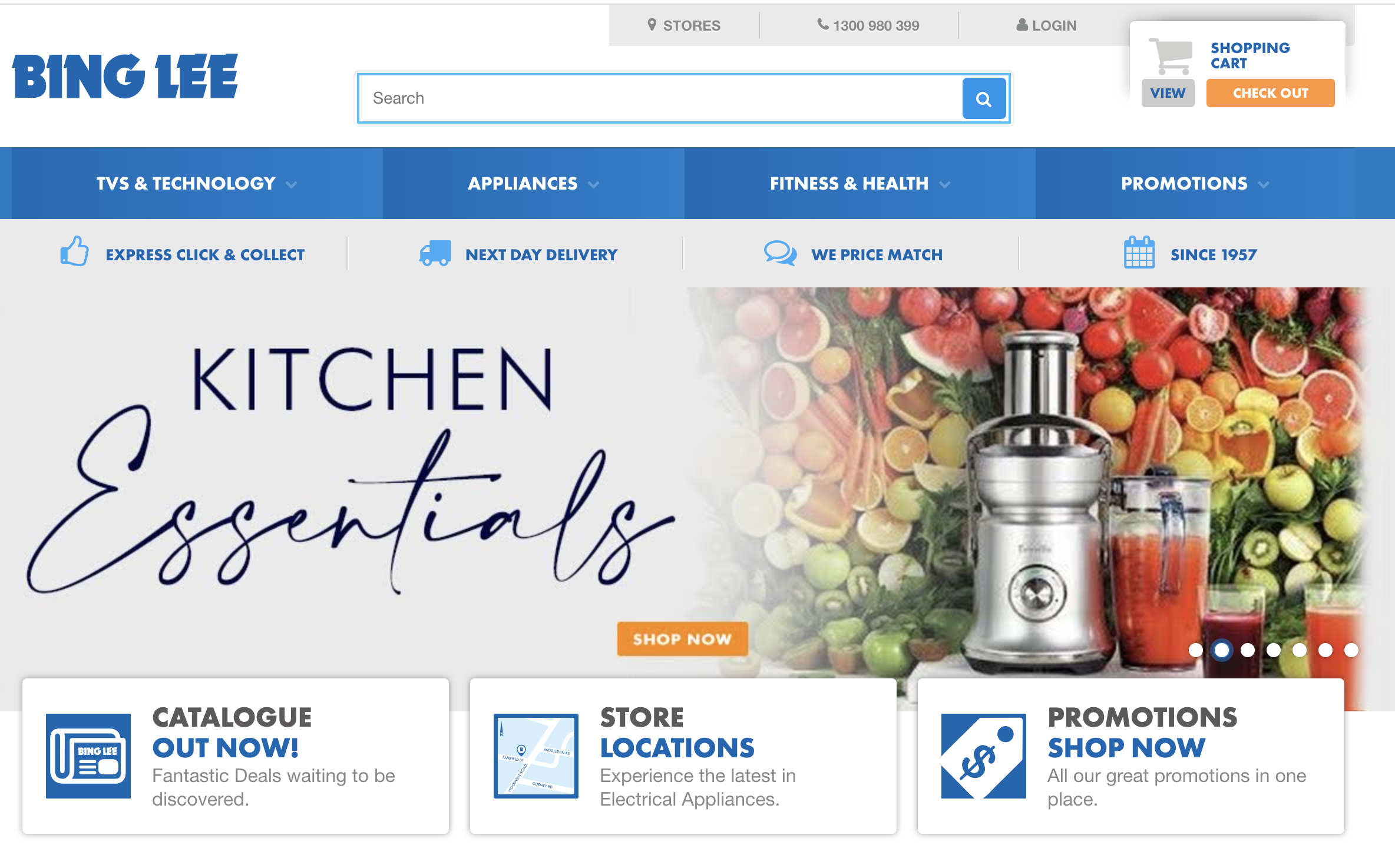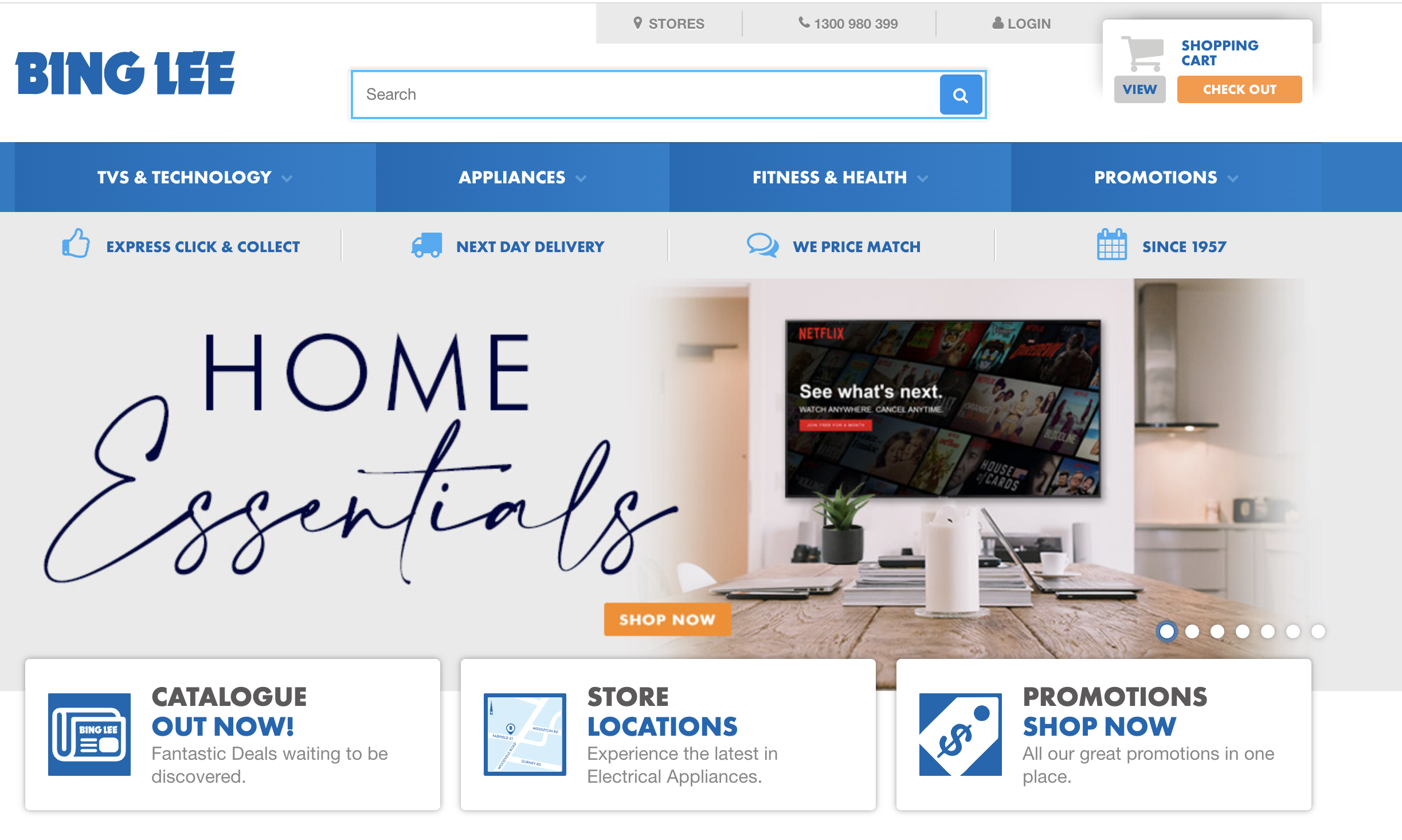 An example in New Zealand is TheMarket, with restrictions on delivery only on essential items, they shifted their product focus on selling essential items to help provide things people need the most right now e.g. Foodbox and Baby essentials. Having the products consumer want and in this case need, on the homepage carousel and above the fold means the consumer can find what they are looking for sooner or in Australia inspired to explore a specific product that is relevant to their circumstance.
TheMarket also has their essential product categories on sale and that they are "open" for business in the site top site banner, as well as their COVID-19 response top right next, just below the basket icon. TheMarket demonstrates that you can subtly communicate the business's position, measures and response, without taking away from the consumer experience.
"We are proud to provide access to essential food, beverage, personal, pet care and electronics for Kiwis while donating all profits during L4 to local charities and supporting frontline workers"
Justus Wilde, CEO of TheMarket
5. Remain front of mind
For those retailers whose business involves larger purchases, 23% of Australian consumers say they will buy major purchases they have delayed only when the outbreak decreases or is over in Australia.3 It may be worth looking at the areas highlighted above and seeing where the business can support customers on lower ticket price items, provide flexible payments, as well as stay front of mind, for when consumers are ready to purchase. Or providing content to support consumers during this time, as well as generating content around on larger purchases for when consumers are ready to purchase where appropriate. Although consumers are not ready to purchase now, they are looking to purchase at a later date.
% who say they've delayed purchasing the following as a result of the COVID-19 outbreak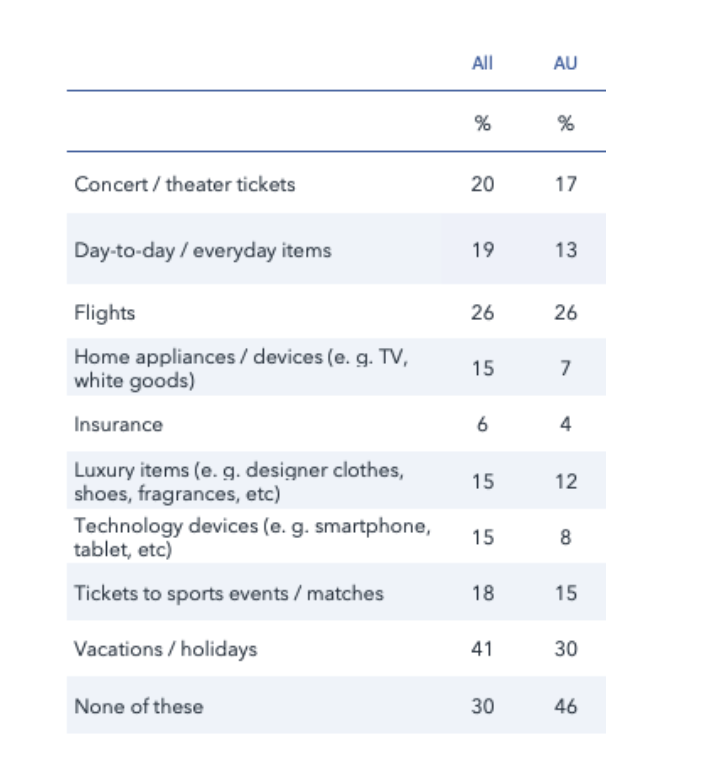 Source: GWI, Global study from GlobalWebIndex across multiple markets, Date: March 16-20 3
Beyond messaging and pricing, it is worth retailers ensuring that their website is up to speed and it is a seamless user experience, whether it be on desktop or mobile. Although consumers may have more time to shop on-site, it does mean consumers have more time to find another retailer that suits their needs, easier to navigate and a retailer that provides them with the confidence they need to complete a purchase. The most important thing for retailers right now is to be human.
Stay safe.
Sources
Google report: Consumer attitudes and behaviours: March 2020 - Changes in consumer behaviours in Australia and global