Making the right decisions during turbulent times can be difficult. And whether you should continue to invest in influencers can be a conundrum. MagicLinks shares trends from the frontlines of eCommerce.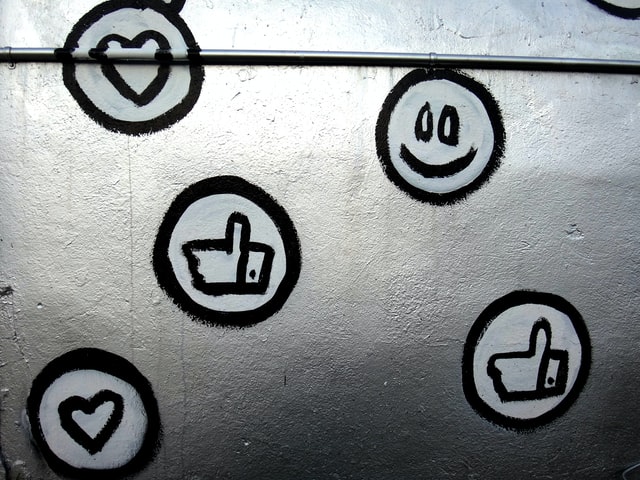 We're officially on our way to week 5 of global social distancing and this not-so-normal, new normal. If you are like us in full WFH flow, this just about sums it up (won't you break for a laugh + thank me later).
With every day flying by and tomorrow, seeming to be unknown , we thought we would bring you some high-level bites to arm you for the programmatic decisions many of you are having to make in the near-term.
For the last 30 days:
Audiences are moving away from Coronavirus-specific content on YouTube and Instagram (views globally -50%) and instead turning to content that breathes some sense of normalcy to our lives in quarantine -- fashion, beauty, and vlog content is seeing a sharp climb of +35-45% (Source: Tubular)
Australia and New Zealand audience engagement on social video has increased significantly with clicks YoY +150%, and +80% MoM (one of the steepest climbs by geography we've seen).
Globally, organic influencer content is up over 20% and we are seeing a rise in non-traditional, celebrity-level creators sharing products (like Georgia Fowler)
Curiously, shoes are having their moment (+1,200%) as a top 3 category via top drivers Nike, Adidas, Crocs, and DSW - mostly driven by price reductions + COVID-19 related givebacks.
One overarching theme that has become abundantly clear is that the short-term decisions you make now with influencers can have dramatic consequences on the post-quarantine future. Let's dive into this further with some animal work.
We're witnessing classic bull and sheep investment behaviors playing out. Bulls look for growth opportunities within down markets, and adapt strategies to capitalize based on a longer view. Sheep tend to follow the herd, often missing out on the most meaningful moves in the market as a result.
Here's a chart comparing the number of influencers supporting 2 big box retailers since March 1. The dotted red line signifies when one of the competing brands chose to pause their influencer program: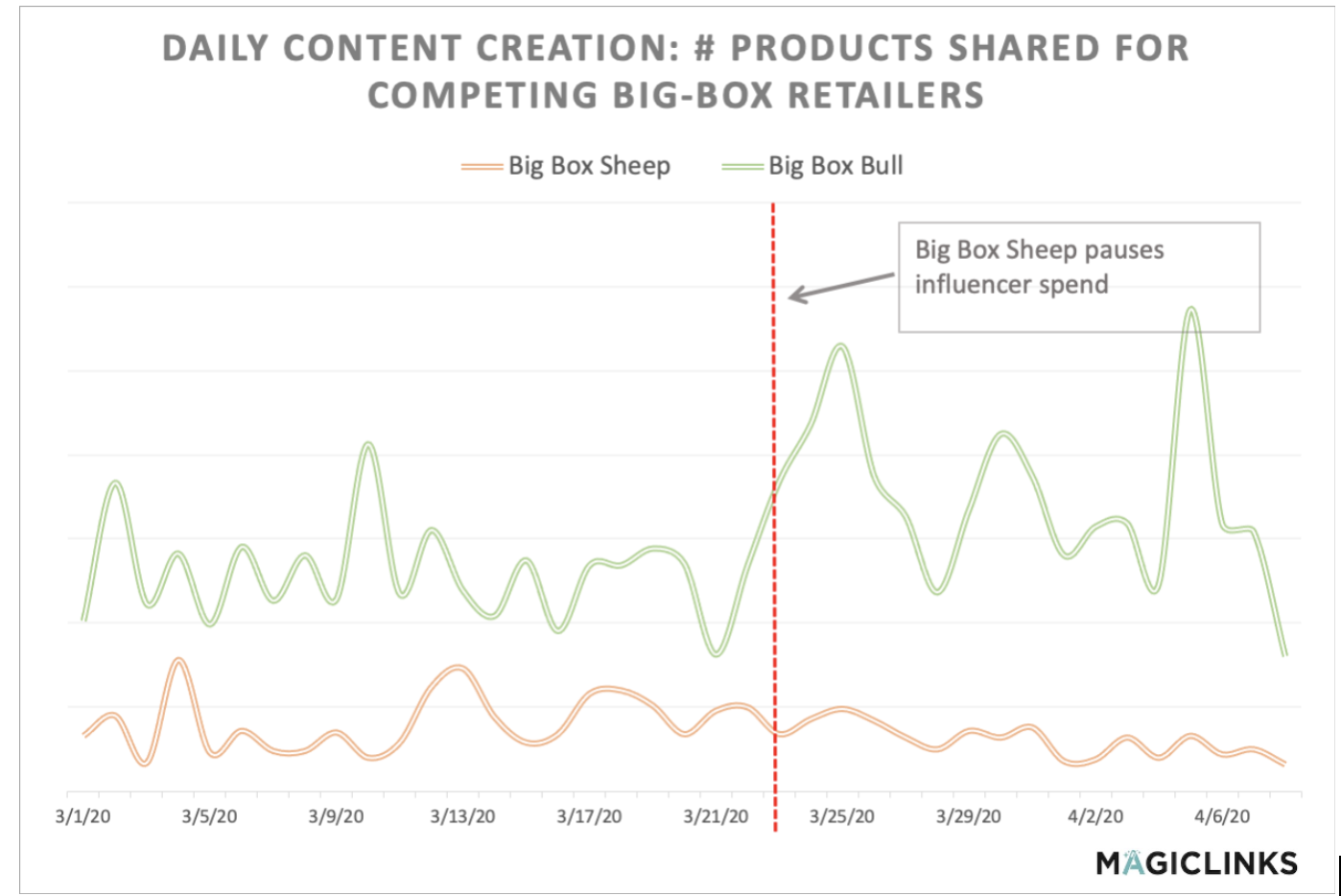 In just over 2 weeks, the sheep has lost -26% while the bull that stayed the course has gained +32% market share, absorbing what the sheep left behind. The bull's peaks -- post-pandemic/influencer investment -- are all-time highs. We can't see into the future, but we do know that once influencers see healthy returns from a single retailer, it's difficult to sway them elsewhere.
Now, even 3-day lapses can have detrimental effects in the longer-term. Let's look at 2 large beauty retailers as evidence: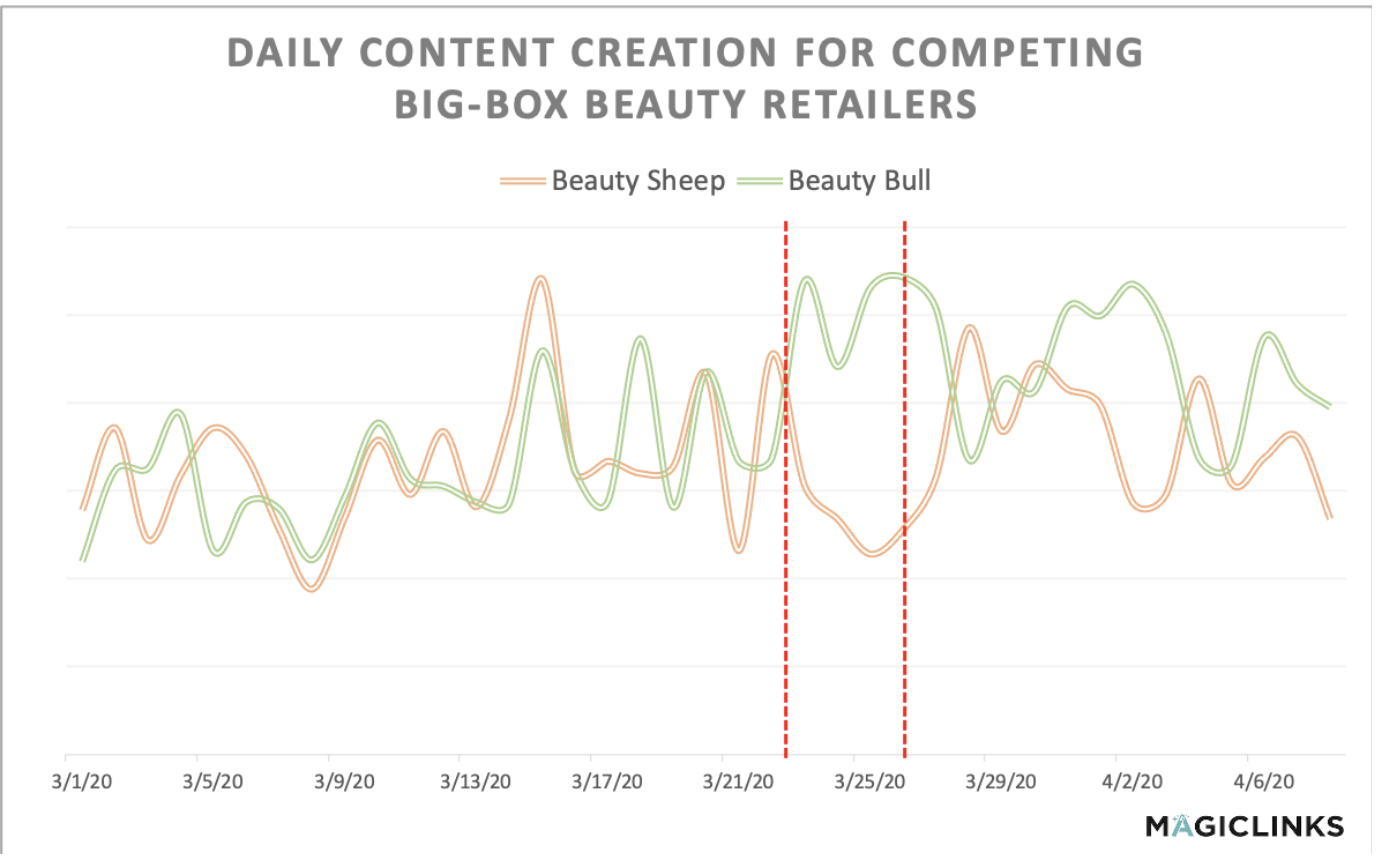 72 hours in a crowded, frenzied media landscape without reference to your brand is long enough to lose loyalty -- in this case, an immediate drop of -17% from the beauty sheep sent +59% to the beauty bull. In retrospect, it's clear that the sheep felt those pains, and quickly adjusted, yet the recovery has been slow at +11%, while the bull is triple that at +34%.
We know that the pressures to perform are immense. Resources and solid partnerships are more important than ever. Our advice: lean into the data, and try not to let your short term temperament affect your long term decisions.
Grab the bull by the horns,
Jen
MagicLinks powers social commerce through an exclusive marketplace for video influencers and the world's leading brands. Since 2015, our community has influenced $850M in customer transactions through social videos seen by 23B and counting.