My Muscle Chef pairs with local Sydney influencers to demonstrate how brand and publisher fit is crucial to a campaign's success.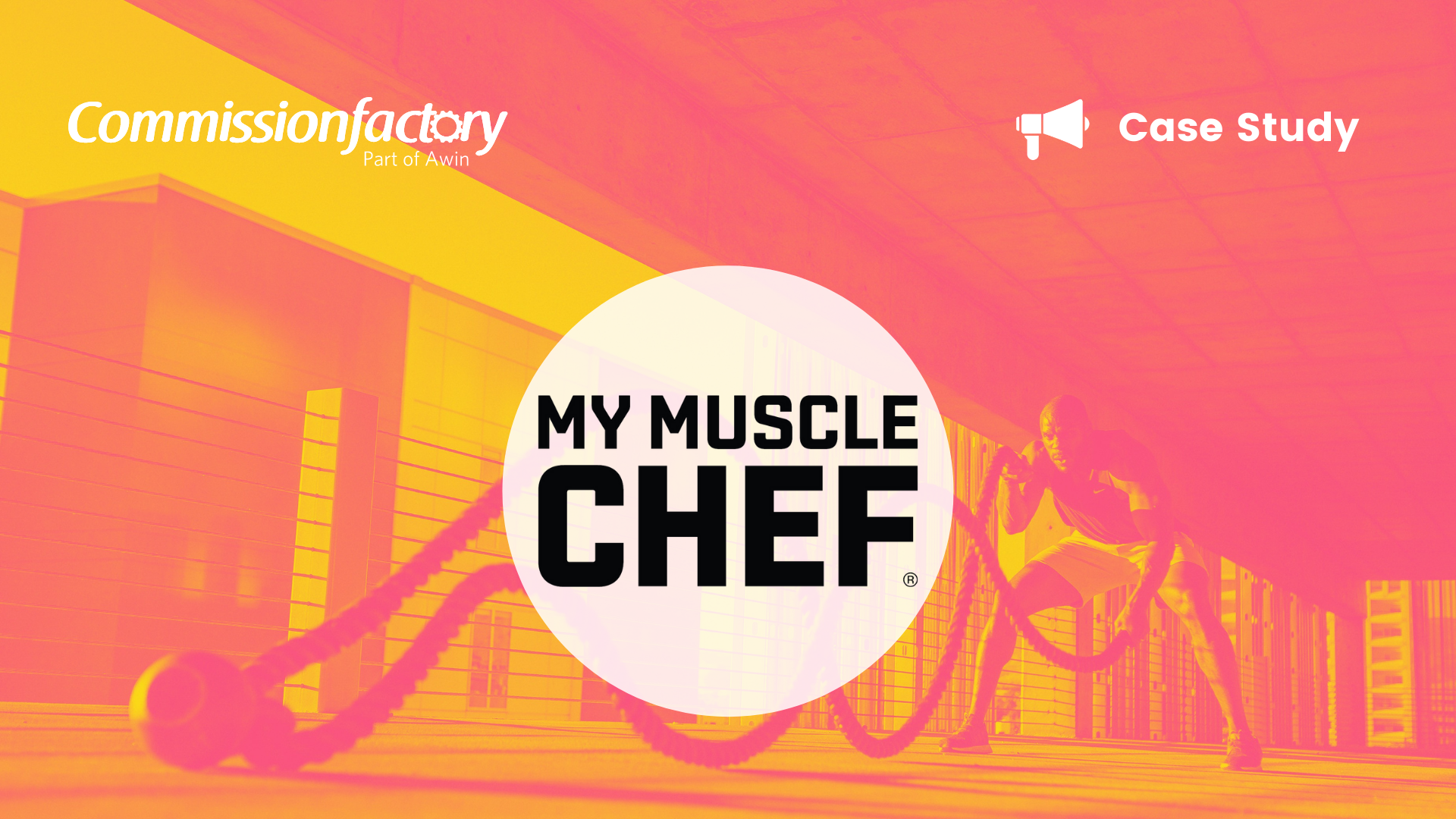 About My Muscle Chef
My Muscle Chef is a leading Australian meal and snack food company that provides healthy, ready-to-eat meals using fresh and high-protein ingredients. The company targets time-poor and health-conscious individuals who want a convenient, healthy meal.
This renowned food company in Australia delivers over 1.6 million meals every month across 4,500 Australian suburbs. With the Australian ready-made meal market expected to grow to AUD 1.6 billion by 2024 (1), My Muscle Chef is a brand that's poised to grow with the trends.
Objectives
Acquiring new customers and increasing market share was a big objective for the company. Therefore, My Muscle Chef required an affiliate strategy that could achieve the following goals:
Trial an 'outside the box' campaign in the affiliate space.
Partner with an affiliate in the social vertical to deliver results that are comparable to in-house My Muscle Chef brand ambassadors.
Increase their affiliate program's overall revenue by 20 per cent quarter on quarter.
Commission Factory identified that the company needed to grow their affiliate program, particularly in the social affiliate category. The team at Commission Factory introduced Instagram influencers '@eatingupwiththehannashians' as a social media publisher for My Muscle Chef.
eatingupwiththehannashians has a sizable 62,000 followers on Instagram, and they are known for their popularity in the local Sydney community. The social media publisher also had a good niche in their food content, which included video reviews of trending snacks and meals from local Australian grocery stores. As such, there was a clear synergy between brand and publisher.
"We have always been open to new and unique ideas with our marketing campaigns to get our brand out there. Our product competes in such a saturated and on-trend space that we need to ensure that our marketing material is different, distinctive, and eye-catching to remain relevant and maintain a competitive advantage.

Affiliate marketing is a key channel for us. It has helped significantly build and maintain our solid online presence, so when Commission Factory came to us with this new campaign idea that we hadn't explored in this channel before, we were on board."
Ashleigh Gardiner, Head of Data and Measurement, My Muscle Chef
Solution
Commission Factory designed a campaign called A week of My Muscle Chef meals. The campaign strategy involved My Muscle Chef sending '@eatingupwiththehannashians' various meals of their choice for one week to review via Instagram video posts. The social publisher's videos were posted during the peak lunch break each day, focusing on advocating My Muscle Chef's convenient and healthy meal options.
The reviews also included an 'EATUP20' code, which gave viewers $20 off their first order incentive. Commission Factory created and assigned this new customer exclusively to the affiliate indefinitely. Additionally, Commission Factory's assigned a clickless code functionality, in which campaign performance was tracked and attributed to the influencers without the need of a tracking link.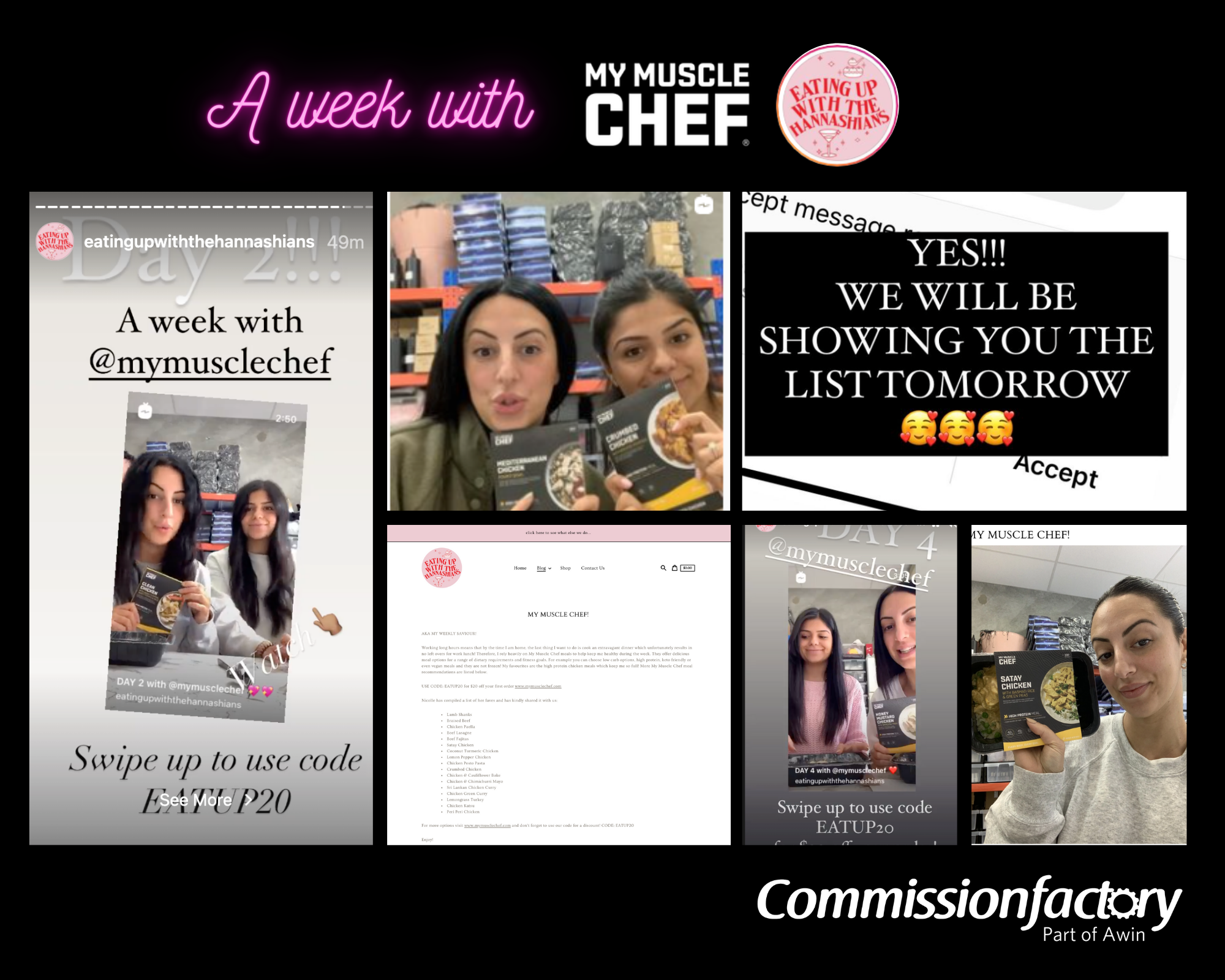 Results
Each video from '@eatingupwiththehannashians' received 5k to 10K views in the first week of it being live. It also received many positive comments from followers, who tagged their friends to spread the word and shared their satisfaction with My Muscle Chef meals in their personal Instagram stories.
Within hours of the social publisher's first video and 48 hours of the campaign going live, '@eatingupwiththehannashians' became the brands top ten performing affiliates and surpassed their KPI's. Additionally, the publisher outperformed over 200 in-house ambassadors average target by +600% across all digital channels for two consecutive fortnights.
The 'A Week with My Muscle Chef' campaign contributed to a 33.55 per cent quarter-on-quarter uplift of sales revenue on the affiliate program for the brand. '@eatingupwiththehannashians' had accounted for 5.8 per cent of new customers and 17.3 per cent of new customer revenue in the period that they have been live for My Muscle Chef.
"Even though we understood the girls' reach, we were pleasantly surprised by how well the campaign did, how they quickly became our best performing ambassadors and for two fortnights straight, surpassing our ambassador KPIs. The wider team couldn't ignore this, and since then, further collaborations have been discussed within the affiliate space and branching out to other key channels. The Hannashians have remained in the top 1% ambassadors since the collaboration started."
Ashleigh Gardiner, Head of Data and Measurement, My Muscle Chef
Key Takeaways
Creating a good affiliate campaign requires a strong brand and publisher fit. The 'A Week with My Muscle Chef' campaign worked not only because both brand and publisher operated in a food niche but also due to their similar target market. Besides that, the publisher was also credible as a local, trustworthy voice to their followers.
Understanding brands' fit with publishers requires skill, network, and experience. Commission Factory is an affiliate platform with vast expertise and publisher reach. As such, we were able to generate a great brand and publisher pairing with a great campaign.
If you are an advertiser looking to innovate your affiliate marketing strategy, get in touch with us about working with Commission Factory. If you are a publisher looking to join the My Muscle Chef program sign up today.
We are very proud that the campaign was awarded Highly Commended for Best Performance Marketing Campaign APAC at the International Performance Marketing Awards.

If you are an advertiser with Commission Factory and would like to showcase your program, campaign or work, you can now submit your case study idea for the team to review.
Source
1. The rise of the ready-made meal market and cold storage in Australia