We share how our fellow staff members and publisher partners have broken the bias and who they are thankful for this International Women's Day

.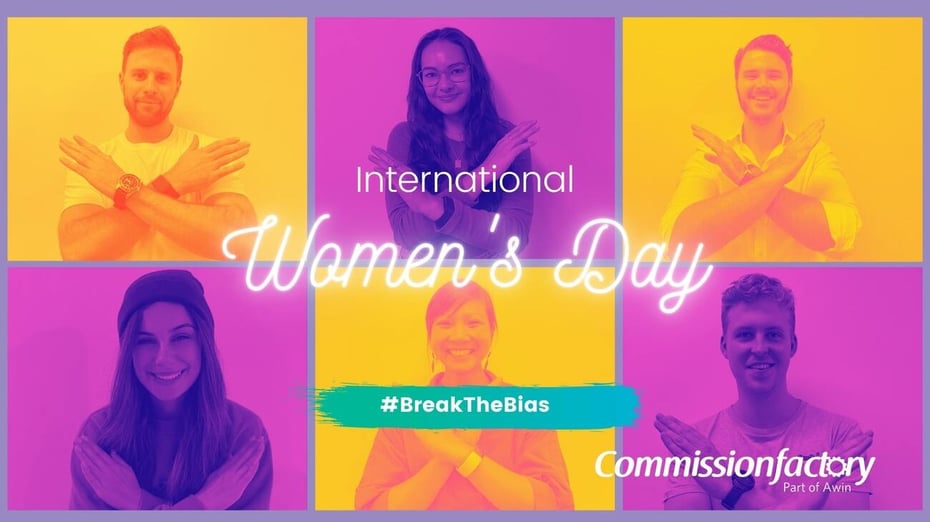 This year the International Women's Day message is:
Imagine a gender-equal world.

A world free of bias, stereotypes, and discrimination.

A world that is diverse, equitable, and inclusive.

A world where difference is valued and celebrated.

Together we can forge women's equality.

Collectively we can all

#BreakTheBias.
Over the past few years, women have become more confident, open and outspoken about their equal rights, how they feel, what they want and need within their community, life, and workplace. Not only are women becoming advocates for themselves, but they are also learning to do this for one another by championing the women around them.
Whilst we have come a long way, we still have a long way to go. International Women's Day in 2022 highlights this fight even more with the #breakthebias theme.
Commission Factory believes in empowering staff to break boundaries and drive actionable change, smash stereotypes, and welcome all, no matter their identity.
Being a diverse and inclusive company, Commission Factory has been certified as a Great Place to Work based on an impartial employee survey. Since its founding, Commission Factory has employed its staff based on skillset and talent, in return providing them with a safe and progressive environment with all the tools needed for growth and success.
This International Women's Day we found out how our staff and publishers are breaking the bias within their lives and learned about who they want to thank this IWD and why.
In line with the IWD #breakthebias theme, what is one way you have broken the bias in the workplace, community or day-to-day life?
"When my sister Julie and I cofounded Stylerunner over a decade ago, although we knew it was a brilliant idea, it was tough to get our message through to investors to help grow our business. Despite making waves globally, it didn't matter how well we did - we couldn't for the life of us find anyone willing to back two young women in tech, let alone sportswear with a reasonable offer we felt was fair.

Fast forward to 2022 and coming in as second-time founders in the tech space, for Her Black Book - it's a very different experience, as we were able to get the support and secure incredible investors and VC within a matter of months of launching. With this in mind, I like to think we've progressed as a society to break that bias."
Sali Sasi, Her Black Book
"I think when people see me or look at my social media they may think I am a certain way given my appearance (I'll say it, petite Asian, fun clothes - haha!) but little do they know I am hard-nosed in business and as you know passionate about influencer and affiliate marketing."
Alyce Tran, LTK
"The best way I have found to break any bias is to SHOW UP. Every single day and no matter the circumstances. By working with passion and putting drive and enthusiasm at the forefront of everything we do, we demonstrate that we are a force to be reckoned with and are capable of great things in the workplace, at home and in our communities.

Facing challenges head-on and tackling them with a solution-focused approach I have found has always been a successful way to operate. The sky's the limit and nothing is else. And last but certainly not least, by supporting those strong women around me every step of the way with words of encouragement and singing their praise at every opportunity."
Natalie Velez, The GROUPON Reach Network
"I absolutely love to give positive feedback and with so many amazing women in my life both within my workplace and day-to-day life there is no shortage of opportunities to acknowledge and encourage. Whether it is sending a compliment about a job well done to someone's manager or celebrating a friendship. I'm a big believer in empowering the female figures around me."
Jessica May, Cashrewards
"I am Chinese, an immigrant and a woman. I think just by showing up, by speaking up and being a role model in the way that I work, live and support my community, my actions and behaviours are helping to break the bias every day in small ways."
Joyce Watts, TOT: HOT OR NOT
"I believe every individual has the ability to break the gender stereotype in any given environment or situation. For starters, I've been raised to have chores and responsibilities done at home alongside my two sisters without being prejudiced. Having this equality nurtured from home definitely helps you as an individual and how you perceive the other in your day to day life."
Nigel Samuel, Commission Factory
Gender stereotypes are learned at home, in our environment, from the moment we are born in our family lives. So for girls, what they see at home is what they lean to, same for boys. Since women have traditionally held the greater proportion of responsibility for homemaking this is what continues. I am a mother of a young boy and one of my key goals is to raise him to understand the real meaning of shared responsibility be that parenting, housework, playtime, finances, sharing and understanding the "mental load" of running a household. Only when we stop perpetuating the same old sterotypes at home, can we break the bias.
Emma Bhatti, Commission Factory
Who would you like to thank this IWD and why?
"Author Caroline Criado Pérez who wrote 'Invisible Women: Data Bias in a World Designed for Men '. She opened up my eyes to the many ways that women are forgotten, sidelined, overlooked and violated in all aspects of life - and it made me think hard about the biases that I see every day and what I can do about it for my children's future."
Joyce Watts, TOT: HOT OR NOT
"I'd like to thank my company PayPal for their continued investment into women in the workplace. They've rolled out extensive workshops for females to build confidence, skills and understand bias in the workplace. Unity, the oldest and largest PayPal employee resource group that centres around gender equality, is hosting a month-long events list centred around #BreaktheBias with panels, fireside chats and educational sessions. And lastly, PayPal employees have been inspirational with volunteering more than 6,000 hours over the last 12 months to capacity building and skill-based volunteer services to charities advancing gender equality. I'm very proud to say I work here!"
Veronica Magtanong, Honey by Paypal
"All the amazing leaders I have had over the last 20 years, and I will continue to have, who have shown me I can do anything the boys can do and sometimes even do it better 😊!
Amanda Crowfoot, Humm Group
"I admire many amazing women such as Jacinda Ardern, who uses kindness and authenticity to thrive as a successful female leader. I must also show adoration for my mother who, whilst nearing retirement, has recently completed another University qualification as a nurse specialist. She has always been a fierce example of a confident woman who is certain of her worth and value."
Ruth Hargrave, Student Beans
"This #IWD, I want to say a big thank you to my Mama, for all her love, support and sacrifices for our family, and especially for me. I hope through this, I can somehow express my love and let everyone know how much she means to me. I want to thank her for ALWAYS being there for me and for always having my back, she literally would do anything to see me happy and excel in everything that I do. I love you so much Mama, I would not be where I am without her, at all. She truly is the best and is certainly a beauty and one of a kind.

I also want to thank all the amazing ladies of Commission Factory, here's to all of you, Happy International Women's Day!"
Dini Van Haeren, Commission Factory
"Every day I am in awe of the strong women I surround myself with. So instead of thanking just one, i'm going to have to thank them all! For continuing to show me strength, resilience and guidance as we navigate this ever changing landscape called life.

I would also like to thank my workplace Cashrewards who are constantly supporting and recognising the female talent we have within the organisation. It makes me extremely proud to work for a company that has such a strong focus on diversity."
Jessica May, Cashrewards
"There are too many to mention, but I have truly had the support of so many fearless women leaders in my life that have helped pave the way for my future."
Caitlin Gordon, Zip
"I am surrounded by amazing women – my grandmother, my mother, sister, aunts, cousins and friends. I could thank them all, but I want to give a special shoutout to my mum and dad, who remind me daily that a woman should be anything she wants to be. As my biggest supporters growing up, they encouraged me to find the best version of myself, regardless of gender, age, or limitations. Thank you for showing me how big the world can be."
Angel Assad, Commission Factory
By reflecting on the responses from our publisher partners and Commission Factory colleagues, we have found that to #breakthebias we must:
Stand up for ourselves and support others. By knowing our own and others' values we can shape an inclusive society where everyone is accepted.

Go up against society's expectations by staying true to what we believe in and being proud of standing out.

Whether at home or in the community, teaching and mentoring younger generations will equip them with the knowledge, values and compassion they need to continue to break the bias.

Value the diversity around you in the community and workplace as this encourages growth and development for all.

Have a voice and not be afraid to use it for the power of good
These are changes that need to be continued and carried out by all to keep fighting for safety, respect, and equality for all women. 2021 and 2022 are just the beginning of a wave of change, and the passion to make this change should not be doubted. Together as a community, we must continue this journey to #breakthebias.
We had such an overwhelming response from our staff and publishers, that we were not able to include them all in this post. Read the rest of the responses below:-
"Alone, we can do so little, together we can do so much" - Helen Keller.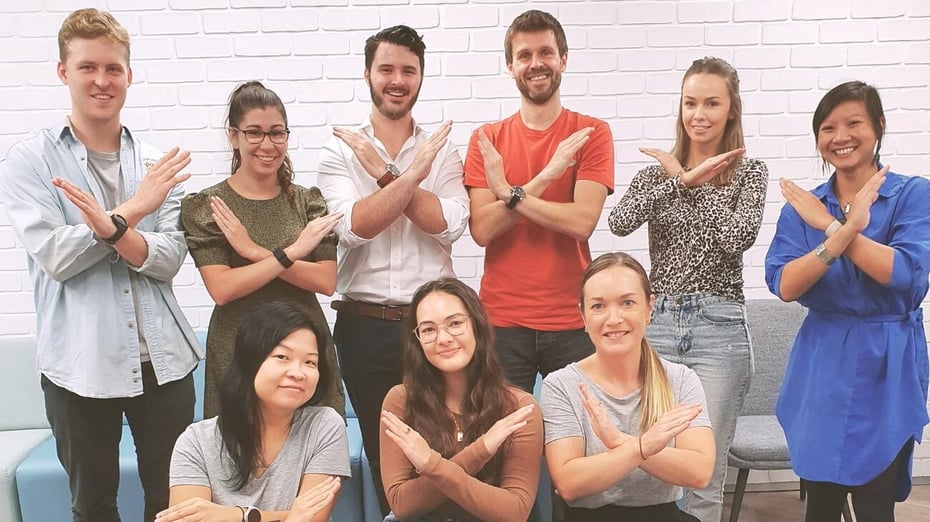 You can read more about International Women's Day theme on the official website.
Want to join the team, check out our careers page.