On the 30th April, Particular Audience hosted a webinar on retailing during COVID-19, specifically three rules on how companies can adapt to rapidly changing consumer behaviour in a post-Covid world.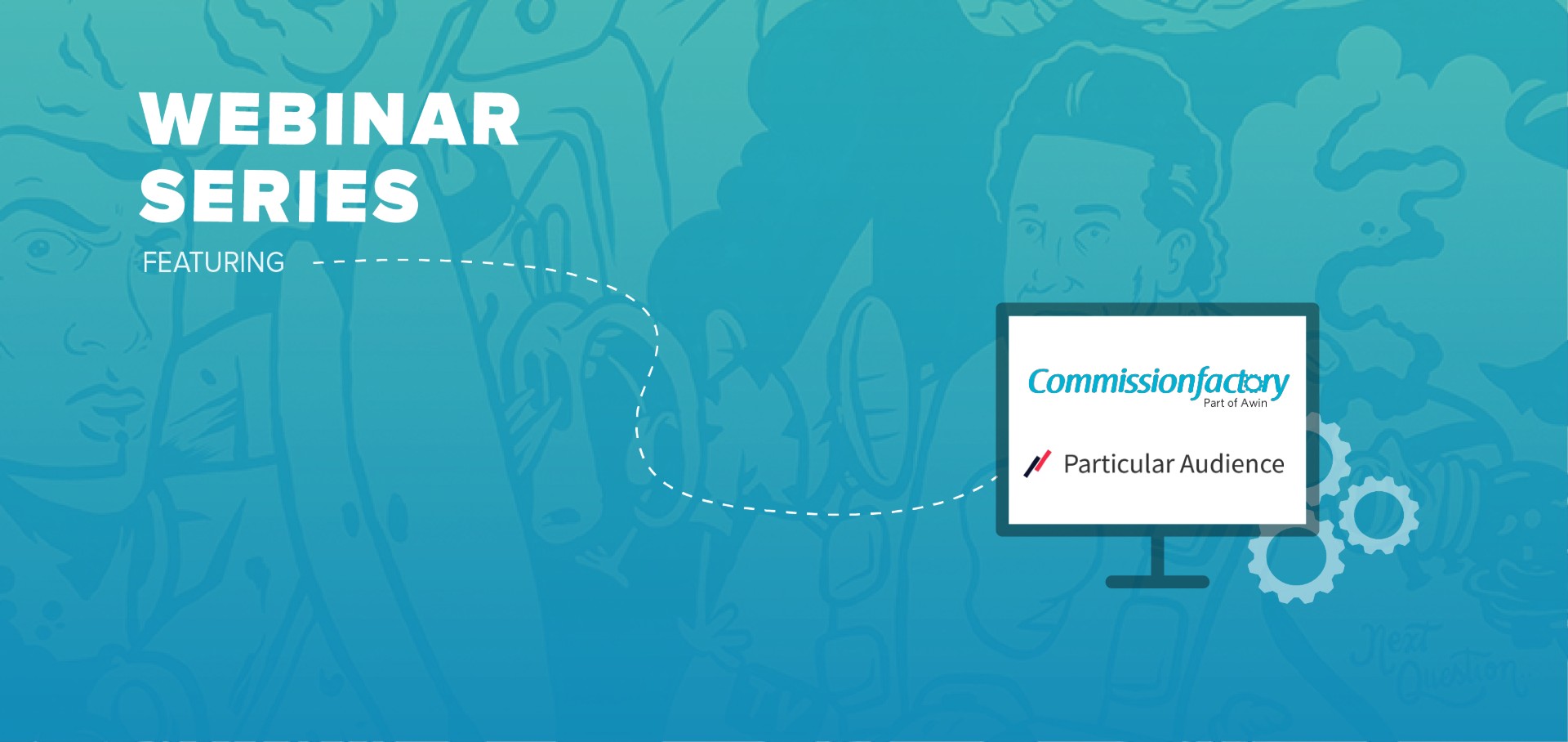 We believe the impact of this pandemic will be felt for sometime, with economic hardship and continued aversion to crowded spaces. We know behaviours stuck from the global financial crisis (GFC) and SARS outbreak - retailers must again plan accordingly.
Previous recessions have shown that it is vital to meet customers' needs as a means to filter investment decisions, reduce outgoings on underperforming assets and increase spending on R&D and marketing. An optimal balance of this will allow companies to better position themselves moving forward.
But what is optimal, and how can machine learning help?
We look at both consumer trends and corporate strategies during previous downturns, and propose three rules to thrive in a digital-first market.
Consumer Trends
Physical retail contracted 35% more than online retail did during the GFC. This time the figures will be more extreme.
First-time online buyers are materialising for certain products, and an even greater number of infrequent buyers are now doing so on a weekly basis.
eCommerce is booming, physical stores are closed and more people are online. Even as stores start to reopen, their role has changed. People will be averse to crowded places and online orders fulfilled in store will become the new normal.
Companies that Thrive
The habits of consumers will endure long beyond this period of uncertainty, this means that companies must adapt. Smart businesses are now creating or deepening their footholds.
However, it's not as simple as enacting a mere cost-cutting exercise.
Promotion focused companies that have intelligently invested in their growth during a downturn have ultimately fared better than those that simply cut costs.
Research proves that Progressive companies using customers need to master the delicate balance between cutting costs to survive today, AND that investing intelligently to grow tomorrow will maximise growth both during and emerging from recession.
The chart below, looks at data from Harvard Business Review, covering 4,700 companies across 3 recessions to demonstrate the difference in post-recession performance Promotion only focused companies and Progressive companies.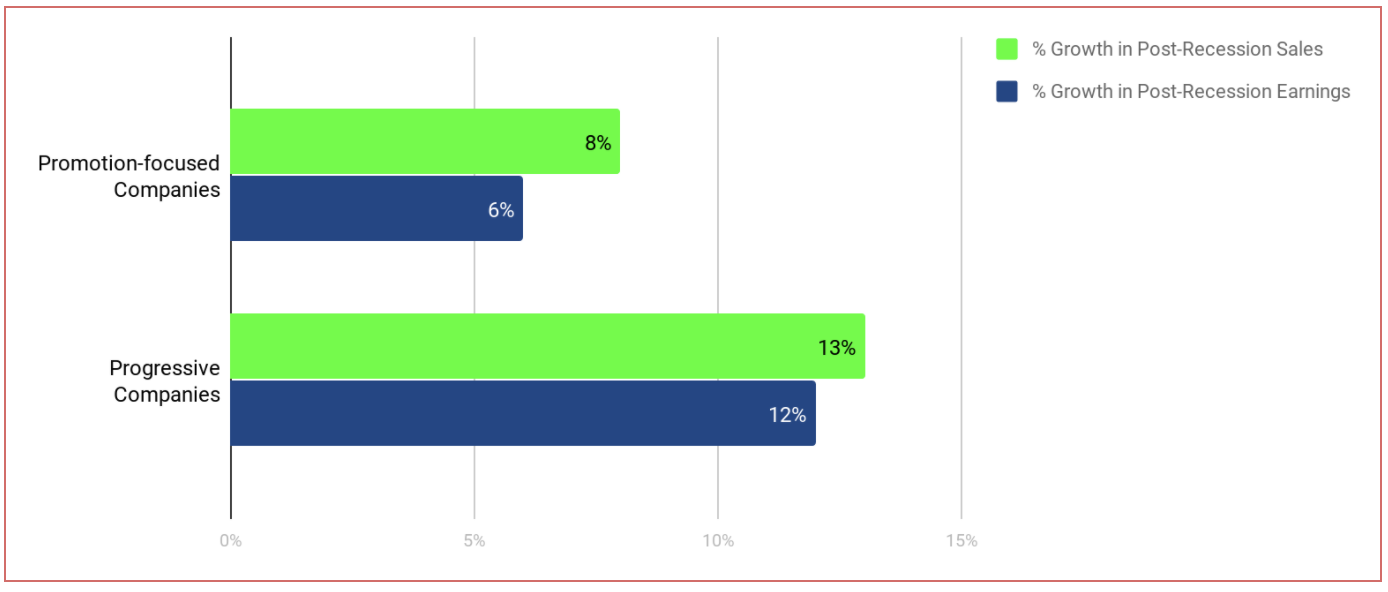 Here's a real world example:
During the 2000 Recession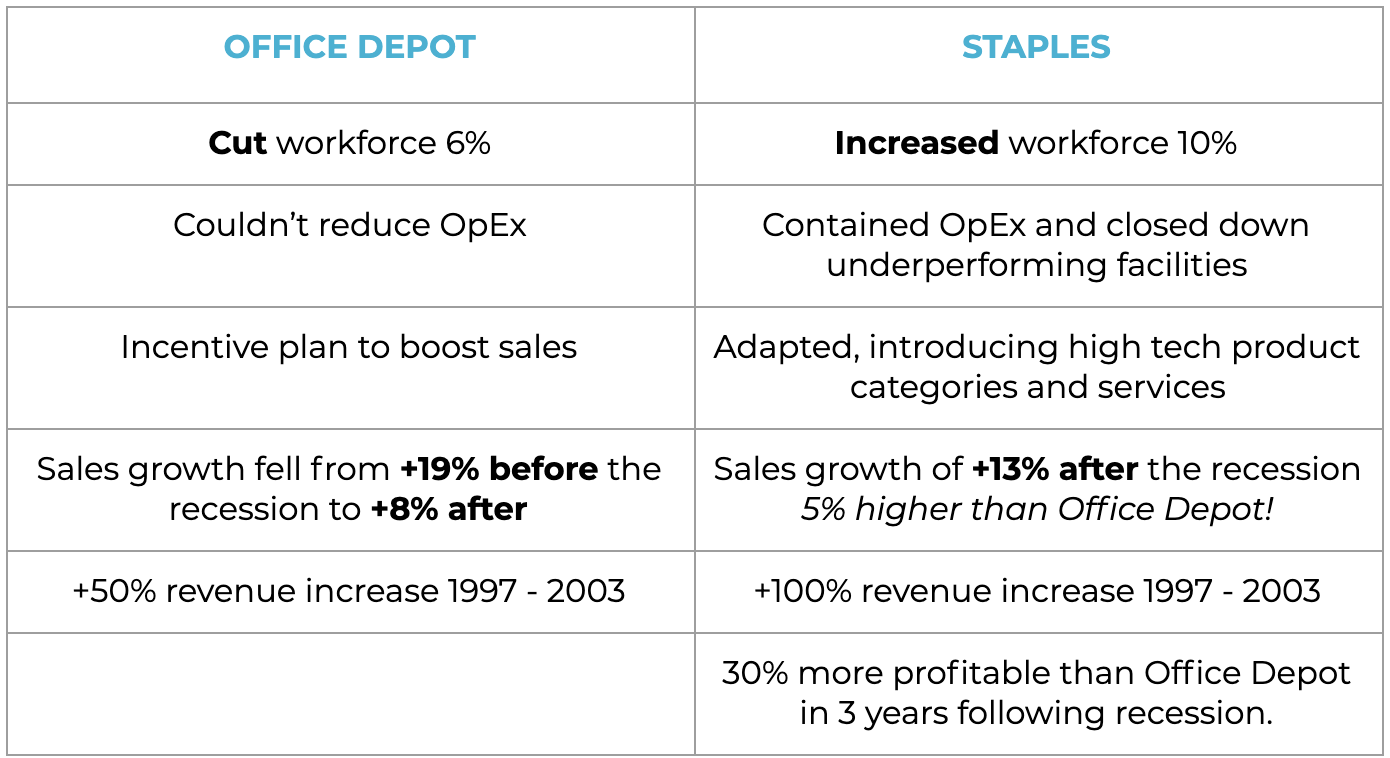 Source: https://hbr.org/2010/03/roaring-out-of-recession
Changing Your Mindset
Physical retailers are physically constrained, creating a scarcity mindset. Inventory is selected based on limited shelf real estate with each item of stock needing to earn its keep in high footfall rent zones. Plus the cost of servicing walk-ins. Item assortment is limited, and stock depth results in frequent out of stocks.
The opportunity for retailers selling online lies in the ability to stock a limitless amount and variety of products.
Data available online lets retailers get smart on assortment variety, long-tail pricing strategies, and machine learning that intuitively filters relevant items to each different customer. Ultimate customer satisfaction.
If you have 1 million customers, you need 1 million stores. This is possible online.
Netflix, Amazon and Spotify are some of the greatest companies in the world because they have done precisely that, they have mastered the 'Long-Tail'. Chris Anderson, then Editor of Wired Magazine, called this out back in 2004. Yet many retailers are still coming to terms with the trend, COVID-19 has accelerated the future of eCommerce, forcing an ultimatum to adapt now or face relegation to the history books.
Collectively, the long-tail items sold online can drive more than double the sales volume of the best-selling items available in physical stores. Long-tails meet more needs, niches and tastes increasing the odds of conversion.
By harnessing the long-tail we explain how retailers can consistently meet demand, and thrive online.
Three Rules
There are three rules to guide retailers increasing their focus online during COVID-19.

Rule #1 - Make Everything Available
(Item availability and stock availability)
Online data is extremely valuable in improving the experience of both online to in-store journeys. Pre-Covid 87% of shopping journeys started online, now even higher. This item-specific demand data is worth its weight in gold.
Online item interaction data can be localised and itemised (down to an attribute or utility level) for inventory allocation optimisation, stock depth planning and item availability that always meets customer demand.
Post-Covid retail will retain online as the preeminent storefront. Buy online, pick up in-store is already up 60% since lockdown began, people will not rush back into crowded places anytime soon - their relationship with shops has changed. Ensuring relevant stock in specific stores will cut down on fulfilment times and avoid lost sales due to out of stocks.
Rule #2 - Get Smart on Pricing
(Increase sales, cash on hand & earnings with intelligent and dynamic pricing)
Opt for SKU level pricing intelligence over blanket discounting. Understand item popularity, stock levels, competitor pricing and margin requirements to develop dynamic pricing models.
Pull customers down the long tail with lower prices, long-tail items cost less so you can charge less, while harnessing the down-sell opportunity.
Most long-tail items are not available in store, so channel conflict diminishes.
Rule #3 - Help Me Find It
(Item discovery and customer satisfaction)
Great long-tail businesses can guide consumers following their likes and dislikes.
Just as lower prices can entice customers down the long-tail, recommendation engines drive them to products they may not have found otherwise.
Do not forget innovative approaches to search, such as computer vision powered search with photo functionality.
In a Nutshell
The future is bright for eCommerce, but discretionary spending is under pressure with a bleak economic outlook in the wake of COVID-19.
The GFC, SARS and now trends in COVID-19 equip us with the knowledge to help retailers plan ahead and crisis-proof their businesses. Making the most of online retail will be key to acquiring market share in this downturn.
Acing customer experience is the key to thriving. So:
Make things available where there is demand for them.
Leverage dynamic pricing models to maximise sales volume.
Help customers find the products they are looking for, and know when to substitute unavailable items with similar items.
Retailers with small product catalogues can apply these rules to their existing merchandising activities; and as it becomes harder the larger retailers become, all can be done accurately and at scale with machine learning technologies from Particular Audience. Get in touch with your account manager to find out more or email Langton McCombe.