In recent years, content-based publishers have experienced fluctuations in performance due to shopping behaviours being impacted by social and economic circumstances. Therefore, publishers have sought alternative revenue streams besides traditional native advertising to monetise their content further.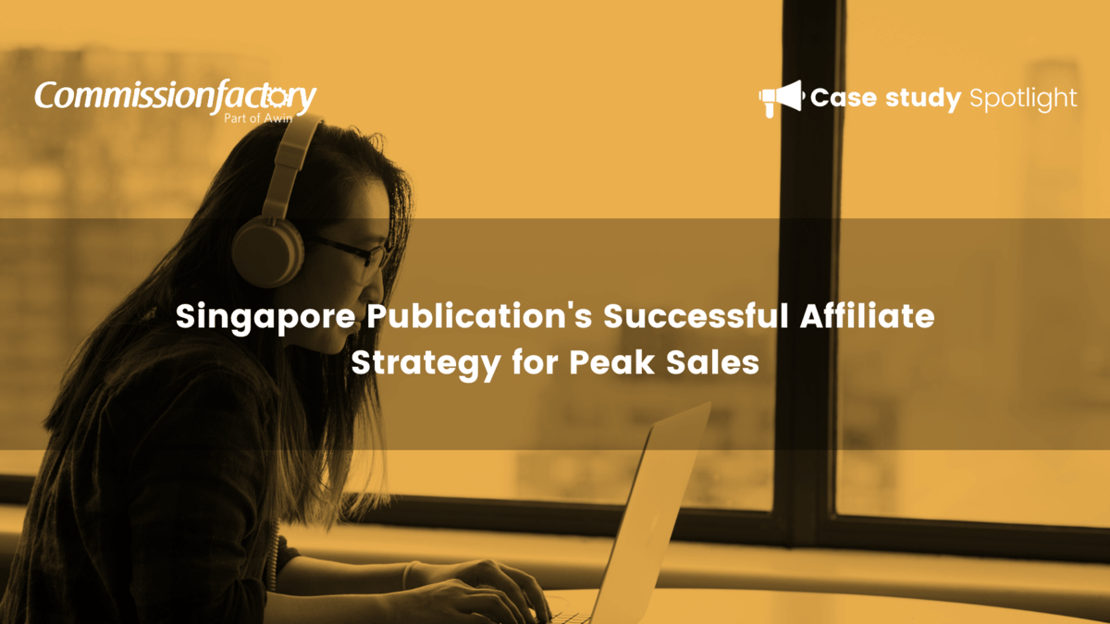 By incorporating an affiliate strategy, one of Singapore's leading content publishers successfully curated a revenue stream to further complement their existing marketing efforts, especially during peak sales.
OBJECTIVE
A well-established Singaporean content publisher created a new revenue stream via affiliate partnerships.
SOLUTION
Since the publisher aimed to adopt a modern marketing strategy, the partnership between this publisher and Commission Factory allowed a seamless integration of affiliate marketing into their existing activities with minimal effort. Using the Commission Factory platform, the publisher accessed various brands via the Advertiser Marketplace, simple custom reporting, flexible commission rates and automatic international payments.
Furthermore, Commission Factory's dedicated Publisher Development Team provided a smooth onboarding experience with regular catchups to provide platform guidance and introductions to brands for potential partnership opportunities.
Using Commission Factory's unique real-time tracking technology, the publisher easily incorporated tracking links into new and existing content. Since the tracking links are evergreen and used as call-to-actions to highlight specific products, the publisher passively generated commissions over time.
The publisher successfully leveraged off-peak shopping periods, such as double-digit sales events, by partnering with brands across multiple verticals and creating bespoke content. The publisher also utilised Commission Factory's Clickless Tracking to ensure every successful transaction was seamlessly attributed to them.
RESULTS
With the help of Commission Factory's intuitive platform and accessible assets and tools, the publisher could execute an affiliate strategy effortlessly. The publisher successfully built stronger partnerships with brands as seen across dedicated campaigns, including gift guides, brand highlights and tailored content across key sales events such as 9.9., 10.10. & 11.11.
Since joining Commission Factory in April 2021, the publisher has driven over 109,000 clicks to partnered brands and delivered SGD 154,000 (AUD 170,000) in total sale value. For one of Singapore's largest department stores alone, the publisher drove 65,000 clicks and delivered SGD 64,000 (AUD 66,000) in sale value since joining their program in August 2021 by pushing content and tracking links.
The publisher successfully monetised their content with tracking links, significantly increasing conversion rates and brand sales. Last year's recent Single's Day event, the same department store, saw the publisher drive a 159% increase in revenue.
At Commission Factory, we are Asia-Pacific's largest affiliate platform and proudly partner with some of the world's most influential brands. Our performance marketing platform enables content creators to large media houses to monetise their content and help online businesses grow their sales numbers. To find out more, speak to one of the team.