Urban List partnered with Commission Factory in 2021 and began working closely with the Publisher Development Team. During this time the team worked with Urban List to educate our clients on their value and how brands can partner with them across their portfolio of websites to reach a new audience.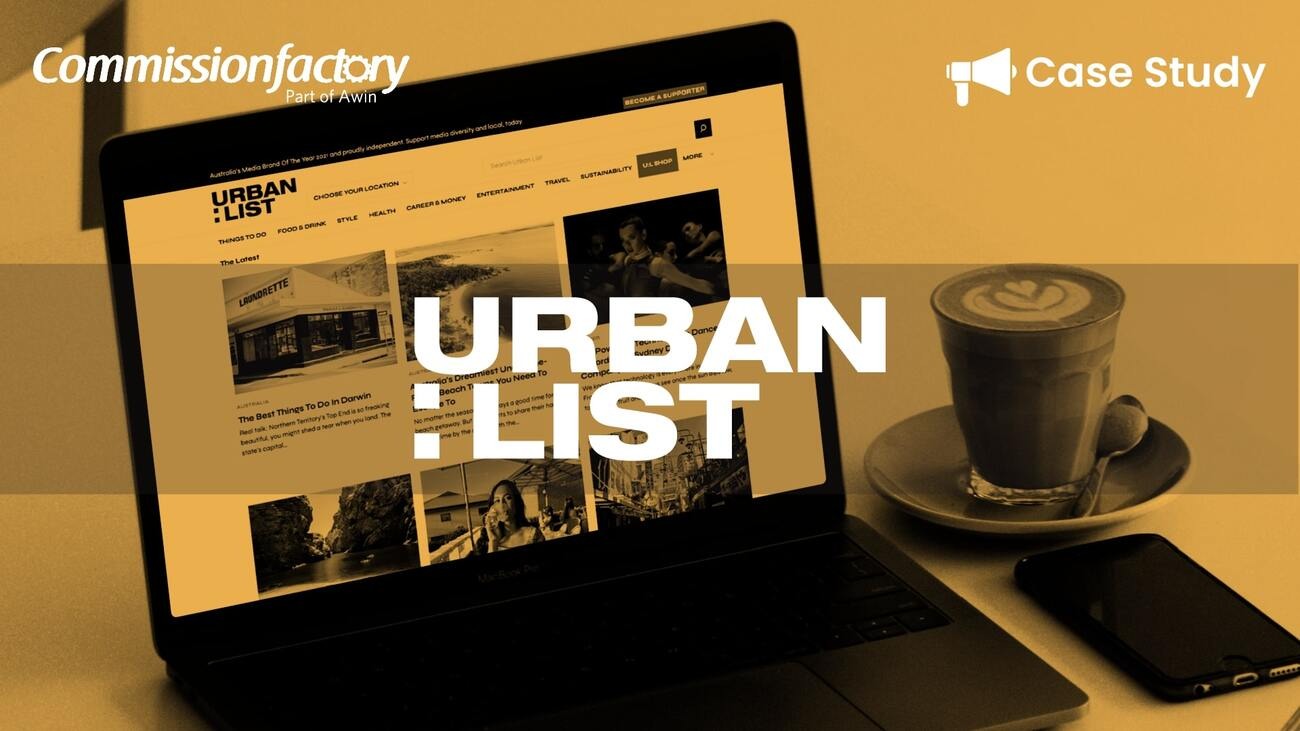 The Urban List team ran an interactive session within Commission Factory, focusing on objection handling, FAQs, and resources, around how to best communicate the value of a hybrid content strategy within the affiliate and partnership channel. This enabled the Account Management team to confidently present the opportunity to their clients, facilitating several partnerships between Urban List and brands across a diverse number of verticals.
Publishers can easily implement Commission Factory tracking links into organic, evergreen content to further monetise their promotional activity for long-term benefit. These links can be used as call to actions when targeting specific products in e-commerce content.


RESULTS
Since incorporating affiliate links within its eCommerce content from late 2020 to mid-2022, Urban List has driven over 600,000 clicks to partnered brands and delivered $1,120,000 in revenue. For one of Australia's leading meal delivery brands alone, Urban List has successfully driven $140,000 in sale value and over 11,000 clicks by implementing tracking links in organic evergreen content.
*The total sales driven by Urban list to brand programs across Commission Factory from late 2020 - Mid 2022
The partnership has strengthened over the last 12 months, with Urban List promoting Commission Factory advertisers across key events, gift guides, and dedicated articles, utilising affiliate promotions and offers as a call to action to engage readers. Successful campaigns include Black Friday, Click Frenzy, Cyber Weekend, Vogue Shopping Night & Afterpay Day. Brands have found Urban List's content to be beneficial for brand awareness and exposure, whilst also driving high-value consumers to the site. Content partnerships allow customers to learn about the advertisers, engage consumers at the 'top of the funnel' through personalised content, from a trusted source, and give advertisers another avenue for brand promote and product awareness.
Urban List Sydney, Style & Affiliate Editor; Sammy Preston added that by "Working with Commission Factory, we've been able to prove Urban List's content consistently converts. We've achieved conversion rates 1,300%* above industry standard across several categories, ranging from food to fashion, travel, and wellness. With the team, we've also been able to dial up partnerships with dedicated hybrid affiliate and awareness campaigns, which deliver on both conversions and in developing new audiences. We're excited to continue to grow here and look forward to working with more brands through Commission Factory".

* Based on a 1.5% industry-standard conversion rate
Are you an advertiser or affiliate already working with us and want to find out more, speak to your Commission Factory contact.
If you are an advertiser looking to launch with Urban List or our content creators, find out more, get in touch with our team today.