RevLifter is an AI-powered marketing technology which helps Advertisers increase revenue through intelligent deals.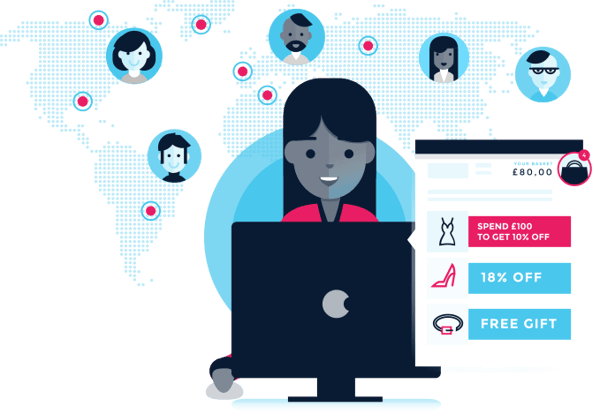 We spoke with Simon Bird from RevLifter to discuss his amazing new product, what it means for the industry and how it is already helping Advertisers grow their revenue, return on ad spend and create a better experience for their customers.
Can you tell us about RevLifter?
RevLifter is an AI-powered coupon technology which allows brands to offer personalised incentives to their customers based on real-time basket data. Our solutions can live on the retailer's site helping the retailer control the customer experience versus a consumer visiting a third-party coupon site, where all their competitors reside.
We're keeping brands happy by allowing them to launch more considered, more effective incentivisation strategies. Everything is personalised, which opens up possibilities for upselling and cross-selling in addition to conversion rate optimisation. The AI angle comes in via our RevIntelligence tool, which assigns incentives to users that are most likely to redeem them.
RevLifter is something of a tech provider and a publisher in the sense that we monetise our offerings through the traditional pay-on-performance model. That limits the risk for any brand that wants to trial our solution but isn't sure it will work for them.
Our entire process offers a far more innovative method of approaching incentivisation. While undoubtedly lucrative, it's an area of affiliate marketing that has arguably stagnated in recent years despite so much advancement around other areas of the digital marketing landscape. We're here to switch things up.
Specifically what is that you do that is innovative or disruptive?
Personalisation forms a considerable part of our message and for a good reason. Brands are informed that customers will respond favourably to experiences and offers tailored to their interests, yet how many times have you seen personalisation applied to coupons?
Imagine you're shopping for a specific product and your basket is filled with high-value items. You might head to a coupon affiliate to get some money off your purchase, only to be served a list of what's 'trending' or offers from companies you have no intention of buying with.
We collect data based on the user's online behaviour and profile. That could be their demographic information, customer status (e.g. new or existing customer), down to their basket contents. Our brands can then select parts of that information - perhaps a country they want to drive business within, or a user with a high AOV - and convert the customers they want to convert.
This is inherently disruptive as we are challenging an industry and process which has remained pretty much the same for the last five to 10 years.
AI is another field which has evaded the affiliate area of performance marketing and one that we're shedding light on. Our RevIntelligence tool suggests incentives that are likely to convert, based on the transactions that had happened before the customer filled their basket. That exchange of insight occurs in real time; an important feature when considering that a circumstance could change within the blink of an eye.
Innovation runs deep through our technology, though, and we're always expanding on our targeting capabilities. For example, we're currently looking into ways of using data from pollen counts and UV levels to inform the incentivisation strategy of a well-known pharmaceutical chain.
We're sure that no one is doing incentivisation like RevLifter.
Can you tell us more about the products you offer retailers?
Our four solutions cover all areas of the incentivisation process, from deal delivery across to analytics.
Most journeys start with RevPage: a native coupon landing page, designed to fit in line with the retailer's branding, which displays incentives based on the user that accesses it.
These pages are fully optimised for SEO and PPC, as we want to target people looking for incentives on Google. Each offer is displayed as a result of conversations between the user and our technology, which utilizes AI to handpick the correct incentive.
Sometimes a user will get an earlier interaction with our tools through RevConvert. A cart-abandonment tackler, this shows on-site messages to users that have indicated an intention to migrate from their basket.
RevRewards is based around the idea of using e-gifts as a way of encouraging a purchase. This product creates up-selling opportunities and allows brands to drive business for themselves or their partners.
It's all tied together by RevIntelligence, which uses AI to pair incentives with customers. That same technology is used to assess the health of each campaign and work on ways of optimising their results.
We would love to learn more about how the deals personalisation engine works?
Each brand's unique goals fuel our deals personalisation engine. For instance, if a group wants to gear their strategy towards securing new customers, they can set up rules which offer incentives to users that are checking out for the first time.
We know of the user's profile by gleaning data from their on-site behaviour. This is done through a pixel placed on the brand's site, which extracts specific information to paint a picture of what the user looks like. It will examine things like their basket contents and their country of origin to determine just how valuable they are to the brand, based on what it also knows about their goals, and prepares the incentives that will get them over the line.
It then depends on the route the customer chooses to take to the checkout. In some cases they will be targeted on-site through RevConvert; otherwise, it's down to RevPage for anyone searching for coupons via Google.
Every single interaction with the engine, whether good or bad, is recorded and used as a foundation for any future campaigns. We're huge advocates of the 'test and learn' strategy undertaken by many in performance marketing and RevLifter provides a way of doing precisely that.
What are your plans for the future?
In the short term, it's very much a case of spreading the word of our solutions and results. It's been a whirlwind first year for us and one that has packed in plenty of highlights along the way.
Despite only being in our soft launch phase, we were nominated and later highly commended in the Industry Disruptor category at the 2018 Performance Marketing Awards. That followed lots of great press from the UK and the other areas, as well as our appearances at many events.
The reception we've gained from brands around the globe has been nothing short of astounding and only enforces our belief that RevLifter is something extraordinary.
In the not too distant future, we'll be looking to unlock even more targeting parameters. We want to give brands something which is 'always on'; in other words, if for example, the weather takes a turn for the worse, we can offer incentives which reflect that for any business that might benefit from it. This is a constant focus for our team.
For the rest of 2018, we'll be reaching out to even more brands and making sure that everyone is aware of what modern-day incentivisation should involve.