Four prominent Australian brands achieved great success while optimising costs in Q4 2022 with the help of Commission Factory.

Q4 is a crucial time for brands to increase their revenue and maximise their return on ad spend (ROAS). Last year, four brands embarked on a journey to see how they could make the most of Commission Factory's Q4 bespoke packages. With important dates like Christmas and Cyber Weekend on the calendar, it's a critical time for brands to capitalise on a peak time in retail and end the year with a high.
In this case study, four Australian brands leveraged Commission Factory's Q4 Package to capitalise on their sales in the fourth quarter:
Brand 1: A gift delivery company specialising in hampers

Brand 2: An online gift store

Brand 3: A sleep solution company specialising in mattresses

Brand 4: A sportswear fashion retailer
Objective
As consumers slowly regained spending confidence, it was an excellent time for advertisers to improve sales and expand their customer base.
With Commission Factory's vast network of affiliates partners in the Australian region, the four advertisers developed the following campaign goals:
Increase their overall revenue across Q4 2022, specifically in November

Keep a steady ROAS across the months

Work with a diverse list of affiliates

Recruit key publishers that were missing from their program

Secure as many placements per month with the assistance of Commission Factory's Account Management team.
Solution
By opting into Commission Factory's Q4 package, all four advertisers could form partnerships with affiliates that provided significant value. In addition, each brand was assigned an Account Manager that connected them to affiliate partners with the same goals and target market – improving their synergy during this crucial period.
Throughout Q2, Commission Factory secured various placements that allowed the brands to reach the right audience. The average placements locked in each month are as follows:
Brand 1: Average of 8 placements per month across the quarter

Brand 2: Average of 7 placements per month across the quarter

Brand 3: Average of 16 placements booked per month

Brand 4: Average of 16 placements booked per month
Result
Since ramping up their exposure across key publishers on Commission Factory, all four advertisers have seen a positive uplift in revenue and ROAS. These advertisers also successfully added a healthy number of new affiliate partners to their campaigns.
ROAS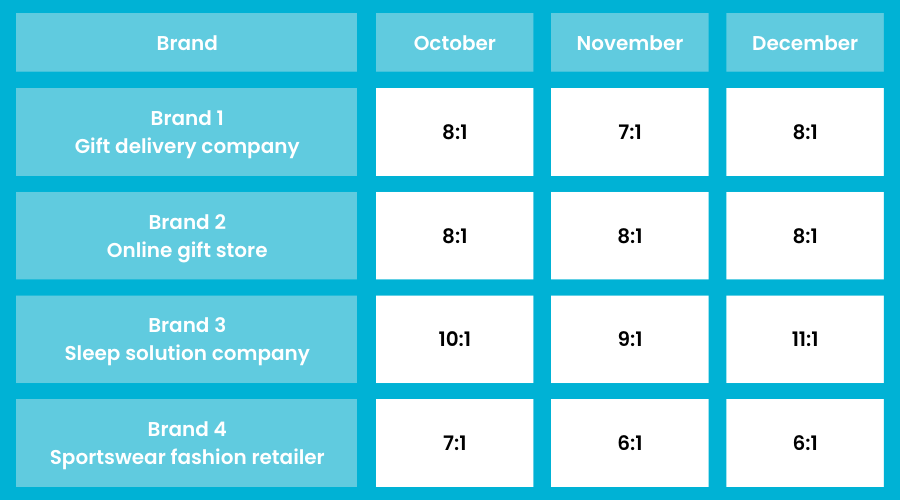 Revenue Increase
Notable increases in YoY revenue are:
Brand 3: Sales revenue was up by 104%, Clicks up by 15%, and Transactions up by 37%

Brand 4: Sales revenue was up by 452%, Clicks up by 327%, and Transactions up by 377%
Notable increases in MOM revenue are:
Brand 1: Sales revenue is up by 218%, Clicks are up by 61%, and Transactions are up 205%.

Brand 2: Sales revenue is up 190%, Clicks are up 322%, and Transactions are up 185%.
New Affiliate Partners
On average, the advertisers had these numbers of new affiliate partners that joined their program each month:
Brand 1: 13 new publishers added per month

Brand 2: 13 new publishers added per month

Brand 3: 16 new publishers added per month

Brand 4: 18 new publishers added per month
Key Takeaway
Q4 is a key quarter to generate revenue, but it's also a time when customer loyalty is challenged. With the uncertain times faced by some brands, keeping within the allocated budgets while maintaining a strong ROAS is more important than ever.
By taking up a Q4 package with Commission Factory, these four brands benefited from an open platform and the best reporting functions to optimise their marketing proactively. More importantly, our experienced Account Management team helped these advertisers achieve revenue growth and create new and diverse affiliate partnerships - all while keeping to strict budgets and ROAS goals.
If you're interested in learning more about the 2023 Q2 packages, contact us today and we'll be happy to guide you through the process.

---
Commission Factory is not only the Asia-Pacific region's largest affiliate network, working with more than 800 of the world's biggest brands, but it's also a performance marketing platform that allows content creators and influencers to earn money and online businesses to increase sales.
To connect with the right affiliates for your brand, contact us to find out more. Are you working with Commission Factory and want to find out more about how we can grow your program in Q2 (April - June) follow the below and fill in your details.