With the end of the financial year only a couple of months away, here is a comprehensive End Of Financial Year sales checklist for retailers to use.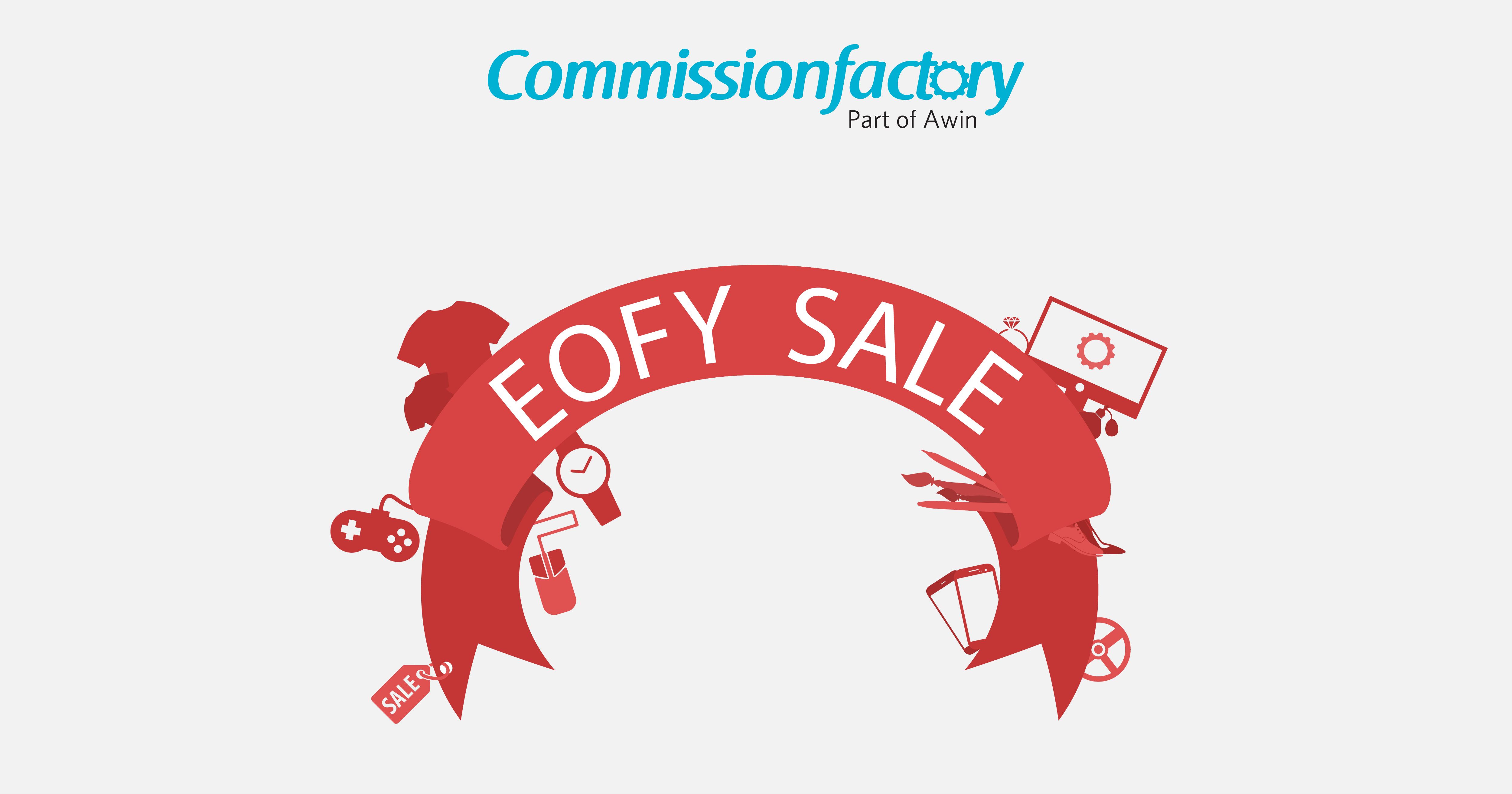 What are the EOFY Sales and Why Is It Important for Retailers and Advertisers?
The End of Financial Year Sales (EOFY Sales) has long been an Australian institution and a key date in the retail calendar alongside the more globally adopted Cyber weekend and Boxing Day sales. It marks the end of the financial year and thus the last chance to purchase tax-deductible work-related items and an opportunity for retailers to discount and clear out inventories in anticipation of the coming new year.
Over the last eight years, EOFY sales revenue has grown on average 84% and conversions 68% year on year. Commission Factory has seen significant "bounce-back" in spending in the last two weeks of EOFY in response to the COVID-19 retail environment. According to Australia Post, there has been an 80 per cent increase in online shopping over the eight weeks to May 15, compared to last year. (1)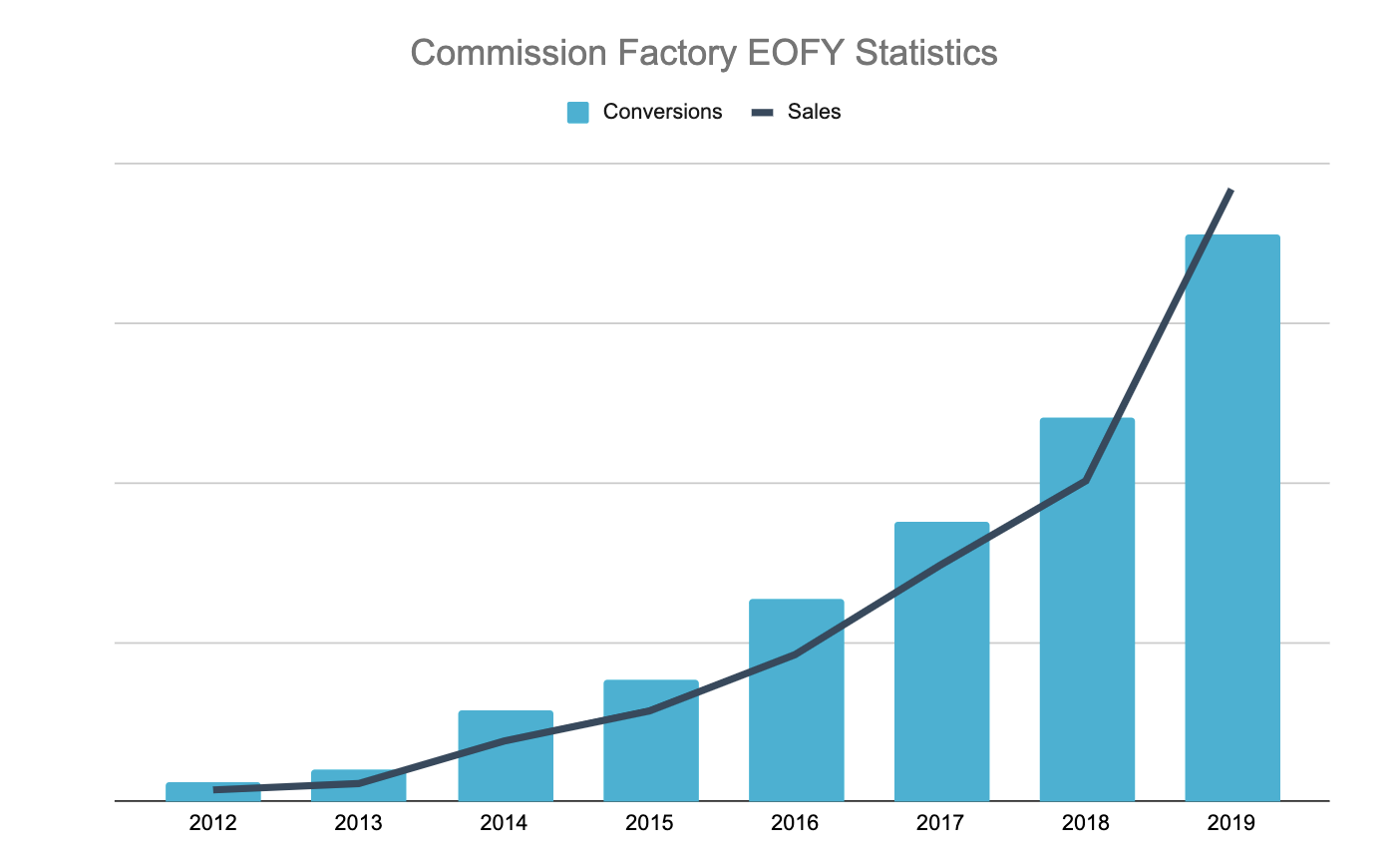 This EOFY presents a unique opportunity for customers to purchase tax-deductible products or services to help facilitate their home office environment, which seems to be becoming a more permanent adjustment for many businesses.
There are also signs that consumers are a lot more comfortable purchasing online since the COVID-19 pandemic. The combination of these two elements creates the backdrop for a successful EOFY period.
When Do EOFY Sales Start and End in 2023?
Australia's EOFY sales traditionally begin June 1 and end on June 30, although many retailers tend to start even earlier with some of the deals often spilling into early July.
How Retailers Can Utilise the Affiliate Channel to Drive EOFY Success in 2023
Prioritise Communication
Retailers should communicate all sales timelines and advertiser guidelines with affiliates.
Social media, email campaigns and web content (such as blogs and video) can be highly effective ways to connect with customers through targeted, relevant messaging. Affiliate marketers can make the most of these mediums by targeting a range of customers with more personal marketing and promotional campaigns.
It is paramount that retailers communicate with affiliates, particularly concerning safety measures for COVID-19.
To learn more about best practices for affiliate communication, read our help desk article.


Utilise Creatives
Clients and customers can have varying motivations for buying a product or engaging in a business's services. Retailers who provide clear and concise messaging can leverage EOFY by targeting their audience with more personal marketing and promotional campaigns.
Retailers can consider how they might target and appeal to different customer segments with unique and appealing offers. Then, retailers can work with affiliates to broadcast their messaging to their target audiences.
As the COVID-19 pandemic continues, retailers should also take care to thoughtfully consider factors such as contactless or pick-up delivery and appropriate social distancing measures for in-store events that may take place.
Offer Price Transparency
When listing an item for EOFY, retailers should always include the original price and sale price with the discount amount or percentage. Retailers with a static product feed should also include images, update links, and remove any out-of-stock products. Since shoppers often rely on product descriptions to make their purchase decisions, retailers would also do well to create compelling copy to increase click-through rates.
To learn more about optimising a datafeed for EOFY, please read our guide to data-feed best practices.
Establish Fulfilment Method in Advance
Whether a retailer is working with curbside pick-up, click and collect, or contactless delivery, they should notify affiliates ahead of time to communicate the correct delivery method to their audience.
Additionally, with delivery services experiencing increased volumes due to COVID-19, retailers should also establish updated estimated delivery time frames for their customers.
Maintain Agility
Once sales start, retailers should keep a close eye on their affiliate activity and online sales. With consumer behaviour and demand constantly changing due to COVID-19, being aware of customer feedback and stock levels is vital for success.
Retailers should check in with their affiliates and social channels to make adjustments concerning messaging, pricing, or a shift of focus on promoted product categories. Many retailers opt to use additional resources including development, creative, and affiliate management to increase agility and response to any pressing adjustments during this time of year.
Produce Consistent Messaging
Retailers and advertisers should aim for consistent messaging across all channels, offering engaging content to their audience rather than cut-and-dry advertising. Blogs, Instagram stories, newsletters and even TikTok are mediums retailers can leverage to offer their news, guides, and product offerings while highlighting any specific end of financial year benefits.
Utilise Data Strategically
Before planning an End of Financial Year strategy, retailers would do well to collect their data from the year and reflect on what worked in their marketing arsenal. Retailers should plan strategically and channel their resources and remaining budgets based on data from previous successful campaigns.
Include an Element of Fun and Get Personal
Advertisers should aim to be creative and personable in their messaging to customers. Retailers and advertisers who make the experience of finding and learning about their products an easy and enjoyable one will experience big returns.
End of Financial Year Checklist for Retailers
Figure Out Your Balance Sheet - Check with your accountant or bookkeeper and prepare your balance sheet that clearly states your revenue, expenses, profit and loss.
Stocktake Your Inventory - If you are a business that sells goods, EOFY is a good time to take a stock of your inventory. Figure out how much of it you've sold and what needs to be replenished for the year ahead.

Superannuation Contributions - If you wish to claim tax deductions on employee contributions, make sure they're prepared by June 30.

Write-off Assets Purchases and Bed Debt - The federal government allows you to write-off asset purchases of up to $30,000 besides bad debts.

Do an EOFY Sale - EOFY is the time when several businesses have surplus budgets that they are looking to sell to square off their balance sheets. If you sell to other businesses, this is a great time to run a promotional scheme to sell to such businesses.
---
Final Thoughts
According to findings of an Accenture survey of more than 3,000 consumers in 15 countries across five continents, the COVID-19 pandemic is likely to alter consumer behaviours permanently and cause lasting structural changes to the consumer goods and retail industries (2). As a result, retailers can utilise EOFY to reach new audiences and gain lifetime customers and present market-leading offers over competitors less prepared for online and not yet using the affiliate channel.
The EOFY Sale presents a unique opportunity for retailers, advertisers, and affiliates to work together to establish clear brand messaging across platforms and generate returns through targeted copy and compelling calls to action.
Affiliate marketing can be a good way for advertisers to get started with promotional marketing campaigns for EOFYS. However, it takes time, and strong relationship connections between the advertiser, the affiliate, and the consumers are essential to its success.
Commission Factory brings this together, using tracking technology to enable affiliates and advertisers to work together more effectively to increase revenue. For advertisers joined to Commission Factory, speak to your Commission Factory contact to plan for EOFYS.
To learn more about what Commission Factory provides for affiliates and advertisers at Commission Factory, visit our website.
Become an Advertiser Become an Affiliate
References
Related Article: