With the end of the financial year sales, only a couple of weeks away here is a final checklist for retailers next month.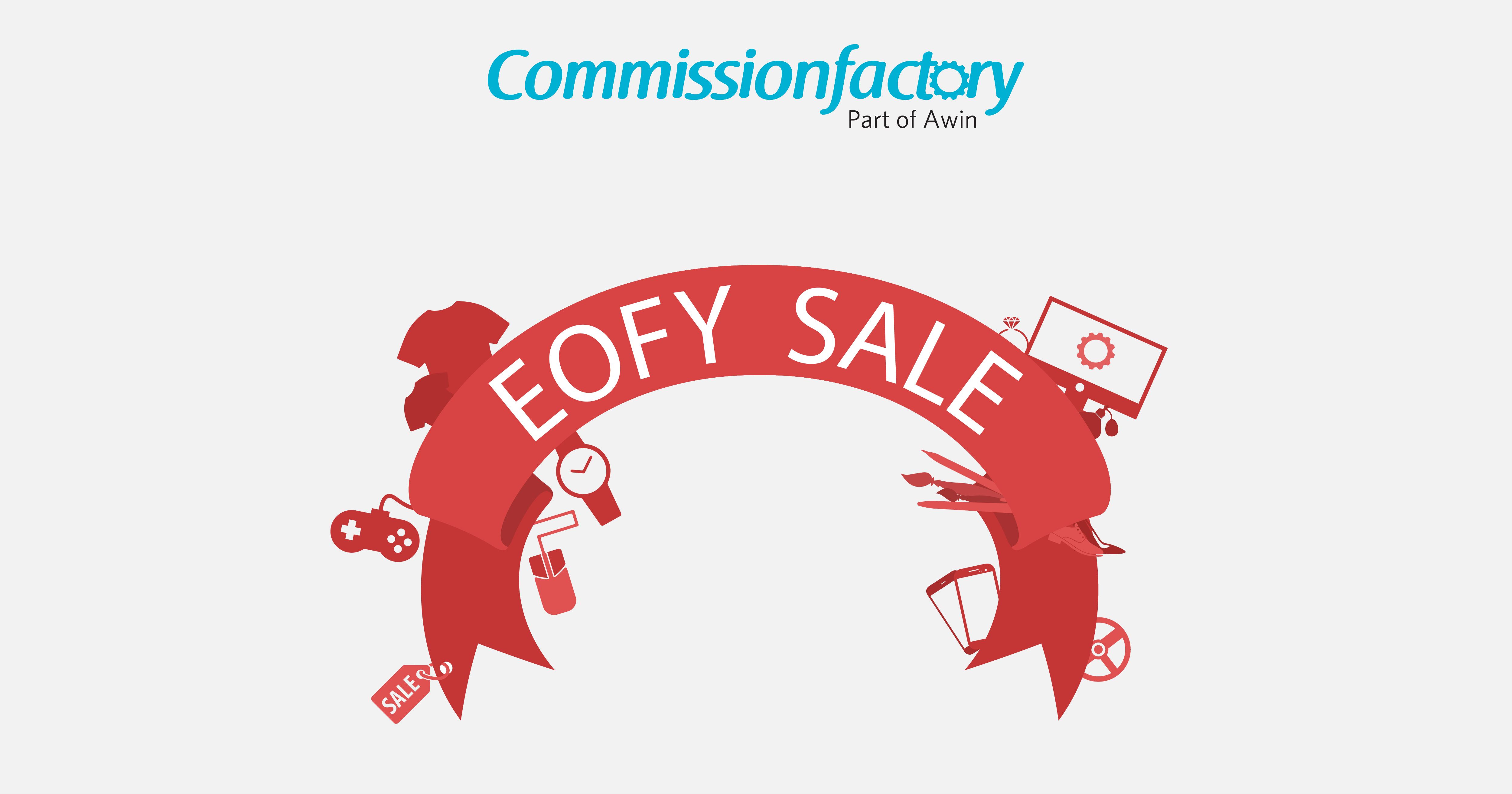 The End of Financial Year Sales (EOFYS) has long been an Australian institution and a key date in the retail calendar alongside the more globally adopted Cyber weekend and Boxing Day sales. It marks the end of the local fiscal year and thus the last chance to buy tax-deductible work-related items and an opportunity for retailers to discount and clear out inventories ready for the coming new year. Sales usually last the entirety of June, often spilling into early July, and key verticals unsurprisingly are furniture, electrical and stationary.
Over the last eight years on the network, EOFY sales revenue has grown, on average 84% and conversions 68% year on year. The network has seen in the last two weeks "bounce-back" spending of late in response to the COVID-19 retail environment. According to Australia Post, there has been "an 80 per cent increase in online shopping over the eight weeks to May 15, compared to last year." (1)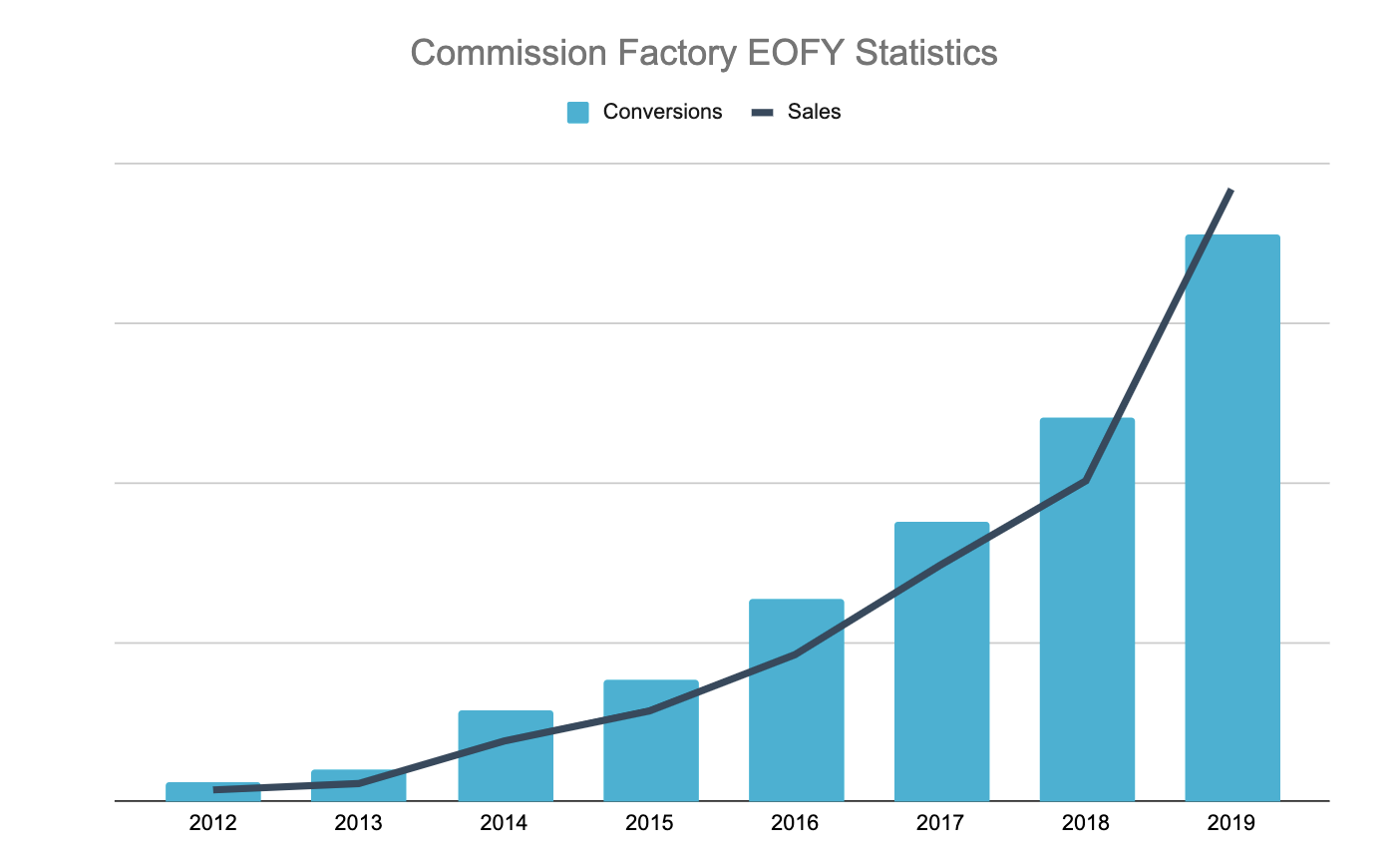 This EOFY presents a unique opportunity for customers to purchase tax-deductible products or services to help facilitate their home office environment, which, while temporarily enforced, may become a more permanent adjustment for many businesses here on out. There are also signs that consumers are a lot more comfortable purchasing online since COVID-19. The combination of these two elements creates the backdrop for an ultra-successful EOFYS period.
Here's how to utilise your affiliate channel to help drive your EOFY success this year:
1. Communication
Communicate all your sales and timings, branding guidelines and most importantly, your safety measures during COVID-19 will mean that your affiliates are fully equipped and able to provide their members with the correct and relevant information.
Read our help desk article on how to communicate with affiliates.
2. Creatives
Have a clear and concise message with the sale or offer for EOFY and a clear call to action. During this time, sell thoughtfully including contactless or pick-up delivery, depending on creative size.
3. Datafeed/product feed
Price is the essential element of the feed and with consumers price sensitive now more than ever; it is vital to include the original price and sale price, as well as the amount or percentage discounted. Include images and updated links and remove out of stock products if you have a static product feed. Shoppers will be relying on the product information to make their purchase decisions; therefore, including all product information can give customer assurance and increase clickthrough rates.
Read our help desk article on data-feed best practice.
4. Fulfilment
With delivery services experiencing increased volumes and the wave of panic buying in March, it is worth managing expectation and setting out when you can deliver or provide an estimated time frame. Whether you have curb-side pick up, click and collect or contactless delivery, make affiliates aware of the options so they can communicate this to their members.
5. Agility
Once EOFY sales start, it is essential to keep a close eye on your affiliate activity and online sales. With consumer behaviour, habits and demand changing due to COVID-19, being aware of what consumers want, customer feedback, stock levels, offers and products that are working and not working. Check-in with your affiliates and your social channels to make sure you can adjust where possible. It could be messaging, pricing or a shift of focus on the product categories when a week into June, the data tells a different story as to what the business should be focusing on in messaging and promotions. Available resource, whether that is development, creative or an affiliate manager will help your business be agile and respond to any adjustments during this time.
According to an Accenture survey of more than 3,000 consumers in 15 countries across five continents, the shift to online looks to be a long term shift as people who have never purchased online overcome their hesitancy during this time accelerating digital adoption(2). Therefore, EOFY is a time to reach new audiences, gain lifetime customers and present market-leading offers over competitors underprepared for online, and not utilising the affiliate channel during such a key time.
Source