Cashrewards tells us how the Placement Marketplace has improved productivity, created opportunity and benefited overall performance.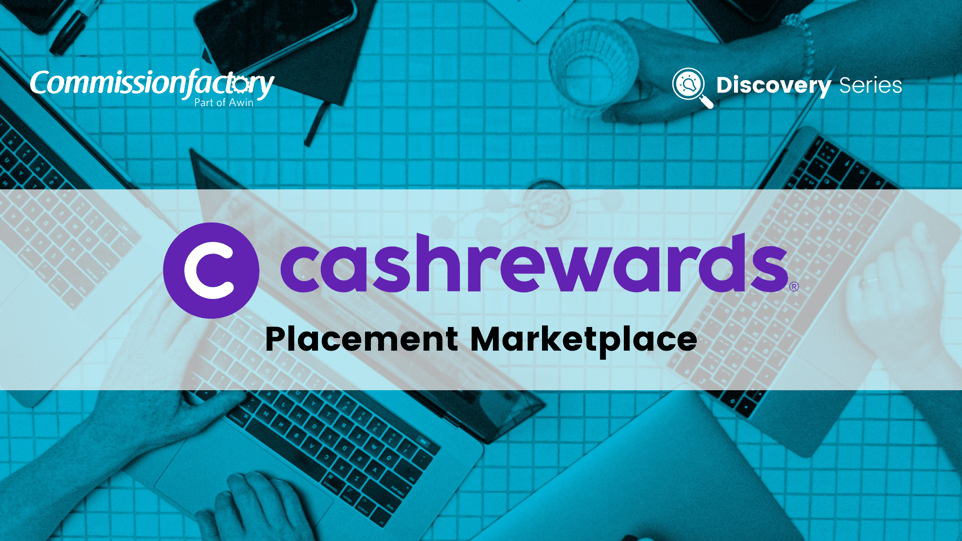 The Placement Marketplace is a feature created by Commission Factory designed to reimagine how our publishers interact with brands on the platform and manage campaigns. By easily uploading campaign opportunities to one centralised location within the Commission Factory platform, small to large scale publishers can efficiently reach a wider pool of advertisers and increase engagement. On the flip side, this gives advertisers the freedom to interact with publishers directly and optimise across campaigns and events that they may not have had access to previously.
After introducing this feature to one of our publishers, Cashrewards, they have been actively using this to optimise with brands across all their key calendar events and ongoing placements.
We were excited to chat with their Account Manager, Jessica May, about how the Cashrewards team have actively incorporated this feature into their interactions with partnered advertisers. They provided us with a deeper insight into the value and benefits they have seen since its launch.
How has Commission Factory's Placement Marketplace improved the productivity of the Cashrewards team?
The Placement Marketplace platform has helped us be more efficient in back-and-forth email communication. For example, it streamlines our communication and account management to an initial self-serve offering. Additionally, it also enhances campaign enablement for all Commission Factory brands. Having all our campaigns listed on one platform facilitates more opportunities for the brand's exposure.    
What are the benefits of utilising the marketplace?
The Placement Marketplace allows Cashrewards access to a broader pool of brands, and inviting them to participate in our campaigns has been beneficial for us. As a result, we have seen a higher uptake in brands optimising key retail and campaign events, a mutual benefit for both the brand and Cashrewards.
How has this feature benefited your overall performance? 
We have seen a higher engagement rate from advertisers, especially self-managed brands, in our campaigns. It provides an opportunity for a variety of brands to advertise with Cashrewards, some of which may not have participated in campaigns with us before. The many brands that have participated in our placement opportunities have resulted in additional revenue for all parties. The ROI and response rate of using the Placement Marketplace is significantly more than organising these opportunities manually.
Would you recommend this to other publishers? If so, why? 
The platform has enabled us to engage with a wider breadth of brands, but it has also been easy to use and an intuitive tool that has helped us save a significant amount of time with back-and-forth emails. As a result, our campaigns and sales events are now populated with the highest value partnerships that could have only been facilitated through the Placement Marketplace. The worthy note is the increased brand engagement across campaigns has helped increase revenue and ROI.
What types of campaigns do you place in the Placement Marketplace? 
We provide the Placement Marketplace with our upcoming campaigns for each quarter. We can tailor campaigns to specific verticals, which is a feature we love to use. The Placement Marketplace allows publishers to communicate a highly curated message to a specified vertical or advertiser. We also utilise the space for last-minute opportunities; we found that multiple brands are interested and participate in opportunities despite shorter timeframes.
Placement Marketplace can help publishers of all sizes increase long-tail partnerships and opportunities with managed and self-managed advertisers. This feature was created to automate the way publishers showcase and manage their campaigns, removing unnecessary back and forth communication with brands. All flat fees and CPA rates approved for campaigns via the Placements Marketplace will be immediately automated by the platform, removing any manual work.
If you would like to learn more about how to utilise the Placement Marketplace, please view our Help Centre guide here.
Not working with Commission Factory, speak to the team today and find out how Commission Factory can connect you with content creators and affiliates and grow your business.