Announcing a new feature that will alert members to new training events and webinar series within the dashboard so you never miss out on exciting new content.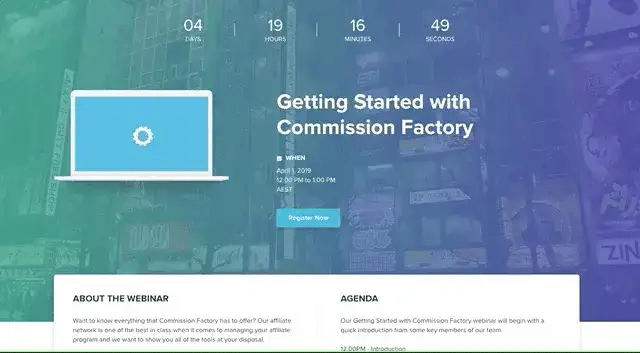 You asked and we listened. Today we are announcing our plans this year to deliver more content to our users to help them make the most of the Commission Factory platform, working with Advertisers, marketing technology partners and growing an affiliate program.
The new events functionality now built into the Commission Factory platform will alert users on their dashboard when a new webinar or event is available to attend, meaning you will never miss some of the exciting content we'll be producing.
Some special events will be produced as a one-off series never to be repeated and others will be made on demand for our customers to access at a time that suits them. But it's not just about what Commission Factory can do for our partners but also what our partners can do for you. As part of this launch we will be announcing co-hosted events with some of the best affiliates, agencies and advertisers, showcasing their offering or talking about their experiences and how this translates to enhanced success within the affiliate channel or success in their respective models.
Getting Access to Events
Events or webinars relevant to our different client types will appear on your dashboard after you login. You can choose to ignore the event or view more information and register your attendance.
Some events will be by invitation only and these will be sent out via email to those we believe should attend or that the information being presented is relevant to.
For our on-demand webinars we will make these available within our help centre.
Want to Co-Host an Event?
For any Commission Factory members that have a service or product they believe would be beneficial to other members and would like to present it at scale or if you think a particular vertical needs more training, best practice and thought leadership, contact us and we can determine if it's a good fit and work with you on the content and producing the event.