In this month's Coffee and Cake, we speak to Isabella Marco, Commercial Manager at Commission Factory
.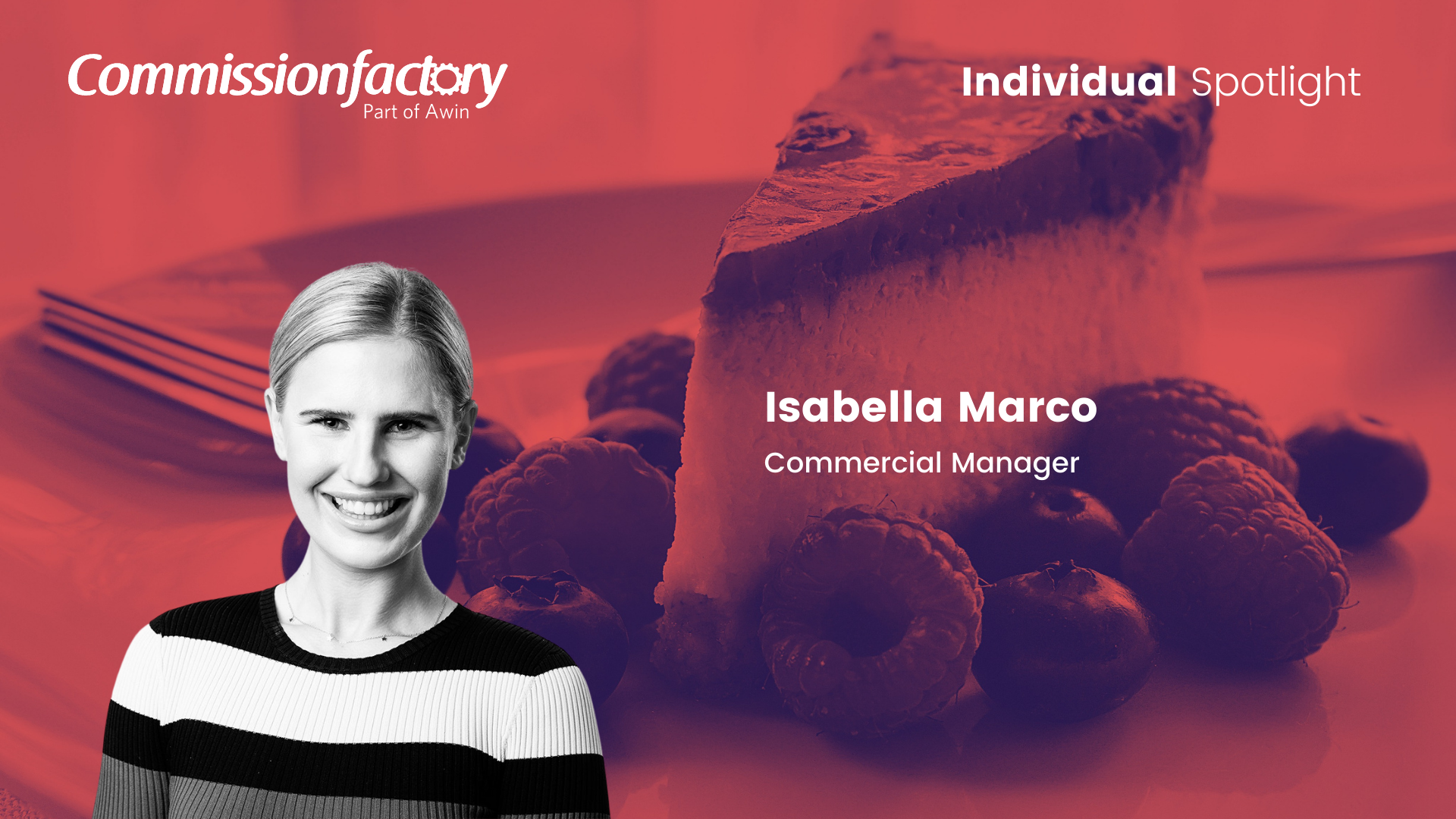 Each month, we will interview a different team member, find out what they love about the industry and (most importantly) how they like their coffee and what their favourite cake is.
In this month's Coffee & Cake series, we have Isabella Marco, Commercial Manager at Commission Factory. Isabella joined the Commission Factory family in March 2018 and has been a ball of energy ever since. She is responsible for many of the sweet treats and is the master of baking.
What is your job title?
Commercial Manager
How long have you been with Commission Factory?
Three years. I started in March 2018.
Tell us a bit about yourself?
I entered the wonderful world of affiliates back in 2016 when I was living and working in London (the typical Aussie thing to do after graduating from Uni). I worked publisher-side over there and they fittingly put me in charge of the Australian side of the business. This gave me exposure to the affiliate landscape in Australia and I was working across all the major local networks, Commission Factory included. Subsequently, the Australian arm of the business took off and I was sent on multiple trips to Sydney to attend events and build rapport with clients.
After surviving three Winters in the UK, it was time to move back home and further excel my career in affiliates. Commission Factory always stood out to me; the platform/tech was my favourite by far and everyone that I dealt with always seemed to go the extra mile. I was so excited when Commission Factory reached out to me with a role they thought I would be perfect for and I started at the Sydney HQ only a few days after moving home from London. Three years have flown by and I have enjoyed every minute of it. Working for such a progressive tech company is something I am extremely proud of.
How do you have your coffee?
This varies and totally depends on the day. I have listed my top 3 go-to's currently on my coffee ordering rotation:
Long Black w/ a dash of full cream

Skim Cap

Filter

coffee (must suss out the café first)
What is your favourite cake and why?
This is probably the hardest question of all. I'm a massive cake person and have a little side hustle baking cakes. You can check out my creations on Bez Bakes. If I had to choose one right now, it would have to be Biscoff Cheesecake.
What does your job involve?
As the Commercial Manager, it is my job to be on the constant lookout for eCommerce brands either wanting to launch an Affiliate Program for the first time or migrate their current activity to us. If you're reading this and you don't have an affiliate program or are not seeing results on your current program, let's talk.
I also work very closely with many local and international agencies looking to run affiliate programs on behalf of their clients.
What excites you about your role?
Talking to such a wide range of eCommerce brands and hearing about how they got started is so interesting to me. All day I'm speaking with business owners, entrepreneurs and marketing specialists, which means no two days are the same and I'm constantly being challenged.
What do you see as the biggest developments in the industry?
The industry is evolving and changing so fast. I love seeing new/ niche publisher types embrace the industry and I think this will continue to happen. Publishers are breaking the mould of traditional affiliate/partner types and broadening reach to new consumer groups.
Do you have any interesting facts about yourself that people do not know about you?
Growing up, I always wanted to be a fashion designer and used to make and design my own clothes.
Do you have a book, podcast or film recommendation for our readers?
Book: Never Split the Difference
Podcast: Do You F*****g Mind, Film: Shrek (The Original)
What is your most played artist at the moment?
Pop Smoke
What do you love about the industry?
It's a really fun and social industry to work in.
Any final words?
If you apply for a job at Commission Factory, you must like cake!
If you would like to join the team, check out our career page.