In this month's Coffee & Cake series, we sit down with Angus Waters from the publisher team at Commission Factory.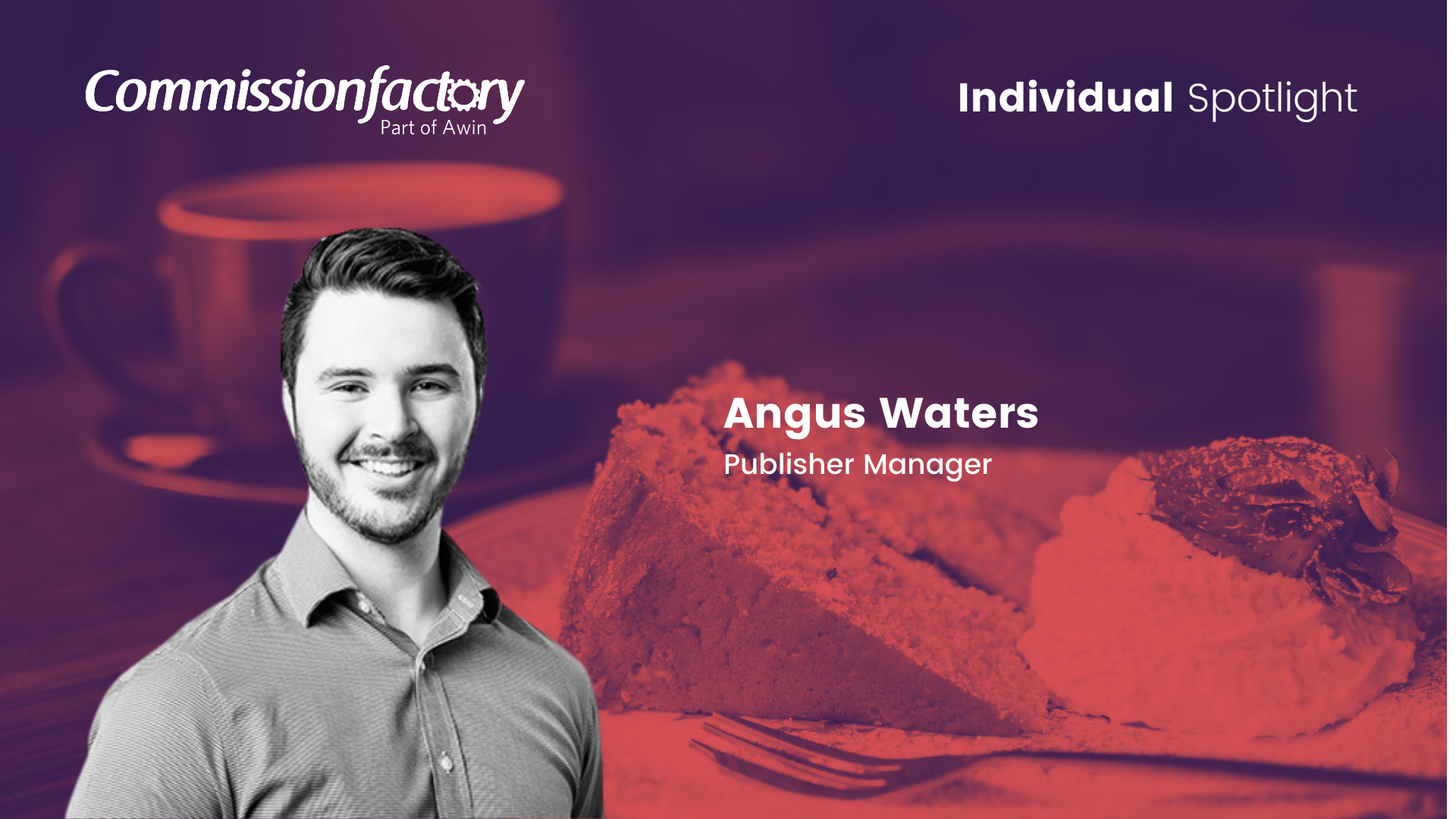 Since the start of his journey with Commission Factory in November 2016, Angus has come a long way. From account executive to now forming part of the publisher management team, he works closely with Publishers and Partners in the APAC market.
Tell us a bit about yourself?
I started in the world of Affiliate Marketing as a part-time team member at Commission Factory whilst I was studying Industrial Design and Marketing at university. I loved the work and company and started working full-time after finishing my Bachelors. I then worked full-time and completed my master's degree in marketing and HR over the following two years.
While extending my study and working full time was challenging, I'm glad I put in the work and furthered my education and skills early in my career. I've grown a lot professionally and personally at Commission Factory and have loved every moment! Outside of work, I'm a big sports fan. I'm either playing a round of golf or at the gym. And if I'm not working out, I'm either watching footy or UFC at the pub. I also love to paint and draw when I get the chance. My favourite piece is a charcoal still-life I drew in high school.
How do you have your coffee?
Iced Long Black, my favourite, no-nonsense, caffeine hit to start the day.
What is your favourite cake and why?
The ricotta cheesecake from Pasticceria Papa in Haberfield. It is by far the best cake known to man.
What does a day in the life look like as a publisher manager at Commission Factory?
My role is to work closely with Publishers and Partners in the APAC market. I'm the main point of contact to discuss the network-level activity with these publishers.
The Publisher Manager role has allowed me to develop greater professional relationships and skills around coordinating and managing key publishers for the Commission Factory network. It's allowed me to drive several affiliate relationships and assist with their program growth, either by optimising new partners or helping in campaign coordination and connecting key affiliates to brands, amongst many other responsibilities.
What excites you about your role?
The new and cutting-edge publishers in the industry, constantly seeing new, innovative ideas and keeping up to date with the latest trends.
What do you see as the biggest developments in the industry?
I see the affiliate industry's biggest development is recognition from enterprise-level clients and publishers of the value and role that affiliate marketing has within their broader marketing mix. The affiliate channel can drive brand growth and sale volume with an unmatched ROI, and I've been encouraged to see the industry's growth and recognition in the last four years.
What would you say are the biggest challenges and how can the industry look to overcome it in your opinion?
The biggest challenge I've seen is the perception that the affiliate channel overwrites other marketing spend. Education and awareness around the value of affiliate marketing should be widely available. Ideally, we should be working closely with large marketing agencies to clarify how affiliates fit within their marketing strategy to ensure that both brand and agency understand how affiliates can complement other marketing channels.
Do you have any interesting facts about yourself that people do not know about you?
I was once escorted out and had my tour group banned from the Sistine Chapel by Vatican security. I left my cameras flash on, which they take seriously.
Do you have a book, podcast or film recommendation for our readers?
My favourite book would have to be Stalingrad by Anthony Beever, and the film Pulp Fiction / Hateful 8 (Tarantino fan)
What is your most played artist at the moment?
Violent Soho and Dz Deathrays
What do you love about the industry?
I love the community nature of the industry. It seems like everyone knows everyone, and it feels almost like a family vibe.
What's the most surprising thing about the industry?
The speed at which it's grown and the agility that companies the size of affiliate networks have can pivot and scale in no time.
We asked Sophie Metcalfe, Head of Publisher Department at Commission Factory, to best describe Angus. Here's what she had to say:
"Angus joined us as a part-time student initially but quickly became part of the Commission Factory full-time furniture. Angus is known for his dancing, exuberant energy and being the last man standing at a Commission Factory party. Nobody could ask for a more motivated, hard-working and kind-hearted teammate."
If you would like to join the team, check out our career page.