We are today announcing the launch of our Coupon Unit, built especially for affiliates that wish to promote deals and coupon offers on their site.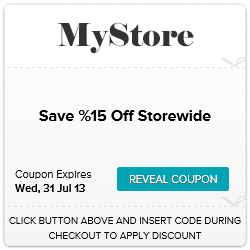 The Coupon Unit is the first of many tools that we'll be releasing over the next few months and is a part of our new Tools section on the Commission Factory dashboard. The tools tab will be a brand new hub for all internally developed widgets, iFrames and plugins plus featuring third party software and services that have been extremely popular with affiliates.
The coupon unit automatically and dynamically updates all available coupon offers from the merchants you have joined and embeds them on your site. The unit can display the coupons in a variety of sizes, from standard banner sizing to full page. You simply copy and paste the HTML code onto your website where you want it to display and that's it.

Why should I use it?
It has the potential to increase your affiliate earnings considerably and has been developed by in-house industry experts to best practice.
The coupon unit has been built to include "click to reveal" that ensures that before a coupon code is displayed that the user passes through an affiliate link. This ensures you don't miss out on commissions.
If you are not getting commissions using banners you may want to consider using the coupon unit instead. Coupons on average convert 4x higher than any other creative. It provides real value for your website or Facebook page and will keep your readers coming back to view new offers.
How Do I Use It?
The unit is very easy to implement!
Simply configure it (choose colours, size, headers etc) and when you're done customising the look of the unit you can then copy and paste the HTML code onto your website or social media page.
To help get the right look the Coupon Unit dynamically updates a preview window so you can see exactly how it will look.
One pasted onto your site you will no longer need to update your offers or ensure that old expired coupons are still visible. The unit will update as you join new merchants and new coupons become available. It truly is a set and forget feature for your site.
To ensure the maximum amount of coupons are in the unit, you will need to ensure you have applied to all merchants on the network that support coupon usage. You can do this be selecting all the merchants on the merchant page and bulk applying.
How could I use it?
There are so many ways you could use the coupon unit, but here are a few ideas:
Use the full page size unit and create an "offers" page on your website. Your visitors will love the coupons and you the commission.
Create a Facebook tab and place the Facebook size unit. Add value to your Facebook page.
Include the unit in your websites sidebar or below content using the dynamic scrolling coupon unit.
Talk about a merchant or product range, then using the filters include a coupon unit that matches the content.