COVID-19 has been both good and bad for eCommerce in Southeast Asia. Payoneer examines its impact on the industry and what retailers can action to survive.
Across Southeast Asia, online shopping rose by 32% on average over the last two months(1) while offline shopping dropped by 35%. COVID-19 gave a considerable boost to eCommerce uptake in emerging markets. In Thailand alone, online sales expected to hit $49 billion in 2020(2), up from $33 billion in 2017. Indonesia saw sales rise by 10%, and basket size increase overall. China, which was already the region's biggest market, saw online sales rise by another 22% during January and February 2020.
eCommerce transactions rose in line with lockdown orders. Downloads of shopping apps jumped by 60%(3) in Thailand in the week of March 22, during which the government imposed a general lockdown. In Vietnam and Singapore, when restrictions were tightened downloads were up by 10%
Growth categories and increase sales
It is not surprising that panic buying led people to spend more on groceries. James Chang, CEO of Lazada Singapore, says that shoppers "have been buying 4 to 10 times more food staples.(4)"
Additionally, consumers are nervous about the risk of infection and the need to keep the home clean, so they also spent more on personal hygiene, cleaning products, and nutritional supplements that boost the immune system. Kantar report(1) that 48% of people said they bought more face masks and hand sanitiser; 45% spent more on health and nutritional items, and 40% raised their spending on home cleaning products.
In Singapore, logistics provider Ninja Van reported that its parcel volume almost tripled(5) in February for the pharmacy and health category. Qoo10 saw a rise in demand(6) for face masks, hand sanitisers, and health supplements like immune-boosting vitamin C and black elderberry extracts.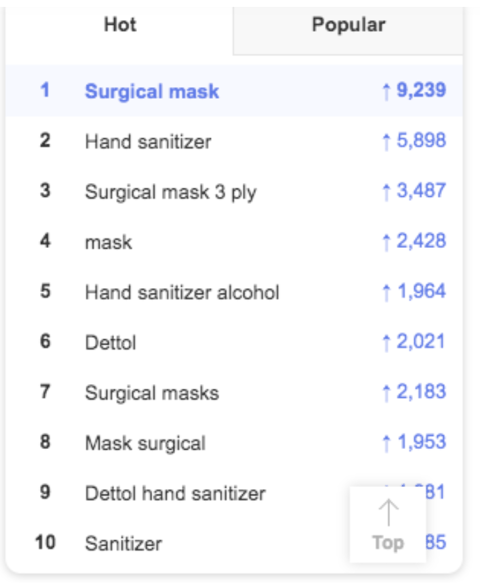 Source: Techinasia
On the other hand, spending dropped in some categories as consumers are worried about their financial security, so spending on luxury goods fell by 27%(1) , on alcoholic drinks by 30%, and meat and seafood by 21%.
Consumers moved to shop online to avoid crowded areas, and retailers and brands are responding to this by shifting their focus on online sales. However, Lazada and Shopee are still the leading apps, although downloads of Alibaba increased in Malaysia and Indonesia.
Shoppers will likely continue their changed shopping habits even after the peak of the Coronavirus crisis has ended. Once customers have started shopping online, they usually do so again, and many Southeast Asian consumers made their first online purchases because of the pandemic.
Health and hygiene products such as masks and hand sanitiser are going to be in high demand for the long term. Although eCommerce as a whole has gained from the COVID-19 pandemic, online retailers are still facing many challenges.
eCommerce retailers in Southeast Asia new challenges
The biggest problem concerns supply chains and logistics. eCommerce giant Alibaba announced a drop in revenue(7) for Q1 2020 because of supply and delivery difficulties, even though eCommerce rose as a whole.
The disruptions to supply began when the Chinese New Year vacation was extended by two weeks to reduce the spread of infection. This closed factories for longer than expected, which delayed orders that had been placed in January and caused stock shortages for eCommerce sellers. For example, stock availability limited eCommerce growth in Singapore, where consumers turned to offline shopping for food because online groceries ran out of stock.
Shortly afterwards, travel restrictions across the region disrupted air freight supply lines, making air deliveries both more expensive and unpredictable and creating inventory shortages which affect revenue.
Last-mile delivery has also been disrupted by movement orders which blocked roads and kept delivery people at home. Requirements for a safe working environment reduced workforce, split shifts, and delayed deliveries to allow disinfection to take place. Ninja Van in Singapore said that their productivity has dropped(3) because of safety precautions, even though parcel volume tripled.
How to Strengthen your eCommerce Business During the COVID-19 Pandemic
To make the most out of eCommerce opportunities in Southeast Asia and overcome the challenges, eCommerce retailers need to pay attention to several issues.
1. Nurture Supply Chains
Factories can close at short notice, either because of infection among the workers or because of government lockdown. That makes it very important to secure your supply chains as close to home as possible. Disrupted logistics can also cause significant delays to stock deliveries, so look for alternatives to air freight. Many retailers have switched to sea freight because it's faster and more reliable in the current climate.
2. Be Honest with Consumers
Your customers understand that times are uncertain, so they will be patient with you if it takes you longer to deliver their purchases or if you unexpectedly run out of stock. But only if you are honest and open. Consumers are getting frustrated about a lack of information from eCommerce merchants about delivery times and inventory levels.
3. Get Creative About Last-Mile Delivery
In Thailand, merchants asked ride-hailing drivers to help them with last-mile delivery. Alibaba's food delivery unit Ele.me in China, and Gojek and Grab in Indonesia, launched contactless delivery options(6) to meet consumer needs for health and safety. These initiatives show that creativity can bring success when it comes to logistics.
4. Respond to Changing Shopping Habits
The decrease in sales for luxury goods and the rise in health and hygiene products are likely to continue for a long while, so you will need to adjust your product offering to match. Other shifting attitudes include consumers paying more attention to price, higher demand for long-life, shelf-stable food, and increased concern about product origin.
5. Get the Messaging Right
Research into consumer attitudes also revealed that your customers want to see and hear positive messaging that raises the spirits but doesn't take COVID-19 too lightly. They prefer brands that reach out to help others, share useful information about the situation, and display social responsibility.
Source: Kantarworldpanel.com
COVID-19 has brought unexpected growth for eCommerce merchants in general, but it has also disrupted the supply chain and delivery and affected stock levels. eCommerce sellers that sell the right products, use positive messaging, fix their supply chains and last-mile delivery networks, and are honest with consumers can take advantage of the growth opportunities created by the coronavirus.
About Payoneer
Payoneer's mission is to empower businesses to go beyond–beyond borders, limits and expectations. In today's digital world, Payoneer's platform streamlines global commerce for millions of small companies, marketplaces and enterprises from 200 countries and territories. Leveraging its robust technology, compliance, and banking infrastructure, Payoneer delivers a suite of services that includes cross-border payments, working capital, tax solutions, merchant services and risk management. Powering growth for entrepreneurs in emerging markets through the world's leading digital brands like Airbnb, Amazon, Google and Upwork, Payoneer makes global commerce easy and secure. Payoneer -one world, one platform, endless opportunity.
https://www.payoneer.com/enterprise/
Sources
1. COVID-19: Asians worried sick about financial health
2. Thailand e-commerce to hit $49 billion as coronavirus fears fuel online shopping
3. COVID-19 whets appetite for e-commerce in Southeast Asia, but bottlenecks remain
4. Demand for online grocery and food delivery ticks higher in Singapore amid coronavirus outbreak
5. COVID-19: Entering a new norm in consumer behaviour
6. Travel slumps, ecommerce thrives as Wuhan coronavirus spreads
7. Alibaba warns of drop in e-commerce revenues due to coronavirus; beats estimates on record Singles' Day sales