Which travel trends are looking popular this year, and how will they change affiliate marketing in the travel industry?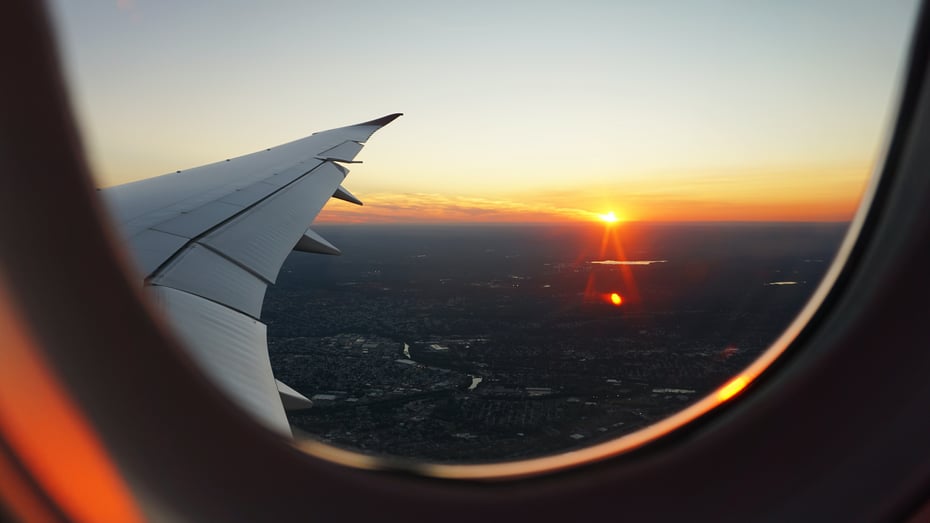 As international and local border restrictions return to pre-pandemic levels, the travel industry looks forward to another year of growth in 2023. In a survey by Booking.com, 72% of travellers mentioned that travelling will 'always be worth it' – showing high optimism despite the minor restrictions.
In Southeast Asia, 50% of travellers from Singapore, Malaysia, Indonesia, and the Philippines expressed their intention to travel in 2023. While the need for a holiday is growing, we'll see a couple of key trends shaping the travel industry this year.
Here are some of the trends travel businesses should look out for.
Hygiene Matters
After years of safety concerns, travellers are slowly regaining their confidence. According to research, travellers still search for travel insurance to cover COVID-related problems, but that priority is gradually dipping.
Additionally, the hypervigilance adopted by travellers during the pandemic is still present in 2023, with many wanting more assurance on brands' safety and cleanliness procedures. Most travellers wouldn't mind paying a higher premium for a regularly sanitised and clean hotel.
While travel brands are keen to regain customers with promotions and other outreach activities, they should not abandon their messaging on COVID safety. Constant emphasis on safety procedures, regular sanitation, and staff professionalism and cleanliness is crucial to increase customers' sense of safety.
A great example is car rental company Europcar, which dedicates a page with FAQs on its website regarding safety and flexible bookings. The car rental company also allows customers to modify or cancel bookings 48 hours in advance and adheres to stringent cleaning of their vehicles
Wellness Tourism
Wellness travel is defined as 'travel associated with the pursuit of maintaining or enhancing one's personal well-being.' After a few challenging years, travellers are taking wellness travel to the next level – with 44% of travellers seeking meditation and mindfulness getaways and two in five travellers looking for silent retreats.
The wellness tourism market is well on its way to popularity – growing over 6.5% annually from 2015 to 2017. This figure is expected to achieve more than 59% growth and will be worth around 7 billion euros in 2025.
According to a Wellness Tourism Initiative survey, Australia is ranked first as the world's most desirable wellness tourism destination. This could be due to its fresh local produce, unspoiled nature and wildlife, and stunning wellness accommodations for tourists worldwide. As such, brands and affiliates should consider incorporating elements of wellness into their offerings in 2023.
For travel packages company Scoopon has an 'Indulge Yourself' section on their website that's dedicated to wellness and pampering packages. This allows site visitors to filter out specific wellness travel deals instantly.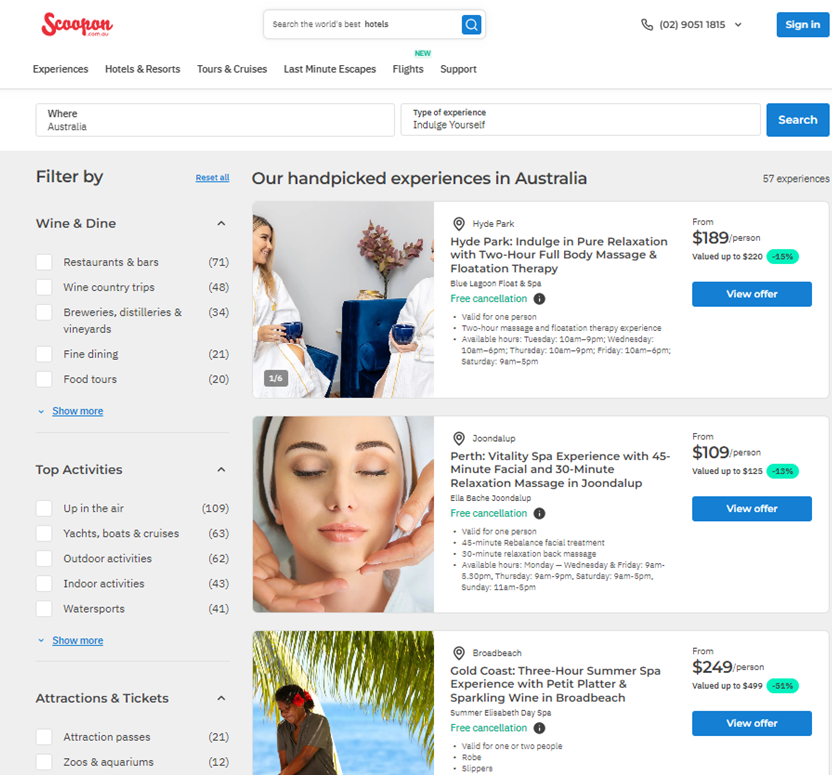 Sustainable Travel
Consumers are more conscious of their travel footprint as a result of increasing awareness of climate change. As a result, sustainable travel will be a popular trend in 2023, with travellers considering the social and environmental effects of their holidays within society.
In fact, surveys show that 71% of travellers want to travel more sustainably, and 55% of them are influenced to make more sustainable travel choices because of climate change. This shows a shift in people's holiday preferences, and travel companies should consider adopting more sustainable practices in their organisations.
For example, evee is a car-sharing platform that allows drivers to rent EVs directly from owners. The ability to easily rent an electric vehicle from its owners will enable travellers to move using cleaner energy. It also encourages a less wasteful travelling mode and a sharing economy among consumers.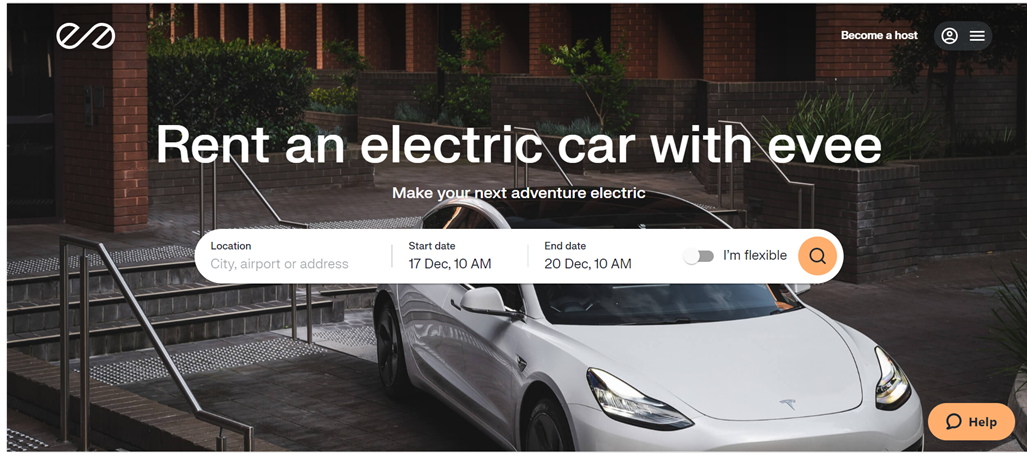 Electric vehicles aren't the only way businesses can adopt sustainable tourism. Companies wishing to implement these practices can consider giving back to their communities, creating eco-friendlier processes, and minimising environmental waste. However, it must be believable to consumers and not be considered just another marketing gimmick.
Travel that (dis)Connects
Perhaps one of the most interesting findings about travel this year is consumers' purpose of travel. After a few long years of the pandemic and global economic instability, the desire to 'get away from it all' has never been more prominent. 44% of travellers are looking to disconnect and go for an off-grid holiday, while 58% want to take it a little further and use travel as an opportunity to learn new survival skills in 2023.
But while consumers want to go off-grid, 53% of consumers still want a phone and internet connection wherever they go. Travellers will also want to build better relationships with locals as they travel – a sentiment known as 'slow travel.'
In contrast to conventional tourism, slow travel is about immersing oneself in local culture, experiences, and histories. The main goal is to take one's time and enjoy the holiday at their own pace, as many travellers no longer like the idea of a packed schedule with tours, or visiting a packed, tourist-filled spot.
For example, TakeMeTour is an award-winning marketplace offering local tours in Thailand, Vietnam, Cambodia, and other countries. The company's one-day tours are privately hosted by their Local Experts - locals who have insider knowledge about the area and communities.
By organising a tour with an expert, travellers can join locals in their day, experience local hangouts, and learn about their lives more meaningfully.

Budget-Conscious Travellers
With increasing global economic uncertainty comes price-sensitive consmers. So while 50% of consumers are prioritising a holiday this year, 68% of them are seeking value-for-money travel deals.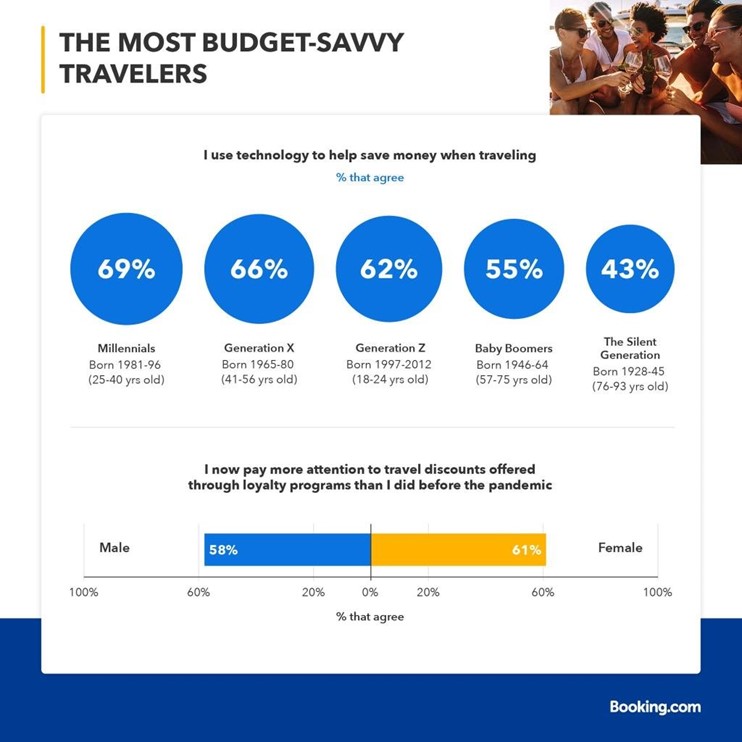 Source: https://www.booking.com
However, even with a budget in mind, consumers are less likely to feel the inflation pinch when it comes to travel, and many are actually splurging. Nearly half of travellers surveyed mentioned they would be more indulgent in their travels in 2023 to make up for what they lacked in the previous years.
When dealing with deal-savvy travellers in 2023, travel companies need to plan ahead. Holiday deals, bargains, and loyalty programs and more popular than ever, and building the right strategies with the right partners is crucial to catch this crowd.
For example, when travel companies partner with Deals.com.au, they can create attractive packages of their offerings on the website. Since the advertiser attracts ready-to-purchase, deal-seeking customers, travel companies will not have to spend too many resources targeting them.
Nostalgic Getaways
In the midst of the unknown, nostalgia brings familiarity – and an uptake in nostalgic escapes in the coming year is apparent. Nostalgic trends have somewhat made a comeback in recent years, with fashion and music going back to the 80s and 90s. In 2023 we will see travel follow suit, with almost 9 out of 10 travellers wanting to go on a nostalgic gateway.
Few things invoke nostalgia more than family, so more than half of travellers plan to take a reunion-focused vacation in 2023. We also see travellers chasing emotional memories when travelling, such as visiting a theme park or tv-popular attractions.
Additionally, Millennials who are now travelling as new parents will want their travels to transport them to simple times. As such era-themed accommodations and destinations that were popular in the 80s and 90s could be making a comeback.
For example, JUCY, a car and campervan hire company, has a specific page targeted to parents with a list of kid-friendly experiences they can consider. The company also markets itself with the hashtag #jucymoments - invoking a sense of getaway, nostalgia, and escapism.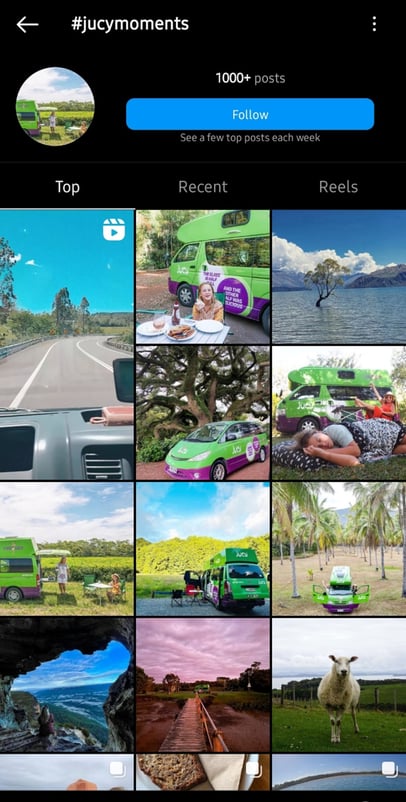 Key Takeaway
The travel industry is looking to be exciting this year, with ample opportunities for brands to leverage. Having the right affiliates and partners ensures businesses deliver profitable results, so building the right partnerships should be a key focus in Q1 2023.

---
Commission Factory is APAC's largest affiliate network, working with over 800 of the world's biggest brands and affiliates. Our performance marketing platform allows advertisers and publishers to create effective campaigns, build win-win partnerships, and maximise revenue.
If you're a travel brand or affiliate looking to improve your marketing and sales in 2023, get in touch with us about working with Commission Factory. Alternatively, register as an affiliate or an advertiser on our platform today.
References