As consumers become savvier with their shopping habits, it's crucial for brands to align their marketing strategy with what's in demand and trending to stay relevant. With Card-linked Offer providers, it offers a win-win opportunity for brands and shoppers.

At Commission Factory, we offer several Cardlinked offers (CLO) partners, including PokitPal, Loyalty Now, Mastercard, Cashrewards and Amex (via PerformID), that can support your brand goals. By partnering with these industry leaders, businesses can increase visibility and reach a wider audience while providing consumers with an opportunity to save money on their purchases.
A Win-Win Opportunity for Brands and Shoppers
Commission Factory advertisers can benefit from working with some of the leading CLO players in Australia, including PokitPal, Loyalty Now, Mastercard, Cashrewards and Amex (via PerformID). Let's take a closer look at each of these partners and what they can offer your brand.
PokitPal
PokitPal is a fantastic option if you're looking to attract customers both online and offline. Using a combination of affiliate tracking links provided by Commission Factory and transaction data obtained from Mastercard and Visa, PokitPal supports cashback offers and rewards that are promoted to more than 3.5 million users in Australia and 500k users in NZ. Their personalized cashback and points offers are tailored to specific user groups and demographics and communicated through push notifications, EDMs, social media, and their app or website's content.
"PokitPal's technology enables brands to engage consumers through a seamless, omnichannel solution. Our partnerships ensure brands reach their most valuable customers and reward them in a simple and easy manner."
Gary Cobain, CEO at PokitPal
Loyalty Rewards Schemes via PokitPal Include:-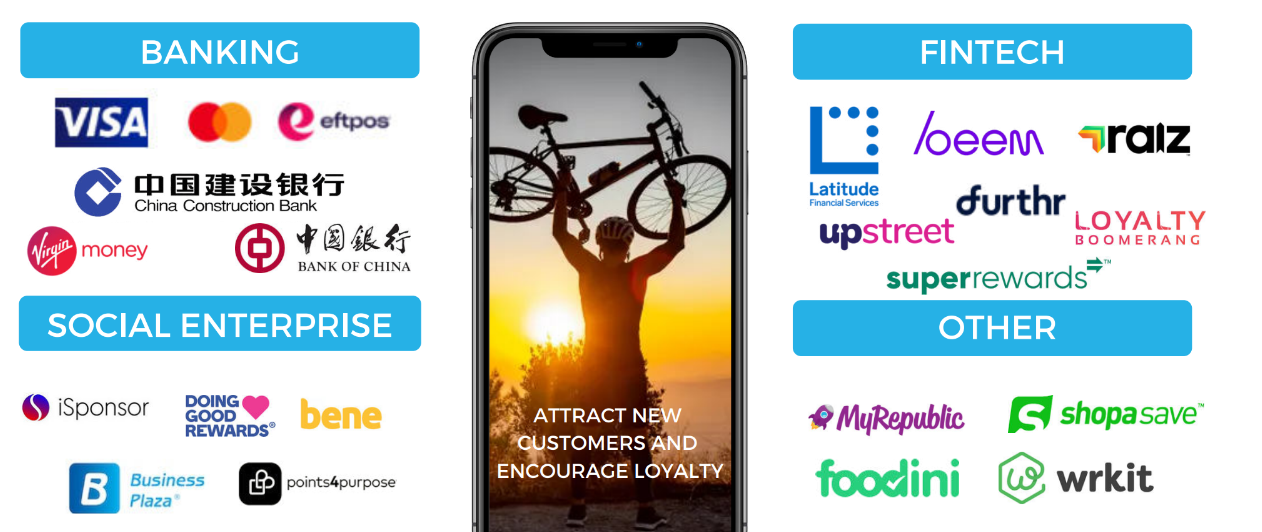 MyAmexShop

™

(by PerformID)
PerformID is a leading fintech loyalty platform provider, creating and operating platforms on behalf of leading card networks such as American Express and other premium global banks.
PerformID has partnered with American Express to launch MyAmexShop™ in Australia.
With MyAmexShop™, American Express users can access offers, rewards, discounts, and refunds via Commission Factory tracking links that are directly credited to the customer's American Express card, no matter which card they hold.
"With MyAmexShop™, American Express users can earn credit back on eligible purchases to their linked card. Commission Factory advertisers also benefit from commissioning on affiliate tracking links, fully attributed sales and automated invoicing."
Alex Short – Founder and CEO at PerformID

Loyalty Now
Loyalty Now is a white-labelled, card-linking loyalty and rewards technology facilitator catering to a wide range of loyalty and rewards providers. As one of the leading loyalty suppliers in the Asia Pacific region, Loyalty Now offers a seamless method for customers to access card-linked loyalty rewards services. Their platform provides real-time data and detailed transaction analysis, enabling you to create, manage, and drive your promotions effectively.

Loyalty Now delivers and facilitates a wide range of loyalty and rewards providers, including multinational organisations, superannuation funds, financial institutions, and specialised organisations with large membership bases.  

Merchants can target and attract customers by selecting and targeting promotions according to data surrounding customers, insights and purchase details whilst re-engaging customers via exclusive offers through Loyalty Now. 
Mastercard
Mastercard card-linked offers are rewards and discounts offered to Mastercard cardholders by partnering merchants. Mastercard card-linked offers provide a convenient way for cardholders to save money and for merchants to drive sales and customer loyalty. Mastercard will share personalised offers to consumers based on the cardholder's spending habits, making them more relevant and valuable to brand partners.

By providing a range of rebates to its users, Mastercard's CLO strategy supports repeat engagement, geo-targeting and lapsed consumer engagement to provide incremental value to brands.

Cashrewards in-store offer
Cashrewards have created an in-store experience that allows customers to securely link their Australian-issued Visa, Mastercard or Eftpos cards to their Cashrewards account. Via the Cashrewards app or website, their customers can view in-store offers and automatically receive cashback every time they shop in-store, at participating retailers, with their linked cards.
A Seamless and Effective Way to Increase Brand Awareness and Sales
Partnering with CLO providers is a seamless and effective way for brands to reach target audiences and increase brand awareness and sale volume. With PokitPal, Loyalty Now, Mastercard, Cashrewards and MyAmexShop (by PerformID) providing a solution for a partnership that can merge in-store and online offers into the performance channel, there is a seamless opportunity for brands to grow their success.