With multiple charity affiliates and a sustainable business offering, OVO Energy aims to change how we think about renewable energy.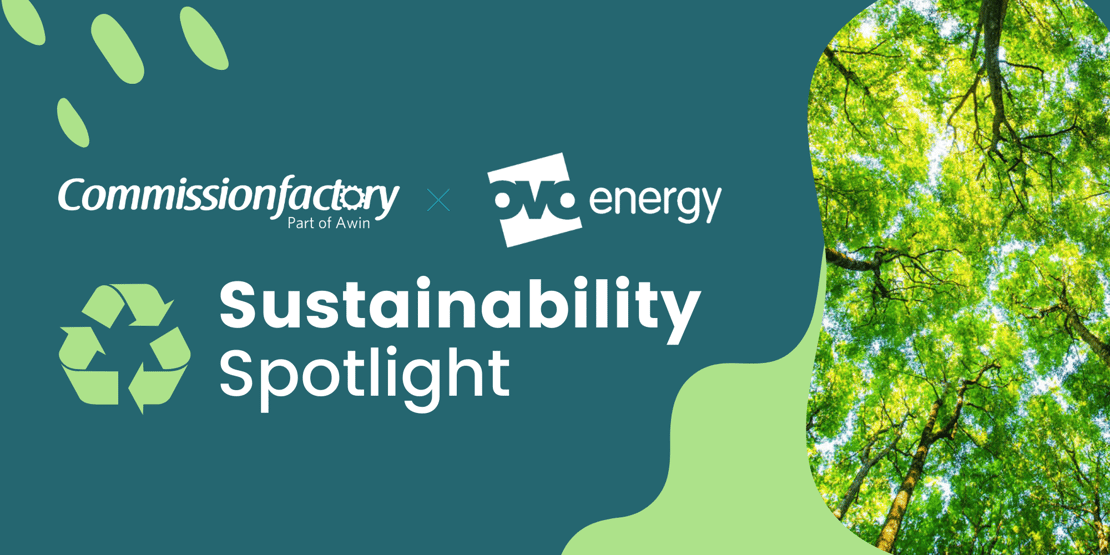 About OVO Energy
OVO Energy was founded in 2009 with the sole purpose of making renewable energy more accessible to consumers. Through its outstanding services and affordable prices, the company has become the largest independent energy supplier in the UK, with more than 5 million households utilising its renewable energy services.
Since late 2019, the company has brought its renewable energy services to Australia. By adopting the same values and principles that have driven their success in the UK, the organisation aims to revitalise Australia's renewable energy market.


Sustainability through accessible renewable energy
Sustainable energy is only effective when it's accessible. As such, OVO Energy aims to contribute to long-term sustainability by reducing carbon emissions and encouraging a renewable energy switch to create a more sustainable future.
With its GreenPower upgrade option, customers can switch to 100% certified renewable energy with zero greenhouse gas emissions. The company's GreenPower certification ensures that they are audited each year to meet the standards.
"Our GreenPower upgrade option on our energy plans allows all of our customers to select 100% renewable electricity, regardless of their ability to install solar panels on their roofs. We collaborate with a certified installation partner to help our customers fit solar panels and batteries onto their rooftops - enabling them to generate and store their own electricity."
Additionally, OVO Energy offers its customers an electric vehicle-specific tariff through OVO Drive. Through this initiative, customers who charge their electric vehicles between midnight and 5 am can get a discount of $0.05/kWh on usage rates.


Plan Zero
In response to the climate change crisis, OVO Energy has outlined its roadmap to becoming a zero-carbon living partner under 'Plan Zero.' The company has big goals of cutting carbon emissions by 90% and only offset 10% of its unavoidable emissions.
OVO Energy plans to do this by focusing on three key areas – Climate, Customers, and Culture. So far, the company has already succeeded in achieving the following milestones:
Achieved a 31% reduction in operational emissions since 2018

Install over 705,135 smart meters in their customer's homes

Launched over £50 million (AUD $96 million) Customer Support Package to help customers who need it


Supporting the Foundation for National Parks and Wildlife
OVO Energy has partnered with the Foundation for National Parks and Wildlife (FNPW) to help with the charity's conservation efforts. FNPW supports a range of projects that aid in park conservation, wildlife preservation, and habitat restoration – a cause that aligns with the brand and its customer values.
"With the ongoing cost-of-living challenge, it's important to always innovatively deliver the best value to consumers. In light of this, we help our customers contribute 50 cents per customer each month to the Foundation for National Parks and Wildlife (FNPW). Together, we've successfully helped regenerate over 230,860 square meters of land."


OVO Foundation
The OVO Foundation is the organisation's very own charity that supports climate action and education projects for children in schools. The Foundation engages in various projects such as planting Tiny Forest that absorb up to 7.2 tonnes of carbon each year, installing solar panels in schools and clinics in Kenya, and providing life skills education to homeless youths.
Customers of OVO Energy can easily donate to the Foundation by adding it to their monthly bill, and the company will match every dollar to double that donation. OVO Energy also covers all staff and admin costs, so 100% of customer donations will be used for OVO Foundation's projects.


Accessible Sustainability
By understanding what matters to consumers and providing them with an easy way to play their part for the environment and planet, OVO Energy has paved the way for accessible sustainability. The organisation also sets clear goals to follow, communicating this through transparency and a solid business model.
To engage with OVO Energy and other ethical and sustainable advertisers, become an affiliate partner with Commission Factory. Alternatively, please speak to our team for a personalised discussion.
---
Do you want to be an advertiser with Commission Factory? Contact us today and let us help connect you with affiliates, content creators and partners to grow your business.