Singapore's passion for social media continues to grow year in, and year out, creating new opportunities for advertisers and affiliate marketers. This detailed guide on Singapore social media statistics gives you the lowdown on how this landscape has been evolving in 2023.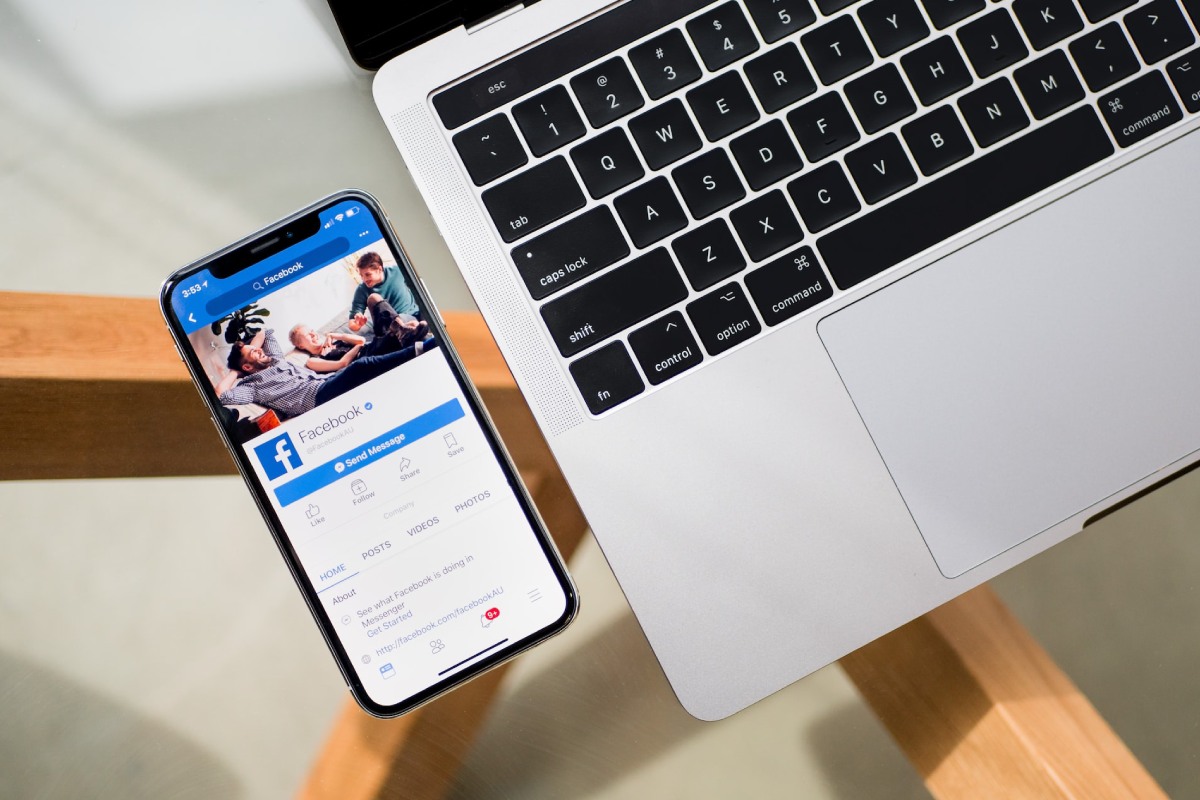 Here are some Singapore social media statistics you probably weren't aware of.
The city state now has 5.3 million social media users1 out of a total population of 5.92 million, and this number is projected to climb to 5.45 million in 20232. Which means nearly every citizen of Singapore uses social media in some form.
Why is social media growing so fast?
Because, as with the rest of the world, social media platforms have grown increasingly vital to Singaporeans' everyday lives, especially in the wake of the pandemic.
Out of its total population, 92% used the internet as of February 2022, with that number representing an increase of 43,000 year on year (+0.8%).
That's not all, two-thirds of Singaporean children between the age of seven and nine reportedly use smartphones every day.3 A 2019 survey by Google, meanwhile, found that Singaporeans received their first connected device at the age of eight - two years younger than the global average.4
Who profits from this young digital native market? Clearly, social media platforms. However, advertisers and content creators can also benefit from Singaporeans' widespread adoption of social media.


Singapore's Social Media Habits
Singapore's active social media users spend on average about 2.5 hours every day across around seven social media platforms.1
One reason for this high rate of usage is Singapore's mobile penetration rate.
The US has a penetration rate of 85%, which is surpassed by Singapore's smartphone penetration rate of around 88% - a figure calculated from 96% of the city state's internet users owning a smartphone.1 25
With access to mobile internet across a huge proportion of the population, it makes sense that people are connecting with social media platforms as part of their daily lives.
Which Are the Most Popular Social Media Platforms in Singapore? [1]
Here's a snapshot of Singapore's social media landscape.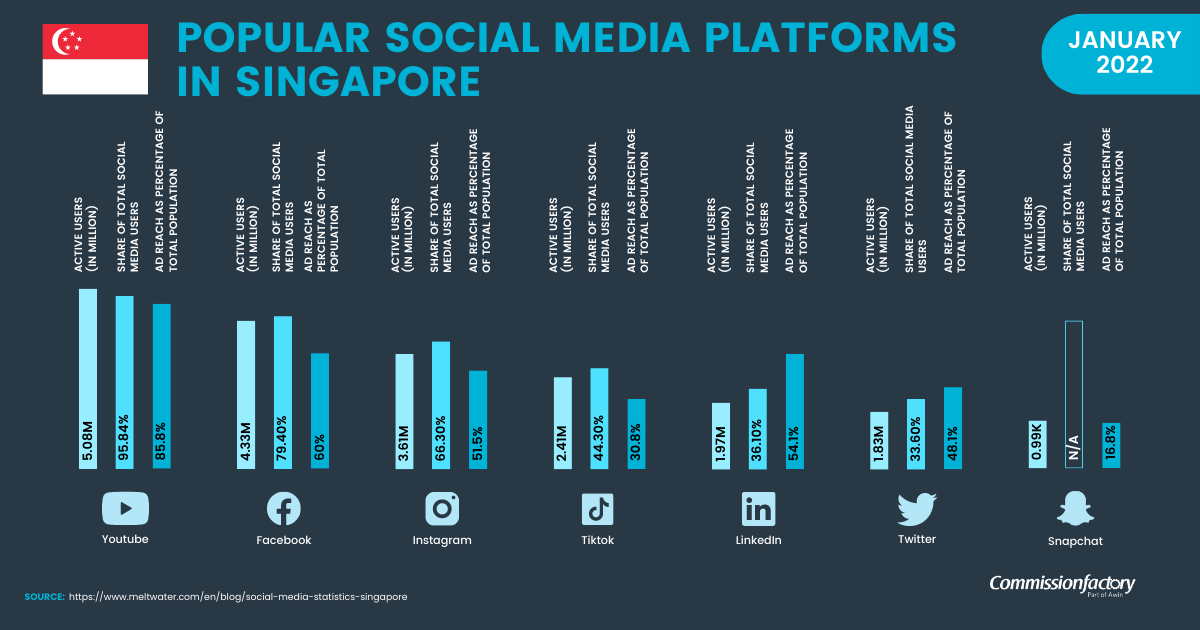 Globally, Facebook is the dominant social platform by membership, with 2.95 billion monthly active users (MAUs) at the end of 2022.
However, Singaporeans are actually spending more of their social media time on YouTube, while rating WhatsApp as their favourite messaging platform1.
YouTube is the world's second most popular social media platform after Facebook. With over 2 billion monthly logged-in users and an estimated 1 billion hours of video consumed daily6.
YouTube has a potential audience of 5.08 million users 1 in Singapore - which is a huge proportion of Singapore's population. Many brands are now using YouTube to host longer-form content and, unlike other social networks, where users scroll passively through news feeds, YouTube users intentionally search for videos to watch.
That's the case with Singapore's population, where almost 9 in 10 (85.8%) of users visit YouTube on a daily basis. Singaporeans prefer YouTube over offline channels for long-form content, including traditional TV shows and other general media 7.
According to YouTube, more than 450 channels in Singapore have over 100,000 subscribers, with an increase of over 35% year-on-year 8.
It was local content that captured the attention of Singapore viewers in 2022, according to YouTube's lists of top trending videos in Singapore. The most watched YouTube video in Singapore in 2022 was a four-part prison documentary by the Singapore-based news channel, CNA. Similarly, the most popular YouTube channel in 2022 was the Singapore-based Survival Builder, with over 10.1 million subscribers 9 26.
However, the majority of watch time on content produced by channels in Singapore still comes from outside of the country.
For online communication, 83.7% of those on the internet will choose WhatsApp, while rival social media platforms Facebook Messenger and WeChat trail with 79.4% and 66.3% respectively.
Globally, more than 100 billion messages are sent through WhatsApp every day, and it is the third largest social networking platform in the world. In Singapore, the statistics tell a similar story with WhatsApp boasting 4.56 million users 27 28.
Following YouTube and Whatsapp as the third most popular social media platform in Singapore is Facebook.
Facebook users numbered 4.33 million in 2022, with 98.7 million total visits.
Instagram had 3.61 million users and 21.8 million total visits, followed by professional social networking platform LinkedIn with 1.97 million users.
TikTok is another leading social platform in Singapore. The platform's exponential growth has generated 2.41 million users in Singapore alone who crave the short video content and interaction with influencers and fellow consumers 7.
By contrast, usage of Snapchat in the country remains low. With only 0.995 million users, Snapchat remains the least popular among the major social media platforms in the country.


Social Media Users by Age
Users of Meta products - Facebook, Instagram, and Facebook Messenger - were predominantly in the 25-44 age group. Those aged 25-34 years made up 35.8% of Meta's ad audience, while those aged 35-44 accounted for 23.3%.
Meanwhile, video platforms including YouTube and TikTok attract Singapore's younger users. Nine in ten of YouTube watchers are aged 16-34 years 11. This age group prefers watching videos on mobile phones.
While no definite figure is available for TikTok demographics in Singapore, it's likely to follow a similar trajectory as seen in the US, where 41% of users are aged 16-24.
Instagram also attracts the island's younger audiences with around 85% of the platform's users aged 16-24 years.
For WhatsApp, data shows that usage is highest among Baby Boomers (100%) and lowest among Gen Xers (97%) 12.


Key Facts About Social Media Usage in Singapore in 2023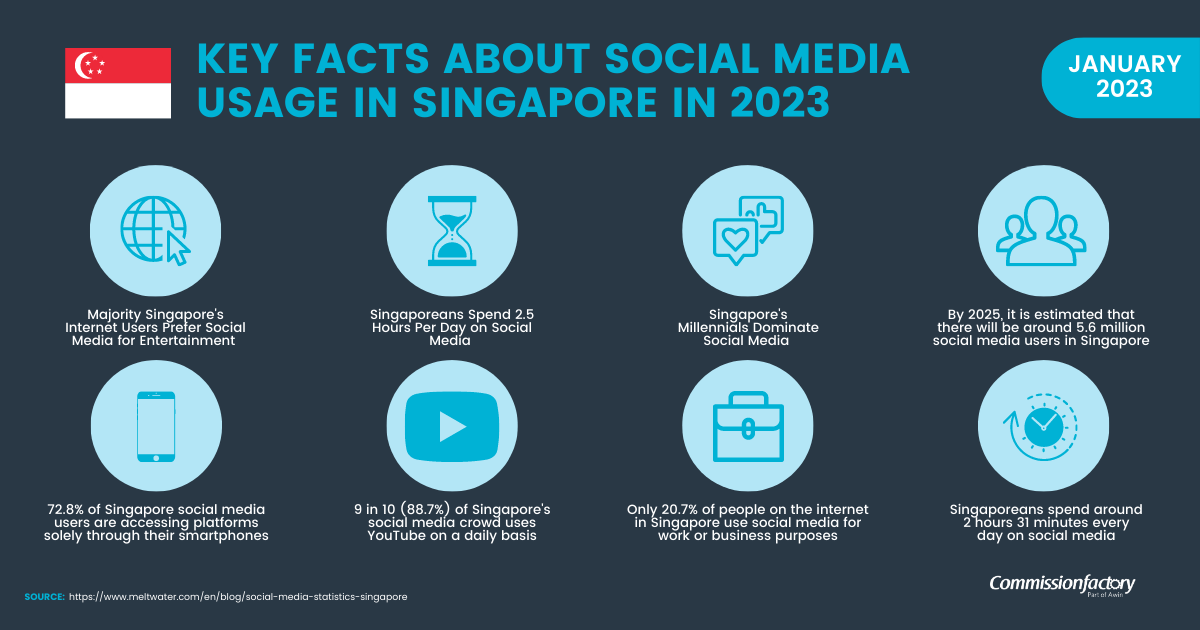 Here are some important facts about social media usage in Singapore that publishers and advertisers need to be aware of heading into 2023.
Social Media Is on the Rise in Singapore
By 2025, it is estimated that there will be around 5.6 million social media users in Singapore 13.
Some 72.8% of Singapore social media users are accessing platforms solely through their smartphones 11.

The Majority of Singapore's Internet Users Prefer Social Media for Entertainment
Statistics show that almost 9 in 10 (88.7%) of Singapore's social media crowd uses YouTube on a daily basis for general media consumption. Portrait format videos are highly popular, thanks to the rise of TikTok.
By contrast, only 20.7% of people on the internet in Singapore use social media for work or business purposes.
Singaporeans Spend 2.5 Hours Per Day on Social Media
The average time Singaporeans spend on social media is around 2 hours 31 minutes every day. This is more than the global average of 2 hours and 27 minutes 1 .
Singapore's Millennials Dominate Social Media
The majority of social media activity on Meta continues to be dominated by consumers between the ages of 25 and 34 1.
It's no surprise that most social media marketing activities are targeted towards these consumers.


Social Media Abuse in Singapore
With social media now integrated as part of Singaporeans' lives, these platforms are creating social dilemmas. Here are the top three forms of social media abuse:

Cyberbullying
Psychologists say that cyberbullying has been on the rise amongst adolescents due to increased access to electronic devices, the internet, and lack of supervision of online activity.16
Statistics show most cases of abuse take place on popular social media sites such as Facebook, Instagram, and Snapchat, with cyberbullies able to make hurtful and emotionally scarring comments anonymously.
In fact, nearly a quarter of Singaporeans (23%) revealed that they have a fake or alternative profile in order to stay anonymous 17. For those aged under 25, the figure is 27%.
One study shows that young people on YouTube are the most likely to be cyberbullied (79%), followed by Snapchat (69%), TikTok (64%), and Facebook (49%) 18.
What are the effects of cyberbullying?
Researchers have conducted studies on tween victims of cyberbullying and found that two-thirds of victims said that it negatively affected their self image, while 13% said it affected their physical health.
Cyberbullying statistics also reveal that 64% of cyberbullying victims said it has affected how safe they feel at school, their ability to learn, and had resulted in low self-esteem 19.
The rise in cyberbullying has led to many digital platforms offering ways to mitigate bullying by restricting communications and reporting abusive content.

Cyber Scams
Another form of social media abuse are cyber scams.
According to crime figures released by Singapore Police, victims in Singapore lost at least $227.8 million to scams in the first half of 2022 alone 21.
There were 971 cases of social media impersonation in the first half of 2022, up from 961 for the same period in 2021 The largest amount lost through one case of social media impersonation until June 2022 was $243,000 21.
Why did scam incidents increase? One of the factors was the COVID-19 pandemic, when people were spending more time online.
Another common cyber scam in Singapore is the "love scam", where scammers approach victims on social media, gain their trust and then ask for money as proof of love 22. There were 477 love scam cases reported in the first half of 2022, a massive increase from just 62 cases in 2011 21.

Social Media Rage
Another emerging challenge on social media is rage.
Social media is a hotbed for polarising viewpoints and scrutiny, and reports show that, since the COVID-19 pandemic began, people who use social media more frequently may experience more angst 22.
Social media spaces also tend to be vulnerable to heightened polarisation of opinions. Sometimes, discussions on social media platforms can end up in acrimonious debates with various users abusing each other online.


Devices for Social Media
The number of mobile connections in Singapore is 8.7 million, which equates to more than one per person.This makes it one of the highest mobile penetration rates in the world.
With such a high percentage of mobile connections, it's no surprise that Singaporeans are using their mobile device to access the internet and mobile apps. The average Singaporean spent 5.7 hours on mobile apps in 2022 - a figure topped only by Indonesia 29.
Take a look at Facebook users. Some 98.8% of users in the country access the social media app on their mobile phones. What's more,
72.1% access the platform on their mobile phones only
, compared to 1.2% who only access it on their laptop or desktop computer
1
.
What Are the Most Used Mobile Apps in Singapore?
[2]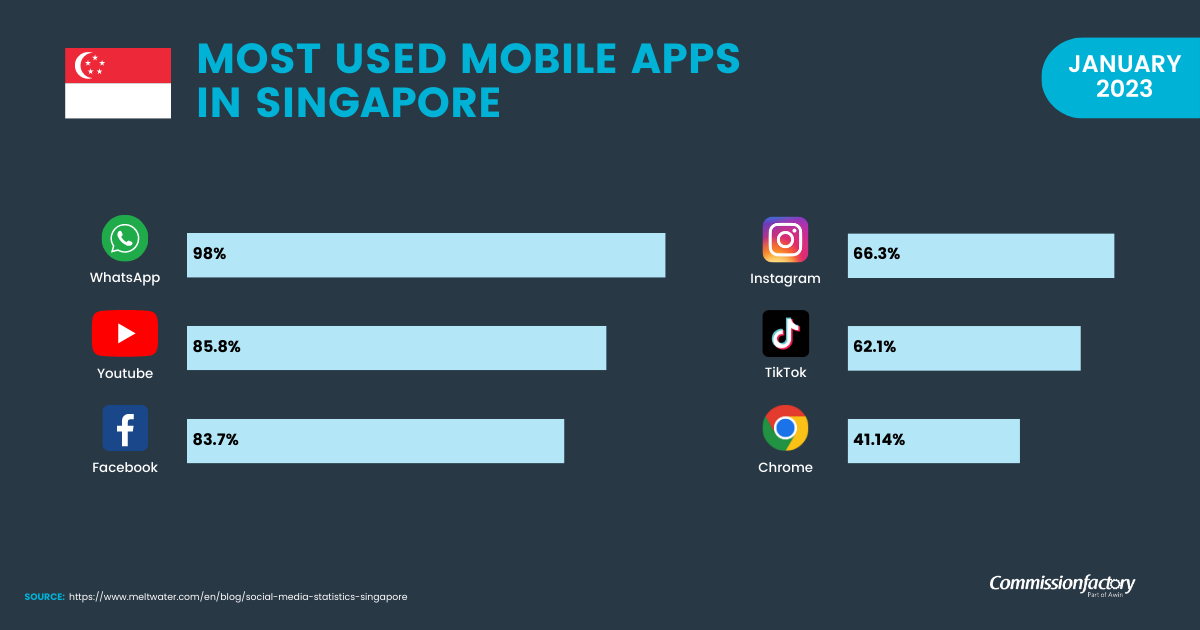 Social media apps top the charts in the island country. According to App Annie's ranking of mobile apps, the top five by active monthly users included WhatsApp at number one, Facebook at number three and Instagram at number five, with the Government Technology Agency apps Tracetogether and Singpass ranking second and fourth.


Conclusion
Social media is the most common way Singaporeans connect in 2023, and it's not about to slow down in the near future.
Whether entertaining themselves with videos, keeping in contact with friends and colleagues, and generally spending time on the apps, the island nation is turning to the platforms every single day.
For brands and affiliate marketers, this opens the door to some major opportunities in 2023 and beyond.
Commission Factory is not only the Asia-Pacific region's largest affiliate platform, working with more than 800 of the world's biggest brands, but is also a performance marketing platform that allows content creators and influencers to earn money and online businesses to increase sales.

Frequently Asked Questions




What Is the Most Popular Communication App in Singapore?
Facebook is the most popular communication app in Singapore with more than 4.33 million active users in 2022. It is followed by Instagram with 3.61 million active users.
How many Singaporeans use the internet?
As of February 2022, 92% of Singapore's total population of 5.92 million had access to the internet. This translates into 5.44 million users.
Is Snapchat still popular in Singapore?
Yes. With total users numbering 0.99 million and an ad reach of 16.8% of the population, Snapchat is still popular in Singapore. However, other social media apps such as TikTok, Instagram, Twitter, and Facebook outrank Snapchat when it comes to popularity.
Is WeChat popular in Singapore?
No. As of 2022, WeChat did not rank among the top 7 popular social media apps in Singapore.
References
Two-thirds of kids aged seven to nine use smartphones daily, many are on Facebook: Survey | The Straits Times

Google reveals Singapore kids are youngest globally to get first internet device; Should we worry?

Commentary: Cyberbullying just keeps getting worse. Even COVID-19 hasn't dampened its spread - CNA

Pandemic rage: It's time to seek help when not getting that last chicken wing makes you throw a chair - TODAY

Smartphone Penetration Rate as Share of the Population in Singapore from 2010 to 2020 and a Forecast Up To 2026 | Statista