Congratulations to this year's ORIAS 2019 winners and for all those we met with at the Online Retailer Expo 2019!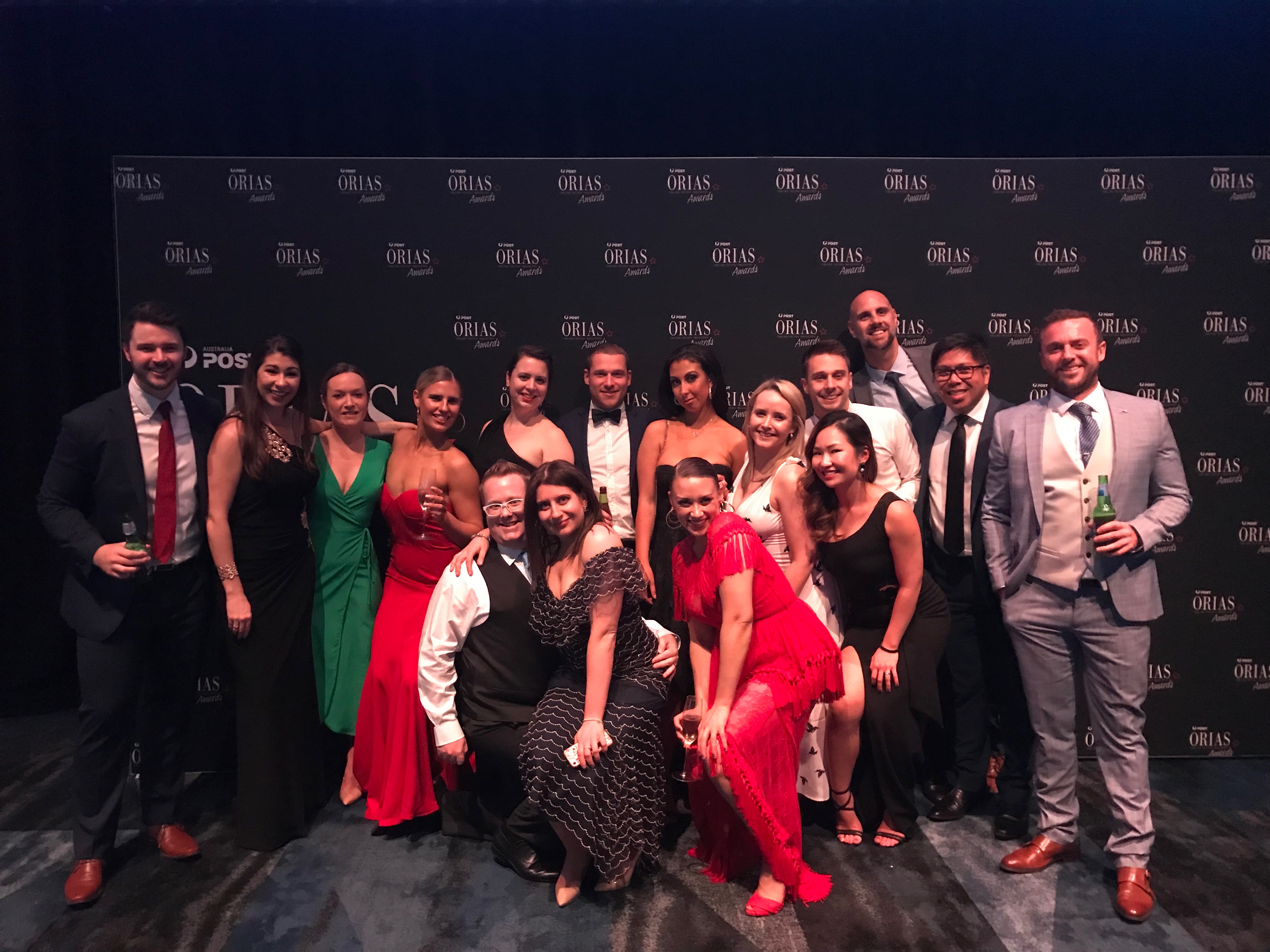 With over 1400 expo pass holders and 140 solution providers, it was an intense yet fruitful two days at the annual Online Retailer Sydney Expo, packed with great speakers, industry veterans and innovative newcomers. With digital marketing trends constantly changing and evolving, it was great to see some many vendors at the expo covering all parts of ecommerce and the customer journey, from currency exchange, to packaging and delivery and personalisation, as well as an increasing array of affiliates exhibiting such as Cashrewards and Honey flying the affiliate banner Down Under.
Each year the Online Retailer Sydney expo is brought to a close with the ORIAS - a grand gala of the industry's best eCommerce retailers all vying to take out a trophy in their nominated category and with any luck the coveted Online Retailer of the Year award.
The night was all about glam, and thanks to our client GlamCorner our staff were looking extra sharp. GlamCorner are a rental service offering customers beautiful, high end, designer outfits for a fraction of the price. With over 10,000 outfits on GlamCorner, our staff were able to feel extra special. GlamCorner were finalists for People's Choice Award and Dean Jones & Audrey Khaing-Jones for Industry Recognition.
This year Commission Factory saw their clients announced as finalists in over 1/3 of the available categories, showcasing that we have had the privilege of providing an affiliate program for some of the country's best retailers and service providers. We can only hope that in some small part we have been able to contribute to their success and will continue to do so into the future.
And the winners are.....
BEST PUREPLAY RETAILER
2019 Winner: Showpo
Description:
This category was open to new and established online-only retailers who demonstrate best practice in merchandising, service, functionality and customer experience. Judging will be based not on overall size but on efficiency, ingenuity, dedication to customer experience and proven business success.

BEST IN-STORE INITIATIVE
2019 Winner: Ultra Football
Description:
Addressing the consumer demand of merging online and offline, this category is designed for fantastic examples of in-store technologies and integrations with digital that will add value for the customer and serve a great business need. This category is recognising innovation in physical stores, including pop-up or other live experiences and retail concepts.
TECHNOLOGY CHAMPION
2019 Winner: Showpo
Description:
This award is for the best overall, multi-channel site design and integration from an aesthetic, usability and technology perspective, with specific focus on conversion optimisation features to improve shopability and the path to purchase. This category includes mobile friendly use and/or smartphone application.
CUSTOMER SERVICE EXCELLENCE
2019 Winner: Brava Lingerie
Description:
This category rewards retailers who focus on excellence in customer service across every touchpoint - serving to add value and create an experience that instils trust in the brand. This award recognises those retailers who know that you are only as good as your last communication, your last action and your last mile.
HALL OF FAME
2019 Inductee: Showpo
Description:
In 2016, the Australia Post ORIAS Hall of Fame was introduced, an invitation-only honour bestowed upon those who have delivered sustained excellence and contributed over the life of the awards. The current Hall of Fame Inductees include: Shoes of Prey, Appliances Online and Dan Murphy's. Once again in 2019, the judging panel debated and nominated several inductees, with each brand inducted into the Hall of Fame earning permanent status as a member.

This category is invitation-only via the Australia Post ORIAS judging panel, external submissions are not required or accepted. Once a retailer has been inducted into the Hall of Fame, it will no longer be eligible to enter a nomination for a category in future ORIAS. Hall of Fame inductees will however be offered the opportunity to provide a short update on their continued evolution, innovation and progress as an exemplar of excellence.